These giant peanut butter stuffed chocolate chip cookies are the perfect Christmas cookies. Everyone loves chocolate chip cookies and it's a bonus that they're stuffed with peanut butter ganache.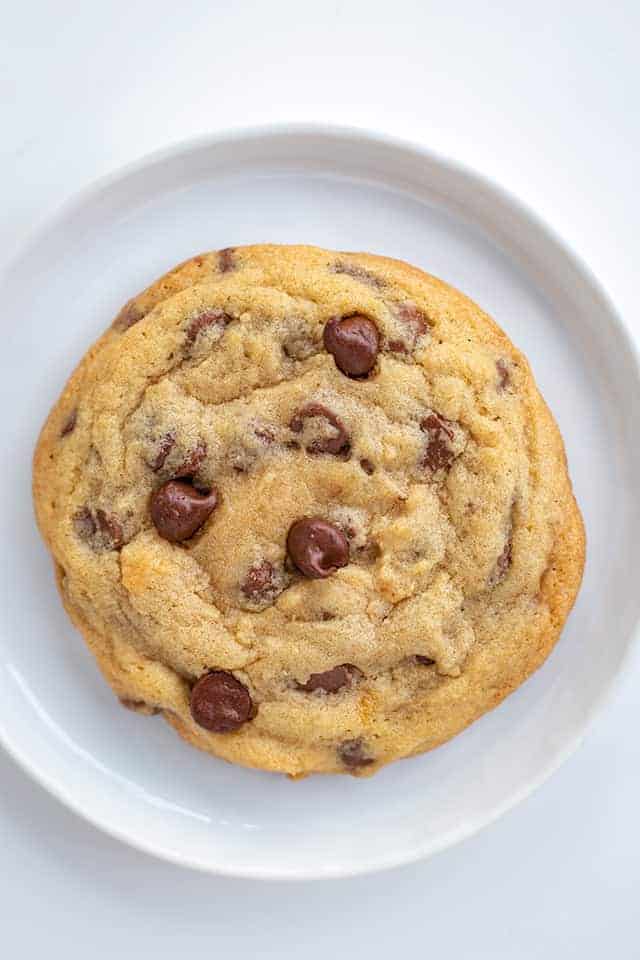 Peanut Butter Stuffed Chocolate Chip Cookies
It's no secret that I love chocolate and peanut butter together. It's the perfect sweet and salty combination. I couldn't resist attempting to add peanut butter ganache to my chocolate chip cookies just to see what happens.
Guess what? It worked like a charm. If you don't want to add the peanut butter ganache, that's okay too. These are the best chocolate chip cookies without stuffing them.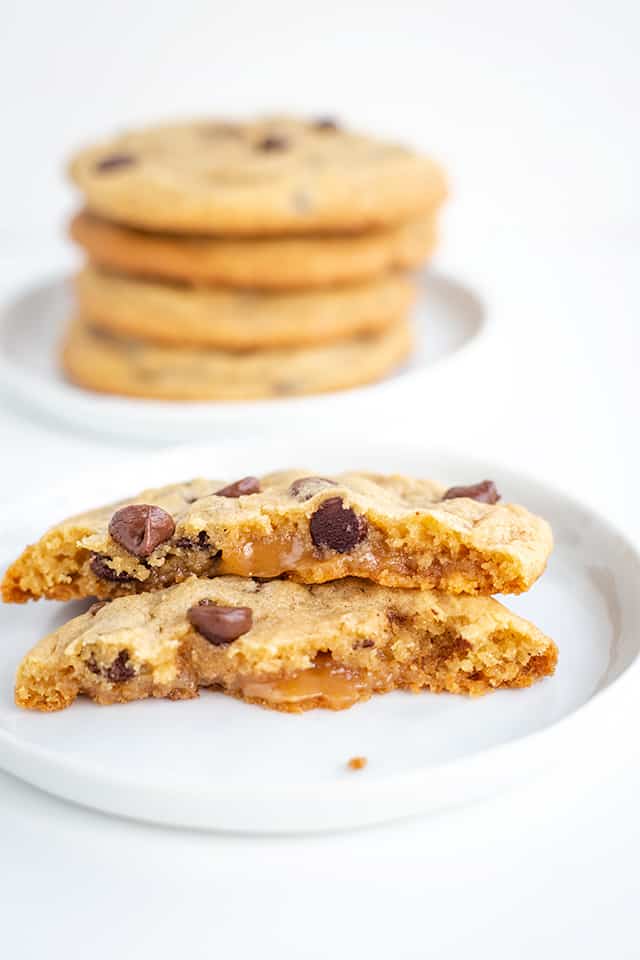 Peanut Butter Ganache
One of the most important parts of making this peanut butter ganache is giving it en0ugh time to set up and become scoopable. I made my ganache the day before and just left it in the fridge overnight. I want to say it needs at least 4 hours in a shallow dish to make sure it's completely firm.
What is Peanut Butter Ganache
Peanut Butter Chips
Heavy Cream
That's it.
How to make Peanut Butter Ganache
To make the peanut butter ganache, add peanut butter chips and heavy cream into a microwave-safe bowl. Microwave for ganache 1 minute and stir. Then microwave for another 30 seconds and stir afterward. Repeat microwaving for 30 seconds and stirring until the ganache is thick and creamy.
There shouldn't be any lumps in the ganache. If you find that your ganache is lumpy, keep stirring the ganache and if that doesn't smooth out the lumps, microwave for another 30 seconds and stir again.
Chocolate Chip Cookies
I absolutely love my base recipe for chocolate chip cookies. Because I can't ever remember anything, I always grab my Cookie Cookbook and get the recipe. I've done a bit of tweaking for this peanut butter stuffed chocolate chip cookie because I didn't want the peanut butter ganache to run out of it.
What Ingredients Do you need for Chocolate Chip Cookies
butter
light brown sugar
granulated sugar
eggs
vanilla extract
all-purpose flour
baking soda
salt
chocolate chips
That's about it for any kind of chocolate chip cookies you want. If you want more of a crispy chocolate chip cookie, add more granulated sugar than brown sugar. If you want a chewy chocolate chip cookie, add more brown sugar than granulated sugar. If you want a soft chocolate chip cookie, slightly underbake it. If you want a cakey chocolate chip cookie, try adding just a little more flour.
How Do You Make Homemade Chocolate Chip Cookies
First, you'll cream the butter and sugars together until they're light and fluffy. Add in the eggs and Rodelle vanilla extract and beat until incorporated. Sometimes I'll substitute the Rodelle vanilla extract for Rodelle vanilla paste.
The vanilla paste is thick and syrupy. It leaves specks of vanilla bean in your down. Check out my vanilla fudge to see the specks.
I recommend sifting together the dry ingredients and adding them together all at once. I don't always do that but I should. So add your flour, baking soda, and salt into a bowl and whisk to evenly distribute the baking soda and salt.
Add the dry ingredients into the bowl with the butter/sugar and beat most of the flour into the cookie dough. Dump in the chocolate chips and finish beating in the flour.
Now you need to assemble these peanut butter stuffed chocolate chip cookies. I used a 2 tablespoon cookie scoop and scooped out the cookie dough. Use your thumb and make a large hole in the center of the dough while it's still in the scoop. The excess cookie dough will stick up above the sides of the scoop and that's okay.
Using a 1 tablespoon cookie scoop, scoop out the peanut butter ganache and pop it in the little hole you made in the cookie dough. Cover it up completely and place onto a prepared cookie sheet and bake!
Do I have to use milk chocolate chips? No! Use whatever chocolate chips that you prefer.
Do I have to add the peanut butter ganache? No.
Can I substitute the peanut butter chips in the ganache for chocolate chips? Yes! Use the same amount and switch out the kind.