Any ginger lovers out there? These double ginger molasses cookies will make your heart sing. I love ginger and this recipe gave me a reason to pick up some crystallized ginger. After buying a big ol' bag of it, I realized that I could probably make my own crystallized ginger pretty easily. I just need to grab some ginger root from the store and I'll be testing a recipe out for you next week.
If you ever go to Trader Joes, you need to also find the Ginger Chews near the check out. They're in a green bag. The chews are a light brown color, nothing pretty by any means but so delicious. I can and have ate an entire bag in a weekend's time. Thank goodness I don't have a Trader Joes near by. I probably wouldn't have any teeth left after months of gnawing on the semi-firm chews.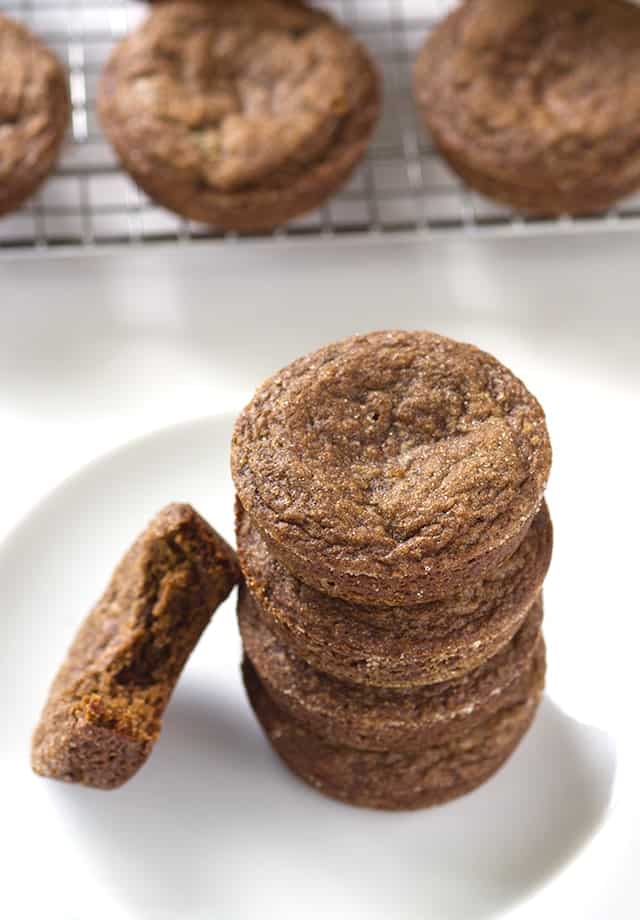 Ahhh! I'm off topic.
This recipe is from Dorie Greenspan's soon-to-be released Dorie's Cookies cookbook. I'm pretty excited to say that I have mine pre-ordered on Amazon (aff. link). It's set to be released October 25th.
OXO provided me with with this handy dandy illuminating digital hand mixer shown above and spatula. This hand mixer seriously has a light where the beaters are inserted. My kitchen is nearly at the dungeon level with only a tiny crank open window above the sink to let the light shine in. I refuse to turn on the light during the day and burn extra electricity, so this gives me an extra light to see how thorough my dough is mixed. The hand mixer also has digital controls to steadily increase or decrease speed. Get this, when you're finished, there's an on-board beater clip that clips your beaters to the hand mixer. It's quite the smooth set up!
There's also the non-stick pro 12 cup muffin pan that OXO sent. It's made with a ceramic-reinforced, two-layer coating that provides ultimate non-stick release and is scratch, stain, corrosion and abrasion-resistant. I'm pleased to say the pan did release the cookies without a fuss. I was actually searching out a non-stick muffin pan after making one of Lori's recipes for her and having the muffins stuck fast to the pan.
If you're in the same boat as I was a few weeks ago and don't have an actual non-stick muffin pan that will release the cookies, you can bake them like a regular cookie. No pan needed, friends.
OXO provided me these products to use and review for you. As always, all opinions are my own.
This post contains affiliate links. Cookie Dough and Oven Mitt is a participant in the Amazon Services LLC Associates Program, an affiliate advertising program designed to provide a means for sites to earn advertising fees by advertising and linking to Amazon.com