Dark chocolate brownies layered with coffee caramel and stuffed with cadbury eggs. What other way to use up some amazing Easter candies than to throw them in a brownie!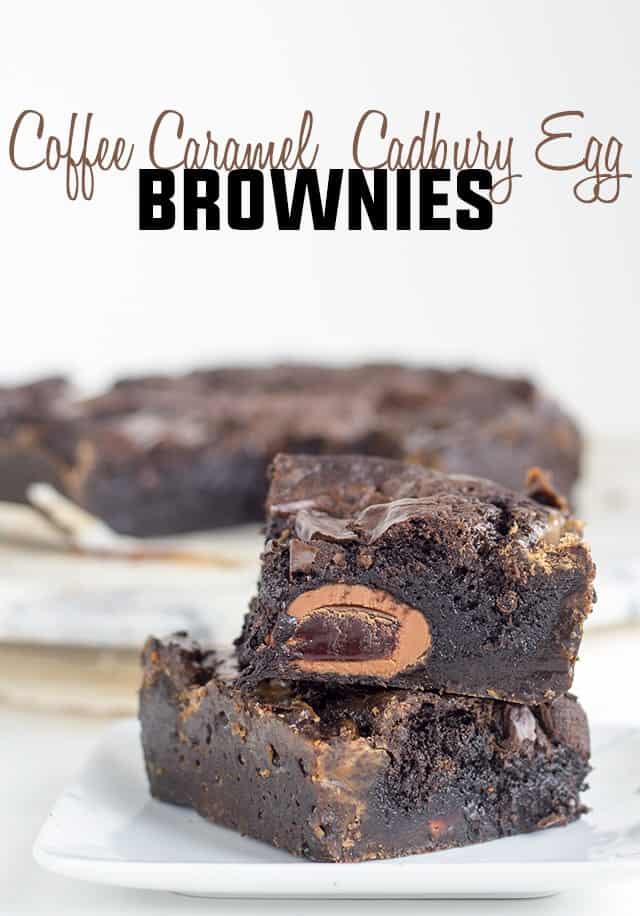 Okay, I think I might have said before my dislike for cadbury eggs. Let's be clear. That was before I realized they had a chocolate and caramel version which led to these coffee caramel cadbury egg brownies.
These brownies are insanely rich. They're gooey, chewy, full of large pockets of chocolate fudge and caramel. If you're looking for a skinny brownie, leave now. These are the complete opposite. I had to share these with my parents because they were that tasty. Somehow my mom was supposed to start a diet today and it's my fault she ate a brownie before 9 this morning. The struggle.
My coffee caramel recipe is from last week. Head over to see how that coffee caramel is made. If you're not comfortable making caramel, pick up some of those kraft caramel squares. The coffee addition to the caramel makes these guys pop though. They are the ultimate brownie.
Coffee Caramel Cadbury Egg Brownies
Instructions
Preheat oven to 350 degrees. Spray an 8x8 square baking pan with non-stick cooking spray. Line the bottom of the pan with parchment paper and drape the parchment over two opposite sides of the pan. This will provide a handle to pull out the brownies. Then spray the parchment with non-stick cooking spray.

In a microwave-safe bowl, add in the butter and milk chocolate chips. Microwave for 1 minute. Stir with a spatula. Microwave 30 seconds and stir again. The chocolate should be melted and completely smooth. Let cool for 10 minutes.

Add in the granulated and brown sugar, eggs, and vanilla. Using a hand mixer, beat for 2 minutes until the mixture turns pale and becomes thick and fluffy.

Add in the cocoa powder and all-purpose flour. Mix on low until almost incorporated. Turn up to medium and beat for about 30 seconds.

Pour and spread ½ of the batter evenly in the bottom of the baking pan.

Pour the cup of coffee caramel in the center of the brownies. If you don't want to use coffee caramel, use the Kraft caramels. Spread the caramel out and keep it about ½ an inch away from the edges.

Pour the remaining brownie batter on the caramel. Try to cover most of the caramel with the batter while pouring it. Then carefully spread the batter over the caramel to cover the caramel completely.

Unwrap the chocolate cadbury eggs and the caramel cadbury eggs. Press in 3 rows of 3 into the brownies alternating the chocolate and caramel eggs.

Bake for 40 - 43 minutes and remove from the oven. Place in the fridge and let cool completely. Mine chilled overnight to set the caramel and cadbury eggs.

Remove from baking pan and cut into 9 pieces.
(Nutrition facts are an estimate and not guaranteed to be accurate. Please see a registered dietitian for special diet advice.)
I should probably warn you though. One of the corners of my brownies had a ton of caramel and became hard. The rest was super chewy. Whatever you do, don't break your beautiful teeth on one of the corners of these brownies. It'll be worth it, but very unnecessary.
I've been on a brownie/blondie kick lately. If you want to see some more, check out my browned butter carrot cake blondies, drunken monkey brownies, and my layered peppermint brownies.
Do you like Cadbury eggs? Did you know they have different kinds now?