These Red Velvet Cupcakes are so moist and tender with a light chocolate flavor. They're topped with cream cheese frosting and some sprinkles.
Red velvet cupcakes are a classic, beautiful flavored treat that is perfect for so many occasions. They're amazing for decorating your Christmas table or for serving on Valentine's day. Of course, they are also a very tasty treat for any special weekday. No one can ever say no to a tender, sweet red velvet cupcake!
Red Velvet Cupcake Ingredients
What exactly are red velvet cupcakes made with? They are definitely not made with real velvet, that's for sure! But the ingredients used to make the cakes do create a very soft, almost velvety textured cake. So here is what you need to make red velvet cupcakes:
Butter
Sugar
Eggs
Flour
Salt
Baking Powder
Buttermilk
Water
Vinegar
Baking soda
Red velvet cupcakes are typically iced with a cream cheese frosting. If you plan on topping your cupcakes with this sweet and tangy icing, you will also need cream cheese, powdered sugar, vanilla extract, and some more butter. You can opt to ice your cupcakes with a buttercream frosting such as my swiss meringue buttercream frosting too- it is up to you!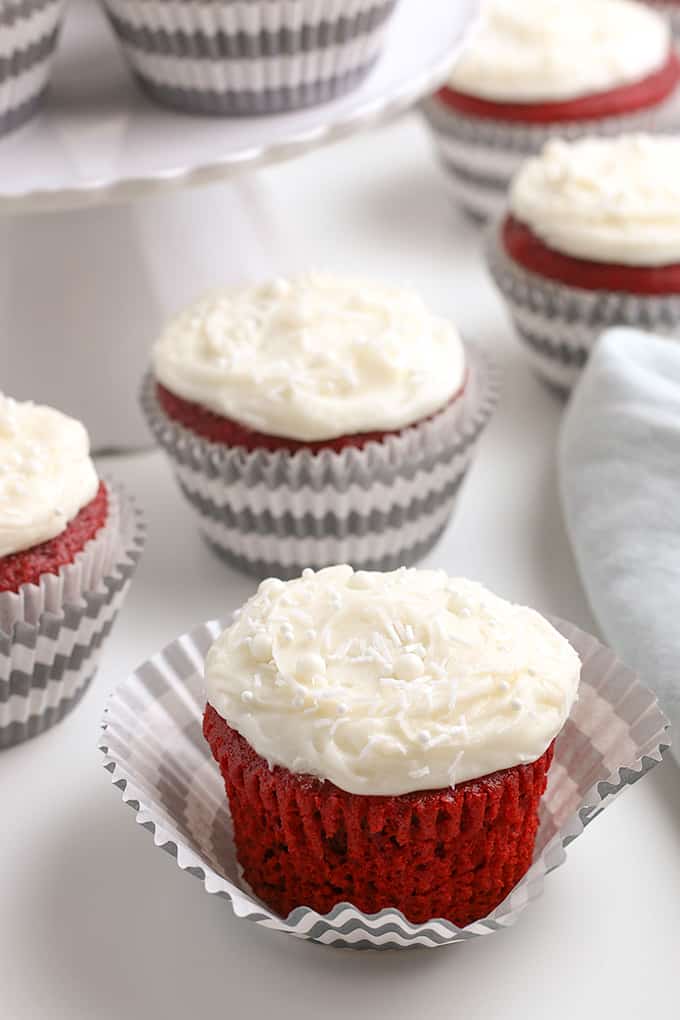 How to Make Red Velvet Cupcakes
Making my red velvet cupcake recipes is pretty straight forward and easy. All you need to do is mix the ingredients in the correct order. This is key to getting that velvety textured cake that you are looking for.
First, the butter and sugar are creamed together until they are light and fluffy and then the eggs, vanilla extract, and red food coloring are added. Be sure to scrape down the sides of the bowl well, getting the butter and eggs blended together smoothly. The batter will be a bright red color at this point but don't worry, it will become a deep red later on when the cocoa is added.
Grab a clean glass mixing bowl and sift together the flour, cocoa powder, salt, and baking powder together. Note that not all the dry ingredients are mixed at this step like in other cupcake recipes.
The buttermilk and dry ingredients are then added to the red butter mixture, alternating between a little bit of the dries and a little buttermilk. Alternating the wets and dries helps make the batter smooth and silky. Take the time to mix each addition well.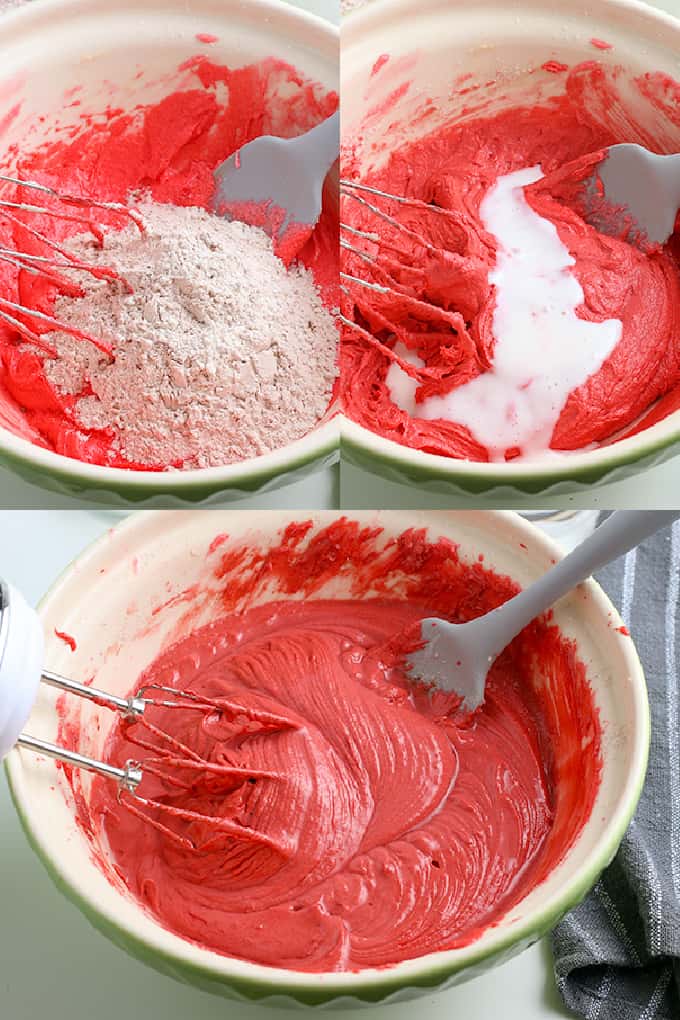 The last step in making red velvet cupcakes is to combine the vinegar and baking soda. The mix will instantly bubble up and then can be added into your dark red batter. The purpose of this is to give the cake a little extra leavening power. Since the baking soda is activated when added to the batter, it will instantly start helping the cake batter rise. The result is those fluffy cupcakes that you love!
Scoop the cake batter into a lined cupcake tray and bake. Your perfect red velvet cupcakes are only minutes away. Not too hard, right? It's all about following the steps and that fun vinegar trick at the end!
How to Store Red Velvet Cupcakes
Once the red velvet cupcakes are baked, you want them to stay fresh for as long as possible. If you have just baked the cake part of the cupcakes, you can wrap them in an air tight container and store them at room temperature for 3-4 days.
If you have added the cream cheese frosting to the cupcakes, they will need to be stored in the fridge. Place the cupcakes in an airtight container with a lid and keep the closed container in the fridge for up to a week. Take the cupcakes out of the fridge about an hour before you'd like to eat them in order to let the frosting soften.
How to Decorate Red Velvet Cupcakes
When it comes to decorating cupcakes, you can almost do anything you'd like! Everyone has different frosting piping techniques that they like to use and different decorations that they prefer. However, I have found my way of decorating red velvet cupcakes to work well and make gorgeous little cakes. Here is what I do.
I start by piping large, tall swirls of frosting on to each cupcake. I like the frosting to be tall and elegant looking. More frosting tastes better too! While my red velvet cupcakes are always baked in a paper liner, I like to put the finished cupcakes into a second liner for a more professional look. The second, outside liner looks nice and clean, making the red velvet cupcakes picture perfect.
I sprinkle my red velvet cupcakes with nonpareils and also shaped sprinkles. Heart sprinkles are perfect for valentines day while Christmas tree sprinkles will be fantastic around Christmas time. Sprinkles give red velvet cupcakes the perfect finishing touch and they also cover up any imperfections in the frosting. Such an easy, beautiful way to decorate red velvet cupcakes!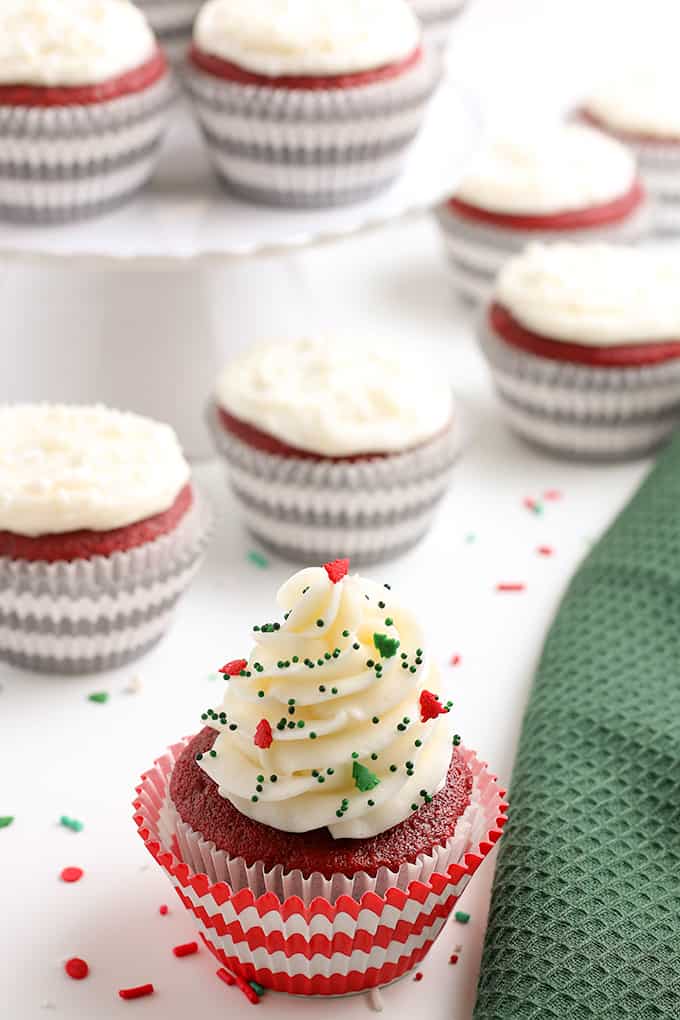 FAQ's
Do you still have questions about making red velvet cupcakes? Hopefully these frequently asked questions will cover everything else! If not, shoot us a message and we wil respond with your cupcake answers right away!
Are red velvet cupcakes chocolate?
Red velvet cupcakes are a vanilla cupcake with a hint of chocolate. The amount of chocolate added varies by the recipe.
Why are my red velvet cupcakes brown?
If your cupcakes look brown, you probably didn't have enough food coloring. It takes a good amount of red dye to color the red velvet batter. Use gel food coloring which is more powerful than liquid food coloring.
Another reason why the red velvet cupcakes would be brown is if they are over cooked. Make sure to take the cupcakes out of the oven when the center of the cake springs back to the touch. The cupcakes get darker the longer they bake and that will diminish the pretty red color.
The last reason I can think of, if you're using a different recipe other than this one, is that you've added too much cocoa powder to your red velvet cupcakes.
Why do you need buttermilk in red velvet cupcakes?
Buttermilk is creamy and tangy which adds to the flavor of your cupcakes. It gives the cupcakes that signature taste you are looking for! Without it, the cupcakes would be more like a plain, chocolate cake rather than a true red velvet. The buttermilk also helps activate the baking soda. This makes the cakes rise faster and become fluffy and tender as they bake.
Can I add more cocoa powder to this red velvet cupcake recipe?
Yes! You can add up to 2 additional tablespoons of cocoa powder to this recipe. When doing this, you'll need to reduce the flour by 2 tablespoons otherwise the cupcakes will be dryer.
Red Velvet Desserts: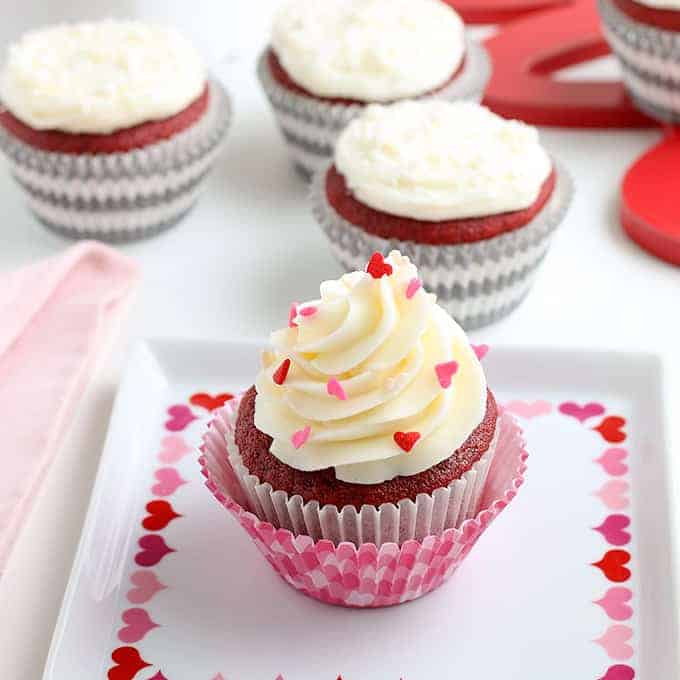 Red Velvet Cupcakes
These Red Velvet Cupcakes are so moist and tender with a light chocolate flavor.
Ingredients
Cream Cheese Frosting
16

ounces

cream cheese

room temperature

½

cup

butter

room temperature

6-8

cups

powdered sugar

sifted

1-2

teaspoons

vanilla extract ** see notes
Instructions
Cupcakes
Preheat the oven to 350 degrees F. Place the cupcake liners in the cupcake pan.

In a large bowl, add the butter and sugar. Using a hand mixer, beat on medium until light and fluffy

Add the eggs, vanilla extract, and desired amount of food coloring. Beat until the eggs are incorporated. Scrape down the sides of the bowl.

Add the flour, cocoa powder, salt, and baking powder to a medium bowl. Whisk until incorporated.

Gradually add dry ingredients and buttermilk, alternating between the two and starting and ending with flour. Beat each addition until well combined.

Add the water to the batter and mix well.

Add the vinegar and baking soda to a small bowl. Mix to combine.

Add the vinegar mixture to the batter and beat until combined.

Fill the cupcakes about halfway with the red velvet cake batter.

Place in the preheated oven and bake for 15-18 minutes or until a toothpick inserted in the center comes out clean. Cool completely before frosting.
Cream Cheese Frosting
Add the cream cheese to a mixing bowl and beat until smooth.

Add in the butter and continue to beat until incorporated.

Add powdered sugar and vanilla extract. Beat until the frosting comes together and the powdered sugar is incorporated.

Frost the cupcakes. To make tall swirls, add the frosting to a piping bag fitted with a Wilton 1M tip and pipe tall swirls on top of the cupcakes, and sprinkle with festive sprinkles.
Notes
* Using no-taste red food coloring is best because it can be bitter tasting.
** To keep the frosting white. use clear vanilla extract.
(Nutrition facts are an estimate and not guaranteed to be accurate. Please see a registered dietitian for special diet advice.)