These Air Fryer S'mores are so quick and easy to make and perfect year-round! The marshmallows are golden brown every time and the centers always have the perfect squish. No campfire needed for these Indoor S'mores!
Air Fryer S'mores Ingredients
You only need a few ingredients to create these indoor S'mores.
Graham Crackers - You can use honey or cinnamon. I used honey in this recipe.
S'mores Marshmallows - I accidentally bought the big square s'mores marshmallows thinking they were something new, so I decided to put them to good use in this recipe. You can also use regular marshmallows for this recipe.
Milk Chocolate Bar - These candy bars melt perfectly on top of a warm marshmallow, but you can use a dark chocolate bar if you would like. It will definitely not melt as nicely.
How to make s'mores in the air fryer
Making s'mores in the air fryer takes no time at all!
Break the graham crackers in half.
cut the marshmallows lengthwise and place the sticky side down on the graham cracker. Press down repeatedly to make sure it's firmly stuck.
Place in the air fryer at 360 degrees F for 3 minutes.
Place a piece of chocolate on the golden brown marshmallow.
Top with the other half of the graham cracker.
Substitutions and Variations
Here are a few ideas to get you started. Let me know if you try them!
You can replace the honey graham crackers with the chocolate graham crackers or cinnamon graham crackers.
Swap out the large square marshmallows for regular marshmallows or even the giant marshmallows. I would recommend cutting those giant ones in half though.
Switch out the milk chocolate bar for a lindt gourmet chocolate bar such as the chili chocolate bar for some heat or the orange chocolate bar for a touch of zing to your smores. You can also try a classic dark chocolate bar instead of milk chocolate.
A few variations that come to mind would be adding a Reese's peanut butter cup instead of a chocolate bar.
Spreading a layer of peanut butter on the top graham cracker and keep the piece of milk chocolate.
Adding a couple of slices of banana after you've toasted the marshmallow.
Spreading a layer of Nutella on the top graham cracker and kepe the piece of chocolate, but maybe use a Lindt hazelnut chocolate bar isntead.
How to store Air Fryer S'mores
S'mores don't store very well and with using the air fryer, there's not really a need to store them. If you have 5 minutes, you have time to make them fresh and also one at a time!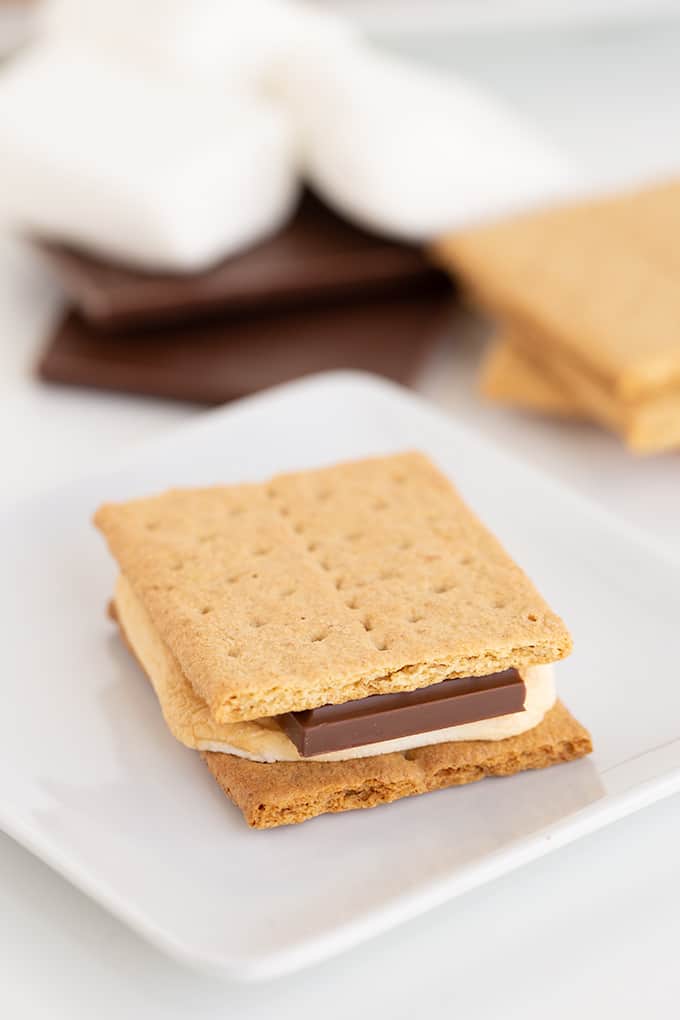 Frequently Asked Questions
What kind of air fryer do you use?
Like many others, I use the COSORI XL 5.8 Quart 1700-Watt Air fryer. I love the big square space that it provides and the digital screen. The shake button works great for things like fries and wings.

I used to have the GoWise USA 3.7 Quart Air Fryer that I loved. I called it the egg because it was tall and sort of egg shaped. It didn't have nearly the room, but would work nice for 1 to 2 s'mores.
Can I cook s'mores in the oven if I don't have an air fryer?
Yes! Preheat the oven to 360 degrees F and line a baking sheet with foil or parchment paper if it's not nonstick. Bake the s'mores as you would in the air fryer, if it's not as golden brown, I would let it go another 1 to 2 minutes while keeping a close eye on the marshmallow so it doesn't burn.
Can I use different marshmallows?
Yes! If they're smaller than the square marshmallows, you can keep them whole or cut them in half and press the two sticky sides down onto the marshmallow so they stay stuck and don't fly off while in the air fryer.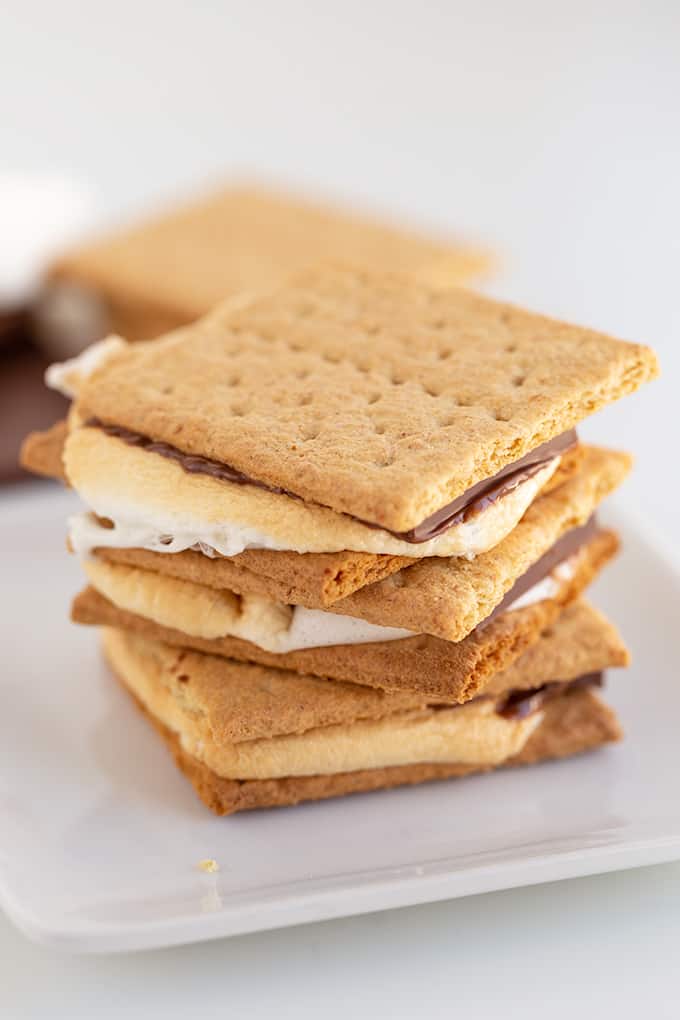 Need a few more dessert recipes?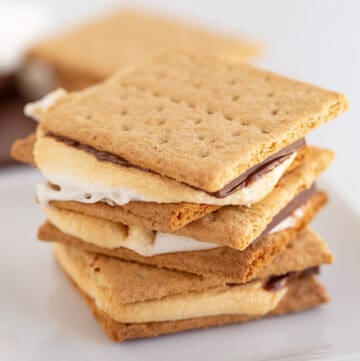 Air Fryer S'mores
These Air Fryer S'mores are so quick and easy to make and perfect year-round!
Ingredients
4

honey graham cracker sheets

2 - 4

s'more vanilla marshmallows

sliced in half

1.55

ounce

Hershey Milk Chocolate Candy Bar

divided
Instructions
Break the 4 graham cracker sheets in half.

Place 4 of the 8 halves in the air fryer.

Slice the large square marshmallows in half lengthwise so they're not as thick. If you want more marshmallow, use 4 whole marshmallows instead of two cut in half, but it gets very messy.

If you sliced the marshmallows in half, press the marshmallow sticky side down onto the graham cracker halves. Make sure they're firmly stuck otherwise they'll come off of the cracker partially or completely. See picture above for proof.

Place in the air fryer at 360 degrees F for 3 minutes until the tops are golden brown.

Break off a strip of 3 rectangles and place the strip on the hot marshmallow.

Immediately place the other half of the graham cracker on top of the chocolate and gently press down.

Use a spatula and carefully move the smores to a plate.

Let the chocolate melt slightly and enjoy.
Nutrition
Calories:
158
kcal
Carbohydrates:
24
g
Protein:
2
g
Fat:
6
g
Saturated Fat:
3
g
Polyunsaturated Fat:
1
g
Monounsaturated Fat:
2
g
Trans Fat:
1
g
Cholesterol:
1
mg
Sodium:
103
mg
Potassium:
104
mg
Fiber:
2
g
Sugar:
12
g
Vitamin A:
4
IU
Calcium:
19
mg
Iron:
2
mg
(Nutrition facts are an estimate and not guaranteed to be accurate. Please see a registered dietitian for special diet advice.)