I love these mini taco boats, they're so cute! I made these amazing chili smores taco boats with them. I threw them in some hot oil and gave them a good fry. Frying the boats provides the perfect crunch. The gooey spiced up chocolate and toasted marshmallows gives this appetizer dessert the perfect finish. The heat of the chili will surprise 'em all too!
You'll need to hunt down a Lindt chili dark chocolate bar and a couple of milk chocolate candy bars. Both things you can definitely find at Walmart, by the way. I'm not a ginormous fan of bitter chocolate, so I had to combine my candy bars. Plus I feel like dark chocolate doesn't get as melty as milk chocolate. I'm not sure if that's true, but I'm going with it.
So there were a couple of college games going on last weekend. I didn't really watch them since I was at Applebees with the fam to celebrate my dad's birthday. I did however critique the closed captioning that was going across the screen as we waited to be seated. I couldn't even make out what was actually being said. I can't help it. I went to school for stenography/closed captioning. It's something that I know about.
Did I mention my birthday is this weekend? Don't tell anyone but I'll be the big 3-0. I'm not ready to be out of my 20's, but since I don't have an option I guess I'll just go with the flow. Besides, Wesley says I act like an old woman already. He's a sweet talker. lol
Okay, so let's go over some of the things I love about these chili smores taco boats. You don't need to dirty a plate. The taco boat has the perfect crunch and flavor. That little zing of heat that hits you at the end. Last but not least, it's a unique sweet appetizer.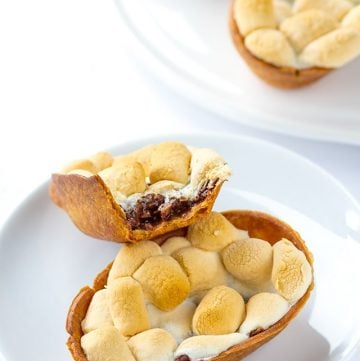 Chili Smores Taco Boats
Ingredients
3

cups

vegetable oil

12

Old El Paso mini taco boats

1 3.5

oz

. chili dark chocolate candy bar

finely chopped

2 1.55

oz

. milk chocolate candy bars

finely chopped

2

cups

miniature marshmallows
Instructions
Add the oil into a large saucepan and let it heat to 350 degrees. I used a candy thermometer to keep an eye on the temp.

Once the oil is up to temperature, add in 1 - 2 taco coats. Let it brown up for 1 minute and flip. Let it brown up on that side for 1 minute. Drain and place on a rack or plate lined with paper towels.

Repeat with all taco boats. Some may get air bubbles, it's nothing to worry about.

Preheat oven to 350 degrees.

Place the shells on a sheet pan.

Mix the chili dark chocolate and milk chocolate together. Add about 1 tablespoon to each taco boat. If there's extra, divide it amongst the taco boats to evenly distribute it.

Add a nice pile of marshmallows on top to cover all of the chocolate. It took about 7 - 10 marshmallows.

Place the boats into the oven and let it bake for 10 - 15 minutes until the marshmallows are golden brown and the chocolate is melted.

Remove from the oven and serve immediately!
(Nutrition facts are an estimate and not guaranteed to be accurate. Please see a registered dietitian for special diet advice.)
Grab your Old El Paso Mini Taco Boats at your local Walmart!