Learn how to make dehydrated marshmallows today! They make a great snack to pop in your mouth, baking with, or to top hot cocoa with. Don't forget to sprinkle the dehydrate marshmallows on your cereal for an extra sweet crunch too.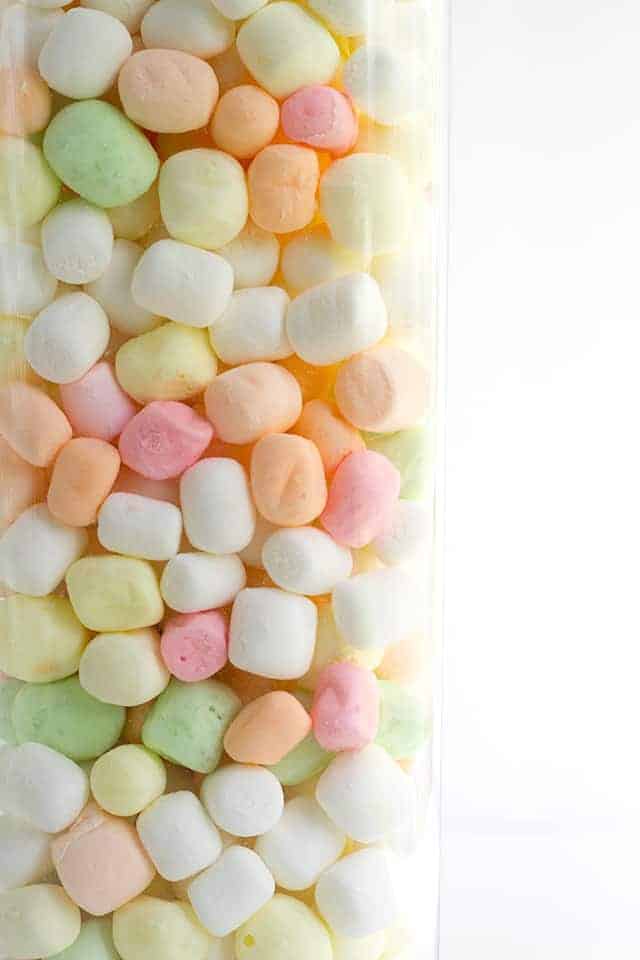 My son was a huge fan of the dehydrated mini marshmallows. I did both the regular flavored and fruit-flavored mini marshmallows as well as the regular sized marshmallows. I didn't get into the larger shaped ones or square ones that are made for smores. They will work the same way as all the other marshmallows but will need to stay in the dehydrator longer.
What are Dehydrated Marshmallows?
Dehydrated marshmallows are dried marshmallows like mallow bits or the marshmallows in Lucky Charms. They're marshmallows that have been dried until they're completely hard and crunchy with a dehydrator, oven, or air.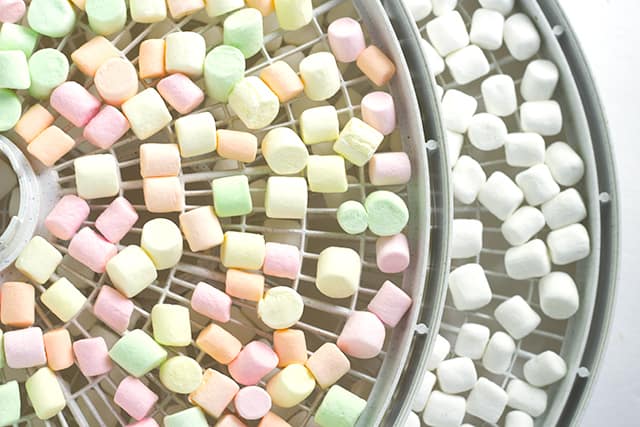 How to make dehydrated marshmallows
If you've been asking, "Can I dehydrate marshmallows?" look no further. You can and I'm going to tell you how! To make dehydrated marshmallows, you'll need a dehydrator. I have the NESCO dehydrator. I bought it about 5 years ago when I was on a beef jerky kick.
Add your marshmallows in one layer to each tray. They can be mini marshmallows or regular sized marshmallows. The regular marshmallows don't need to be cut unless you want them to dry quicker.
Set the dehydrator to 120° - 125° and let them dry for about 6 to 12 hours. The time varies depending on the dehydrator, climate, etc. If the regular marshmallows aren't hard, let them go longer. I left my dehydrator running overnight so it was a little longer than 12 hours. The best part is you CAN'T over-dehydrate the marshmallows.
You'll notice the mini marshmallows will puff up as they dry. That's perfectly normal. Don't expect them to shrink or shrivel up like other things that are being dehydrated.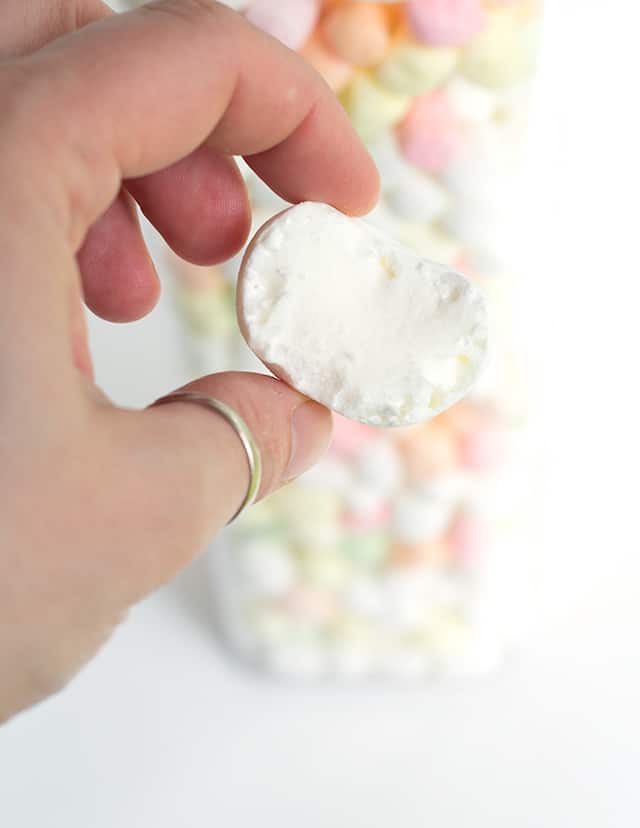 How to tell when dehydrated marshmallows are done
Give the marshmallows a gentle squeeze. If they still feel a little soft, they need to dry longer. They should not have any give when you squeeze them. They'll be very firm when they're done. Almost like little marshmallow stones.
For good measure, you can always bite into one and see if the center of the marshmallow is completely hard before calling the marshmallows done.
How to store dehydrated marshmallows
Store the dehydrated marshmallows in an airtight container or a ziplock bag. Make sure all of the air is pushed out of the ziplock bag before sealing it. For longer storage, use a vacuum sealer to store the marshmallows.
How long do dehydrated marshmallows last
They can last years if they're vacuum sealed. They can last months if they're stored in an airtight container.
Uses for dehydrated marshmallows:
hot cocoa
snack mix/trail mix
baking with (brownies, cheesecakes, bars)
sprinkle in cereal
to eat plain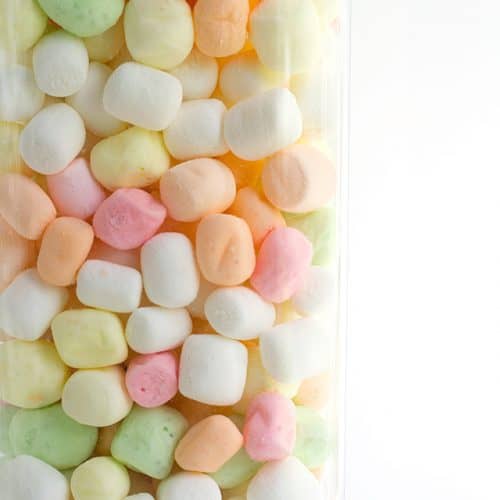 Dehydrated Marshmallows
Learn how to make dehydrated marshmallows today! They make a great snack to pop in your mouth, baking with, or to top hot cocoa with.
Ingredients
1

bag

mini or regular marshmallows
Instructions
Add the marshmallows in one layer on each dehydrator tray. They will puff up so spread them out a little.

Turn the dehydrator on to 120° - 125°. Run for 6 to 12 hours until the marshmallows are hard. The hours will also depend on the dehydrator, humidity, and the size of your marshmallows.

Gently press on the marshmallows to check for firmness. If it still has some give, leave it in the dehydrator for another hour. Check again.

Store in an airtight container or ziplock bag. Press all of the air out of the ziplock bag before sealing it.
Nutrition
Calories:
224
kcal
Carbohydrates:
57
g
Protein:
1
g
Sodium:
56
mg
Sugar:
40
g
Iron:
0.2
mg
(Nutrition facts are an estimate and not guaranteed to be accurate. Please see a registered dietitian for special diet advice.)