In the past I haven't been such a fan of peppermint, but the past few years I've really enjoyed it. It's always quite surprising to me when I try something after not caring for it and decide that I really do like it. That has yet to happen with anise of any sort. It's too much. Far too much.
I love these brownies. They are rich, fudgy, dense, chocolaty, moist, heavenly and so on. I know you can't tell with these brownies being layered with peppermint frosting and ganache, but they have a beautiful shiny crust on them too. Sometimes, that can make the brownie depending on who you ask. If you ask me, I love a good crackly, shiny crust. If you do too, this brownie recipe has your name on it.
I have to giggle. My husband is such a sugar fiend. Last night I was in the process of making these brownies and he asks me, "Are we cutting these tonight?" I had to reluctantly break the news that they were for the blog. I always get this gruff mumble of disappointment when he has his heart set on something that he can't have yet.
The brownies are so quick and easy to put together that I immediately got to work on another batch of brownies just for the hubs. He comes out inquiring what I was doing as if he didn't know. By the time these brownies were out of the oven and ready to eat, he had his glass of milk ready!
These will make the perfect addition to your Christmas dessert buffet.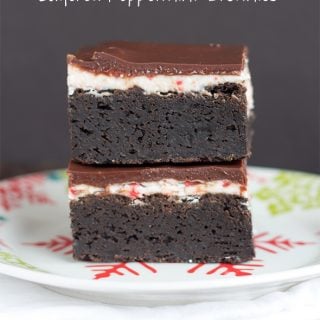 Layered Peppermint Brownies
Ingredients
Peppermint Frosting
½

cup

salted butter

room temperature

2 ½

cups

powdered sugar

3

T

milk

3-4

drops

peppermint oil

1

cup

Andes Peppermint Crunch
Instructions
Brownies
Preheat oven to 350 degrees. Spray an 8x8 square baking pan with non-stick cooking spray. Line the bottom of the pan with parchment paper and then spray the parchment with non-stick cooking spray.

In a microwave safe bowl, add in the butter and milk chocolate chips. Microwave for 1 minute. Stir with a spatula. Microwave 30 seconds and stir again. The chocolate should be melted and completely smooth. Let cool for 10 minutes.

Add in the granulated and brown sugar, eggs, and vanilla. Using a hand mixer, mix for 2 minutes until the mixture turns pale and becomes thick, light, and fluffy.

Add in the cocoa powder and flour and mix on low until almost incorporated. Turn up to medium and beat for about 30 seconds.

Pour and spread evenly in the baking pan. Bake for 35-38 minutes or until done. Place a toothpick in the center of the brownies and if it comes out clean or with moist crumbs it's done. If it still has batter on it, it needs a little more time.

Once done, remove from oven and let cool completely. You can place it in the fridge to cool down faster.

Remove from baking pan and set aside.
Peppermint Frosting
In a medium bowl, add in the butter and powdered sugar. Beat on low until most of the sugar is incorporated.

Add in the peppermint oil and milk. Start with 2 tablespoons and add the additional if your frosting is still too think. Mix on high until light and fluffy about 1-2 minutes.

Stir in the peppermint crunch with a spatula.

Spread the frosting evenly onto the top of the brownies. Make sure to get all the way to the edges and corners.

Place in the fridge for about 30 minutes and prepare ganache so it has time to thicken slightly.
Ganache
In a microwave-safe bowl, add in the heavy cream and milk chocolate chips. Place in the microwave for 30 seconds. Stir with a spatula. Place back in the microwave for another 30 seconds and stir. It should look like melted chocolate and completely smooth. Set aside and let cool until it thickens slightly.

Remove brownies from the fridge and spread the ganache over the peppermint frosting. Be sure to get all the edges and corners. If the ganache is too thick to pour on brownie, warm it up in the microwave for about 15-20 seconds.

Place any sprinkles or decorations on top at this point.

Place back in the fridge to cool completely. It should take about an hour.

Trim off the brownie edges and slice into squares.
Notes
If you don't have peppermint oil such as LorAnn's Oils, use about ¾ tsp. to 1 tsp. of peppermint extract. The oils are much stronger than the extracts.
Nutrition
Calories:
670
kcal
Carbohydrates:
87
g
Protein:
5
g
Fat:
35
g
Saturated Fat:
22
g
Cholesterol:
127
mg
Sodium:
268
mg
Potassium:
121
mg
Fiber:
2
g
Sugar:
76
g
Vitamin A:
1015
IU
Calcium:
65
mg
Iron:
1.5
mg
(Nutrition facts are an estimate and not guaranteed to be accurate. Please see a registered dietitian for special diet advice.)