This rich and creamy white hot chocolate is a decadent drink that will warm you up on a chilly day. It's made with white chocolate chips or white baking chocolate and can be topped with whipped cream, white chocolate curls, Andes mint pieces, or even sprinkles. It's a great homemade white hot chocolate recipe that everyone will rave about!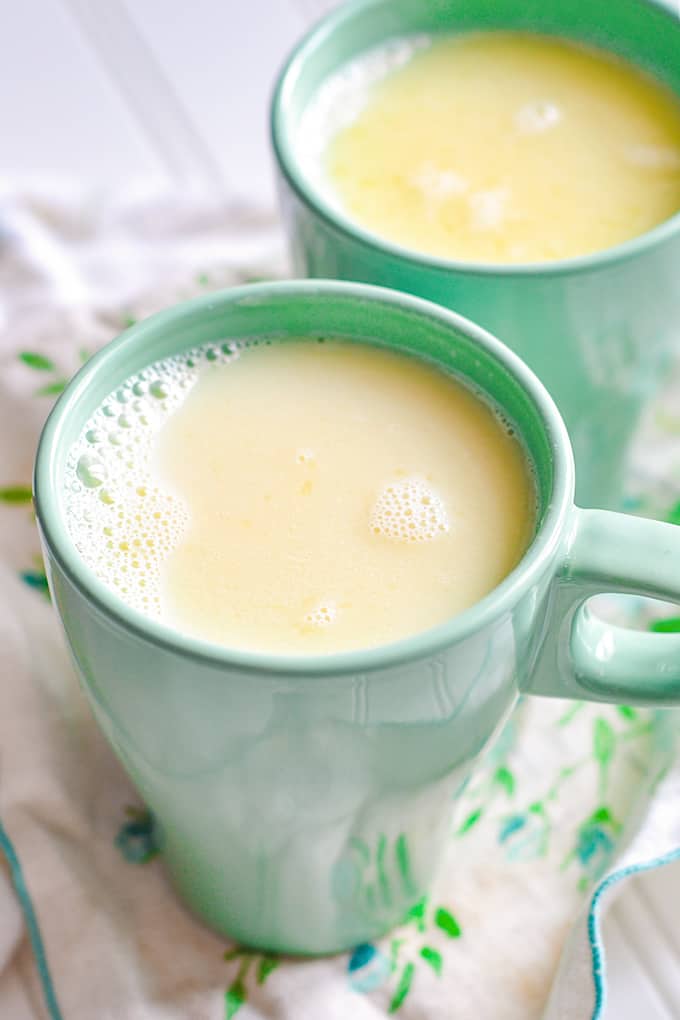 You are going to love how this smooth, creamy white hot chocolate satisfies. Not only is it delicious, but it is also comforting and has an amazing texture. The white chocolate and heavy cream add thickness and the fat content of milk and cream add smoothness for a decadent and gorgeous warm drink.
This white hot chocolate recipe takes mere minutes to make and will bring smiles to the faces of everyone in the family.
Ingredients for White Hot Chocolate
Whole Milk. I don't recommend low fat milk for this recipe. It's a dessert drink, and needs the body and fat of whole milk.
Heavy Cream. Adds thickness, richness and flavor.
White Chocolate Chips.
Salt. Brings out the sweetness and white chocolate flavor just a little bit more.
Vanilla Extract. Imitation vanilla is not recommended.
Toppings. Whipped Cream, Marshmallows, Sprinkles, Cinnamon, Cocoa Powder, Caramel Syrup, White Chocolate Syrup.
How to Make White Hot Chocolate
Making homemade white hot chocolate is so much easier than you might expect. It's really just a matter of heating everything up and getting it all melted and blended really well. Here are the specifics.
Put a saucepan on medium heat. It needs to be big enough to hold four cups of liquid plus. Add the milk, cream, white chocolate chips, and salt. Stir this occasionally, just until the chocolate chips are completely melted and the hot chocolate is smooth and creamy. Do not bring it to a boil or simmer.
Add the vanilla extract, stir it until combined, and heat through. Divide the hot white chocolate into four cups and top with whipped cream or optional toppings.
Tips for Best Results
You can replace the 1 ½ cups white chocolate chips with 9 ounces white baking chocolate. Be sure to chop it into small pieces to speed up the melting process.
If a skin or film forms on the top of the hot chocolate while it's in the pan, turn the heat on low and whisk until smooth again.
For an even thicker consistency, replace an additional 1 to 1 ½ cups of the milk with heavy cream or half and half.
Variations: Use any kind of flavored chips or sweetened baking chocolate to make different flavors of hot chocolate. You can also use different extracts. Orange, almond, or peppermint would all be lovely in place of the vanilla.
Keep the temperature medium or medium-high at most and do not bring this mixture to a boil or even a slow simmer. It only needs to be hot enough to melt the white chocolate.
The better the quality of your white chocolate, the better this drink will be. If you can afford to splurge on something like Lindt Chocolate or Ghiradelli go for it.
Serving white hot chocolate at a party? Set up a slow cooker on the warm setting and fill it up with the prepared drink. It will stay at the perfect temperature all evening long.
Be careful not to let the white hot chocolate scald while on the stovetop. Make sure to stir it occasionally until the white chocolate is melted and keep a close eye on the temperature level.
Make sure you have fresh white chocolate chips. If they've been in your pantry for more than six months, check the expiration date. Old white chocolate may sieze and not melt correctly.
Frequently Asked Questions
What alcohol goes well in White Hot Chocolate?
Make it an adults-only drink with a splash of one of these choices: Kahlua, peppermint schnapps, Rumchata, raspberry liqueur, tequila, amaretto, or Bailey's Irish Creme. Note how each of those will change the flavor as well.
Can I make White Hot Chocolate Dairy-Free?
Yes. Substitute Almond Milk in place of the milk and heavy cream. Your drink will have a lighter texture but still taste great!
What is White Chocolate?
This yummy confectionary treat is made from cocoa butter, vanilla, milk solids, and sugar. It isn't technically "chocolate" at all but it does have cocoa butter as an ingredient. Make sure you don't buy the kind made with vegetable fat instead.
How Should I Store Leftover White Hot Chocolate?
Simply keep the leftovers in a pitcher in your refrigerator for a couple of days and reheat it in the microwave for a quick hot drink. If you do not need four cups, you can halve the recipe. If you are making it for a crowd, you can double or triple the recipe. Making larger amounts will be harder to heat through without scalding the milk and cream.
More Drink Recipes You Will Love
Eggnog Recipe (Spiked and Non-alcoholic version)