Whip up these easy moist Banana Bars with Cream Cheese Frosting! They have a dash of cinnamon for a warm spice and are sprinkled with nuts. This banana bar recipe is the perfect way to use up leftover bananas and is so quick to throw together.
While I always have good intentions to eat my bananas before they are too ripe, I also secretly want them to get brown and spotted so I have an excuse to make my favorite banana nut bars.
What You'll Need
The full recipe with exact measurements is at the bottom of the post.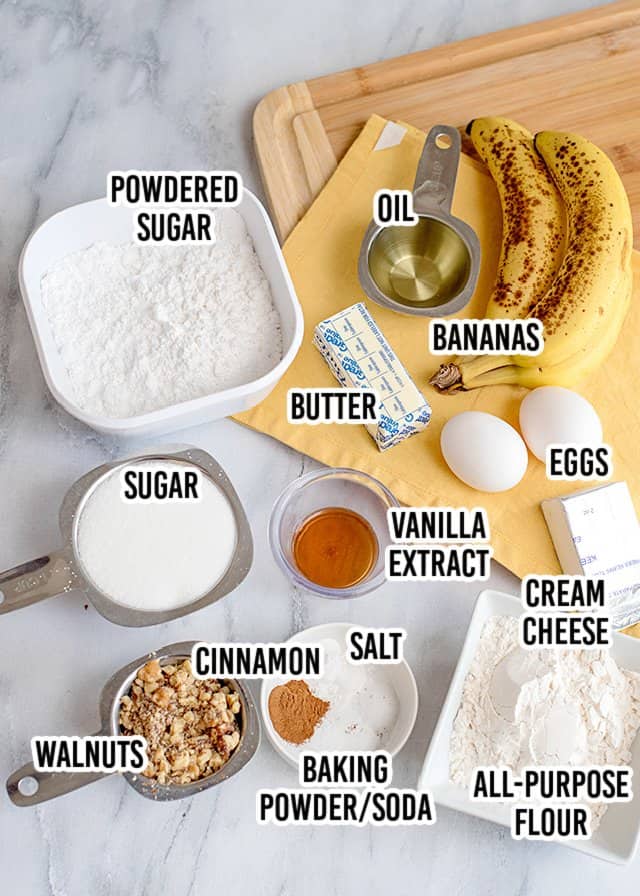 For the Bars
Bananas - Green bananas are always a big no-no. The browner, the better.
Sugar - I used granulated sugar for a light and fluffy bar, but you can substitute half or all of the granulated sugar with light brown sugar.
Oil - Vegetable oil or canola oil will work.
Eggs - Always use large eggs in my recipes unless specified otherwise.
Vanilla - Just a little additional flavoring.
Flour - all-purpose flour works best for this recipe.
Baking Soda/Baking Powder - our leavening agents so the bars aren't dense bricks.
Salt -Helps balance out the sweetness.
Cinnamon -Great for a warm fall flavor.
Nuts -Walnuts or pecans will do.
For the Cream Cheese Frosting
Cream Cheese - This should be a room temperature so it easily blends into the butter.
Butter - You can use salted or unsalted. A small amount of salt will be a nice addition to the sweet frosting.
Vanilla - Again, the perfect additional flavoring.
Powdered Sugar - This helps sweeten and thicken the frosting.
How can I ripen bananas quickly?
If you have bananas but they are bright yellow and not even close to being overripe, don't worry. Turn your oven on to 225 degrees F. Then place your bananas on an aluminum foil-lined baking sheet.
Bake until the peels are black. You will then have ripe bananas that once cooled off you can remove from peel for a rich and flavorful banana to flavor these easy banana bars.
I have used this trick many times when I didn't have ripe ones on hand. Depending on the size of bananas and such, you can expect it to take around 20 minutes or so to get the peels blackened.
Can you use frozen bananas in banana bars
You sure can use any frozen bananas you have in your freezer. As long as they were ripe when they were frozen will work. Allow the bananas to thaw and then mash them up if needed. They're usually almost like a puree for me after they've been frozen and no mashing is needed.
PRO TIP: Always allow the bananas to thaw first!
How to make Banana Bars
Making these banana bars is super simple. Here are the step-by-step instructions for you.
Step 1: Start by working on your banana bar batter. Mash up the bananas and add them to a bowl with the oil, sugar, and eggs. Whisk until combined.
Step 2: Whisk in the flour, baking powder, baking soda, salt, and cinnamon. If you're concerned about lumps, you can pour the liquid into a large bowl that already has the dry ingredients in it.
Step 3: Fold in the walnuts or pecans if choose to add them. If you toasted them prior to adding them to the bars, they would taste even more amazing.
Step 4: Once your batter is ready, pour into a greased pan and bake as directed. Allow the bars to cool, so the cream cheese frosting doesn't melt when you spread it on.
Tips and Tricks for these Easy Banana Bars
This recipe can be made into a snack cake if you use an 8x8 baking pan and bake the bars for a longer period of time since they'll be much thicker.
Roasting the nuts in the oven at 350 degrees F. for 7 to 10 minutes, stirring half way through will give the nuts a toasted less bitter flavor and a crumbly texture.
A brown butter frosting instead of a cream cheese frosting would pair well with the nuttiness in the banana bars.
You can substitute the granulated sugar for light brown sugar for a more dense bar.
Frequently Asked Questions
Can you freeze banana bars with cream cheese frosting?
Yes, you can freeze leftover bars. Place the bars in an airtight container and store them in the freezer for up to three months. Once you are ready to eat them, allow them to thaw at room temperature or place them in the fridge overnight to thaw.
They will taste amazing! This is such an easy and tasty recipe you will want to make again and again.
How to store banana bars and how long will they last?
Since these bars have a cream cheese frosting on top, I recommend storing them in the fridge. Since the bar itself is made with oil rather than butter, they won't become stiff rocks either.
You can also allow them to sit at room temperature for 20ish minutes until the bar has warmed up prior to eating it if you would like.
The bars will last about 5 days in the fridge as long as they're stored in an airtight container.
Can I use butter instead of vegetable oil?
I haven't tried it, but it should work fine. I think they may be slightly dryer than when using oil though.
Looking for more delicious desserts
Carrot Cake Cupcakes | If you have a love for carrot cake, these cupcakes will make your heart skip a beat or two! Try this today.
Red Velvet Cinnamon Rolls| Here you use a cake mix to transform it into delicious and moist red velvet cinnamon rolls.
Monkey Bread From Scratch | Whip up a batch of monkey bread from scratch. This recipe will melt in your mouth.
Banana Bars
These easy moist Banana Bars with Cream Cheese Frosting have a dash of warm cinnamon spice, a sprinkle of nuts, and is the perfect way to use up brownbananas.
Ingredients
Cream Cheese Frosting
3

ounces

cream cheese

room temperature

5

tablespoons

butter

room temperature

1

teaspoon

vanilla extract

2

cups

powdered sugar
Instructions
Bars
Preheat oven to 350 degrees. Spray a 9x13 baking pan with non-stick baking spray.

Add the sugar, bananas, oil, eggs, and vanilla in a large bowl. Whisk until combined.

Add in the flour, baking powder, baking soda, salt, and cinnamon. Stir with a spatula until combined.

If you're adding walnuts, stir in ½ cup now until evenly distributed in the batter.

Pour the batter in the prepared pan and spread evenly to the edges.

Place in the preheated oven and bake for 25-30 minutes, until a toothpick comes out clean. Cool completely before frosting.
Frosting
In a large bowl, add cream cheese and butter. Beat with a hand mixer on medium until smooth.

Add the vanilla and gradually add in the powdered sugar. Beat until all of the powdered sugar is worked into the frosting.

Add spoonfuls of the frosting all over the banana bars and carefully spread it to the edges.

Top with the remaining ¼ cup walnuts, cut and enjoy!
Nutrition
Calories:
385
kcal
Carbohydrates:
53
g
Protein:
4
g
Fat:
19
g
Saturated Fat:
10
g
Cholesterol:
48
mg
Sodium:
170
mg
Potassium:
203
mg
Fiber:
2
g
Sugar:
40
g
Vitamin A:
299
IU
Vitamin C:
3
mg
Calcium:
37
mg
Iron:
1
mg
(Nutrition facts are an estimate and not guaranteed to be accurate. Please see a registered dietitian for special diet advice.)