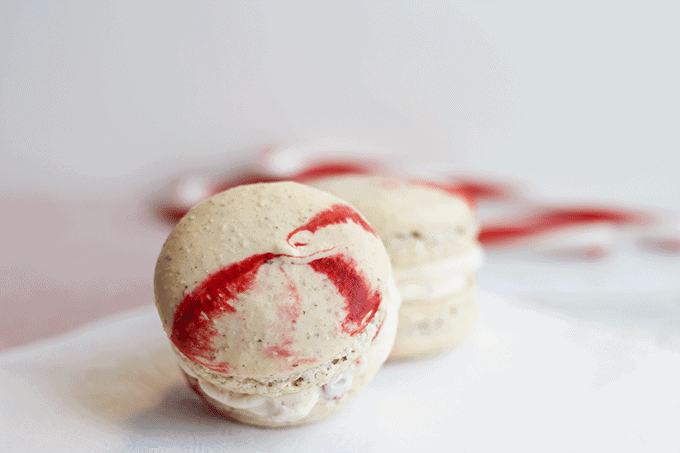 This month's theme for the creative cookie exchange is peppermint. I love peppermint, but it's not one of my go-to flavors. However, my son has quickly become a peppermint lover. Every time we go to the store we have to pick up a York peppermint patty. It's ridiculous. If he sees the king size York patty package, he'll get that instead of the normal sized patty. Smart boy.
So, this month, I put together a peppermint macaron with a white chocolate ganache loaded with peppermint bits from Andes. If you're thinking that this cookie has got to be overloaded with peppermint, let me just say that the white chocolate ganache mellows out the peppermint. I absolutely love these. So much so, that I've ate far too many while trying to get my pictures edited.
On the left is the Andes peppermint crunch that I used in my ganache. It really adds the slightest crunch to the ganache. It's a wonderful mouth feel, in my opinion. If you've noticed the little flecks of brown in my macarons, I did not use the blanched almonds to make my almond meal/flour. My almonds were thinly sliced and had the brown skins on the sides. If you want a pure white macaron, look for the blanched almonds.
I really didn't make a template on my parchment paper as I was piping out the cookies. They aren't the same consistent size, but they all manage to have the perfect fitting match. I'm not crazy about making excessive work for myself. I have enough of that with a two and a half year old, but by all means if you are a perfectionist just make a template with the perfect size circle on the parchment paper and flip it over so the pencil/pen doesn't get into the macarons.
I feel seriously crafty that I was able to incorporate a heart into my pictures. I know it's not anything that someone else hasn't done, but go me! Yes, I will sometimes toot my own horn.
Peppermint French Macarons
Ingredients
Macaron shells
1

cup

almond flour

2

cups

powdered sugar

3

large

egg whites

room temperature

¼

cup

granulated sugar

pinch of salt

¼

tsp.

cream of tartar

½

tsp.

peppermint extract
White Chocolate Ganache
1

cup

white chocolate chips

⅓

cup

heavy cream

½

cup

Andes Peppermint Crunch
Instructions
Macaron Shells
Prepare a baking sheet by lining it with parchment paper. If you choose to make a template to follow, make for rows of four circles with a pencil. Flip the parchment paper over so the pencil doesn't get into the food.

Sift together the almond flour and powdered sugar. If you can't find almond flour you can always make it with almonds and a food processor. Finely grind the almonds and sift through a fine mesh sifter. Discard or snack on any large pieces.

In a large mixing bowl, add in egg whites. Turn on high and beat until the egg whites form a soft peak meringue.

Add in the granulated sugar, salt, and cream of tartar. Mix on high until a stiff peak meringue forms.

Very lightly and carefully fold in a third of the almond flour/powdered sugar into the meringue with a spatula. All together you'll want to have about 65-75 turns of this mixture including turning in the peppermint. If you don't mix enough the macaron shell will be extremely fluffy and cracked. If you overmix, the macaron shell will be extremely flat and might not form a foot.

Repeat with the rest of the almond flour/powdered sugar mixture.

Add in the peppermint extract.

Preheat oven to 300 degrees.

Fill a piping bag with the macaron filling. I just used a coupler on the end of my piping bag. Pipe macaron shells on the baking sheet.

Let the macarons dry until they are no longer tacky to the touch. It will take 20 minutes to 1 hour.

Place in the oven for about 18 minutes until they no longer stick to the parchment paper.
Ganache
In a small bowl, add in the white chocolate chips.

In a large measuring up, measure out ⅓ cup of heavy cream. Heat in the microwave for 1 minute. Pour over top of the white chocolate chips and let it sit for a minute.

Whisk the cream and chips together until combined. Let the ganache sit for about five minutes before adding the Andes Peppermint Crunch so it doesn't melt it.

Fill a piping bag with the cooled ganache. Don't use a tip otherwise the peppermint crunch will be stuck in the tip.

Fill the cooled macaron shells with ganache.

I stored my cookies in the fridge because of the heavy cream in the ganache.
Nutrition
Calories:
218
kcal
Carbohydrates:
30
g
Protein:
3
g
Fat:
10
g
Saturated Fat:
4
g
Cholesterol:
10
mg
Sodium:
25
mg
Potassium:
67
mg
Sugar:
28
g
Vitamin A:
85
IU
Vitamin C:
0.1
mg
Calcium:
46
mg
Iron:
0.3
mg
(Nutrition facts are an estimate and not guaranteed to be accurate. Please see a registered dietitian for special diet advice.)
Peppermint Bark Shortbread from Food Lust People Love
Peppermint Mocha Cookies from If I Ever Owned A Bakery
Peppermint Dark Chocolate Drizzled Coconut Macaroons from All That's Left Are The Crumbs
Mint Chocolate Cookies from Made With Love
Chocolate Peppermint Cookies from Ninja Baking
Chocolate Peppermint and Chocolate Chip Cookies from Karen's Kitchen Stories
Cocoa Peppermint Cookie Bark from The Spiced Life
Chocolate Peppermint Crinkle Cookies from A Baker's House