Do you want to know how to make box brownies better? I put in the work of testing box brownie hacks to make the perfect brownie! These rich, decadent doctored box brownies are quick, easy, and taste like they're from scratch.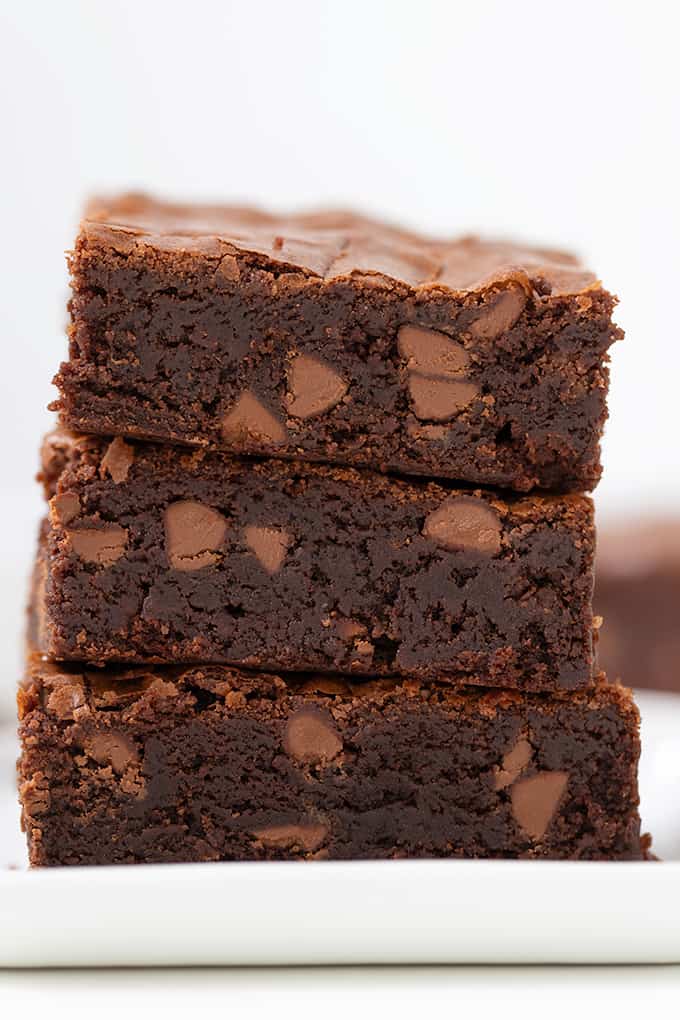 If you've ever wondered how to make box brownies better, have I got a recipe for you! I'm showing you all of my boxed brownie hacks so you too can make delicious, chocolate, fudgy brownies. They're exactly the type of brownies you crave and we level-up that brownie mix like a box with simple additions you will find in your pantry and refrigerator.
I also have a highly reviewed Doctored Chocolate Cake Mix recipe that you should check out! I'm working on more
Ingredients to Make Box Brownies Better
Brownie Mix - I used Betty Crocker Fudge Brownie Mix.
Salted Butter - You can use unsalted butter if that's what you have but the brownies will have less flavor.
Vegetable Oil - You can use any neutral oil such as avocado oil, canola oil, or vegetable oil.
Large Egg Yolks - Use an egg separator to remove the yolk or just do the old-fashioned way of tilting the egg back and forth in the two egg shells until the white detaches from the yolk. You can save the egg white for something else or discard it.
Whole Egg - Include one whole egg.
Unsweetened Cocoa Powder -A high-quality cocoa does improve the flavor if you can find one.
Granulated Sugar - Regular white sugar or turbinado sugar will both work.
Vanilla Extract - Pure extracts are preferred for flavor. You can use store-bought like Rodelle or Watson or homemade vanilla extract.
Salt
Heavy Whipping Cream - Heavy cream or heavy whipping cream are interchangeable for this recipe.
Milk Chocolate Chips - Use your favorite chocolate chips! Semi-sweet or dark chocolate chips will work.
How to Make Box Brownies Better Recipe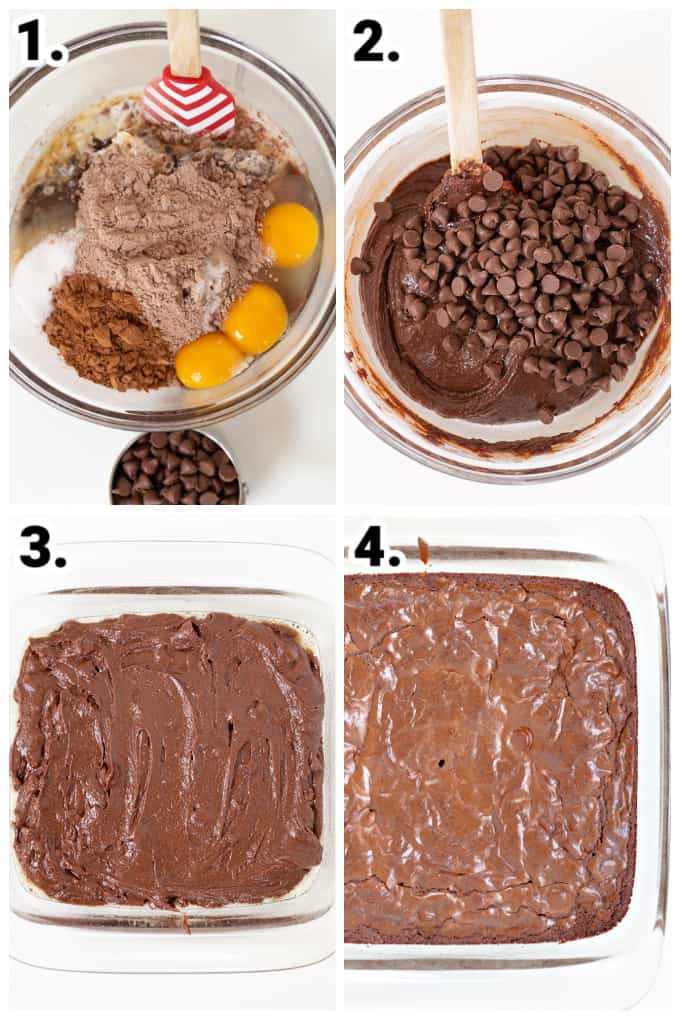 You are going to love how adding just a few simple ingredients takes your brownie mix to a whole new level of goodness.
Step 1. First, get everything ready by preheating your oven, pulling out all of the ingredients, and spraying the pan or lining it with parchment paper. Add all of the ingredients except for the chocolate chips and mix until incorporated. The batter will be thick.
Step 2. Fold in the chips until they're evenly distributed in the batter.
Step 3. Scoop the batter out into the prepared pan and spread evenly to the edges of the pan.
Step 4. Bake your brownies for forty to forty-five minutes and then let them cool in the pan.
Tips and Variations
Use any kind of chip or chunk you want in this recipe. Semi-sweet work great. Dark chocolate or white chocolate chips work great. You can use any flavor!
Serve the brownies while they are still warm over your favorite ice cream for a fun dessert.
Do not overbake your brownies. They may not look quite done. You do not need to bake them longer unless the toothpick looks runny. Always start with a preheated oven and bake to the shortest time listed. Leaving them in the pan to cool allows them to finish baking.
Glass pans bake brownies more slowly and heat them more evenly than metal pans. Metal pans heat up fast and bake fast so if that's what you have keep a close eye on your brownies and consider reducing the bake time. Metal pans will bake a harder, chewier brownie. If you want a crispy edge, go with metal.
Do not over-mix the batter. For best results, combine until just mixed.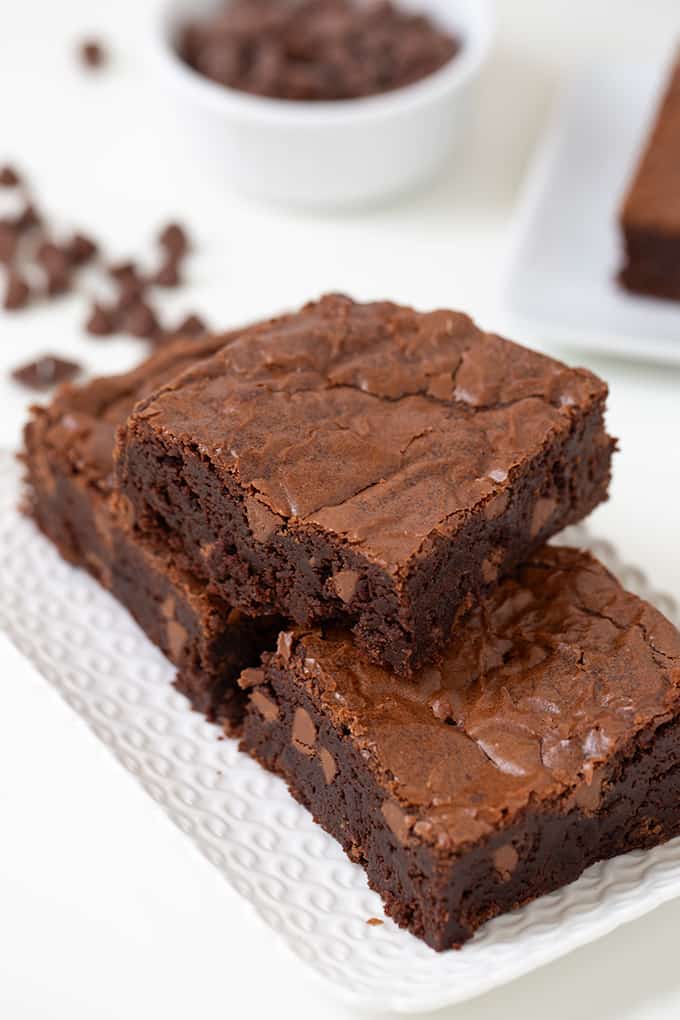 More Ways to Make Box Brownies Better
Serve them with a topping such as caramel sauce.
Add mini marshmallows on top while the brownies are still very hot -- right as they come out of the oven.
Add your favorite nuts to the batter.
Add store-bought frosting or a homemade frosting or ganache for an extra decadent brownie. Frost the brownies after they cool.
Add whipped cream and sprinkles to your brownie.
Use hot brewed coffee instead of water for a fun twist! If you choose this option, you can also dust your brownies with espresso powder.
Macerated berries such as raspberries or strawberries are fantastic on top of brownies. Mix your berries with sugar and let them sit on the counter until juice has formed. Stir the sugar and continue letting it sit until the sugar is dissolved. Now you have macerated berries. You can also use wine to macerate berries.
Frequently Asked Questions
How can I tell if my brownies are done?
A toothpick inserted in the center will come out with slightly moist crumbs. The edges will have just started to pull away from the pan.
How do I store leftover brownies?
Keep your brownies in an airtight container for up to five days at room temperature. Refrigerate the brownies to keep them for up to one week.
Can I freeze leftover brownies?
Yes. Freeze the brownies individually on a cookie sheet and transfer them to an airtight container once they are frozen so that you can grab what you need quickly. Let them thaw in your boxed lunches or microwave a brownie for 20-30 seconds to thaw it. Freeze a whole pan, covered with a lid, for later if you want to pull it out and thaw it for a few hours before slicing and serving the brownies.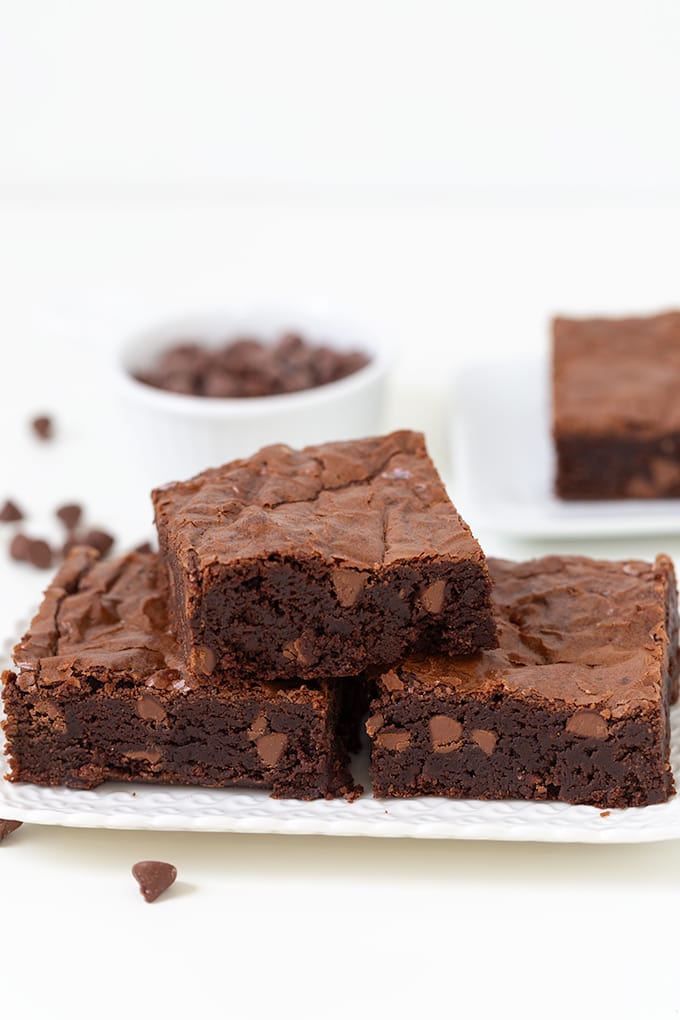 More Great Brownie Recipes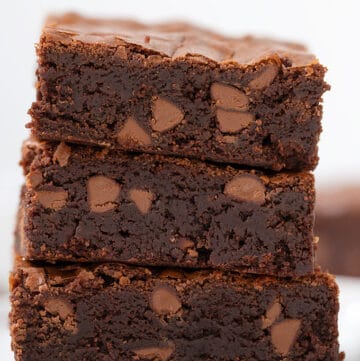 How to Make Box Brownies Better
Do you want to know how to make box brownies better? I put in the work of testing box brownie hacks to make the perfect brownie! These rich, decadent doctored box brownies are quick, easy, and taste like they're from scratch.
Instructions
Preheat the oven to 325 degrees F. Line a 8x8-inch square baking pan with parchment paper. Leave the parchment paper overhang on either side of the pan and clip them in place with binder clips. Lightly spray the parchment paper and the sides of the pan with nonstick baking spray.

In a large bowl, add in all of the ingredients except the chocolate chips. Stir until well combined.

Fold in the chocolate chips until evenly distributed.

Pour into the prepared square pan.

Place in the preheated oven and bake for 40 to 45 minutes until a toothpick inserted into the middle of the brownies comes out with moist crumbs. Wet batter means it needs to bake a few additional minutes.

Let cool before removing from the pan.

Slice and serve.

Store in an airtight container at room temperature for up to 5 days.
Nutrition
Calories:
474
kcal
Carbohydrates:
57
g
Protein:
5
g
Fat:
26
g
Saturated Fat:
12
g
Polyunsaturated Fat:
2
g
Monounsaturated Fat:
7
g
Trans Fat:
0.5
g
Cholesterol:
80
mg
Sodium:
326
mg
Potassium:
31
mg
Fiber:
1
g
Sugar:
39
g
Vitamin A:
504
IU
Vitamin C:
0.1
mg
Calcium:
31
mg
Iron:
2
mg
(Nutrition facts are an estimate and not guaranteed to be accurate. Please see a registered dietitian for special diet advice.)