These Chocolate Orange Brownies are rich and fudgy. They're packed full of chocolate and orange flavoring and then topped with a sweetened condensed milk frosting that's been amped up with a dash of orange extract! This chocolate orange brownie recipe will make a great holiday brownie to serve up to the family!
If you love brownies but get tired of the same old box mix, this recipe is for you. My chocolate orange brownies recipe is the bomb!
The brownies themselves are reminiscent of those lovely chocolate oranges you can buy over the holidays. The orange flavor is perfectly balanced with chocolate and the frosting adds a lovely extra punch to the orange flavor to take these brownies over the top.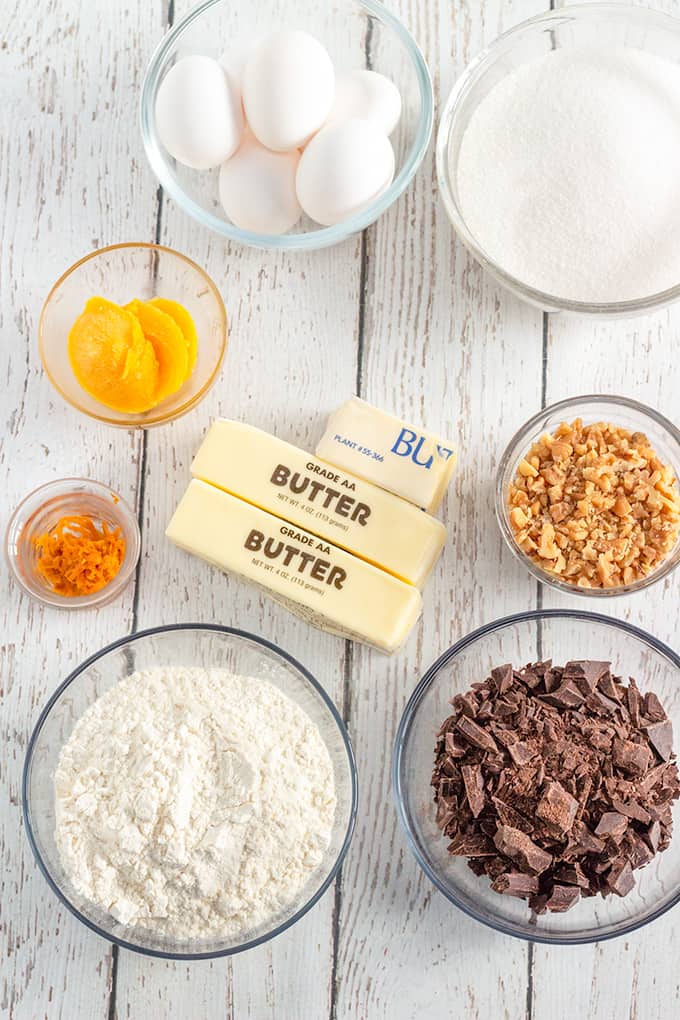 Ingredients for Chocolate Orange Brownies
Butter - Salted butter is fine.
Unsweetened Baking Chocolate - Chopped.
Eggs - Large.
Granulated Sugar - just normal sugar.
All-Purpose Flour - the perfect foundation for your brownies.
Walnuts - Nuts are optional but if you use them they should be chopped.
Orange Juice Concentrate - the kind you find in the freezer section of your supermarket.
Orange Extract - this is found with the spices and vanilla extract at your grocery store.
Orange Zest - if you don't have this the recipe will still work.
How to make Chocolate Orange Brownies
Making my flavorful chocolate orange brownies recipe is so easy! Melting the chocolate in your microwave is the hardest part of the recipe -- and that's not complicated at all.
Once you have all the ingredients gathered, preheat your oven to 350º to get it ready. Line your baking pan and get it ready to go as well.
Next, you will melt the chocolate in the microwave. Melt it for just twenty seconds at a time and stir it each time to check if it is melted.
Once your chocolate is melted beat your eggs in a large bowl until they are frothy. Add the sugar, walnuts, orange zest, and concentrate but do not mix.
Pour the slightly cooled chocolate over this mixture. Beat it well. Add the flour and mix again. Pour it into the baking pan and bake it for forty to forty-five minutes. Cool to room temperature before frosting.
Tips for Chocolate Orange Brownies
Overlap your parchment paper slightly over the edges of your pan to prevent messes. Don't forget to spray it with non-stick cooking spray!
If your chocolate doesn't seem to be melting correctly or is clumping up right away it is possible you have old chocolate. Check the expiration date and replace leftover chocolate from previous holidays.
The melted chocolate will hold its shape until it is stirred, so the shape is not a good judge for meltiness in this case. Make sure to stir it every ten to twenty seconds to check and see if it is ready and prevent burning. Chocolate burns fast, and the microwave can overheat small pockets so stirring is essential.
You will only have to beat your eggs for about thirty seconds to get them nice and frothy. That just means they have bubbles forming on the top. The reason you want to use a large bowl is because all of the other ingredients will be poured over the eggs in that bowl.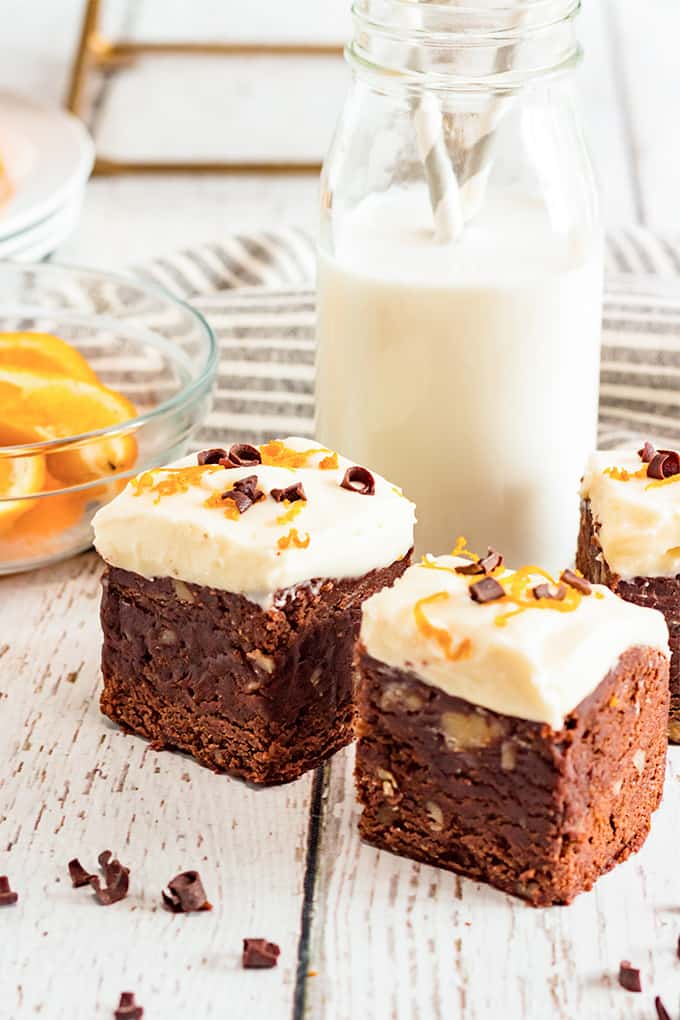 How to Make Condensed Milk Frosting
This is such an easy frosting! The only thing you have to remember is to chill that sweetened condensed milk. Otherwise, it's easy peasy.
Ingredients for the Condensed Milk Frosting
Butter - It needs to be room temperature so be sure and set it out a couple of hours before you will need it.
Sweetened Condensed Milk - It must be cold. Chill it for at least 2 hours or overnight for best results.
Orange Extract - I used to wonder how bakeries got a much more intense flavor in their frosting than I did when I used orange juice. The extract is the secret!
Chocolate Curls - For garnish.
To make the frosting, beat the butter until it is nice and fluffy, then add the remaining ingredients and beat it again until it is smooth and thick. That's it!
Tips for Making Condensed Milk Frosting
Evaporated milk is not the same as sweetened condensed milk and they are not interchangeable. Make sure you grab the right can!
It takes about two minutes to whip the butter to the right level of fluffiness, so if you aren't sure what you are looking for just set a timer and beat the butter on high.
Make sure your sweetened condensed milk has been chilled for at least two hours. This is a minimum. The frosting will not work if you have not chilled this ingredient.
As you add the sweetened condensed milk to the butter and continue beating it, it will thicken and create a beautiful frosting. Keep beating it until it is aerated and thickened.
FAQ
Can I replace the butter with oil in this brownie recipe?
While technically you can use oil in place of the butter, you will find that your brownies will not rise as well and will finish fudgier than you might like.
How long will these orange brownies last?
You can keep the brownies in an airtight container at room temperature for at least a few days even with the sweetened condensed milk frosting. Individual brownies can also be frozen for up to three months in a freezer-safe baggy.
Can I freeze these chocolate orange brownies?
Yes! Just place each brownie in a freezer-safe baggy or airtight container, and you can keep them for up to three months. If you like, you can freeze the whole bath on a tray (spread out), and then after they are frozen transfer them to a gallon-size freezer-quality zipper bag.
More Chocolate Recipes
Chocolate Orange Brownies
These Chocolate Orange Brownies are packed full of chocolate and orange flavoring and then topped with a sweetened condensed milk frosting that's been amped up with a dash of orange extract!
Ingredients
Brownies
1 ½

cups

butter

6

ounces

unsweetened baking chocolate

chopped

6

large eggs

2 ¼

cups

granulated sugar

1 ½

cups

all-purpose flour

¾

cup

chopped walnuts

optional

3

tablespoons

orange juice concentrate

1

teaspoon

orange extract

1

tablespoon

orange zest
Frosting
1

cup

butter

room temperature

14

ounces

sweetened condensed milk

cold (chilled for at least 2 hours or overnight)

1

teaspoon

orange extract

¼

cup

chocolate curls

for garnish
Instructions
Brownies
Preheat oven to 350 degrees F. Line a 3 inch deep 8x8 square baking pan with parchment paper. Leave an additional 2 inches of parchment paper for overhang on each side of the pan. Spray with nonstick baking spray.

In a small microwave-safe bowl, add the chopped unsweetened chocolate and microwave in 20-second increments until melted. Stirring after each increment to avoid burning.

In a large bowl, add the eggs. Beat with a hand mixer on medium until frothy.

Add in the sugar, walnuts, orange juice concentrate, and zest to the eggs. Don't stir.

Pour the slightly cooled chocolate mixture over the top and beat with mixer until combined.

Add the flour and mix well.

Pour the batter into the prepared pan.

Place in the preheated oven and bake for 40-45 minutes or until the sides start to pull away.

Remove from the oven and allow to cool to room temperature.
Frosting
In large bowl, add the butter and bear with a hand mixer until light and fluffy.

Pour in the can of sweetened condensed milk and orange extract. Beat on medium until thoroughly mixed and thickened.

Spread the frosting over the brownies and garnish with chocolate curls and/or orange zest if desired.

Cut into bars for serving. Refrigerate until served or any leftovers.
Nutrition
Calories:
624
kcal
Carbohydrates:
58
g
Protein:
8
g
Fat:
43
g
Saturated Fat:
25
g
Polyunsaturated Fat:
4
g
Monounsaturated Fat:
11
g
Trans Fat:
1
g
Cholesterol:
146
mg
Sodium:
312
mg
Potassium:
289
mg
Fiber:
3
g
Sugar:
44
g
Vitamin A:
1057
IU
Vitamin C:
5
mg
Calcium:
110
mg
Iron:
3
mg
(Nutrition facts are an estimate and not guaranteed to be accurate. Please see a registered dietitian for special diet advice.)