These Homemade Brownies are rich, fudgy, and made from scratch. The brownie batter can be made in less than 15 minutes and tastes amazing served warm or at room temperature.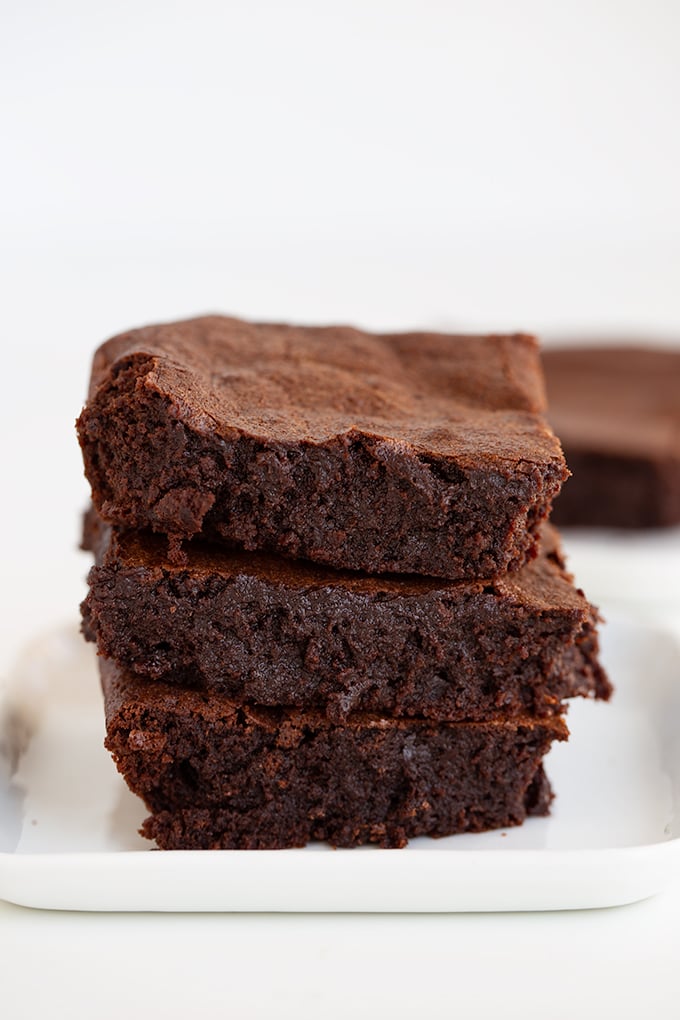 The first time you make homemade brownies you are going to wonder why you've never made them before. Nothing beats homemade. Try this recipe and you will never want to go back to boxed brownie mix again. BUT, if you need to use a boxed brownie mix, I have an awesome post and recipe on how to make box brownies better.
The rich chocolate, fudgy texture, and thick brownie are all great reasons to come back to this recipe over and over again. As if that wasn't enough, you don't have to worry about preservatives, high fructose corn syrup, or other hidden ingredients.
What are the Ingredients in Homemade Brownies?
Butter - Because almost everything good starts with a stick of butter.I prefer salted butter, but you can use unsalted as well.
Vegetable Oil - Canola Oil is a good substitute. Olive Oil is not because it has too much flavor.
Granulated Sugar - Also known as white sugar or table sugar.
Light Brown Sugar - Dark brown has too much flavor for this application. It can be used if you have to, but it may affect the flavor.
Large Eggs - Eggs are used to add texture, increase moisture levels, and help with leavening or rise. Using a size other than large eggs will definitely change how the homemade brownies turn out.
Vanilla Extract - Vanilla beans are soaked in alcohol to make pure vanilla extract and it will infuse so much flavor into your baked goods. You can make your own homemade vanilla extract too!
Unsweetened Cocoa Powder - Since you are already adding sugar and butter to this recipe, unsweetened cocoa powder is a better choice.
All-Purpose Flour - This is made from a blend of both hard and soft flours so that it can be used for many different applications.
Salt - Brings out the flavor of the chocolate.
Baking Powder - Helps the brownies not get too dense.
How to Make Homemade Brownies
You might think is really complicated because we seem so dependent on mixes for this recipe. It's really not at all complicated to make homemade brownies, and they taste so good.
First, you should get your pan ready and preheat the oven. Then you can start mixing up the ingredients. Cream the fat and sugars first in a large mixing bowl.
Then, add the eggs and vanilla extract and whisk until the mixture becomes lighter in color. Do not use a hand mixer.
Add in the cocoa powder, flour, salt, and baking powder. Stir in with a spatula just until combined. Don't overmix or it will become cakey.
Pour the mixture into the prepared 9x13 pan and carefully spread the dough to the edges. It becomes a challenge with thick batter and parchment paper in the pan to spread it out.
Place in the preheated oven and bake for 30 to 35 minutes until the edges are set and a toothpick inserted in the center of the brownies comes out with moist crumbs and no wet batter.
Allow the homemade brownies to cool to room temperature in the pan.
How to Store Leftover Brownies
Keep extra brownies in an airtight container for up to a week. No need to refrigerate. If you'd like to have your brownies last longer, you can keep them in the freezer for up to three months in an airtight container or freezer-quality zipper bag.
Frequently Asked Questions
More Brownie Recipes