This Banana Split Fluff is a fun fluff (salad) version of the Banana Split Cake with crushed pineapple, maraschino cherries, bananas, cream cheese, and more. It's a perfect treat to serve at get-togethers and parties!
A delicious, creamy dessert, Banana Split Fluff combines all your favorite flavors from the classic ice cream treat we all know and love. Plus, no ice cream is needed!
This tasty mixture is made from cream cheese and sugar as the base and then blended with cherries, pineapple, and bananas. A drizzle of chocolate and crushed nuts at the end provides over-the-top nostalgia
Ingredients for Banana Split Fluff
Cream Cheese - Be sure to compare the ingredients on your box of choice with the ingredients in a national brand. Generics sometimes, but not always, have added fillers that change the end result of the recipe.
Granulated Sugar - White table sugar.
Maraschino Cherry Juice - Drain off some of the juice and keep it for the recipe. Discard the remaining juice.
Maraschino Cherries - These cherries are jarred and are a bright colorful red.
Crushed Pineapple -This comes in a can. Drain off the excess liquid.
Bananas - Sliced and dipped in lemon juice to prevent browning.
Whipped Topping - This usually comes frozen from the store so make sure to thaw it in the refrigerator to use in this recipe.
Chopped Peanuts or Pecans - Best if toasted to bring out the flavors.
Chocolate Syrup - Optional. You could also use caramel syrup or strawberry syrup depending on how you remember your banana split.
How to Make Banana Split Fluff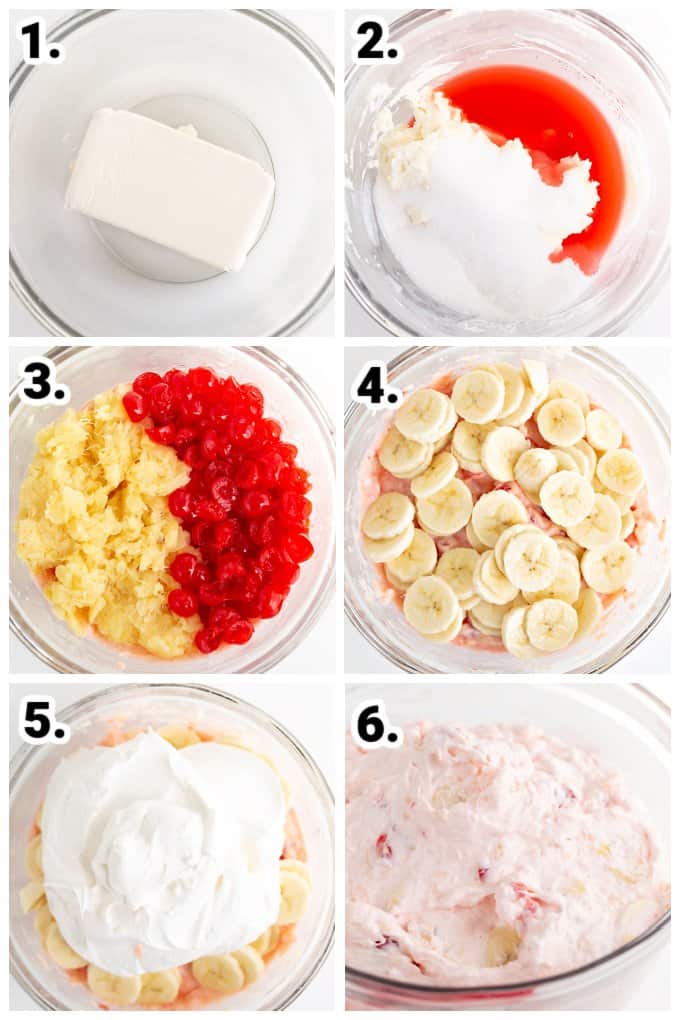 First, smooth out your room temperature cream cheese with a hand mixer to prepare it for mixing easily with the other ingredients. Just beat it for a couple of minutes. Add the sugar and juice and beat it again to thoroughly and evenly sweeten the cream cheese.
Slice the maraschino cherries in half. Slice the bananas and coat them in lemon juice. Drain the crushed pineapple really, really well to prevent excess liquid in your dessert. Mix in the cherries and crushed pineapple. Fold in the banana slices and whipped topping using a spatula.
Refrigerate for at least one hour before serving so that the flavors have time to meld and the dessert has time to firm up a bit. Scoop and serve Banana Split Fluff with a drizzle of chocolate syrup and crushed nuts on top.
Tips for Best Results
You could use a chocolate magic shell, the chocolate that hardens on contact with something cold, for a fun twist for the topping.
Toast your peanuts or pecans for about fifteen minutes at 325 degrees F to bring out the nutty flavor more fully before crushing them to put on banana split fluff.
Set out your cream cheese ahead of time to get it fully at room temperature before you begin mixing the dessert. Also, make sure to thoroughly thaw the whipped topping. You can do this over the course of several days in the refrigerator or several hours on the counter.
It takes longer than you might think to thaw even at room temperature so be prepared for that. If you've ever had to wait for the Cool Whip to thaw for your pumpkin pie at Thanksgiving, you know what I'm talking about!
How to Store Fluff
Cover the fluff with plastic wrap or in an airtight container and store it in the refrigerator for up to 3 days.
Banana Split Fluff is best eaten the day it's made because of the bananas browning and the fruit creating additional liquid making the fluff runnier.
Frequently Asked Questions
Do Maraschino Cherries contain alcohol?
No. Contrary to popular belief, these jarred, bright red cherries do not contain alcohol. You can certainly add alcohol, and you may even be able to buy alcoholic versions, but the traditional and common jars do not contain alcohol.
What are the traditional banana split toppings?
Crushed pineapple and chocolate syrup are two traditional toppings for a banana split the way we used to get them at the ice cream shop. You can change up the syrup for any flavor combination you like.
Can I make Banana Split Fluff dairy-free?
Yes. Just use a non-dairy cream cheese substitute with non-dairy whipped topping and the recipe will work perfectly. If the non-dairy cream cheese substitute is too thick, add a little extra whipped topping.
More Great Fluffy Recipes
Little Debbie Strawberry Shortcake Dip