These Gingerbread Cookies are soft and chewy with loads of molasses and ginger flavor! They make great cut out gingerbread men and hold their shape really well. This is a Christmas cookie recipe that you will want to keep around!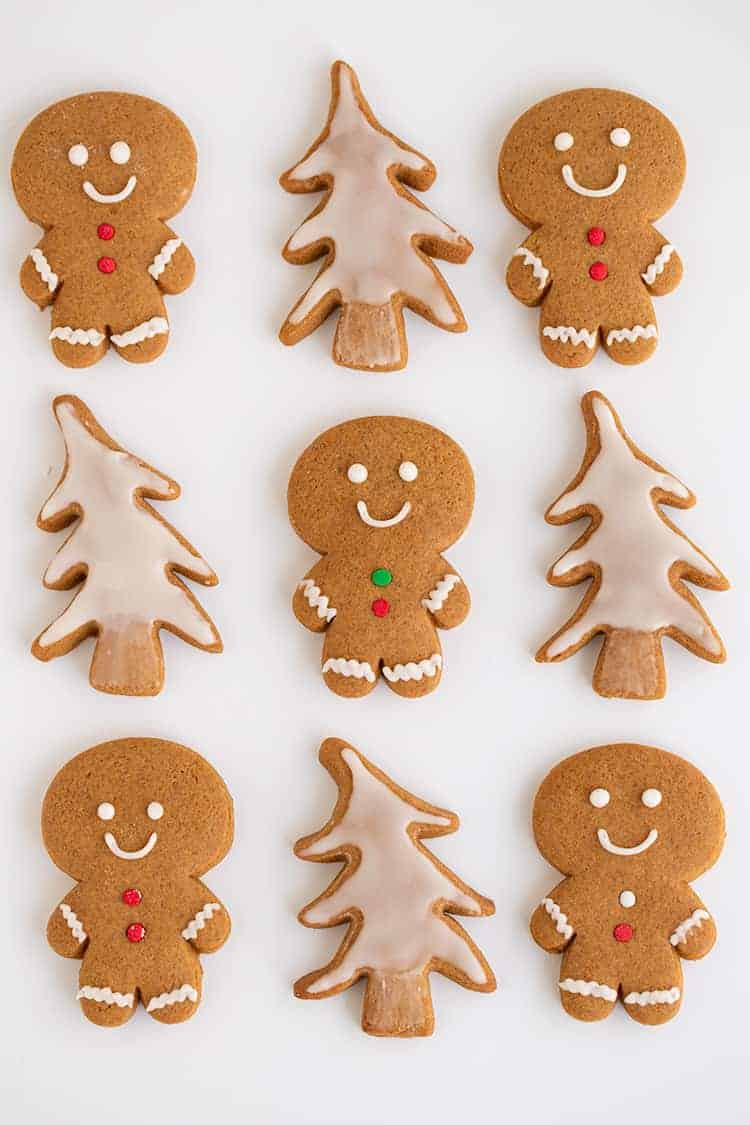 It's that time of the year where you can't get enough of those cookie recipes so here are more that I've recently posted: Cinnamon Roll Cookies, Sour Cream Sugar Cookies, Buttery Pecan Snowball Cookies, and Shortbread Cookies
It's that time of year when gingerbread is all around. That's fine with me because I absolutely LOVE gingerbread! I adore the smell, the taste, and, of course, decorating gingerbread men and gingerbread houses.
Over the years I have perfected my gingerbread men recipe. I have tweaked the seasonings and spices, played with the amount of sugar and molasses and I have finally made it exactly the way I want it.
These Christmas gingerbread cookies are chewy in the middle yet crunchy on the edges. Just one bite and you will be singing Christmas songs at the top of your lungs. They are festive, adorable and something you must make this season. So let's get started!
How to Make Gingerbread Cookies
Gingerbread cookies are not hard to make at all. Anyone with a mixer and a measuring cup can whip up a batch of these beauties in just a matter of minutes! You just need to follow our well laid out steps and you should have no problem. Here is a quick look at how the recipe comes together:
Cream the butter and sugars
Add the molasses, eggs, and vanilla
Add the dry ingredients and mix into a dough
Chill the dough until it is firm
Roll out the dough and then cut into your desired shape (gingerbread men, gingerbread girls, or even simple circles will do!)
Bake the gingerbread cookies then let them cool
Decorate the gingerbread or just leave it plain
It's a pretty straight forward cookie recipe, right?! You can definitely handle this one! Just be sure to measure correctly and your cookie dough will be fantastic.
How to Make Icing For Gingerbread Cookies
To make icing for gingerbread cookies, all you need to do is whisk all of the ingredients together. The icing will be quite stiff so you will need a good, strong whisk. You can mix by hand or use a stand mixer fitted with a whisk attachment to make the icing. You want the icing to be stiff enough to hold its shape but not too hard that it will be impossible to pipe.
This icing also holds dye well. Divide it into smaller bowls and use gel food coloring to make the gingerbread icing any color you'd like! Of course, red and green are necessary!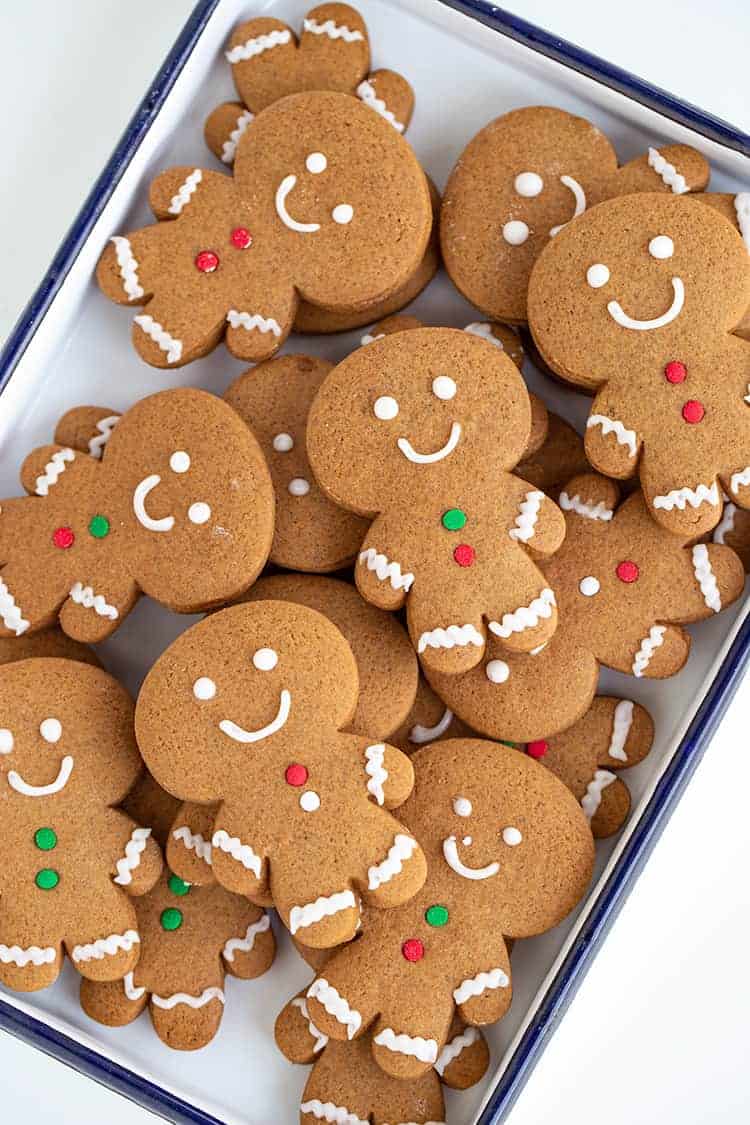 How to Decorate Gingerbread Cookies
The best part about decorating gingerbread cookies is that you can make them look however you want! You can make funny gingerbread men or classic gingerbread men. You can use just the icing for gingerbread cookies or you can add small candies to the cookies as well. It is really up to you!
A classic gingerbread man usually is decorated with two eyes, a smile and a scarf. Three buttons are added down the front of the gingerbread man and then squiggles of frosting adorn the feet and hands. You can add an icing hat or bow to the head as well. Red and green are classic colors but, once again, feel free to get creative with your gingerbread man decorating!
How Long Can You Freeze Gingerbread Cookies?
Roll the cookie dough, cut out your gingerbread cookies and then place them on a parchment-lined cookie sheet. Place in the freezer until frozen and then transfer to a freezer bag and freeze.
Frozen gingerbread cookie dough will last up to three months in the freezer. Bake the cookies straight from the freezer whenever you are ready to enjoy them!
Baked gingerbread cookies will stay fresh for up to two months when stored in the freezer. After this, the cookies tend to get a little too dry and crumbly.
Thaw the baked, frozen cookies at room temperature before enjoying. It is always a good idea to decorate the gingerbread cookies after they have thawed. The gingerbread cookie icing does not freeze well and you want those cookies to look as good as they taste!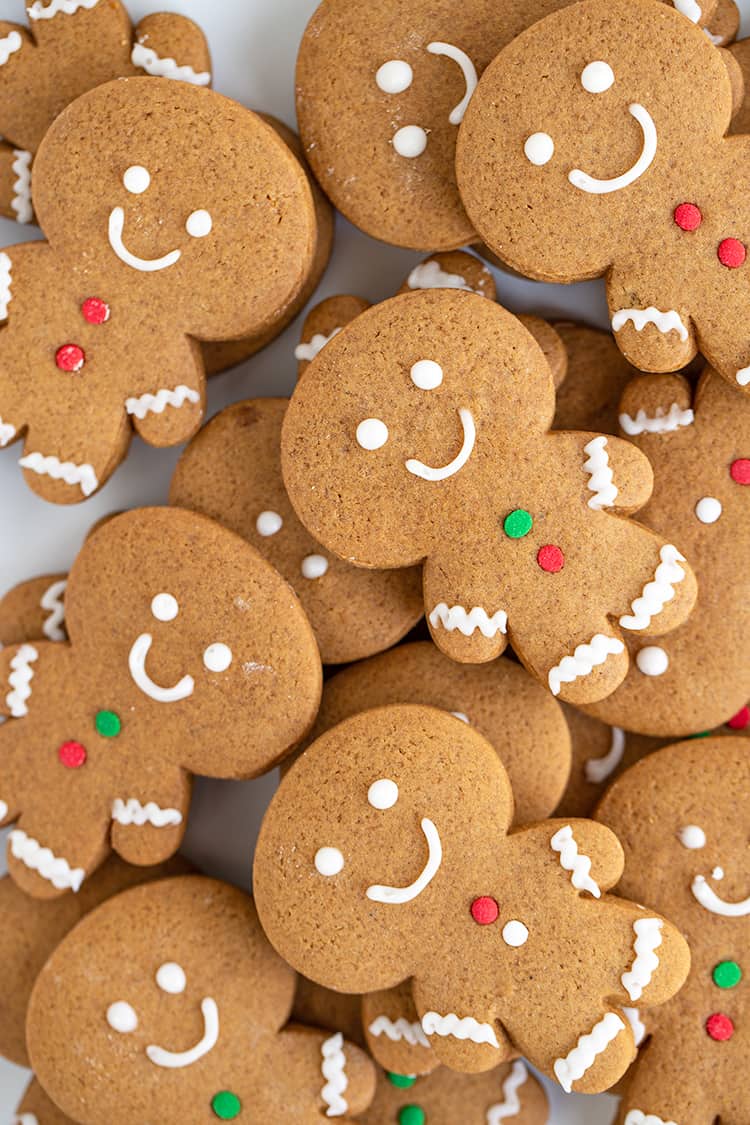 How Long do Gingerbread Cookies Last
After you have baked your gingerbread cookies and they are decorated perfectly, they will last for 4-6 weeks. Gingerbread is a fairly dry type of cookie which extends it's shelf life.
Less moisture means the cookies will be more resistant to mold. Store the baked cookies at room temperature in an airtight container and enjoy for up to about a month after you make them!
You can make these cookies at the beginning of December and still be eating them on Christmas eve- sounds pretty amazing!
FAQ's
You may have a few questions about making perfect gingerbread cookies and we can help! Here are a few questions that are asked often along with our professional answers. We hope they help!
What kind of molasses do you use for gingerbread cookies?
We use regular cooking molasses to make our gingerbread cookies. Cooking molasses is dark, flavorful and adds a great taste to the gingerbread cookies. It is also easy to find and not too costly.
You can opt to use blackstrap molasses which has a more powerful and intense taste. However, the cooking molasses is smoother and creamier, a better fit for our specific cookie recipe and taste buds.
Why do my gingerbread cookies spread?
There are two main reasons why gingerbread cookies spread- too much leavener and warm dough. If you add too much leavener to the cookie dough (like baking powder or baking soda), it will cause the cookies to rise and expand. This also causes them to spread out as they bake. Be sure to add exactly the amount as listed in the recipe to prevent excess spreading.
You also want to make sure your dough is chilled before baking. Putting warm dough into the oven will cause the dough to immediately "melt" before it bakes. This results in wider, blob cookies- not what you want! Prevent gingerbread cookies from spreading by chilling the dough after you have cut out your shapes, letting it get a little more firm before going into the oven.
How do I stop my cookies from spreading so much?
Stop your cookies from spreading by baking the cookies as soon as they're cut out. Those sharp gingerbread men edges will stay nice and clean when the dough has been properly chilled.
How do you know when gingerbread cookies are done?
When gingerbread cookies are fully baked, the centers will be nice and puffy. The cookie center will no longer look wet or shiny but have a matte texture. If the center of the cookie is dark while the edges are light, that also indicates that the cookie is not baked in the center.
Try gently touching the center of the cookie to see if it is done. If your fingerprint stays, the cookie needs more time. If the cookie bounces back from your touch, it is done!
Can I substitute the molasses for honey?
The texture of molasses and honey is very similar. However, the two ingredients taste very different. Gingerbread cookies get a lot of their flavor from molasses. That rich, earthy sweetness is thanks to the molasses.
So, you really don't want to substitute it for honey. If you are in a pinch, honey will work but your cookies will be lighter in color and also have a lighter taste. Try to stick to the molasses when making any gingerbread cookie recipe.
Shop this Post:
Gingerbread Cookies
These Gingerbread Cookies are soft and chewy with loads of molasses and ginger flavor!
Ingredients
Cookies
1

cup

butter

room temperature

1

cup

light brown sugar

packed

¼

cup

granulated sugar

¾

cup

molasses

2

large eggs

1

teaspoon

vanilla extract

4 ¼

cups

all-purpose flour

1

tablespoon

ground cinnamon

1

tablespoon

ground ginger

½

teaspoon

ground cloves

½

teaspoon

ground allspice

1

teaspoon

baking powder

½

teaspoon

salt

½

tablespoon

festive sequin sprinkles
Icing
2

cups

powdered sugar

2

teaspoons

corn syrup

2 - 3

tablespoons

milk

1

teaspoon

vanilla extract
Instructions
Cookies
Add the butter, light brown sugar, and granulated sugar to a large mixing bowl. Using a hand mixer, beat on medium speed until creamed.

Add the molasses and beat until combined. Scrape down the sides of the bowl.

Add in the eggs and vanilla extract and mix with the hand mixer until incorporated.

In a separate bowl, add the flour, cinnamon, ginger, cloves, allspice, baking powder, and salt. Whisk to combine.

Add the dry ingredients to the wet and beat until the flour is incorporated and a soft dough forms.

Divide the dough in half, place each half in plastic wrap and flatten into thick discs. Place in the fridge for at least 3 hours, but preferably overnight to firm up.

Preheat the oven to 350 degrees F. Line a cookie sheet with parchment paper.

Remove one of the discs from the fridge and place it on a lightly floured surface. Dust the top of the cookie dough with flour and the rolling pin.

Roll the dough out to ¼ inch thickness.

Cut the gingerbread men out and place 1 inch apart on the prepared cookie sheet.

If you're using festive sequin sprinkles, add 2 of them for buttons on the gingerbread. Gently press the sequins in.

Place in the preheated oven and bake for 14 to 16 minutes until the cookies are puffy. If the center is darker than the edges, it's still raw and needs to be baked longer.

Reroll the scraps and cut out more gingerbread men.

Repeat rolling and cutting with the other cookie dough disc.

Allow the cookies to cool for 5 to 10 minutes on the cookie sheet before transferring to a wire rack or paper towel to cool completely.

Once the cookies are completely cooled, make the icing.
Icing
In a large bowl, whisk together the powdered sugar, corn syrup, milk, and vanilla extract. You'll want the icing thick enough to hold its shape when it's piped, but thin enough to easily pipe.

Add the icing to a sandwich bag or piping bag fitted with a small round tip. If you're using a sandwich bag, cut a small hole in the corner of the bag.

Pipe squiggles on the arms and legs of the gingerbread men, a smile, and eyes. Use a toothpick to move the icing around or fix any mistakes.

Let the icing dry completely before storing.

Place in an airtight container and store at room temperature for 1 week.
Notes
Use 1 to 3 drops of gel food coloring to color the icing.
Nutrition
Calories:
131
kcal
Carbohydrates:
23
g
Protein:
1
g
Fat:
4
g
Saturated Fat:
2
g
Cholesterol:
16
mg
Sodium:
63
mg
Potassium:
106
mg
Fiber:
1
g
Sugar:
14
g
Vitamin A:
125
IU
Calcium:
24
mg
Iron:
1
mg
(Nutrition facts are an estimate and not guaranteed to be accurate. Please see a registered dietitian for special diet advice.)