This Red Velvet Cake recipe is made with vinegar, buttermilk, and a small amount of cocoa powder! It has the classic red color and soft, velvety texture. Layered between the red velvet cake and slathered on the sides and top is a delicious, homemade cream cheese frosting.
Red velvet is a classic cake flavor that has been around for ages and we know why- it is incredible! That is why we are devoting an entire blog to red velvet cake with cream cheese frosting. It deserves a little love.
The Red Velvet flavor can be added into all sorts of creations. I have a Red Velvet Cheesecake recipe that has the flavor of red velvet, an Oreo crust, and a cream cheese whipped cream piping on top.
If cheesecakes aren't your thing, I also have some delicious Chewy Red Velvet Bars. They're incredibly soft and tender and have a cream cheese frosting on top.
What is Red Velvet Cake
Red velvet cake is actually a chocolate buttermilk cake that's light on the cocoa powder. The cake batter has a red dye added into the mix in order to give it that deep red color. The dye and the cocoa powder make a deep red color that is as gorgeous as it is yummy.
"Velvet" cakes go back hundreds of years to the Victorian era when a velvet cake was any cake that had cocoa powder added into the batter. The cocoa would break down some of the grittiness of the flour and make the cake soft and velvety.
How red velvet cake became so popular is still kind of a mystery. Some people say that the chemical reaction between the cocoa and the vinegar/acidic buttermilk made the cake a reddish color. Others say that the chocolate used during WWII had a reddish tint and made the cake red. Others say that the beet juice, used as a sweetener during WWII, is what turned the batter red. No matter how red velvet got its signature color, it stuck around.
What Are The Ingredients in Red Velvet Cake?
Here is what goes into our red velvet cake:
Vegetable Oil
Buttermilk
Eggs
Red Gel Food Coloring
White vinegar
Vanilla
Cake flour
Sugar
Cocoa powder
Baking soda
Salt
You probably already have a lot of these ingredients in your pantry, ready to use!
How to Make Red Velvet Cake
While making red velvet cake is not too difficult, there are a few key steps that you need to follow. We made our recipe as easy as possible so that anyone is able to make incredible red velvet cake.
Here is how to make my red velvet cake recipe:
Mix together the vegetable oil, buttermilk, eggs, red gel food coloring, vinegar and vanilla.
In a separate bowl, combine the cake flour, sugar, cocoa powder, baking soda and salt.
Mix the wet ingredients into the dry ingredients, whisking until there are no flour clumps.
Pour the cake batter into the prepared cake pans and bake in a preheated 350 degree oven for about 30 minutes.
Let the cakes cool and then decorate and enjoy!
Seems like a pretty easy recipe, right?! It definitely is.
How to Store Red Velvet Cake with Cream Cheese Frosting
You definitely want to keep frosted red velvet cake in the fridge or freezer before of the cream cheese frosting. If you leave the cream cheese frosting off and substitute it with regular American frosting or chocolate frosting, you can store it at room temperature in an airtight container. It will last 4 to 5 days this way.
Once you have frosted your red velvet cake with the cream cheese frosting though, you can store it in an airtight cake container in the Fridge or place it in the freezer until the frosting has firmed up and then tightly wrap it in plastic wrap and tin foil and store in the freezer. The frosted cake will keep for up to two weeks in the fridge when stored in an airtight container or for 1-2 months when stored in the freezer.
How to Freeze Red Velvet Cake
Freezing unfrosted red velvet cake is one way you can store your red velvet cake for up to three months. Make sure the cake is completely cool. Wrap the cake in plastic wrap, letting the plastic wrap touch the cake directly. This will seal the cake well, preventing it from drying out in the freezer.
If possible, put the wrapped cake in a large, gallon sized zippered bag for an extra layer of protection. You can also wrap it in heavy duty tin foil or in a large freezer container. When wrapped well, your cake will stay fresh for up to three months in the freezer.
You can thaw the cake layers by sitting them out at room temperature or in the fridge overnight, but I would just begin working on the layers while it's still frozen.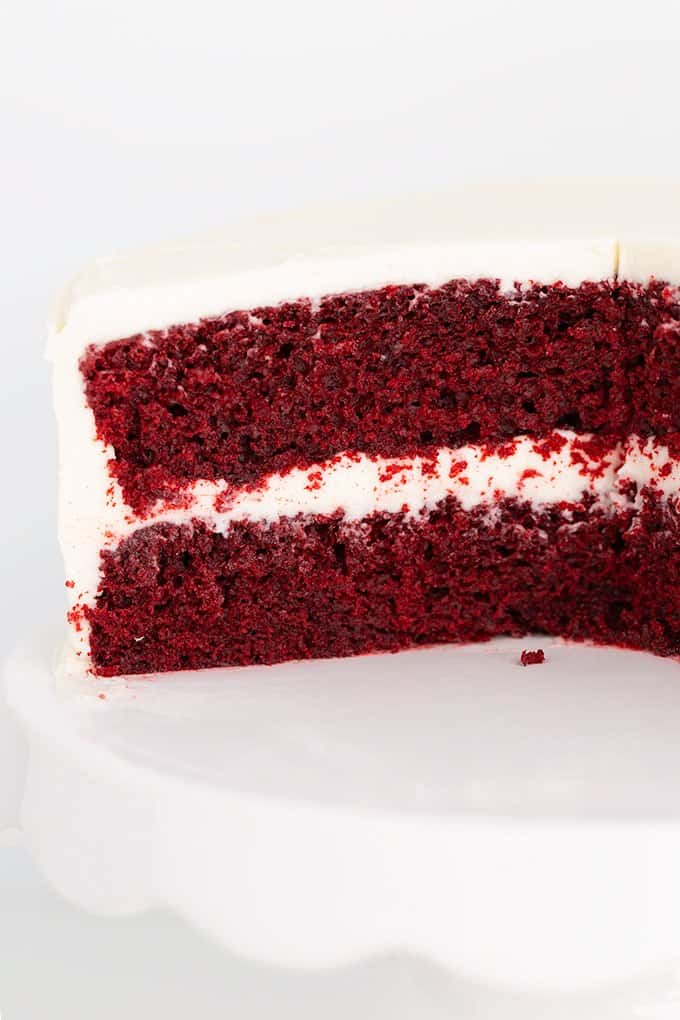 Frequently Asked Questions
What is the best food coloring to use?
Short answer is gel food coloring, preferrable the no taste red gel food coloring.

The long answer is when dying red velvet cake, you want to be sure that you get as brilliant of a color as possible. Using gel food coloring will give you the best, bright red color.

Since gel food coloring is more concentrated and you will get more color in each drop, you'll need less food coloring to make the batter red. This means you won't mess with the consistency of your cake batter when adding the food coloring.
What if you don't have buttermilk?
Buttermilk gives red velvet cake its delicious, tangy taste. However, if you don't have buttermilk, you can still make a great red velvet cake.

Measure regular, whole milk into a bowl. Then mix in the 1 teaspoon of white vinegar that is in the recipe plus one extra teaspoon of white vinegar.
Let the milk and vinegar mix sit for 5 to 10 minutes. The vinegar will curdle the whole milk and make it into homemade buttermilk!

What frosting goes with Red Velvet Cake?
When trying to decide what kind of frosting to use on your red velvet cake, it helps to think of red velvet cake as a buttermilk chocolate cake.

What would you put on a chocolate cake? Vanilla buttercream, chocolate buttercream, and cream cheese frosting all work wonderfully!

Red velvet cake is classically served with cream cheese frosting as the tangy cream cheese pairs fantastically with the rich cake. Feel free to mix it up and try a new frosting too.

Can I make this recipe into cupcakes?
You definitely can make this recipe into cupcakes. Here's how!

Line a cupcake pan with paper cupcake liners and then scoop the red velvet batter into the paper cups, filling them about ¾ of the way to the top.

Bake the cupcakes for about 20-25 minutes or until a toothpick inserted in the center of the cupcake comes out cleanly. Let them cool and then ice with our cream cheese frosting recipe!

Can I bake this red velvet cake recipe in a 9x13 pan?
Yes! Pour all of the batter into a well-greased 9x13 pan and bake at 350 degrees F for 35 to 40 minutes. I just baked one and it had taken 37 minutes to bake through.

To check for doneness, press your finger in the center of the cake. If the cake springs back, it's done. If an indentation remains, it needs to bake longer. You can also insert a toothpick or skewer into the center of the cake. It will come out with moist crumbs or clean when it's done.
More Cake Recipes to Try
Red Velvet Cheesecake with Cream Cheese Frosting
This Red Velvet Cake recipe is made with vinegar, buttermilk, and a small amount of cocoa powder! It has the classic red color and soft, velvety texture.
Ingredients
Cream Cheese Frosting
8

ounces

cream cheese

room temperature

1

cup

butter

room temperature

5

cups

powdered sugar

3

tablespoons

milk

1

teaspoon

vanilla extract
Instructions
Cake
Preheat the oven to 350 degrees F. Spray two 8-inch round cake pans with nonstick baking spray. Cut two 8-inch parchment paper circles to sit in the bottom of the cake pans. Add about 1 - 2 tablespoons of flour to coat the sides of the greased pan and tap out any excess flour. Repeat with the second cake pan.

Add the vegetable oil, buttermilk, eggs, red food coloring, vinegar, and vanilla extract to a medium mixing bowl. Beat with a hand mixer on medium until combined.

In a large bowl, add in the cake flour, sugar, cocoa powder, baking soda, and salt. Whisk to combine.

Add the wet ingredients in with the dry and beat until just combined. Scrape down the sides of the bowl and beat in any remaining flour.

Divide the batter evenly between the two prepared cake pans.

Place in the preheated oven and bake for 30 to 35 minutes or until a toothpick inserted in the center of the cake comes out clean or with moist crumbs.

Remove from the oven and let cool in the pan for 30 minutes before turning out onto a cooling rack to cool completely.

Once cooled, work on the cream cheese frosting.
Frosting
Add the cream cheese and butter in a large mixing bowl. Beat on medium until smooth.

Add in the powdered sugar, milk, and vanilla extract. Beat on low until the powdered sugar is mostly incorporated.

Turn the mixer on medium and beat until creamy.

Place the first layer of cooled cake on a cake plate.

Add a large scoop of frosting to the cake and spread evenly with an offset spatula.

Add the second layer of cake on top of the frosting and gently press down.

Frost the top and sides of the cake.
Nutrition
Calories:
1064
kcal
Carbohydrates:
137
g
Protein:
8
g
Fat:
56
g
Saturated Fat:
24
g
Polyunsaturated Fat:
13
g
Monounsaturated Fat:
14
g
Trans Fat:
1
g
Cholesterol:
137
mg
Sodium:
774
mg
Potassium:
181
mg
Fiber:
2
g
Sugar:
114
g
Vitamin A:
1208
IU
Calcium:
91
mg
Iron:
1
mg
(Nutrition facts are an estimate and not guaranteed to be accurate. Please see a registered dietitian for special diet advice.)