These Cream Cheese Sugar Cookies are so soft and tender. They make perfect cut-out cookies for the holidays too! Add some delicious vanilla frosting or icing and some festive sprinkles to celebrate any occasion!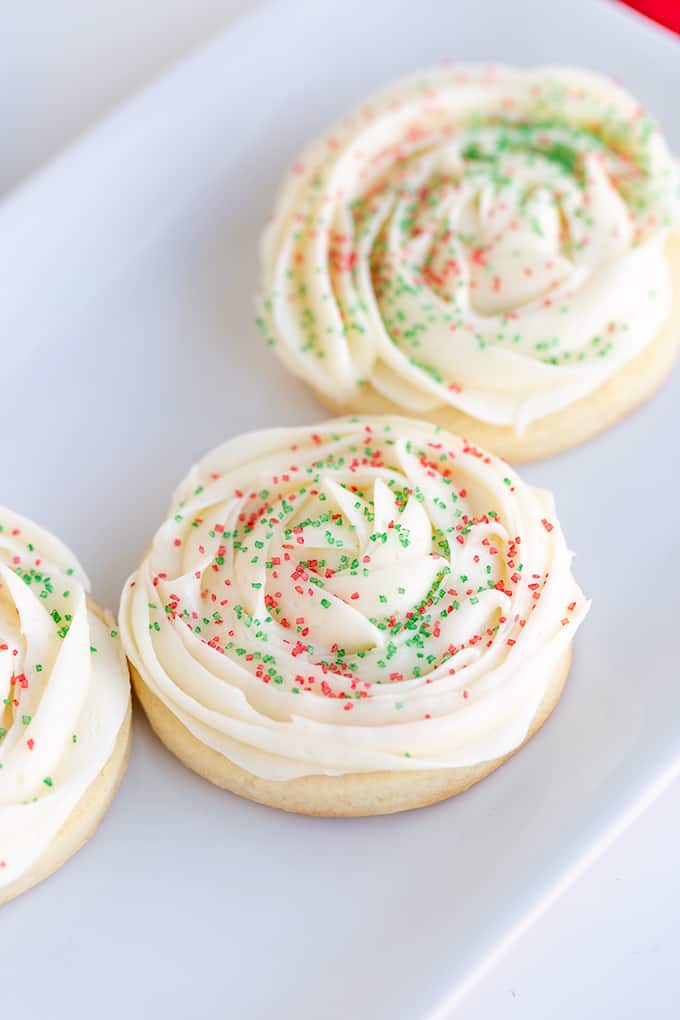 I love all types of sugar cookies. I guess I just really love all cookies in general! Sugar cookies are definitely a family favorite, especially around the holidays.
If you're looking for more sugar cookie recipes, these Sour Cream Sugar Cookies are a great option. They're also soft and tangy. Here are these Pineapple Upside Down Sugar Cookies which are a cross between a sugar cookie and pineapple upside down cake! Lastly, Strawberry Sugar Cookies that are crunchy, buttery, and have flakes of dehydrated strawberries in them!
Having a good, reliable, and delicious sugar cookie recipe is essential and this cream cheese sugar cookie recipe is the recipe you want to have on hand all season long.
Ingredients in Cream Cheese Sugar Cookies
Now that you are probably intrigued by the idea of adding cream cheese to sugar cookie dough, let me tell you exactly what goes into this recipe. Yes, cream cheese is definitely in there! But there are a few other very important ingredients as well.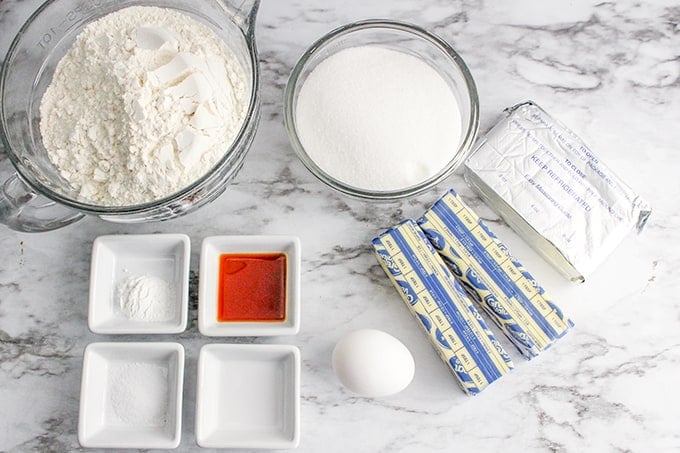 To make cream cheese sugar cookies, you will need:
Butter- Room temperature butter will blend into cookie dough much easier. I used unsalted for this recipe.
Cream cheese- Use full fat cream cheese. You want all the fat the cream cheese has to offer in order to make decadent, melt-in-your-mouth dough
Sugar- White, granulated sugar gives the cookies their sweetness. They are called sugar cookies, after all!
Egg- Egg helps bind the cookie dough as it bakes. I also recommend always checking if a recipe specifies the size of egg because it can make a difference.
Almond and Vanilla extract- Almond extract and vanilla extract are almost always added to sugar cookie dough. Almond is especially popular in holiday cookies. It gives a little nutty, deep flavor that is welcomed this time of year.
Flour- White, All-purpose flour is perfect for cookie making. It has just the right amount of gluten to hold the sugar cookies together but not too much that they bake too hard.
Baking powder- Baking powder leavens the cookies, making them airy and chewy.
Salt- Salt always enhances flavors. A touch of salt makes a huge difference in a cookie dough.
Frosting- I love these cookies plain and also with frosting so this ingredient is totally your choice!
These simple, household-staple ingredients bake to become perfect cream cheese sugar cookies. I bet you already have everything you need in your kitchen, ready to start this recipe! Let me tell you exactly how to put the cookie dough together and get baking!
How to Make Cream Cheese Sugar Cookies
Making cream cheese sugar cookies is very much like making standard sugar cookies. If you regularly make cookies, these steps will look very familiar.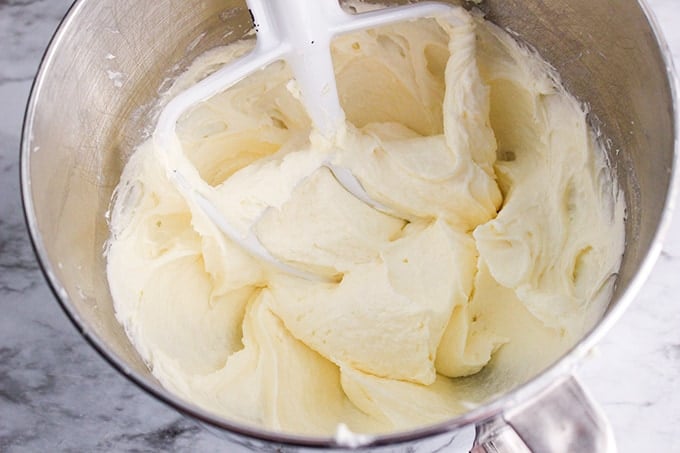 Step 1 - Beat the cream cheese, butter, and sugar together until light and fluffy.
Step 2 - Add the egg and extracts and blend together slowly. Scrape down the sides of the bowl to really get all the ingredients incorporated.
Step 3 - Add the dry ingredients to the bowl and mix to form a soft dough.
Step 4 - Scoop the dough onto two pieces of parchment paper or plastic wrap. You want to make two even piles of dough.
Step 5 - Wrap the dough balls in the plastic wrap or parchment then pat the dough ball flat, making a disc about 2 inches thick.
Step 6 - Refrigerate the dough overnight. This is key to making a dough that is easy to work with. The dough is way too soft when it is fresh to roll or cut. Refrigerating it overnight will help the dough set, help the flour absorb some of the moisture in the dough, and let the cream cheese and butter chill. The dough will be perfect in the morning!
Step 7 - Roll one disc of dough at a time, rolling it on a floured surface until it is about ¼ of an inch thick. The dough will still be a little sticky so flour is necessary.
Step 8 - Use a cookie cutter to cut out any shape you'd like. Place the cut cookies on a parchment-lined sheet tray.
Step 9 - Bake the cookies in a preheated 375-degree oven for about 8 minutes. The edges of the cookies will begin to turn a golden brown and the dough will no longer look wet.
Step 10 - Let the cookies cool on the tray and then ice and enjoy!
Starting with room-temperature ingredients will help your cookie dough blend together easily. Chilling the dough overnight will really make it easy to work with. Baking on parchment paper will help the sugar cookies bake evenly and completely. These little tricks really help make the perfect cream cheese sugar cookies!
Substitutions and Variations
This recipe for cream cheese sugar cookies is delicious but also fairly plain. I like simple cream cheese sugar cookies but I also like to tweak them a little.
This recipe is very easy to alter, making a whole new cookie just by adding or changing one or two ingredients. Here are a few of my favorite ways to switch up these cookies.
Add spices. Cinnamon, nutmeg, ginger and even apple pie spice all are delicious in this cookie dough. Stick to ½ teaspoon of spices total for one batch of cookie dough.
Add lemon or orange zest. A teaspoon of zest is plenty to make the dough flavorful but not too overpowering.
Replace the almond extract with all vanilla extract. You can also use all almon in place of vanilla!
Knead ½ cup of sliced almond into the dough before refrigerating.
Add 1 tablespoon of unsweetened cocoa powder for a light chocolate version
Dip the baked cookies in chocolate ganache
Spread some raspberry jam over a baked cookie and sandwich it to a second cookie for a delicious cookie sandwich.
Let me know how you change this recipe to make it your own. Do you have any favorite sugar cookie add-ins? I'd love to hear about them!
Tips and Tricks
Chill the dough- I can not stress enough how much this helps! You will be much happier working with a well chilled cookie dough than a stick warm mess.
Use Flour- when rolling out the cookie dough, don't be afraid to use extra flour. Dip the cookie cutter in flour tooto prevent it from sticking to the dough.
Keep an eye on the cookies when they bake. They can go from perfectly golden brown to burned too quickly. The moment the edges are brown, take them out of the oven.
Using full fat cream cheese is essential. Low fat cream cheese will not work as well and the cookies won't taste as rich.
Room temperature ingredients blend together easily. The dough will be smoother and more uniform when you use room temperature ingredients.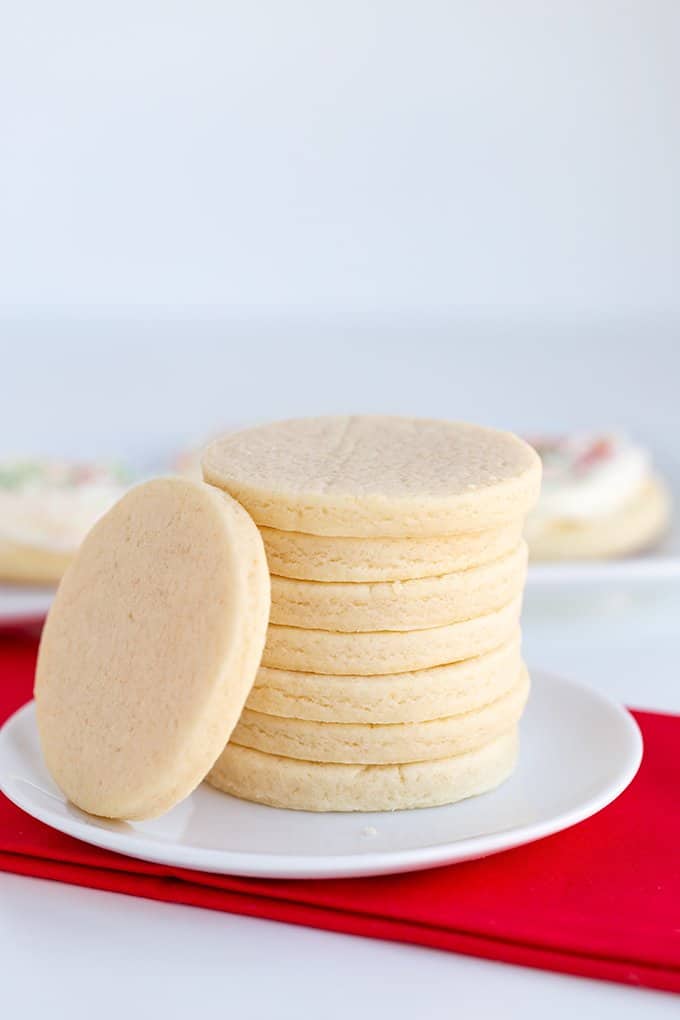 Frequently Asked Questions
Can you freeze cream cheese sugar cookies?
You can freeze cream cheese sugar cookies! There are two ways you can use this recipe as a freezer, friendly cookie recipe. First, you can make and bake the cookies completely. Wrap the baked cookies in an airtight container and freeze up to three months. Defrost the cookies at room temperature for 2-4 hours then enjoy!

You can also freeze the cookie dough. Once you divide and wrap the two dough discs, freeze them for up to two months. Place the frozen cookie dough in the fridge to thaw overnight. Then, roll and cut the cookie dough however you'd like!

Freezing this cookie dough or baked cookies is a great way to get ahead on your holiday baking. The cookies still taste fantastic even out of the freezer! Get a batch made and frozen today. You'll be happy to have them come Christmas time!
Do cream cheese sugar cookies need to be refrigerated?
Once cream cheese sugar cookies are baked, they do not need to be refrigerated. The baked cookies can be stored in an airtight container at room temperature for up to a week.
What frosting goes well with these sugar cookies?
You can use almost any kind of frosting on these cream cheese sugar cookies. Royal icing, buttercream, or chocolate frosting will all work great. My favorite frosting is definitely vanilla buttercream which compliments the tangy taste of the cookies perfectly.
Give these tasty cream cheese sugar cookies a try because this recipe may very well replace your old sugar cookie recipe. These cookies have a little bit of zing, a bright creamy taste and they are pretty simple to make. They are sure to liven up your holiday Christmas cookie routine. Enjoy!
More cookie recipes to sink your teeth into
Cream Cheese Sugar Cookies
These Cream Cheese Sugar Cookies are so soft, tender, and make perfect cut-out cookies for the holidays too!
Instructions
In a large mixing bowl, add in the butter, cream cheese, and sugar. Using a hand mixer on medium speed, beat until light and fluffy, about 5 minutes. Scrape down the sides and bottom of the bowl.

Add the egg, almond extract, and vanilla extract to the mixture and beat until combined.

In a separate bowl, add the flour, baking powder, and salt. Whisk together until well incorporated.

Gradually add the dry ingredients to the wet ingredients, about ½ cup at a time, beating in each addition just until combined. Scrape down the sides of the bowl before adding the next ½ cup.

Divide the dough into two pieces and shape each piece into a disk. Refrigerate overnight.

Preheat the oven to 375 degrees F. Line 2 baking sheets with parchment paper.

Place the dough on a lightly floured surface and allow it to warm up for about 5 minutes before rolling it out.

Roll out the cookie dough to ½ inch thickness. Cut out with a cookie cutter and transfer to the prepared about 2 inches apart.

Place in the preheated oven and bake for 8 to 10 minutes or just until the edges are set and the cookies are puffed.

Allow the cookies to cool completely on the baking sheets.

To make easy icing from store-bought canned frosting, remove the foil seal, microwave for 30 seconds and stir. Microwave in additional 15-second increments stirring after each increment until the frosting is pourable.

Allow the icing to cool slightly before frosting the cookies.

For piping a line around a cookie, leave the icing slightly thick so it pours from the spoon in steady plops. For an icing loose enough to flood the cookie, heat the icing until it is even and pourable.
Nutrition
Calories:
146
kcal
Carbohydrates:
18
g
Protein:
2
g
Fat:
8
g
Saturated Fat:
5
g
Polyunsaturated Fat:
1
g
Monounsaturated Fat:
2
g
Trans Fat:
1
g
Cholesterol:
25
mg
Sodium:
100
mg
Potassium:
37
mg
Fiber:
1
g
Sugar:
9
g
Vitamin A:
249
IU
Calcium:
15
mg
Iron:
1
mg
(Nutrition facts are an estimate and not guaranteed to be accurate. Please see a registered dietitian for special diet advice.)