These soft, tender Peanut Butter Cut Out Cookies with Chocolate Frosting are the perfect cookie for chocolate peanut butter lovers! They hold their shape, are loaded with peanut butter flavor, and go so well with a rich, chocolate frosting.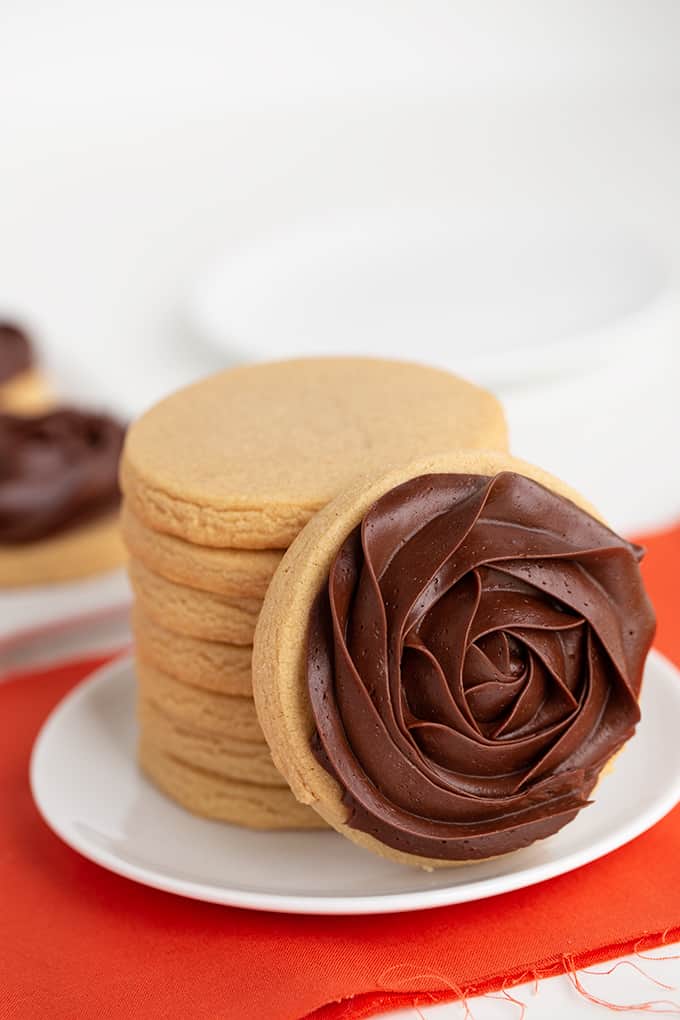 Cutout cookies are probably my favorite thing to bake in the kitchen with my son. There are so many parts of this recipe that a kid can "help" with. Not only do the cookies taste fantastic once baked, but they are such a fun cooking project that everyone in the family can enjoy.
While regular sugar cookies are always tasty, I really like these peanut butter cutout cookies even more. The rich peanut butter taste is incredible and may even be the best peanut butter cookie I have ever had. Take a look at this peanut butter roll out cookie recipe and then give it a try!
If you need a few more cut out cookies to try, head over to my Hot Cocoa Cutout Cookies that have actual packets of hot cocoa mixed into them or these Lemon Cut out Sugar Cookies for a bright, fresh flavor.
Peanut Butter Cutout Cookie Ingredients
The ingredients you need to make peanut butter cutout cookies are very basic cookie-making ingredients.
Butter- rich creamy butter makes the cookies melt in your mouth. I prefer to use salted butter, but unsalted butter works great.
Peanut Butter- Creamy peanut butter gives the cookies a silky, nutty taste. Chunky peanut butter will not give you a smooth cookie or a perfectly cut out cookie since the nuts tend to get in the way.
Brown Sugar- Light brown sugar has a rich, molasses-like sweetness that goes well with peanut butter cookies.
Granulated Sugar- Sugar helps sweeten the cookies.
Eggs- eggs are the binding agent to this recipe and prevent your cookies from crumbling. Always use large eggs since different sized eggs can add too much or too little liquid making your dough sticky or crumbly.
Vanilla- Rich vanilla adds depth of flavor and a subtle sweetness
Baking Powder- Baking powder helps the cookies rise as they bake, making them lighter and fluffier
Cornstarch- Cornstarch helps prevent the cookies from spreading. This will help them keep their cutout shapes as they bake
Salt- A little salt always helps bring out the flavor in any recipe!
Powdered Sugar- Powdered sugar makes a smooth, sweet frosting. Powdered sugar melts right into the butter leaving no gritty texture or sugary lumps.
Cocoa Powder- Cocoa powder is rich and decadent. Be sure to use unsweetened cocoa powder for the most chocolatey flavor possible.
Milk- A little milk will smooth out the frosting, making it the perfect consistency.
Almost all of these ingredients will keep well in your pantry. Stock up so you can make peanut butter cut out cookies anytime you'd like!
How to Make Peanut Butter Cutout Cookies
It takes a few steps to make perfect peanut butter cutout cookies. Plan ahead so this cookie making process isn't too daunting.
The recipe is not necessarily hard, it just takes a little time! I actually like that the cookie dough takes a while to roll, chill and cut because I can do one step, clean up, do the next step, clean again…It kind of works out!
Here is how to make peanut butter cookies that you can roll and cut:
Step 1 - Cream the peanut butter and butter together with the sugar and brown sugar. The mix should be well blended.
Step 2 - Add the eggs and vanilla to the bowl, scraping down the sides so every little bit is incorporated.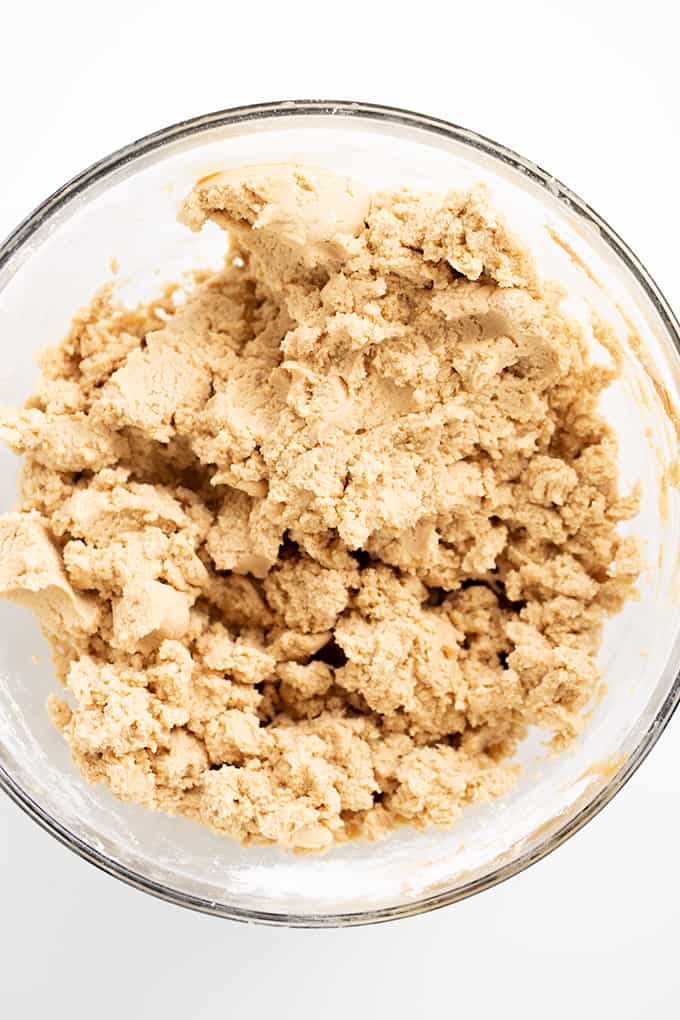 Step 3 - Add the flour, baking powder, cornstarch, and salt to the bowl and blend into a smooth cookie dough. Do not over mix! Turn the mixer off once the batter comes together and the flour is mixed in.
Step 4 - Scoop the cookie dough onto a piece of parchment paper. Spread it out slightly then top it with another piece of parchment.
Step 5 - Use a rolling pin to roll the soft dough between the two pieces of parchment paper until it is about ½ to ¼ of an inch thick.
PRO TIP: Don't go thicker than ½ inch thickness. The cookies will not hold their shape as well.
Step 6 - Carefully slide the dough between the parchment paper onto a flat sheet tray. Place the tray in the fridge to chill overnight.
Step 7 - Remove the dough from the fridge, take off the top piece of parchment, and use flour-coated cookie cutters to cut out your desired shape. Place the peanut butter cookie cut outs on a clean piece of parchment on a new sheet tray.
Step 8 - Bake the cookies until they are no longer shiny and look set. Let them cool on the tray for a few minutes and then move them to a cookie cooling rack.
These peanut butter cookie cut outs taste great with no frosting but I can't resist adding chocolate frosting to the tops of each cookie. To make the chocolate frosting, beat butter and powdered sugar until light and fluffy then add in cocoa powder and a little milk. This makes a very simple, very tasty frosting to help you make peanut butter chocolate cookies. It doesn't get any tastier than that!
Substitutions and Variations
There are a few ways to switch up these peanut butter cookies if you're looking for substitutions.
Add 2 tablespoon cocoa powder to the cookie dough to make a smooth peanut butter chocolate cookie
Add mini chocolate chips to the cookie dough (Keep in mind this will effect the perfect edges on the cookie cut outs!)
Skip the baking powder. The cookie will be more dense but the cut out shapes will be sharper and cleaner.
Use two cookies to make into an ice cream sandwich. YUM!
Drizzle the baked cookies with chocolate ganache and decorate with some sprinkles
How to Store Peanut Butter Cut Out Cookies
There are a few ways to store peanut butter cookies depending on how you make your cookies and how long you'd like them to last. Take a look below and decide the best way to store your cookies.
Store baked, cooled, unfrosted cookies in an airtight container at room temperature. They will keep for about a week.
Store cooled, frosted peanut butter cookies in an airtight container in the fridge for up to two week.
Cut out the cookie dough shapes and place the unbaked shapes in a large zippered freezer bag. Freeze the cookie dough cut outs for up to three months. Take out a few cookie shapes and bake them as directed in the recipe, anytime you get a peanut butter cookie craving!
I love how flexible storing these cookies can be. There are so many ways to keep them fresh and tasty!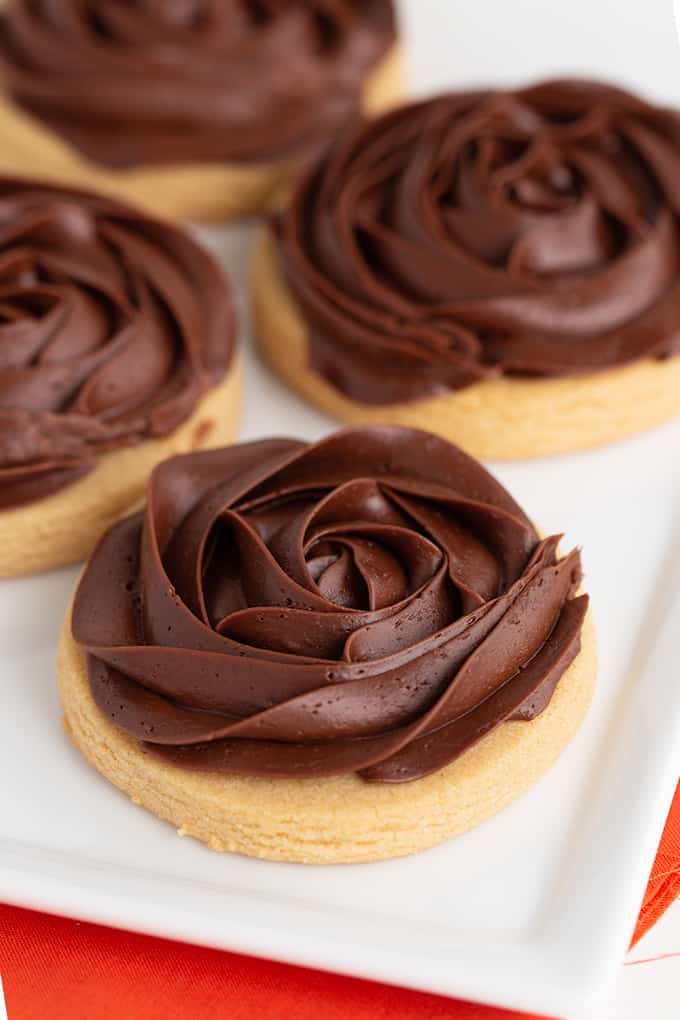 Frequently Asked Questions
Do you have any questions about how to make peanut butter roll out cookies? Take a look at these frequently asked questions and answers before you start baking.
My cookie dough is too dry, what should I do?
If your cookie dough is dry, add 2 Tablespoons of whole milk to the batter and blend slowly. The milk should help make the cookie dough a little softer and workable. If the dough is still dry, add another 2 tablespoons. Try not to exceed more than ¼ cup whole milk as it may make the cookies spread as they bake.
My cookie dough is too sticky, what should I do?
This peanut butter cookie dough is quite sticky. That is one reason why I recommend rolling it between sheets of parchment paper. If it is really, really sticky, first let the dough chill longer especially if you only chilled it for the minimum of 2 hours. If they still are sticky, add up to ½ cup extra flour to the cookie dough.
Can I freeze these pb cutout cookies?
You can freeze pb cutout cookies! Once the cookies are baked and cooled, place them in a zippered freezer storage bag. Freeze for up to three months and then thaw the cookies at room temperature.
You can also freeze the cookie dough cut outs before baking. Place the cut cookie dough in a gallon sized ziploc bag and seal shut. Anytime you'd like a fresh cookie, just place the frozen cut out on a parchment lined tray and bake! Having pb cookie cutouts on hand is always a good idea.
Can I speed up the chilling by placing them in the freezer?
You can pop the dough into the freezer to speed up the chilling process. However, don't leave the dough in the freezer for more than an hour or it gets too brittle to cut.
Here are a few more chocolate peanut butter desserts that everyone loves
Peanut Butter Roll Out Cookies
These soft, tender Peanut Butter Cut Out Cookies with Chocolate Frosting hold their shape, are loaded with peanut butter flavor, and go so well with a rich, chocolate frosting.
Instructions
Cookies
In a large bowl, add the butter and peanut butter. Beat with a hand mixer on medium until smooth and creamy.

Add in the light brown sugar and granulated sugar. Continue to beat on medium until combined.

Add in the eggs and vanilla extract. Mix until the eggs are incorporated. Scrape down the sides of the bowl.

Add the flour, baking powder, cornstarch, and salt to the wet ingredients. Beat on low just until most of the flour is incorporated and turn the mixer to a medium and mix until a cookie dough forms and all of the flour is worked in.

Place the cookie dough between two sheets of parchment paper or wax paper and roll out to about ¼ to ½ inch thickness.

Slide a cookie sheet under the parchment paper/wax paper and transfer to a refrigerator to chill for at least 2 hours, but preferably overnight.

Preheat the oven to 350 degrees F. Line two cookie sheets with parchment paper.

Remove the dough from the fridge and cut out the cookies using a cookie cutter while it's still chilled.

Place on the prepared cookie sheet about 2 inches apart.

Place the cookies in the preheated oven and bake for 12 to 14 minutes until the edges are golden brown and the center is no longer shiny.

Let the cookies cool for 5 minutes on the cookie sheet before transferring to a paper towel or wire rack to cool completely.
Frosting
In a large bowl, add in the butter, powdered sugar, cocoa powder, and milk. Beat on low just until most of the powdered sugar is incorporated and turn the mixer to medium to beat until the powdered sugar is combined and the frosting is smooth.

Spread the frosting on the completely cooled cookies.

Store the cookies in an airtight container at room temperature.
Notes
You can replace the peanut butter with almond butter or even cashew butter.
Nutrition
Calories:
296
kcal
Carbohydrates:
33
g
Protein:
4
g
Fat:
18
g
Saturated Fat:
9
g
Polyunsaturated Fat:
2
g
Monounsaturated Fat:
6
g
Trans Fat:
1
g
Cholesterol:
41
mg
Sodium:
183
mg
Potassium:
123
mg
Fiber:
1
g
Sugar:
21
g
Vitamin A:
401
IU
Calcium:
25
mg
Iron:
1
mg
(Nutrition facts are an estimate and not guaranteed to be accurate. Please see a registered dietitian for special diet advice.)