Here is my go-to recipe on how to make Chocolate Frosting from scratch. 5 ingredients is all it takes to make creamy, chocolate frosting you can spread or pipe onto a cake, cupcakes, or other delicious desserts.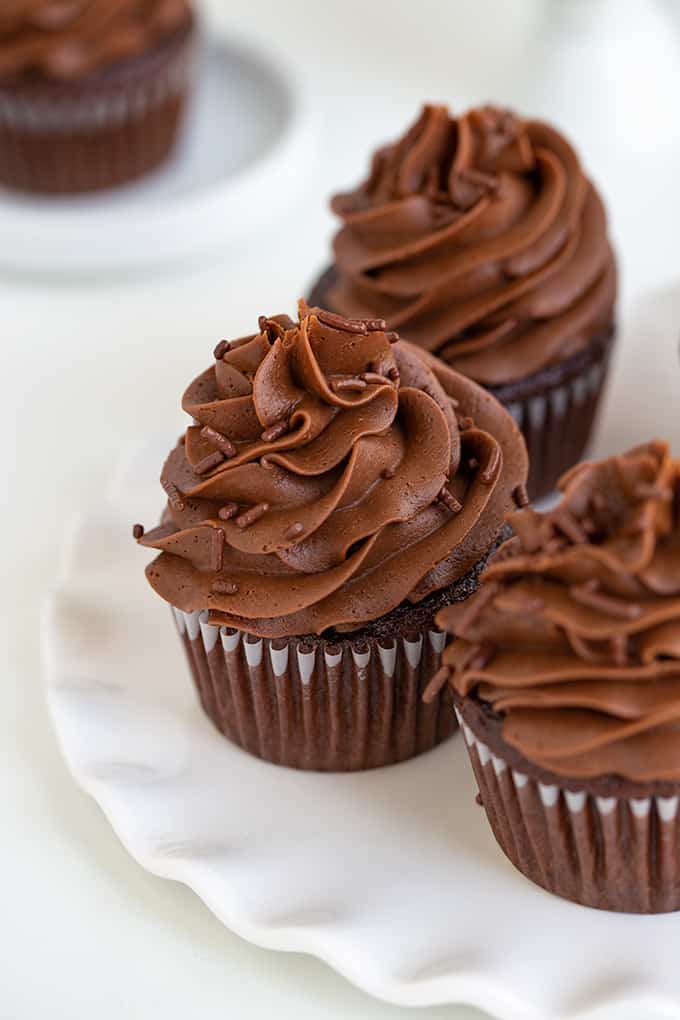 Skip the jarred frosting and raid that pantry and grab your ingredients. You will never want to do store bought frosting again. This recipe is crazy simple, and such a hit every time I serve it up.
Want to try other great frosting flavors? Strawberry Frosting, Cake Batter Frosting, and Swiss Meringue Buttercream Frosting are some of my favorites.
Jump to:
How to make Chocolate Frosting
Start by placing your softened butter in a mixing bowl. Beat it until it is creamy. You can scrape down the sides of the bowl.
Now add in the powdered sugar, cocoa powder, heavy cream and vanilla extract.
Mix on high speed until the frosting is thick and creamy.
Cover with plastic wrap and place in the fridge until you are ready to use.
Then spread on desserts, pipe, etc.
How to store Chocolate Frosting
To store your chocolate buttercream frosting, simply cover with plastic wrap. Then store in the fridge for up to 4-5 days. You might need to mix again to start before piping the frosting.
You can store it in a plastic container or store it directly in a piping bag. Just make sure if the tip is open you cover it to prevent the frosting from cracking.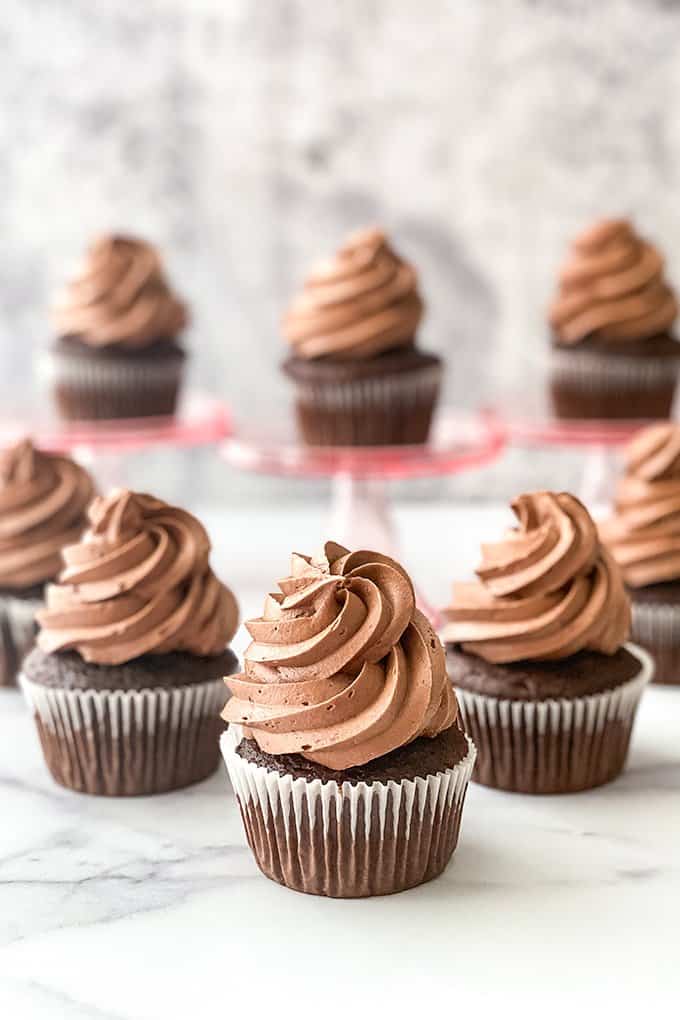 How to freeze Chocolate Buttercream Frosting
Do you want to freeze your buttercream frosting? Place in a freezer friendly container for 2-3 months in the freezer. Then the night before you plan to use place in the fridge for a slow thaw.
If you have it in a freezer bag you can knead it to reincorporate the frosting once it has thawed from being frozen.
Does this frosting crust?
If you do not cover the frosting well, yes, it can create a crust. Just ensure you cover the frosting with plastic wrap to prevent the frosting from drying out and creating cracks.
Can I use salted butter?
You can use either salted or unsalted butter for making buttercream frosting. It is all about what flavor you prefer. Of course, using salted butter you will find it has a bit of a more bold flavor. The salt helps to bring out the chocolate flavor.
High quality butter is recommend, as you will get the best flavor and texture of frosting.
Tips For Making Buttercream Frosting
Sift the cocoa powder, this is a step you don't want to skip over. If you don't sift you will find the cocoa can create lumps in the frosting.
Make sure to mix as required or you may end up with a grainy frosting otherwise.
Place plastic wrap over the frosting, to prevent crust from being formed.
Add more whipping cream to thin out the frosting, if you find it is too thick. I would recommend starting with 1 tablespoon at a time.
For thickening the frosting, add more powdered sugar about ½ cup at a time.
If you want a darker chocolate frosting, whip it less once the powdered sugar is incorporated.
For a fluffy buttercream that's lighter in color, whip for an additional 2 to 3 minutes.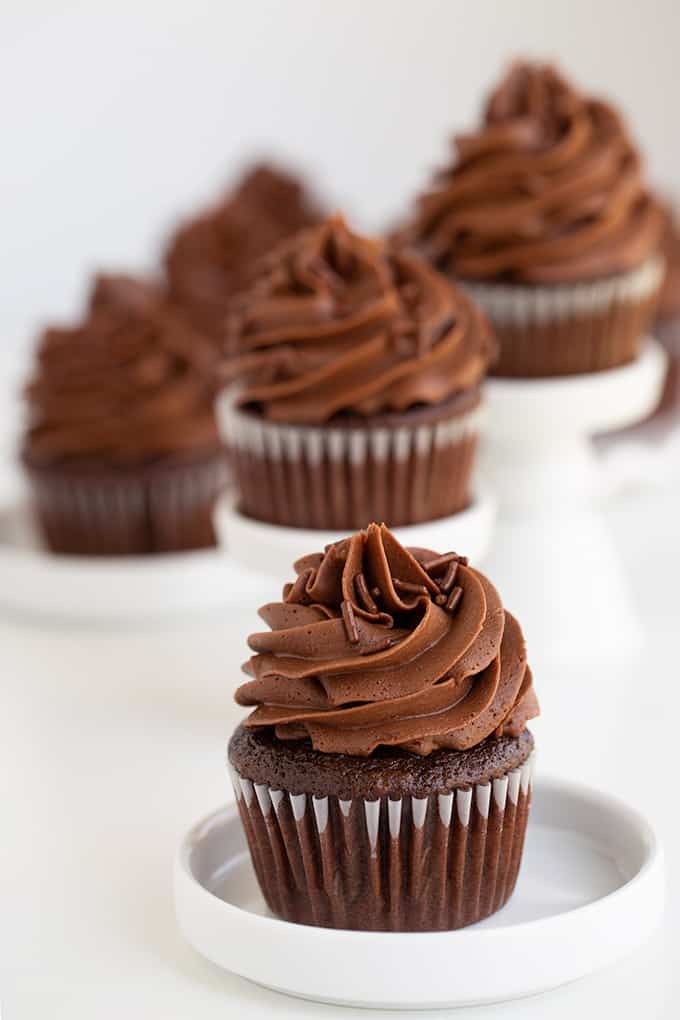 Add your chocolate buttercream frosting to some of these recipes!
Chocolate Frosting
This is my go-to 5 ingredient Chocolate Frosting recipe that's perfect to spread or pipe onto a cake, cupcakes, or cookies.
Instructions
Add the butter to a large mixing bowl. Beat with a hand mixer on medium until creamy.

Add in the powdered sugar, sifted cocoa powder, cream, and vanilla extract.

Beat on high until frosting a thick and creamy.

Cover with plastic wrap to prevent the frosting from crusting.

Place in a piping bag and pipe.
Notes
For a more stabilized frosting, substitute ¼ cup of butter for ¼ cup of vegetable shortening. This will ensure the frosting doesn't melt in warmer climates.
Sifting the cocoa powder is a MUST so that the frosting isn't lumpy.
Milk, half in half, or coffee creamer may be used in place of cream but you will need to slowly add it since they are much thinner consistency.
(Nutrition facts are an estimate and not guaranteed to be accurate. Please see a registered dietitian for special diet advice.)