These homemade honey buns are a cross between a donut and a cinnamon roll. They have a swirl of cinnamon in them and can be both fried and baked. They make a great breakfast or just a sweet treat to have on hand. Take a peek at some donut recipes too.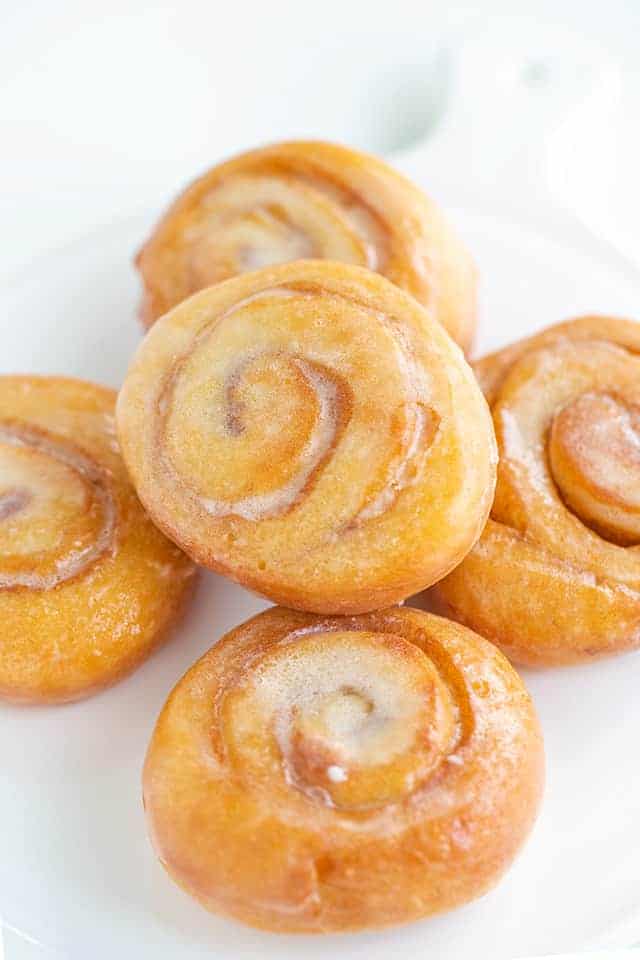 My father is a honey bun fiend and has been since I was a little girl. You know, those little Debbie snack cakes that you get in a box except I think he's now into a different brand. Those are his breakfast, lunch, and probably late-night snack pretty often.
So when my friend, Cat Johnson, announced she was writing a book about a baker who makes honey buns, I knew I had to whip up some of these glazed honey buns in honor of it.
The name of the book is Honey Buns and it will be releasing on April 28th. You can find it on Amazon. It's part of her small-town romance series and it has a feisty baker and a single billionaire workaholic.
Honey Bun Ingredients
I know with everyone currently baking bread, most people will likely have these ingredients already.
The dry ingredients include:

all-purpose flour
granulated sugar
salt
ground cinnamon - this will be used after the dough has doubled and is rolled out.

The wet ingredients include:

milk - I used whole milk
yeast - I used instant yeast, but active dry yeast will work as well.
melted butter - I used salted butter because that's my go-to but unsalted works great too.
egg - Use a large egg because that's what the recipe was tested with.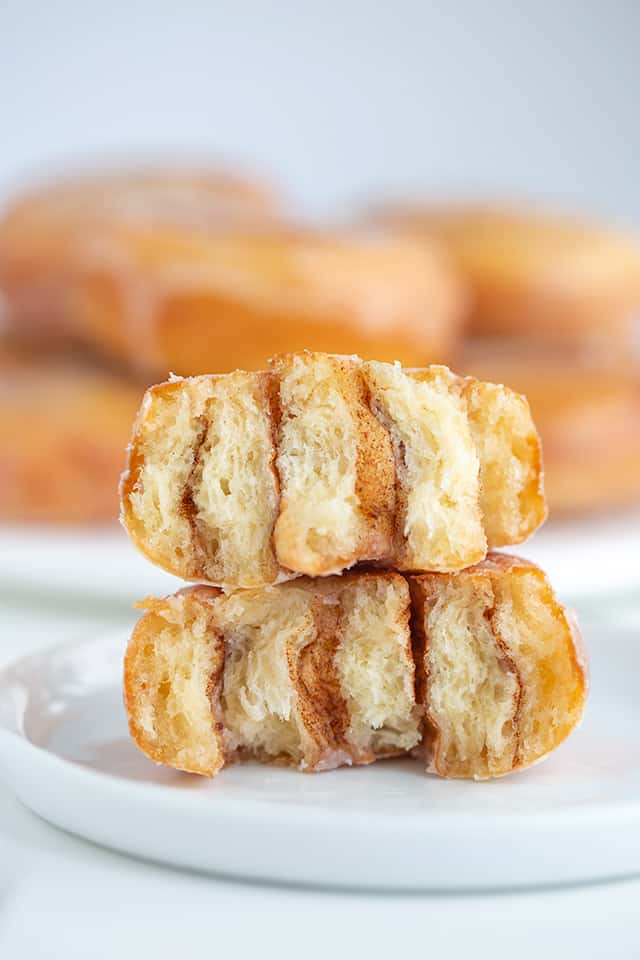 How to make Honey Buns
To get started, you'll need to whip up the dough. It's going to be sticky, but you'll thank me when your honey buns are incredibly soft and tender.
Add the flour, sugar, and salt into a stand mixer. I used my bosch mixer with the dough hooks. Give the dry ingredients a quick mix to incorporate the sugar and salt into the flour.
In a separate bowl, add warm milk and yeast. I added my milk to a 4 cup measuring cup and microwaved it for 30 seconds until it was about 105 to 110 degrees F. If using active dry yeast, let it sit for 5 to 10 minutes until the yeast becomes foamy.
Add the cooled melted butter and egg to the milk and whisk together. I used a fork to whisk the mixture together, but a whisk will work as well. If the butter is added while it's still hot, you can kill the yeast.
Pour the wet ingredients into the dry ingredients. Turn the mixer on medium and let it mix for 10 minutes. If you prefer to knead the dough some, mix with the mixer for 5 minutes. Oil your work surface and hands with vegetable oil and knead for about 7 to 10 minutes until your dough has a nice elastic stretch to it.
Place the dough in a bowl, coat with oil, cover with plastic wrap, and let double. This can take 1 to 2 hours to rise, depending on the temperature of where your dough is. I preheat my oven, let it come up to 350 degrees F, and then turn it off. Then I set my dough on the top of my stove so it's warm, but not hot.
Press the dough out onto a clean floured surface. Make it a 14 inches long and 6 inches wide rectangle. If the dough was wider, you would have more cinnamon swirls and it will look like a cinnamon roll rather than a honey bun.
Coat the top with ground cinnamon. This gives the cinnamon flavor. No butter or oil is needed to make the cinnamon stick.
Roll the dough up. Start on the longest side. When you come to the edge of the dough, rub it with water to make it sticky and pinch it into the roll. If it doesn't stick, add more water. This is really important especially if you plan on frying these.
Cut the dough. I like to use floss to make nice slices. Slide the floss under the roll of dough, cross the two sides of the floss, and pull until it's cut the dough into a perfect slice. You can do ½-inch to 1-inch thick slices. I thought ¾-inch looked like it was the perfect size.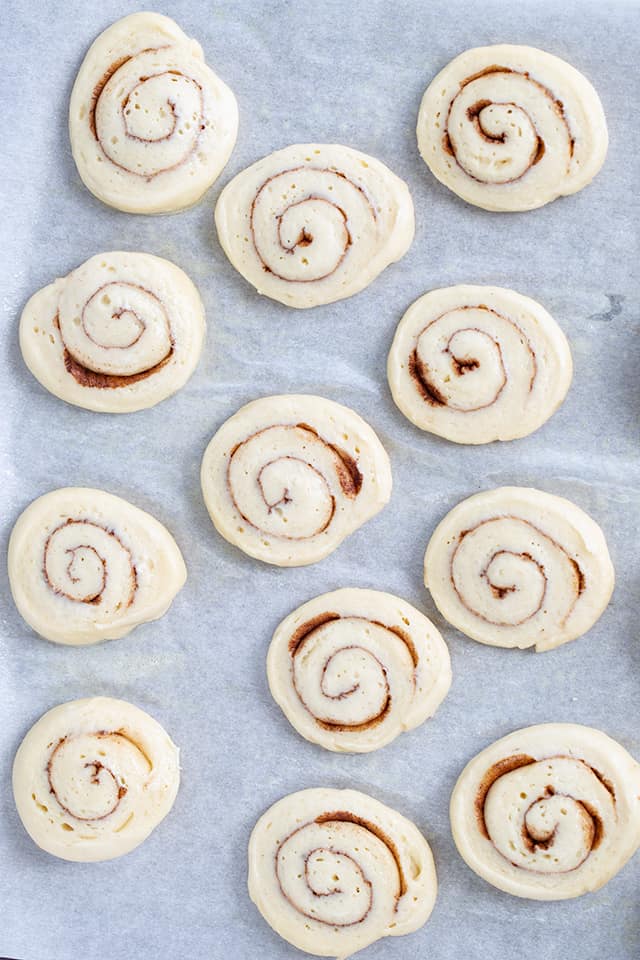 No stand mixer? You can also make these without a mixer. Stir the dough together with a spatula until the dough comes together. Oil a clean countertop and your hands with vegetable oil. Begin kneading the dough until it has a nice elastic stretch. I haven't done it by hand, but I would guess 10 to 15 minutes would do the trick.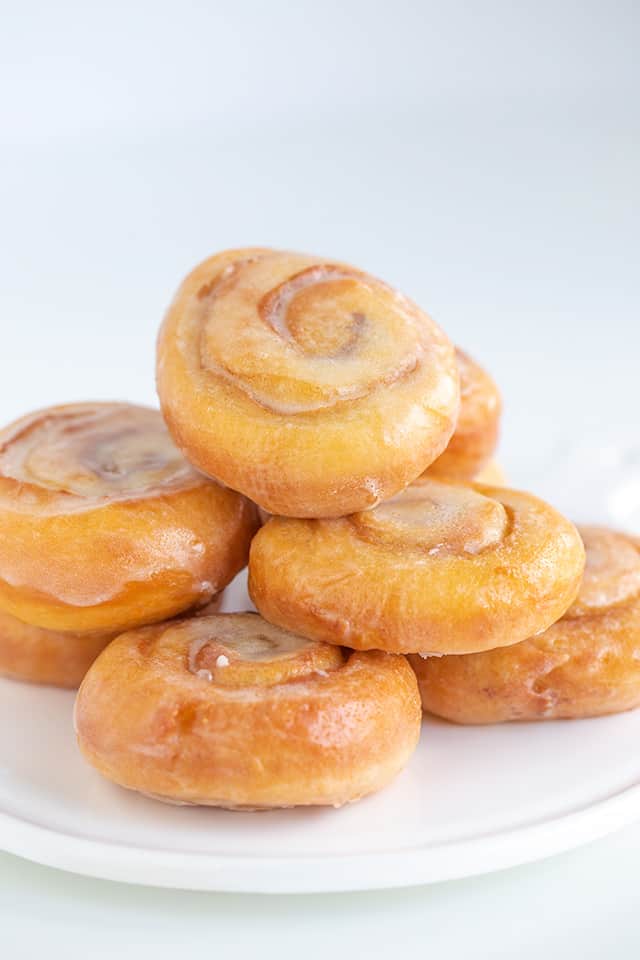 Baked Honey Buns or Fried Honey Buns
You have to make a big decision here. Are you going to bake these babies or fry them? They're really delicious either way! Frying them is more work for sure.
If you plan on baking these, place the sliced dough about 2 inches apart on a parchment-lined baking sheet. Cover with plastic wrap and let them rise for 30 minutes in a warm place.
While the honey buns are rising, preheat the oven to 350 degrees F. Once the buns are ready, remove the plastic wrap and place in the oven for 15 to 18 minutes until the edges are golden brown.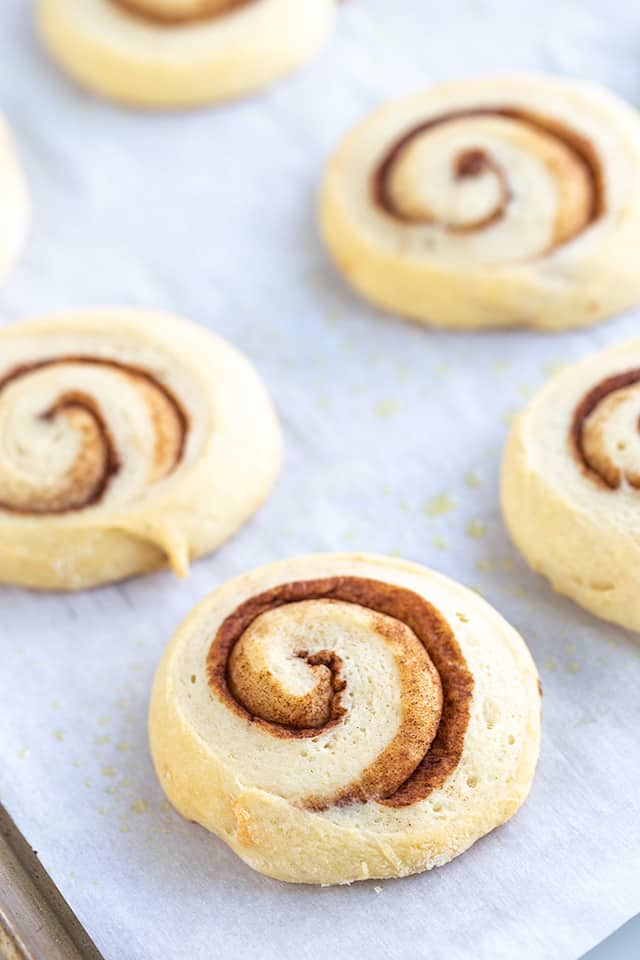 Whip up the glaze in the meantime and have it ready to dip the warm honey buns in. Let the honey buns cool until they're firm enough to handle without falling apart. Carefully dip them in the glaze and place on a piece of wax paper to dry.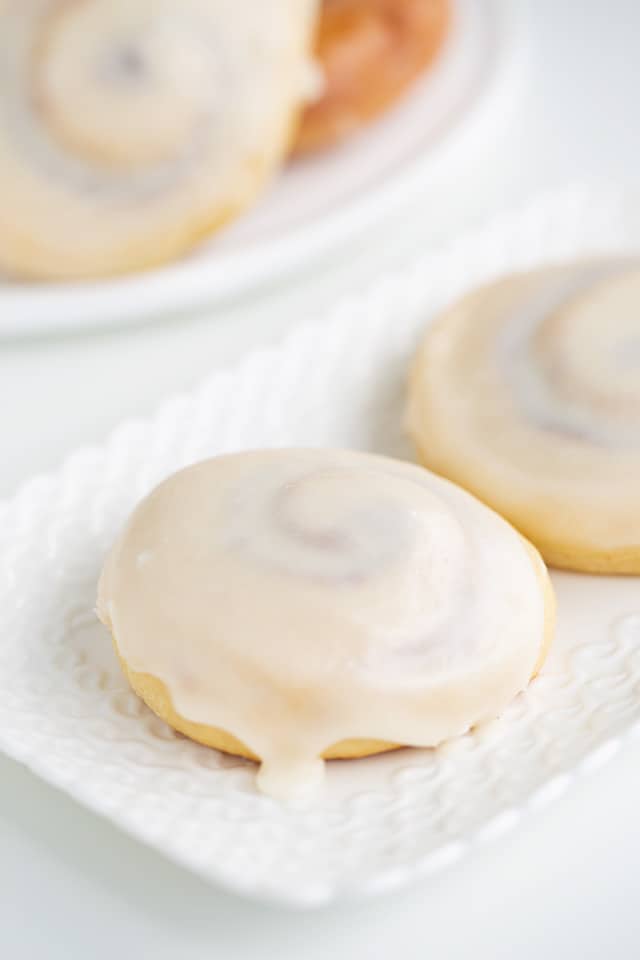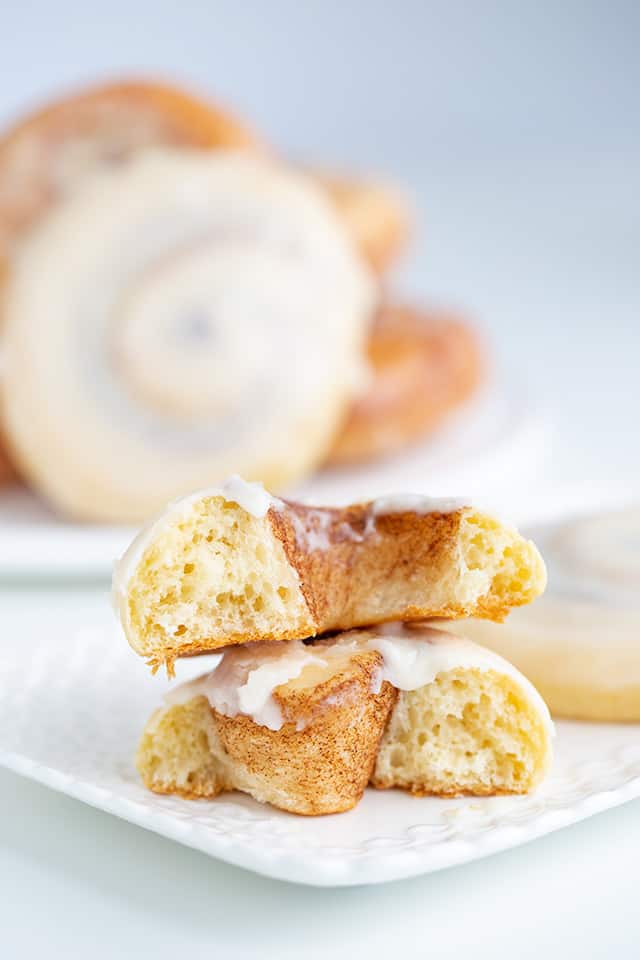 For fried honey buns, you can place the slices of dough on a greased parchment-lined baking sheet about ½-inch apart. Cover them with plastic wrap and let them rise for about 30 minutes in a warm place.
While the slices are rising, heat 3 cups of vegetable oil or oil of your preference in a large saucepan to 320 degrees. Use a thermometer to check the temperature. You'll also want to mix up your glaze so it's ready for you.
There are two ways you can add these honey buns to the oil. You can cut the parchment paper into squares around each bun and carefully drop the honey buns in that way or if you greased your parchment paper as I suggested, you can carefully pick them up and place them in the oil.
I fried them one at a time so that the temperature of the oil didn't drop. This is very time consuming but I had golden fried honey bun every time! Once one side is a golden color, flip and let the other side fry until golden.
Place the fried buns on a paper towel lined plate. Let them cool for about 10 minutes and dip them while they're still warm in the glaze. Let any excess glaze drip off and place on a piece of wax paper to dry.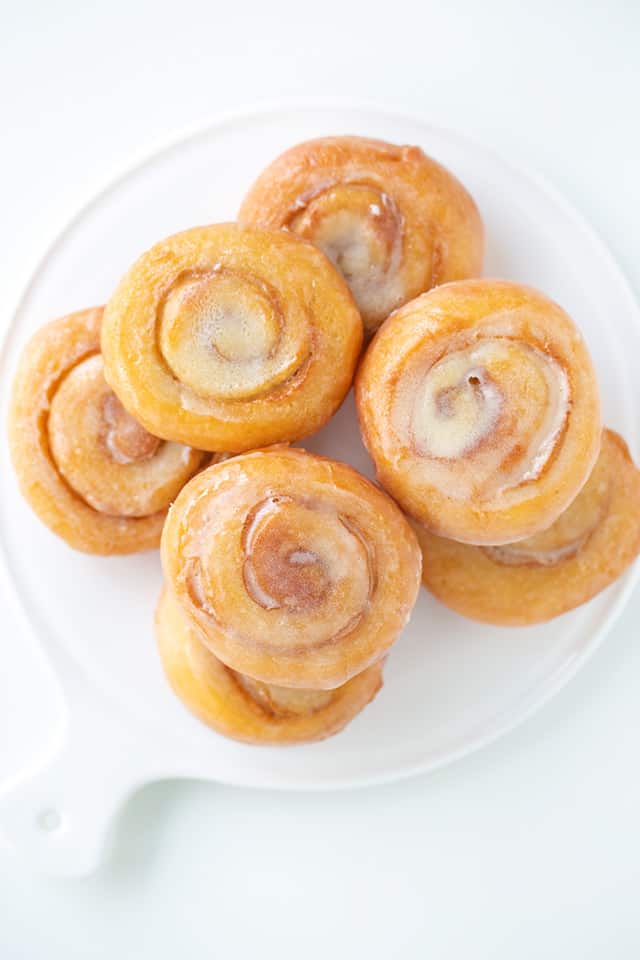 Tips for the perfect glaze
Make the glaze before frying or baking your honey buns so it's ready.
If you want a honey glaze, reduce the melted butter to 5 tablespoons and add 1 tablespoon of your favorite honey in. It will make the glaze slightly thicker.
For more cinnamon flavor, add 1 teaspoon of ground cinnamon to the glaze.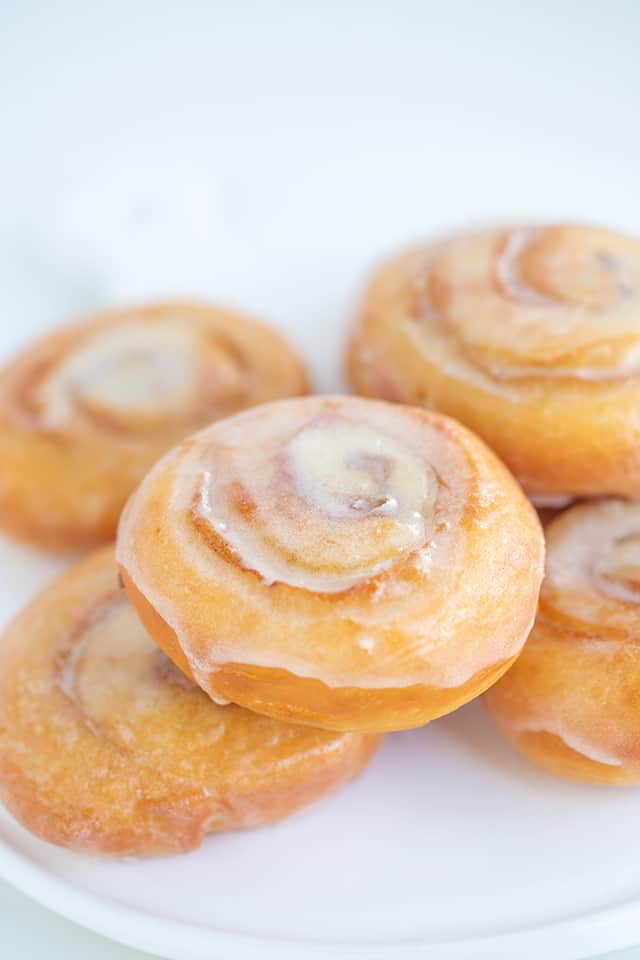 How long do honey buns last?
If you're frying the honey buns, they're best the day they're made. You can store them in an airtight container and they'll last a second day, but they won't be as tasty.
If you're baking them, they will last 3 to 4 days stored in an airtight container.
More fried sweet treats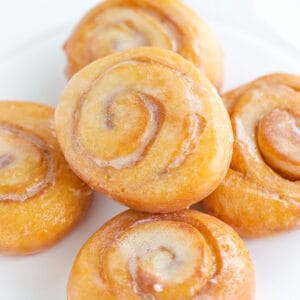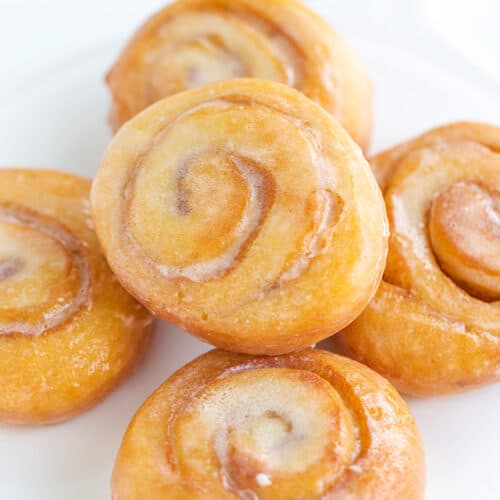 Honey Buns
Ingredients
Honey Buns
2

cups

all-purpose flour

3

tablespoons

granulated sugar

½

teaspoon

salt

½

cup

+ 3 tablespoons milk

2 ¼

teaspoons

(1 packet) instant or active dry yeast

5 ⅓

tablespoons

(⅓ cup) butter

melted

1

large egg

½

tablespoon

vegetable oil

1 ½

teaspoon

ground cinnamon

3

cups

vegetable oil

for frying (optional)
Glaze
6

tablespoons

butter

melted

2

cups

powdered sugar

3 - 5

tablespoons

milk

1

teaspoon

vanilla extract
Instructions
Honey Buns
In a stand mixer fitted with the dough hook, add in the flour, sugar, and salt.

In a microwave-safe bowl, add in the milk. Microwave for 30 seconds. You'll want the milk to be at 105 - 110 degrees F.

Add in the yeast, cooled melted butter, and egg. Using a fork, whisk the egg into the mixture.

Pour the wet mixture into the stand mixer and mix on medium for 10 minutes. The dough will be pretty sticky.

Grease your hands and a large bowl with vegetable oil.

Remove the dough from the mixer and shape it into a ball.

Place the dough in the bottom of the bowl and coat it in the oil. Cover the bowl with plastic wrap and let the dough rise until doubled. This will take about 1 to 2 hours.

Line a cookie sheet with parchment paper. Spray the parchment paper with nonstick baking spray.

Once the dough has doubled, press it down.

Place the dough on a lightly floured work surface.

Press the dough out into a 6-inch by 14-inch rectangle. You can use a rolling pin, but I prefer to use my hands.

Sprinkle the cinnamon on top of the dough. Using your hand, rub the cinnamon all over the dough.

Begin rolling the dough from the long side.

Once the dough is rolled up, you'll need to seal the edge. Do this by rubbing the edge of the dough with water. Pinch the wet edge into the roll of dough to form the seam. If the dough isn't staying pinched together, rub a little more water on the edge and pinch again. Leave the dough seam side up since it will be sticky from the water and will likely stick to the counter if it touches it.

Measure out ½-inch thick slices if you want thinner honey buns or 1-inch slice for thicker slices.

Slide a piece of floss under the dough and cross both sides of the floss at the ½-inch or 1-inch line. Pull until the floss has cut completely through the dough.

Place the slice of dough, cut side up, on the prepared cookie sheet. Repeat with the remaining pieces slices of dough. If you plan on baking these, you'll want to space them 2 inches apart. If you plan on frying them, they can be ½ inch apart.

Spray the slices with nonstick baking spray so they don't dry out and cover with plastic wrap. Let rise for 30 minutes in a warm place.
Baked Honey Buns
Preheat the oven to 350 degrees F.

Place the cookie sheet in the oven and bake for 15 to 18 minutes until the edges begin to turn golden brown.

Prepare the glaze while the honey buns are baking.

Remove the honey buns from the oven and let cool for 10 to 20 minutes. While they're still warm, dip the tops in the glaze. Tap the wrist that's holding the honey bun to remove the excess glaze.

Place on a piece of wax paper and let the glaze set up.
Fried Honey Buns
Heat 3 cups of vegetable oil until it reaches 320 degrees F.

Prepare the glaze while you wait for the oil to come up to temperature.

Place the honey buns in one or two at a time into the oil. I did one at a time to keep my oil temperature from dropping.

Flip once the donuts become golden brown.

Once the other side becomes golden brown, place on a plate lined with paper towels. Let cool for 5 to 10 minutes.

Dip the warm honey bun in the glaze. Give your wrist a tap to help any excess glaze to drip off.

Place on a piece of wax paper and let the glaze set up.
Glaze
In a medium mixing bowl, add in the butter, powdered sugar, milk, and vanilla extract. Whisk together until the glaze is smooth.
Nutrition
Calories:
250
kcal
Carbohydrates:
35
g
Protein:
4
g
Fat:
11
g
Saturated Fat:
7
g
Cholesterol:
38
mg
Sodium:
178
mg
Potassium:
65
mg
Fiber:
1
g
Sugar:
20
g
Vitamin A:
328
IU
Calcium:
29
mg
Iron:
1
mg
(Nutrition facts are an estimate and not guaranteed to be accurate. Please see a registered dietitian for special diet advice.)