These Easy Chocolate Turtles have layers of toasted, buttery pecans, soft, chewy caramel, and milk chocolate. They are the perfect sweet and salty candy and can be made in a mold or on a baking sheet! If you need another homemade candy recipe to add to your Christmas treats, you have to try this turtle recipe!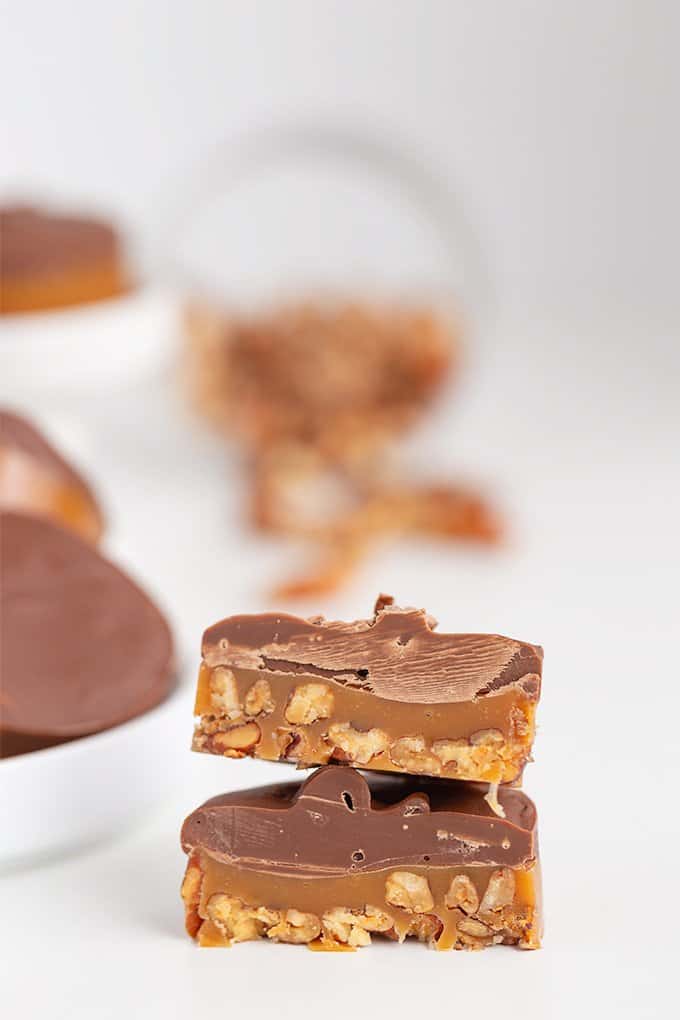 I love making homemade candies and chocolates. Not only are they great to eat, but they also make a fantastic gift. I have gifted dozens of boxes of chocolate turtles over the years and they are always greeted with excitement.
If you need more recipes to add to your boxes of chocolate, check out my Chocolate Peanut Butter Crockpot Candy that can be thrown together in a slow cooker or these Easy No Bake Butterfinger Bites and my Buckeyes that always get rave reviews!
I am going to tell you all about how to make your own homemade chocolate turtles. They're very straightforward so you should be able to make them with ease!
Chocolate Turtle Ingredients
I try to make my recipes as simple as possible. One way I do this is by using ingredients that are easy to find. You can get everything you need to make this chocolate turtle recipe in your local grocery store. Here is what you will need to get:
Chopped pecans - If you can only find pecan halves, that is totally fine! Simply chop them yourself!
Butter - Salted or unsalted butter will work in this recipe. If you use salted butter, just decrease the added salt to ⅛ teaspoon.
Salt - I always like to use sea salt since it is less processed than table salt. Sea salt retains more of it's vitamins and minerals making it a little healthier. Any added health benefits to homemade chocolates is good!
Werther's chewy caramels - You can find these in the candy aisle of the grocery store. I use to make chocolate turtles with homemade caramel (you definitely can make your own caramel!) but using these candies is soooo much easier. And they taste delicious! The hardest part is unwrapping them all. If you have kids, this is a perfect task for them and it let's them "help" in the kitchen!
Heavy cream - heavy cream or heavy whipping cream will both work in the recipe.
Milk Chocolate chips - I like to use chocolate chips because they melt faster. Milk chocolate wafers or a chopped chocolate bar will both work, too.
Vegetable oil - This gives the chocolate a nice shine and a sleek look.
When planning to make these chocolate turtles, remember that this recipe can easily be doubled or tripled. You may want to make extra to give as gifts! Buy extra ingredients just in case. I promise they won't be wasted.
How to Make Chocolate Turtles
Assembling the homemade chocolate turtles is easy but it does require a few separate steps. Each step is very important to the flavor of the candies.
Here is a quick look at how to make my chocolate turtle recipe:
Step 1 - Toss the pecans in butter and salt then roast in the oven. Toasting the nuts adds a lot of warm, rich flavor.
Step 2 - Melt the caramel and heavy cream in the microwave.
Step 3 - Add the chocolate chips and oil to a bowl. Microwave until the chocolate is smooth and creamy.
Step 4 - Layer the pecans, caramel, and chocolate either in a silicone mold or on a parchment-lined baking sheet. Let the chocolate and caramel cool and harden before popping the candies out.
I love how easy it is to use a silicone mold to make this chocolate turtle recipe. It ensures that every candy is uniform and perfect. It really makes the candies look professionally made!
You can definitely make these chocolate turtles using just a piece of parchment paper and a flat sheet tray. Let me talk you through it quickly.
Line a baking sheet with parchment paper.
Make small piles of nuts.
Pour a little caramel over the top of the nuts, coating them completely. Let the caramel harden. You can pop them in the refrigerator to speed up the process.
Pour the melted chocolate over top of the caramels. Let the chcolate harden. Again, pop the baking sheet in the fridge to speed up the process.
The candies have a tendency to spread on the sheet tray so try to pour slowly.
Substitutions
I have altered this recipe in little ways, making the chocolate turtles unique and exciting. Here are a few substitutions I have tried that work well.
Using chopped peanuts, walnuts, or hazelnuts in place of pecans. Almost any kind of nut will work well!
Homemade caramel in place of the Werther's caramels. This does take a little more time but then you can truly say the confections are homemade!
Dark chocolate chips in place of milk chocolate chips
Refined coconut oil rather than vegetable oil. Refined coconut oil is flavorless.
Add chopped pretzel pieces. Pile them into the mold along with the toasted nuts.
How to Store Chocolate Turtles
I always want to get ahead with my Christmas baking especially since I give so many homemade food gifts. These chocolate turtles are perfect for making in advance.
Store the chocolate turtles in an airtight container in the fridge for up to three weeks. Be sure the container is tightly closed so they stay fresh! You can also double wrap the container in plastic wrap and store the chocolate turtles in the freezer. They will keep in the freezer for up to three months! Thaw the frozen chocolate turtles in the fridge when you are ready to eat or gift them. Such a perfect recipe to make ahead and have on hand!
Frequently Asked Questions
What is a chocolate turtle?
A chocolate turtle is a confection made with pecans, caramel, and chocolate. They are called turtles because they typically look like small turtle shells. The bumpy chocolate dome is very turtle-like! You won't get that look though if you use a mold like I have though.
How to make these dark chocolate turtles?
To make chocolate turtles you need to toast pecans, coat them in melted caramel and then in melted chocolate. The steps are pretty easy and almost anyone will be able to make these homemade chocolates.
Can I use whole pecans?
You can use whole pecans. I find chopped pecans work better since the caramel can get all around the smaller nuts, holding the confections together well. They are also easier to eat with chopped nuts versus whole pecans.
I love everything about this chocolate turtle recipe. They are easy, delicious, and make a wonderful gift.
More Candy Recipes To Try
Chocolate Turtles
These Easy Chocolate Turtles have layers of toasted, buttery pecans, soft, chewy caramel, and milk chocolate. They are the perfect sweet and salty candy and can be made in a mold or on a baking sheet!
Ingredients
2

cups

chopped pecans

3

tablespoons

butter

melted

¼

teaspoon

salt

65

Werther's chewy caramels

about 1 ½ 10 ounce bags

3

tablespoons

heavy cream

2

cups

milk chocolate chips

11.5 ounce bag

½

teaspoon

vegetable oil
Instructions
Preheat the oven to 325 degrees F.

And the pecans, butter, and salt to a bowl. Stir until pecans are coated with butter.

Spread the pecan mixture on a sheet pan in place in the preheated oven for 25 to 30 minutes, Stirring every 5 to 10 minutes until the pecans become fragrant and Browned. Set aside.

Add the caramels and heavy cream to a microwave-safe bowl. Place in the microwave in 30 second intervals and stir after each interval until smooth and creamy. Set aside.

Add the chocolate chips and vegetable oil to a microwave-safe bowl. Microwave in 30 second intervals, stirring after each interval, until completely melted and smooth.

Using two silicone cupcake molds or a parchment lined baking sheet, divide the pecans into the 24 cavities. Make sure they cover the entire bottom of each cavity. If you're using a baking sheet, make 24 mounds about 2 inches in diameter. Carefully flatten them into a circle shape.

Divide the caramel between the 24 cavities or pecan circles. Pour the caramel in the center of the pecans and let it slowly roll down the sides.

Repeat dividing the chocolate between the 24 cavities of caramel pecan rounds. If you're not using the silicone pan, it will be runny so it may need to cool slightly so it doesn't pour off the caramel sauce.

Place the pans in the fridge until set up. This will take 1 to 2 hours.
Notes
You can heat the caramel and heavy cream in a double boiler, by sitting a heat proof bowl on top of a saucepan with about one inch of simmering water in it. The heat proof bowl shouldn't touch the water. Let it heat while stirring occasionally until smooth and creamy.
You can use a double boiler to heat the chocolate chips and vegetable oil. Stir occasionally until completely melted.
Nutrition
Calories:
261
kcal
Carbohydrates:
32
g
Protein:
3
g
Fat:
14
g
Saturated Fat:
5
g
Polyunsaturated Fat:
3
g
Monounsaturated Fat:
5
g
Trans Fat:
1
g
Cholesterol:
10
mg
Sodium:
114
mg
Potassium:
97
mg
Fiber:
1
g
Sugar:
27
g
Vitamin A:
121
IU
Vitamin C:
1
mg
Calcium:
63
mg
Iron:
1
mg
(Nutrition facts are an estimate and not guaranteed to be accurate. Please see a registered dietitian for special diet advice.)