You can make this Buckeye Recipe with just a few ingredients! They're a delicious peanut butter ball that's been coated with chocolate with a little peanut butter peeking out the top. They'll look great on the Christmas dessert table this year!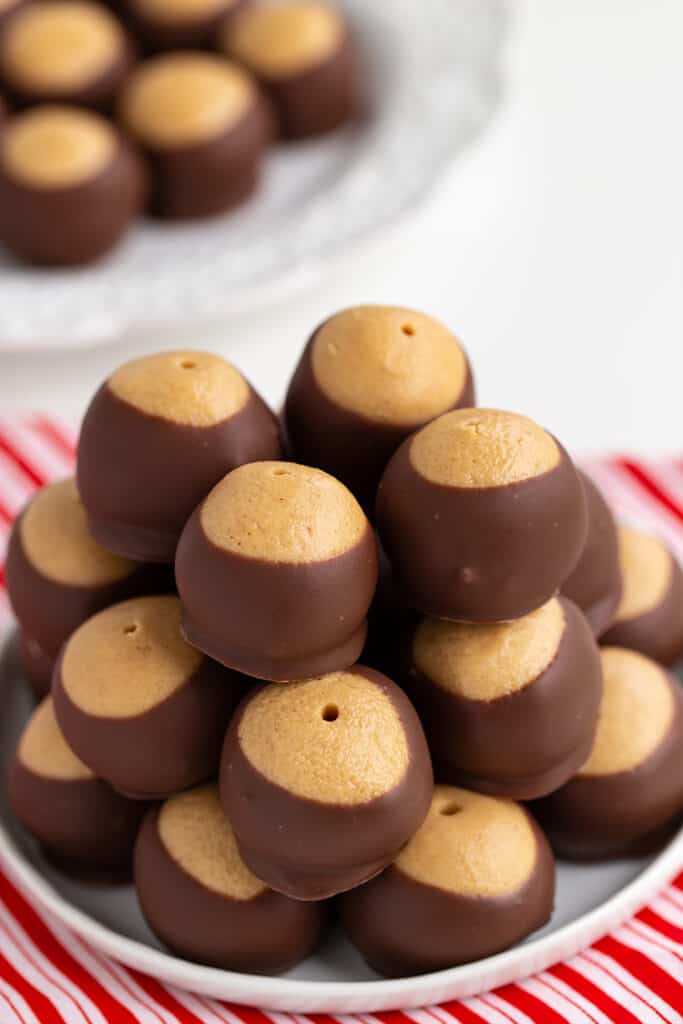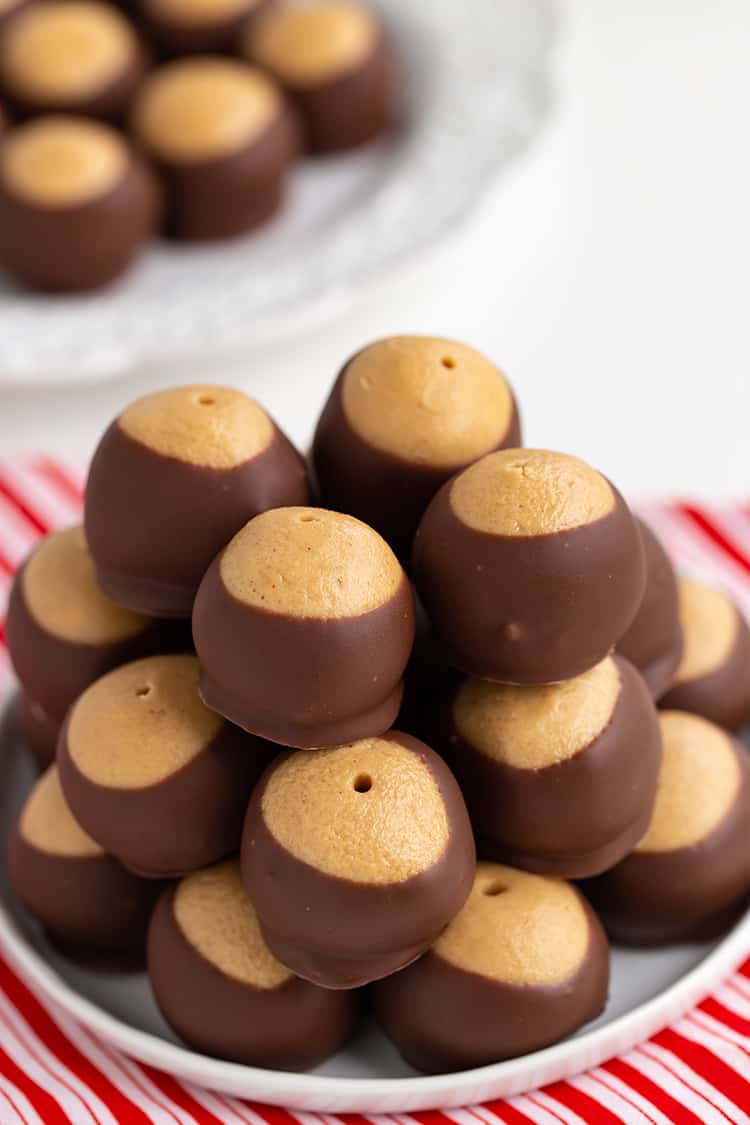 Need more delicious candy recipes to fill up your dessert platter with? Check out these Cinnamon Rock Candy, Saltine Candy, Chocolate Peanut Butter Crockpot Candy, Cannoli Cream Chocolate Truffles and Peppermint Fudge.
You have probably been eating buckeyes your whole life and never even knew what they were called. These little peanut butter balls pop up everywhere, especially around Christmastime.
I know that I get pretty excited for my first buckeye of the holiday season! I especially love to make them. They don't take too long to put together and the end result is an impressive looking, delicious candy!
Why are they called Buckeye balls?
You've seen them, you love them but you may not know how buckeyes came to be. While the exact origin of the buckeye is still up for grabs, we do know that the candy became popular around the 1950's and 1960's.
The buckeye candies did originate in Ohio where the state tree is the Buckeye tree. The nuts on the tree have a light brown center and a dark brown exterior. The tree's nuts look exactly like the candy which is how the buckeye got its name. The candy resembles the nut of the tree where it was first created. Pretty fun fact there!
What Do I Need to Make Buckeyes?
You don't need too much to make buckeye candies. In fact, you probably have all of the equipment and ingredients you need in your home now! Here are the tools you will need to make this buckeye recipe:
Parchment paper
Toothpicks
Once you have gathered together all the necessary kitchen tools, you can check your pantry to see if you have all the ingredients. To make buckeyes, you will use:
Butter
Peanut butter
Salt
Powdered sugar
Brown sugar
Pretty standard ingredients! You could probably make buckeyes with everything you have at home right now! So how do you make this delicious holiday recipe? Let's talk about that now!
How Do You Make Buckeye Balls?
Buckeye's are one of the easiest candies you could ever make. The butter and peanut butter are mixed together and then the vanilla, salt and both sugars are added in and beat together.
The simple dough is then scooped and rolled into small tablespoon sized balls. The balls are refrigerated for about half an hour to let them get slightly firm.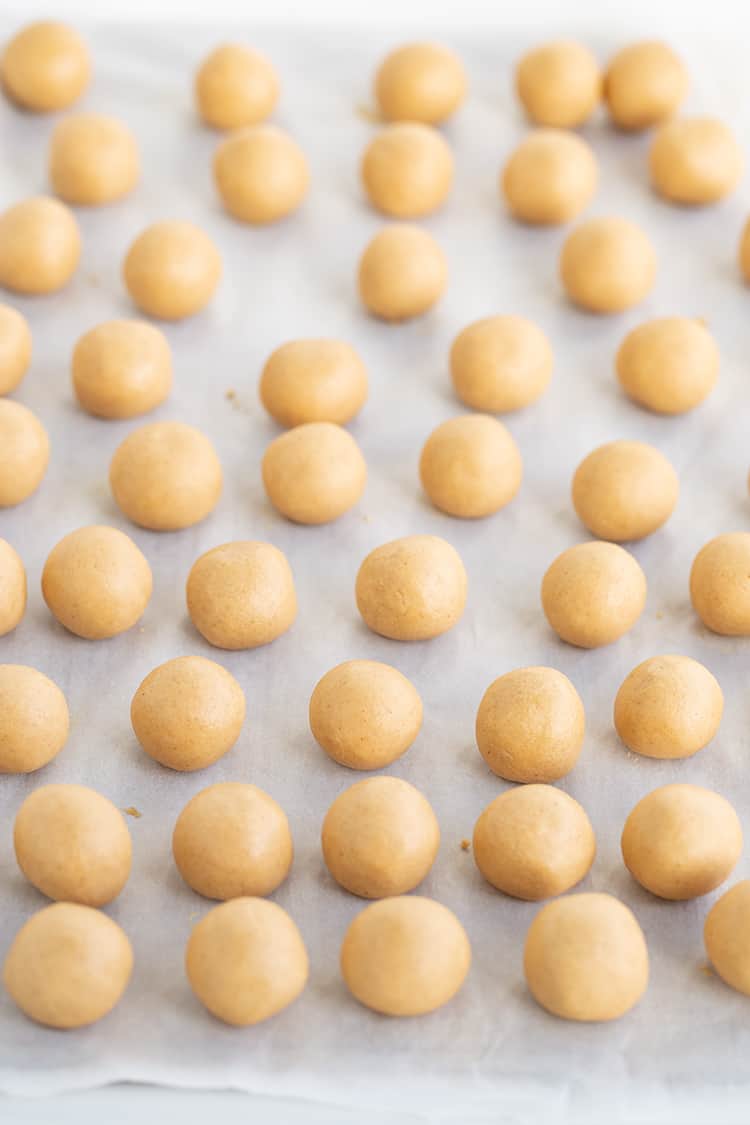 Once chilled, the buckeye balls are dipped into melted chocolate wafers. Our recipe uses a toothpick in the center of the buckeye to help dip the candy easily. We also like to leave the toothpick in the candy for easier eating! You are going to want to be able to eat these as quickly as possible- they are hard to resist!
Traditionally, the chocolate is made to come up both sides of the buckeye and dip down in the center. You can accomplish this look by dipping one half into the chocolate first, tipping the candy slightly so one side is submerged. Then, dip the other half of the candy to create that triangle of chocolate. Of course, you can just choose to dip the candy straight down, right into the chocolate. Either method of dipping will look good and taste fantastic.
How Long Do Buckeyes last?
When stored in an airtight container, buckeye balls will last about a month. Since the balls are made with butter, they do need to be kept refrigerated to prevent the butter from turning rancid. However, when kept chilled, the pretty candy will keep for quite a while! Anytime I make these buckeyes, they are gone within a few days. Like I said before, they are hard to resist!
Can You Freeze Buckeye Balls?
You can freeze buckeye balls to make them last even longer. Pack the perfect bite-sized candies up in an airtight container or freezer bag. Make sure the candy is sealed well to protect them from drying out. Freeze the buckeyes for up to three months.
You can eat them right out of the freezer or let them thaw at room temperature before enjoying a chocolatey treat.
FAQ's
How to dip buckeyes without toothpicks
We like to use toothpicks to help dip buckeyes because it is so easy. However, you can also just grab the top of the buckeye gently between your fingers and dip the peanut butter ball by hand. You may get a little chocolate on your fingertips but the candy will look and taste perfect!
You can also use a chocolate fork to lower the balls into the chocolate. Using a chocolate fork will make you feel like a real chocolatier!
Do Buckeyes need to be refrigerated?
Buckeyes will be fine when stored at room temperature for about 3-4 days. They will be pretty soft though.
Since the candy does have butter, you will want to place them in the fridge for any longer duration. Butter is made with milk solids which can spoil at temperatures higher than 40 degrees. The fridge is definitely the best place for a buckeye especially if you want to keep them fresh for an extended period of time.
What do I do if my buckeyes keep falling off the toothpick?
If your buckeyes keep slipping off the toothpick as you are trying to dip them, they have gotten too soft. The best plan is to place them back in the fridge to firm. Cold buckeyes will stick to the toothpick and you shouldn't have a problem with them falling into the chocolate.
Can I use almond bark instead of melting wafers?
You can use almond bark instead of melting wafers to make buckeye balls. Almond bark melts very easily and will coat your buckeye candy well. Of course, almond bark will have a different taste as it is not actually made using chocolate. This may not be a bad thing though! A little twist or change in a recipe can be a good thing!
We hope you love making our buckeye recipe and whip it up during the holiday season. You can actually keep this recipe out all year long as it is never a bad time to have a buckeye candy! I know I could eat them everyday.
Buckeyes
These buckeyes can be made with just a few ingredients. They're a delicious peanut butter ball that's been coated.
Ingredients
½

cup

butter

room temperature

1 ½

cups

creamy peanut butter

1

teaspoon

vanilla extract

1

teaspoon

salt

3

cups

powdered sugar

¼

cup

light brown sugar

packed

10

ounces

milk chocolate melting wafers

almond bark will work
Instructions
Add the butter and peanut butter to a large mixing bowl. Using a hand mixer, beat on medium until creamed.

Add in the vanilla extract, salt, powdered sugar, and light brown sugar. Beat until the mixture comes together. Scrape down the sides and beat in any remaining bits.

Using a 1 tablespoon cookie scoop, scoop the dough into your hands and roll until a smooth ball forms.

Place on a parchment-lined baking sheet and place in the fridge for 30 minutes.

Place the melting wafers in a microwave-safe bowl and microwave in 30-second increments and stir after each increment. Repeat until the chocolate is completely melted and smooth. This usually takes 1 ½ to 2 minutes.

Once the peanut butter balls are firm, place a toothpick in the center of the peanut butter ball and dip into the melted chocolate. Leave the top of the peanut butter ball exposed for the buckeye look.

Place the buckeyes back onto the parchment paper to harden.

Store in an airtight container in the refrigerator.
Notes
You can substitute the brown sugar for powdered sugar if you're sensitive to the graininess of the brown sugar.
If the dough is sticky, add 1 tablespoon of powdered sugar at a time until the peanut butter is no longer sticky.
Nutrition
Calories:
152
kcal
Carbohydrates:
16
g
Protein:
3
g
Fat:
9
g
Saturated Fat:
4
g
Cholesterol:
7
mg
Sodium:
145
mg
Potassium:
74
mg
Fiber:
1
g
Sugar:
15
g
Vitamin A:
81
IU
Calcium:
7
mg
Iron:
1
mg
(Nutrition facts are an estimate and not guaranteed to be accurate. Please see a registered dietitian for special diet advice.)