As promised, I have another pumpkin recipe for you this week! This one is a little more fancy and so, so tasty! Take a look at these pumpkin macarons with cinnamon brown sugar frosting!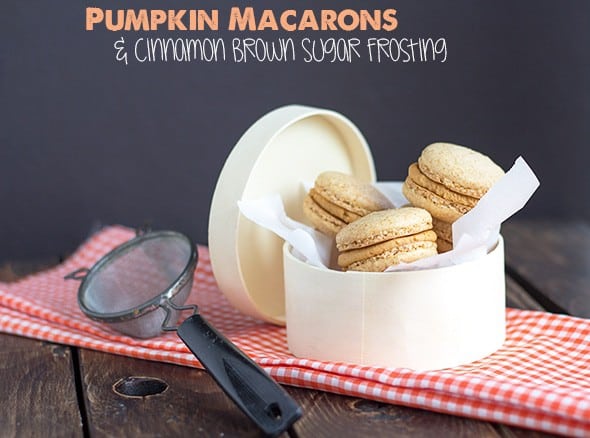 The hubs couldn't get enough of these macarons. He informed me that I should be selling them. I told him, just like I always tell him, macarons are far too expensive to make. No one would want to pay the price. Am I right? Yes, I think I am.
After I piped this beautiful cookies, I immediately dusted them with pumpkin pie spice. I used that itty bitty strainer that you see in the pictures. It added additional flavor and a little something something to the tops of these cookies.
So, I wanted to share with you the struggle. It's real. This is how picture day goes in our house.
Don't let that precious face fool you. He causes havoc.
..and gets caught in the act.
So when you notice little things in my pictures being changed or moved around, don't be surprised. It's probably Lucian helping with the props. He's super handy in that sense.
These macarons would go well on the dessert table this holiday right next to the peanut butter pumpkin pie and pumpkin spice cake. I think your guests would be pleasantly surprised with the new pumpkin recipes.
Pumpkin Macarons with Cinnamon Brown Sugar Frosting
Ingredients
Pumpkin Macarons
1

cup

almond flour

1 ½

cups

powdered sugar

3

large

egg whites

room temperature

¼

cup

granulated sugar

pinch of salt

¼

tsp.

cream of tartar

4

T.

pumpkin powder
Cinnamon Brown Sugar Frosting
½

cup

salted butter

¾

cup

light brown sugar

, packed

¼

cup

cinnamon chips

2

cups

powdered sugar

1 ½ - 2 ½

T.

milk

pumpkin pie spice

for garnish
Instructions
Macaron shell
Prepare a baking sheet by lining it with parchment paper. If you choose to make a template to follow, make for rows of four circles with a pencil. Flip the parchment paper over so the pencil doesn't get into the food.

Sift together the almond flour, pumpkin powdered, and powdered sugar. If you can't find almond flour you can always make it with almonds and a food processor. Finely grind the almonds and sift through a fine mesh sifter. Discard or snack on any large pieces.

In a large mixing bowl, add in egg whites. Turn on high and beat until the egg whites form a soft peak meringue.

Add in the granulated sugar, salt, and cream of tartar. Mix on high until a stiff peak meringue forms.

Very lightly and carefully fold in a third of the almond flour mixture into the meringue with a spatula. All together you'll want to have about 45 turns. If you don't mix enough the macaron shell will be extremely fluffy and cracked. If you over mix, the macaron shell will be extremely flat and might not form a foot.

Repeat with the rest of the almond flour mixture.

Preheat oven to 300 degrees.

Fill a piping bag with the macaron shell filling. I just used a coupler on the end of my piping bag. Pipe macaron shells on the baking sheet. Dust the tops of your shells with pumpkin pie spice. I used a small strainer and sprinkled the spice threw it to avoid clumps.

Let the macarons dry until they are no longer tacky to the touch. It will take 20 minutes to 1 hour. If you don't let them completely dry, they can also crack.

Place in the oven for about 18 minutes until they no longer stick to the parchment paper.

Let the macaron shells cool.
Frosting
In a saucepan, add in butter and brown sugar. Place over medium heat and heat until butter is completely melted.

Add in the cinnamon chips once the butter is melted. Remove from the heat and stir until all the chips are melted and the mixture is smooth.

Place into a mixing bowl and mix on low until the mixture is cooled off, about 2 minutes.

Add in the powdered sugar and 1 ½ tablespoons of milk. If the mixture is too thick add another ½ to 1 tablespoon of milk. If it's still too thick, add ½ tablespoon of milk at a time to get the desired consistency. Mix on low until the powdered sugar is incorporated and turn on high and whip for another minute.

Place frosting in a piping back with a straight tip. You can also use a sandwich bag with a corner cut out. Pipe a circle in the middle of the macaron shell. Carefully press the top shell on and squish the filling to the outer edges. I twisted mine to avoide the shells from cracking.
Notes
The frosting will become thick if refrigerated. It will be like a ganache and would make wonderful truffles.
Nutrition
Calories:
348
kcal
Carbohydrates:
57
g
Protein:
3
g
Fat:
13
g
Saturated Fat:
5
g
Cholesterol:
20
mg
Sodium:
88
mg
Potassium:
48
mg
Fiber:
1
g
Sugar:
54
g
Vitamin A:
245
IU
Calcium:
38
mg
Iron:
0.5
mg
(Nutrition facts are an estimate and not guaranteed to be accurate. Please see a registered dietitian for special diet advice.)
Here's the pumpkin powder that I used for these macarons!
This post contains an affiliate link. Cookie Dough and Oven Mitt is a participant in the Amazon Services LLC Associates Program, an affiliate advertising program designed to provide a means for sites to earn advertising fees by advertising and linking to Amazon.com