This is like crack for my taste buds. Holy cow. I know I've told you many times already that I love the sweet and salty combination. This is exactly the sweet and salty that makes me jump for joy.
I learned very quickly that the sugar can go from caramelized to scorched in seconds. This wasn't my first batch. In fact, I burnt mine for the first time around or at least I think I scorched it. It was so rich and yummy as it first hit my tongue, but then the bitter scorched flavor came in and ruined it all.
I also had a rubber spatula fatality in the first batch. It was just a lose/lose situation for me. My brand spanking new 99 cent spatula that I got from Maine's in Binghamton couldn't hold up to the boiling sugar. I suppose I can't blame it. That's okay, I just started all over with another spatula and batch of sugar. This time I was more attentive.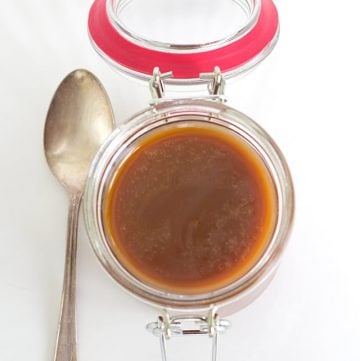 Salted Caramel Sauce
A sweet and salty caramelized sauce that's perfect for ice cream, cake fillings, candies, etc.
Ingredients
1

cup

granulated sugar

8

T.

butter

cubed

½

cup

heavy cream

½

tsp.

vanilla extract

¾

tsp.

kosher coarse salt or sea salt
Instructions
In a medium sauce pan, add the sugar. Turn the heat onto medium-high heat. Stir constantly with a spatula. The sugar may get clumpy before it starts melting.

When the sugar starts melting, switch to a whisk. Whisk constantly to avoid scorching the sugar. It will caramelize in seconds.

When the sugar becomes an amber color, add in the butter and whisk until the butter is melted.

Remove from heat and add the heavy cream, vanilla, and salt. Whisk until the heavy cream is incorporated into the sugar/butter mixture. It will be a thick, caramelized sauce.

Let the sauce cool for a few minutes before pouring it into a jar. Keep in the refrigerator for up to 2 weeks.
Nutrition
Calories:
832
kcal
Carbohydrates:
135
g
Protein:
1
g
Fat:
33
g
Saturated Fat:
21
g
Cholesterol:
120
mg
Sodium:
69
mg
Potassium:
59
mg
Sugar:
133
g
Vitamin A:
1300
IU
Calcium:
52
mg
(Nutrition facts are an estimate and not guaranteed to be accurate. Please see a registered dietitian for special diet advice.)

This hardens a touch in the fridge, but if you let it set out for a bit it will thin back out. I shamefully just ate it by the spoonful, but I have intentions on making a salted caramel filled chocolate. Stay tuned for that in the near future. I have to get more coating chocolates first. This would also be awesome on top of ice cream.
I hope you enjoy the salted caramel sauce recipe!