Every holiday table has a heaping bowl of mashed potatoes being served up. These potato donuts are the solution to any of the leftover mashed potatoes that you may have. I hope you don't mind me thinking ahead. I just love the holidays so much and can't wait to get some family time! Besides, the holidays will sneak up on you if you don't start planning a month or two ahead of time.
You may want to set aside a small bowl of mashed potatoes before putting them on the holiday table just for these potato donuts. They are so fluffy and probably one of my favorite donuts. Add a dusting of cinnamon and sugar and I could probably inhale half of a dozen of these. Seriously.
Let's be honest though. I could inhale most donuts. They're amazing!
I tend to struggle to keep my hot oil at a steady temperature, so I normally only add 1 - 2 donuts in at a time. I can't stress how important it is not to drop your temperature too low or too high while frying donuts. You can have super greasy or under-done donuts with the wrong temperatures and no one wants to bite into a donut to find that it's raw in the center. It gives me the heebie jeebies just thinking about it.
These would make a great brunch for your friends and family that are over for the holidays. They take a little time to rise, but the best shortcut is to use some country buttered Idaho Spuds to whip up in minutes. That way you don't need to peel and boil potatoes and wait on them.
If you're a fan of the country buttered Idaho Spuds, there are four other downright delicious flavors that make a great plus one for the holidays. I can't wait to get my hands on the supreme baked mashed spuds. They sound tasty!
I originally had a glaze recipe wrote out to go on these donuts, but after taking a family poll we went with cinnamon and sugar. It worked in my favor since I really didn't want to cover up the beautiful color of these donuts. That golden brown color gets me every time.
It also allowed us to dig in sooner. We didn't have to wait for the glaze to set up. Throw those warm donuts in a bag of cinnamon sugar, give it a shake and they're ready. Nothing beats a warm donut. Nothing.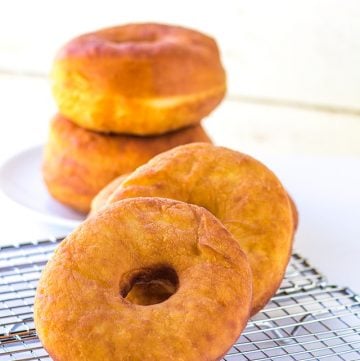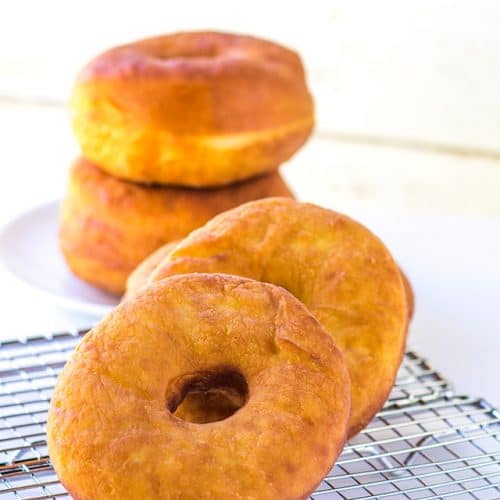 Potato Donuts
Ingredients
1

package

active dry yeast

(2 ¼ tsp.)

¼

cup

warm water

110°F

1

cup

milk

¼

cup

shortening

¼

cup

granulated sugar

1

tsp.

salt

¾

cup

mashed potatoes

2

large

eggs

beaten

5

cups

all-purpose flour

1

T

. + 3 cups canola oil

divided
Instructions
Dissolve yeast in the ¼ cup warm water. Add a teaspoon of sugar and stir. Let it sit for 10 minutes until foamy. This will mean your yeast is activated.

In a saucepan, add in the milk, shortening, sugar and salt. Turn on heat to medium/high. Let it come to almost a bubble. Once the milk starts to form bubbles on the outer edge, remove from the heat and let cool to luke warm.

Add the milk mixture, yeast, mashed potatoes, and beaten eggs into a large mixing bowl. Stir to combine.

Add in the 5 cups of flour and stir until most of the flour is incorporated. Remove the dough from the bowl onto a clean work surface and work in the rest of the dough. Knead the dough until smooth. It will be a soft dough.

Place 1 tablespoon of oil into a bowl. Add the dough and roll it into the oil to coat it. Cover with plastic wrap and place in a warm area until doubled. It will take about 1 hour and 30 minutes.

Lightly flour a clean surface. Turn the dough out onto the the floured surface and roll out to about ½ inch thickness. Cut with 3 or 4 inch donut cutter.

Place the cut out donuts onto two cookie sheets that have been greased with non-stick cooking spray. I normally lay a piece of parchment paper down onto the cookie sheet and then spray that with non-stick cooking spray. The parchment paper isn't necessary.

Cover the donuts with the plastic wrap and let it rise until doubled. This will take about 30 minutes.

While the donuts are rising for the second time, add the 3 cups of oil into a large saucepan and let it heat to 350 degrees.

Once the donuts are doubled and the oil is up to temperature, add 1 to 2 donuts into the oil. Let the donuts fry for about 2 minutes until golden brown. Flip and let fry for another minute to two minutes until that side is golden brown.

Remove from the oil and place on a wire rack to drain.

Place the granulated sugar and cinnamon in a storage bag or paper bag. Toss the hot donuts in with the cinnamon and sugar.

Best if ate fresh.
Nutrition
Calories:
246
kcal
Carbohydrates:
42
g
Protein:
5
g
Fat:
5
g
Saturated Fat:
1
g
Cholesterol:
27
mg
Sodium:
140
mg
Potassium:
109
mg
Fiber:
1
g
Sugar:
10
g
Vitamin A:
65
IU
Vitamin C:
2.3
mg
Calcium:
34
mg
Iron:
2
mg
(Nutrition facts are an estimate and not guaranteed to be accurate. Please see a registered dietitian for special diet advice.)
Last but not least, you can win in a luxury getaway to Shore Lodge on beautiful Payette Lake in McCall, Idaho. Just click over and enter.
I was selected for this opportunity as a member of CLEVER and the content and opinions expressed here are all my own.