This Homemade Eggnog Recipe is so thick, creamy, and delicious! It can be made as a spiked eggnog or a non-alcoholic eggnog depending on who's drinking it! It has cinnamon, nutmeg, and a dash of vanilla extract to amp up the flavor!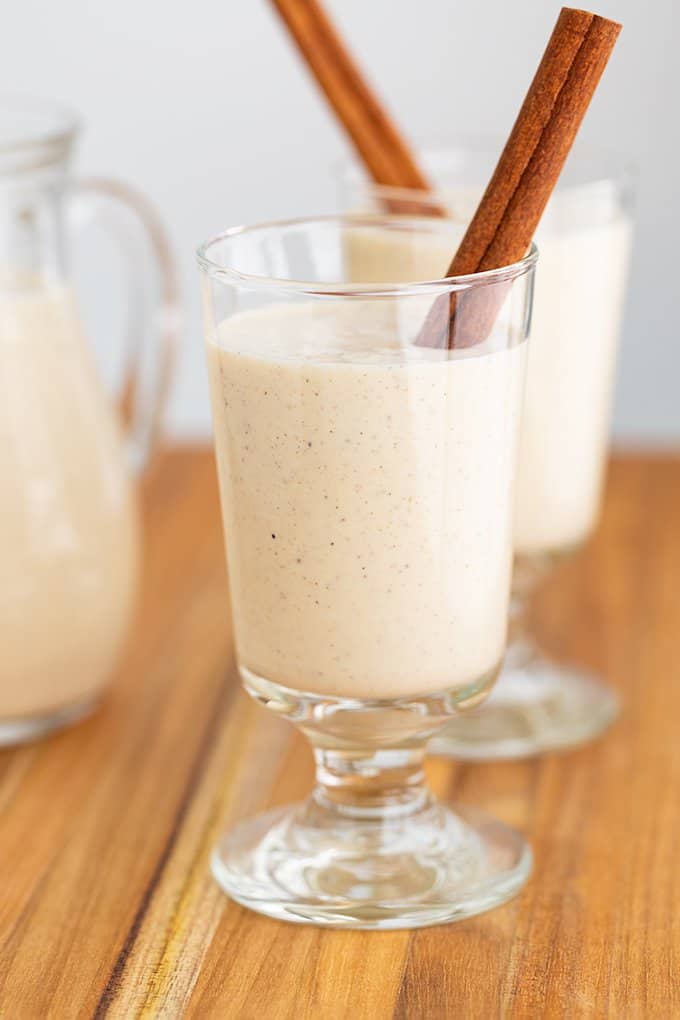 If you love eggnog, I have Eggnog Cheesecake Bars that you have to try! The bars have an oreo crust with a chocolate chip eggnog filling with some nutmeg sprinkled in to enhance the eggnog flavor!
Eggnog is a drink that really only comes out around Christmas time. It's probably because something so decadent and rich should really only be enjoyed a few times a year! Since there is such a limited amount of time for "eggnog season", you should definitely be drinking the absolute best eggnog possible.
My homemade eggnog recipe is rich, creamy, and thick. It has so much flavor that just one sip will blow you away.
Homemade eggnog is so much different than the stuff you can buy at the grocery store. It is almost like a completely different drink. You can also choose to spike the eggnog or leave it non-alcoholic. It is delicious both ways!
What is Eggnog and What Does it Taste Like?
Eggnog is a drink made from eggs, cream, and seasonings. Nutmeg is the strongest taste in any eggnog drink and is usually the signature flavor.
Alcohol is often added to eggnog, turning it into a rich cocktail. One sip of eggnog and you will be enjoying the flavors of nutmeg, cinnamon, vanilla, and rum.
Eggnog has been associated with Christmas since the 1700's. Eggnog became popular in the 18th century with American colonists who had plenty of eggs and rum on hand to make the tasty drink. It was a cold-weather classic thanks to the warm temperature and hearty texture of the drink. That trend stuck and we still are sipping on mugs of warm homemade eggnog today!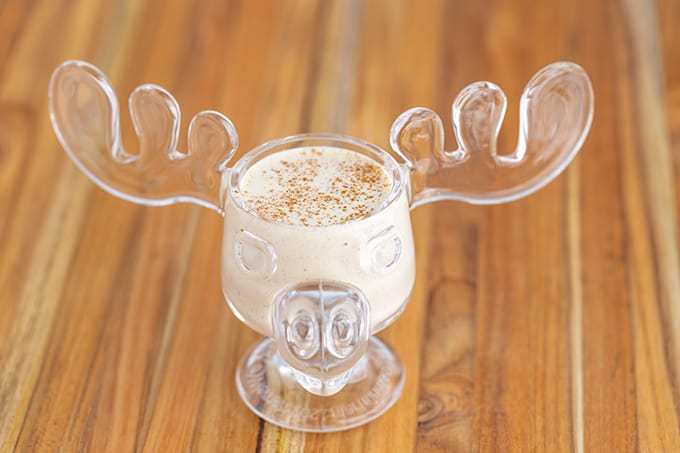 Eggnog Ingredients
Most of the ingredients that go into a mug of eggnog are likely in your pantry or fridge already. They are all very common and can be found at any grocery store. Here is what you will need to make homemade eggnog:
Sugar- eggnog is a classically sweet drink so you will need sugar to sweeten it up!
Egg yolks- Egg yolks make the egg nog rich and thick
Salt- Salt brings out the sweet flavor of the drink
Heavy Cream- Rich heavy cream is how the eggnog gets its great texture
Whole Milk- Whole milk is the base of the entire drink
Cinnamon- A little cinnamon adds some festive spice
Nutmeg- Nutmeg is the traditional flavor of the drink
Vanilla- vanilla makes the eggnog sweet and have more depth of flavor
Rum Extract- Rum is also a classic flavor in eggnog which can be achieved in a non alcoholic way by using rum extract
Dark Rum- Homemade spiked eggnog needs dark rum!
Simple ingredients make the best Christmas drinks. Homemade eggnog will also be free of any preservatives or artificial ingredients.
How to Make Eggnog
Here is how to make this tasty drink:
Step 1 - Whisk the eggs, sugar, and salt together in a large bowl until very thick and fluffy.
Step 2 - Add the milk, heavy cream, cinnamon, and nutmeg to a small pan and heat over medium-high heat until boiling.
Step 3 - Pour a small amount of the hot milk into the egg mix, whisking constantly so the eggs don't cook. Add a little more hot milk and whisk again to heat the yolks.
Step 4 - Pour the egg-milk mixture into the saucepan with the remaining milk and whisk everything together.
Step 5 - Cook the eggnog mix over medium heat, whisking constantly until it reaches 160 degrees F. This is the temperature considered "safe" for cooking eggs. The mix will be quite thick by this temperature.
Step 6 - Remove the pan from the stovetop and add the vanilla, rum extract, and rum if you're using or additional milk if you would like it thinned out. Whisk well.
Enjoy the drink warm or place it in the fridge to cool. You can drink eggnog both hot or cold!
Measuring, whisking, and drinking is all you need to do to create the perfect eggnog recipe. I promise you this homemade eggnog is worth the effort!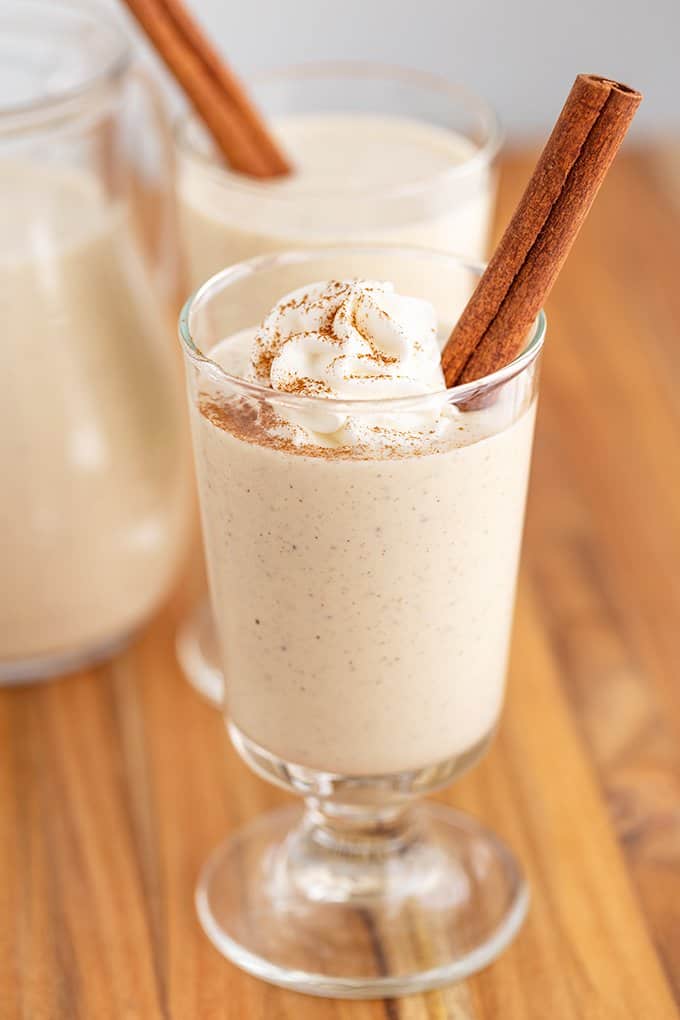 Substitutions and Variations
There are a few ways to switch up your eggnog drink. Making eggnog allows you to customize the drink to suit your personal taste. Here are a few ideas about how to tweak this recipe and make it your own:
Replace the heavy cream and milk with non dairy milk to create dairy-free eggnog. Coconut milk, almond milk and soy milk all work well.
Skip the rum and double the rum extract for a non alcoholic version. If it's too thick, thin it out with ½ cup of whole milk.
Add a cinnamon stick as a garnish
Add a scoop of vanilla ice cream and blend the drink to create an eggnog milkshake
A little whipped cream on top of a mug of warm eggnog is a great treat
Replace the cinnamon and nutmeg with pumpkin pie spice for a pumpkin spice eggnog
Let me know how you tweak your eggnog recipe. Eggnog is one of my favorite Christmas drinks so I would love to try it in a new, fun way!
How to Store Eggnog
Eggnog needs to be kept in the fridge. It is made with lots of eggs and dairy, both of which need to be refrigerated to stay fresh. I keep my eggnog in a large pitcher with a lid so I can easily pour the drink straight into my glass.
Homemade eggnog will keep for about 3-4 days in the fridge. Since it has no preservatives and is made with real eggs and milk, it does need to be enjoyed quickly! Make eggnog only when you are ready to drink it all! You don't want this tasty drink to go to waste.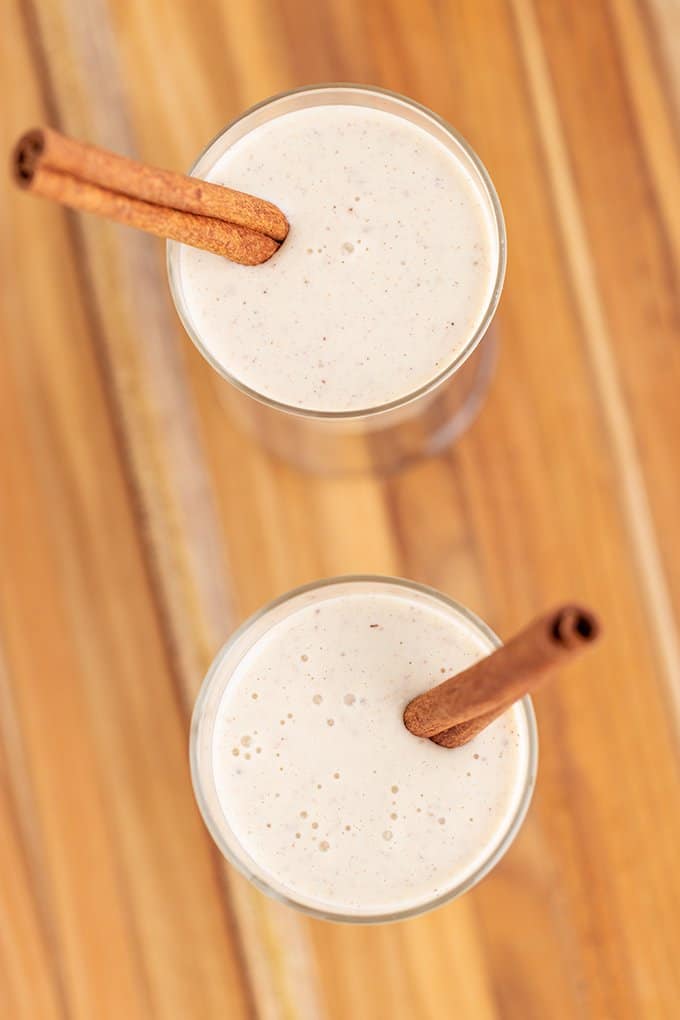 Frequently Asked Questions
What types of alcohol can I use in this eggnog recipe?
Eggnog is classically made with rum. Dark rum has a rich, vanilla flavor that is really good. You can use different alcohol though, making your own tasty eggnog creation. Fireball whiskey, brandy, and bourbon are all good in eggnog.
How to serve eggnog?
I like to serve eggnog chilled. Pour a cup over ice and enjoy! You can also drink eggnog warm. Heat it for a little bit in the microwave or over the stove. Top with whipped cream and serve with a cinnamon stick for a delicious treat that will warm you up from the inside out.
Can you freeze eggnog?
Yes! You can freeze eggnog. I recommend freezing the eggnog without the alcohol in it. Spike the eggnog after you have defrosted it.
To freeze the nog, place it in an airtight container with a locking lid. Keep it in the freezer for up to a month. This is a great way to extend the shelf life of your homemade eggnog. When you are ready to drink it, simply reheat the eggnog over the stovetop and whisk it together.
I love homemade eggnog at Christmas and I know many of you do too. GIve my homemade eggnog recipe a try and you will never want store-bought eggnog again! Enjoy.
More Drinks to Enjoy
Homemade Eggnog
This Homemade Eggnog Recipe is so thick, creamy, and can be made as a spiked eggnog or a non-alcoholic eggnog!
Ingredients
½

cup

granulated sugar

6

egg yolks

⅛

teaspoon

salt

1

cup

heavy cream

2

cups

whole milk

½

teaspoon

ground cinnamon

½

teaspoon

ground nutmeg

1

teaspoon

vanilla extract or vanilla paste

½

teaspoon

rum extract

½

cup

Myer's dark rum

not spiced (optional and can add an additional ¼ cup for more flavor)
Instructions
In a medium bowl, add in the sugar, yolks, and salt. Whisk until the yolks are pale yellow and thick.

In a medium saucepan, add in the heavy cream, milk, cinnamon, and nutmeg. Place over medium/low heat and let it come up to a boil slowly.

Once the milk is boiling, whisk ¼ cup of the milk into the bowl of yolks until completely incorporated.

Whisk in another ¼ cup of the hot milk into the egg yolks until combined.

Now that the yolks have been tempered, pour the yolks into the saucepan of hot milk while whisking.

Once the yolks are whisked into the mixture, let it heat over medium/low heat until it thickens and reaches 160 degrees F.

Remove from the heat and stir in the rum and vanilla extract.

Pour into a pitcher and let cool to room temperature.

Place into the refrigerator to chill.

Once chilled, serve. Add a cinnamon stick or National Lampoons moose mug for decoration.
Notes
You can leave out the rum and replace it with ½ teaspoon to 1 teaspoon of rum extract.
Nutrition
Calories:
414
kcal
Carbohydrates:
30
g
Protein:
8
g
Fat:
30
g
Saturated Fat:
17
g
Polyunsaturated Fat:
2
g
Monounsaturated Fat:
9
g
Cholesterol:
344
mg
Sodium:
143
mg
Potassium:
211
mg
Fiber:
1
g
Sugar:
28
g
Vitamin A:
1300
IU
Vitamin C:
1
mg
Calcium:
191
mg
Iron:
1
mg
(Nutrition facts are an estimate and not guaranteed to be accurate. Please see a registered dietitian for special diet advice.)