Rainbow Cheesecake is creamy vanilla cheesecake decorated in a fun rainbow of color. It's the perfect St. Patrick's Day dessert recipe, or great for a unicorn dessert party!

Holy rainbow cheesecake! St. Patrick's Day is right around the corner and I just HAD to make something festive for it. While brainstorming, I could only come up with rainbows, leprechauns, and booze. So, here is your rainbow recipe and you can make St. Patrick's Day Jello Shots or Chocolate Guinness Poke Cake to go with it. 😉
Sadly, I couldn't find a leprechaun to use in a third recipe. Oh man, that joke was in poor taste.
I can remember my first year of blogging, I was quickly educated on the proper way to write St. Paddy's Day on a BuzzFeed roundup I created. The comments were slightly brutal, but I got the point. I had always written St. Patty's Day and so has probably everyone else in the United States. WELL, it's wrong.
I was so proud of my rainbow cheesecake that I cut a couple of slices and took them down to my good friend and her hubby. It was too pretty not to share. She messaged me at like 10 at night to tell me that she had to hide the cheesecake until her kids went to bed.
Does anyone else hide treats from their kids? I know I'm so guilty of this. I probably would be more so if I had more than one kid running around.
You'll be happy to know that Lucian has had some of this rainbow cheesecake. I didn't keep it from him, because it's too darn pretty. It screams fun and playful. He was so excited to watch me make it and to be able to eat it. I think he told anyone that would listen about the rainbow cheesecake. When my five-year-old brags about my creations, I feel like a superhero. It is the best feeling in the entire world.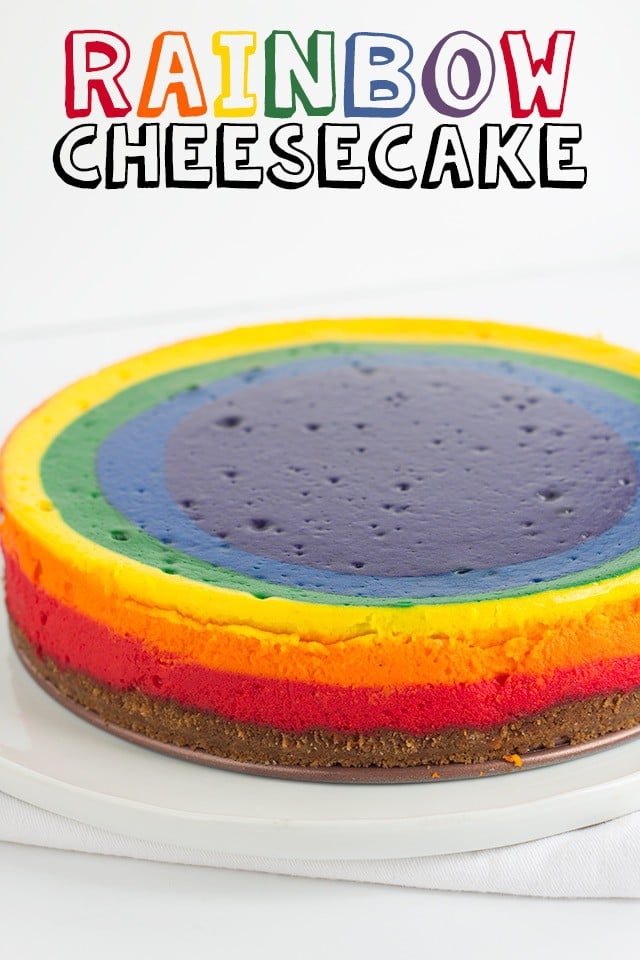 Rainbow Cheesecake Recipe Notes
One last thing, you probably noticed the air bubbles in the top and sides. That's from having to mix the food coloring in thoroughly. All of the extra beating incorporated air pockets. I would recommend tapping the cheesecake. Just be careful not to ruin your beautiful rainbow.
Want a couple more St. Patrick's Day dessert ideas? Bake a Chocolate Whiskey Cake or make some Baileys Coffee Truffles.
Rainbow Cheesecake
Rainbow Cheesecake is creamy vanilla cheesecake decorated in a fun rainbow of color. It's the perfect St. Patrick's Day dessert recipe, or great for a unicorn party!
Ingredients
Cheesecake
24

ounces

cream cheese

room temperature

1 ¼

cups

granulated sugar

2

teaspoon

vanilla extract

4

large eggs

1

cup

full-fat sour cream

½

cup

heavy cream

several drops of red, orange, lemon yellow, leaf green, royal blue, purple gel food color
Instructions
Crust
Preheat oven to 325 degrees. Spray the sides of the 9.5-inch springform pan with nonstick baking spray. Wrap the sides of the pan with a strip of parchment paper.

In a mixing bowl, add in the graham cracker crumbs, sugar, and butter. Stir until the melted butter coats the crumbs.

Firmly press the crust evenly into the bottom of the prepared pan.

Place into the oven and bake for 15 minutes. Remove from the oven and let cool while you work on the cheesecake filling.
Cheesecake
In a large mixing bowl, add in the cream cheese and beat with a hand mixer on medium until smooth.

Add the granulated sugar in with the cream cheese. Beat on medium until combined. Scrape down the sides of the bowl.

Add in the vanilla extract and then the eggs one at a time. Beat in each egg completely before adding the next. Scrape down the bowl after incorporating each egg.

Add in the sour cream and heavy cream. Mix until incorporated. Scrape down the sides of the bowl and beat any remaining bits.

Divide the batter into 6 bowls. I used an ice cream scoop and scooped it out equally. I got 3 scoops for each bowl.

Add each gel paste food color into a bowl with batter in it.

Thoroughly mix the gel food color into each bowl of batter.

Just before adding the cheesecake mixture, wrap the outside of the springform pan with 2 layers of heavy-duty tin foil.

Starting with the red, add the mixture into the center of the cheesecake. Then add the orange to the center of the cheesecake. Repeat adding the yellow, green, blue, and purple to the center of the cheesecake.

Give the cheesecake a few taps to even out the top and remove any air bubbles.

Place the springform pan in a slightly larger baking pan. Fill the outer pan with 1 inch of water. This will keep the cheesecake from cracking.

Place in the oven at 325 degrees and let bake for 1 hour and 20 minutes or until done. To make sure the cheesecake is done, gently give it a wiggle. If it slightly jiggles in JUST the middle like jello, then it's done. If it jiggles all over, it needs to bake longer. Turn off the heat and crack the oven door slightly. Let it cool in the oven for 1 to 2 hours until it reaches room temperature and then place in the fridge to chill overnight.
Nutrition
Serving:
1
slice
Calories:
462
kcal
Carbohydrates:
33
g
Protein:
6
g
Fat:
34
g
Saturated Fat:
19
g
Cholesterol:
160
mg
Sodium:
336
mg
Potassium:
154
mg
Sugar:
26
g
Vitamin A:
1265
IU
Vitamin C:
0.2
mg
Calcium:
102
mg
Iron:
1
mg
(Nutrition facts are an estimate and not guaranteed to be accurate. Please see a registered dietitian for special diet advice.)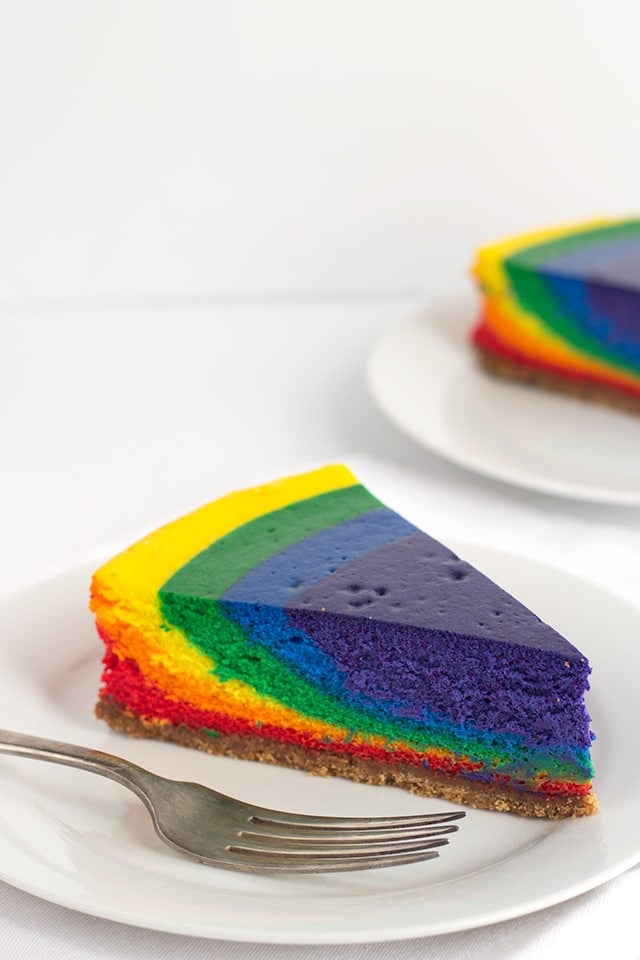 Who's expecting a huge snow storm today? As of right now they're calling for 10 - 18 inches in March. Craziness.