These M&M Cookies are soft, chewy, buttery, and packed full of candies and chocolate chips. The edges have a nice crispiness to them too. These chocolate chip M&M cookies give a nice pop of color to a cookie platter and will leave people grabbing for more.
Have a craving for more cookies? Try these Butter Cookies, Chocolate Espresso Cookies, Coconut Cookies, or Cheesecake Cookies.
Everyone who has ever had an M&M cookie has loved it. I feel like this is probably a fact. How could you not love an M&M cookie?! They are soft and chewy, sweet and chocolatey. It's pure perfection!
This M&M cookie recipe is the best I have ever tried. I have made these cookies what feels like hundreds of times but probably more realistically like 30 to 40 times and they are still something I crave. I think you'll love them too!
Ingredients for M&M Cookies
This cookie recipe contains ingredients that are found in most cookies and you'll probably have most of it in your pantry or fridge. You may need to grab some M&Ms, unless you're like me and keep those on hand too.
Here's a quick list of the ingredients needed to make M and M cookies:
Butter
Light brown sugar
White sugar
Eggs
Vanilla
Flour
Baking soda
Salt
M&M's
Mini M&M's
Milk chocolate chips
I like to get M&M's in different colors based on the holiday's or what event I am celebrating. Red and green M&M's are perfect around christmas while the pastel colors are great in the spring. Feel free to switch it up!
How to Make M&M Cookie Recipe
Begin by creaming the butter and sugars until the mix is light and fluffy. Then, you slowly add the eggs and vanilla, scraping down the sides of your bowl as you go. This will make sure the batter doesn't break or seperate. Mixing the ingredients when they are all room temperature will also help the batter come together easily.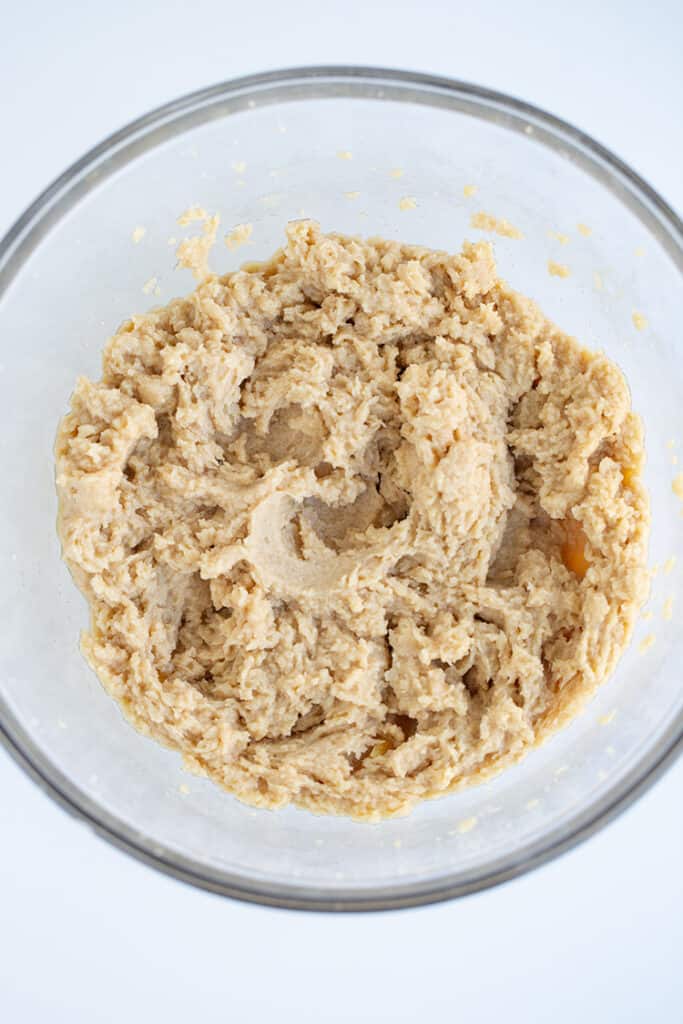 The dry ingredients are added to the bowl and mixed until a smooth batter forms. Then the M&M's and chocolate chips are folded in. Be sure to mix the chocolates in well so they are evenly distributed.
Your cookie dough is then ready to bake! Scoop it onto parchment-lined sheet trays and bake in your preheated oven. Once the edges of the cookies are golden brown, they are ready to cool and eat! You are probably going to want to try one or two right away.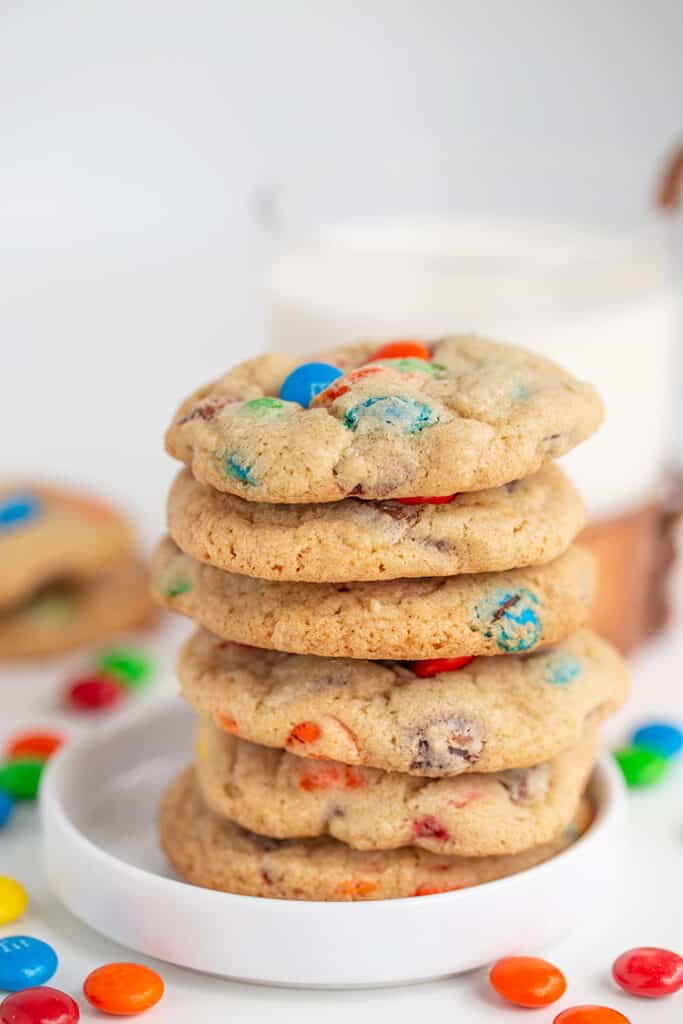 How to Store M&M Cookies
Once you have baked the cookies, you are going to want to keep them as fresh as possible. Storing these cookies the right way will make sure that they stay soft and chewy for as long as possible!
Place the cooled cookies in an airtight container and keep the container a room temperature for up to a week. Avoid putting the sealed cookies in a sunny spot or near an oven as the chocolate may melt.
Can You Freeze M&M Cookies?
It is always a good idea to have a few homemade cookies on hand. You never know when guests may stop by or when a craving for a warm chocolate cookie may strike!
You can definitely freeze these M&M cookies. In fact, there are two ways you can freeze them. Take a look and see which freezer method is best for you.
Cookie Dough - Make the M&M cookie recipe as directed but stop after you fold in the M&M's. Scoop the batter onto a sheet tray in cookie-sized portions then wrap the tray in plastic wrap. Freeze the raw cookie dough until solid.
Then, place the frozen cookie dough balls in a freezer bag or freezer container and freeze for up to 3 months. Anytime you want a fresh cookie, take the dough out of the bag, place it on a parchment-lined tray, and bake as directed. They may take an additional 1 to 3 minutes to bake up since they're frozen.
Baked Cookies - Freezing baked cookies is another storage option that works well. I recommend wrapping each cooled M&M cookie individually in plastic wrap. Place the individually wrapped cookies in a freezer container and freeze. When you want to eat a homemade M&M cookie, remove it from the bag, unwrap it and let it that at room temperature for about 2 hours. Then eat and enjoy!
If you want to warm up the cookie faster, pop it in the oven at 350 for about 5 minutes. You can also reheat the baked cookie in the microwave for about 30 seconds. This freezer method is very easy and gives you access to amazing cookies in just seconds!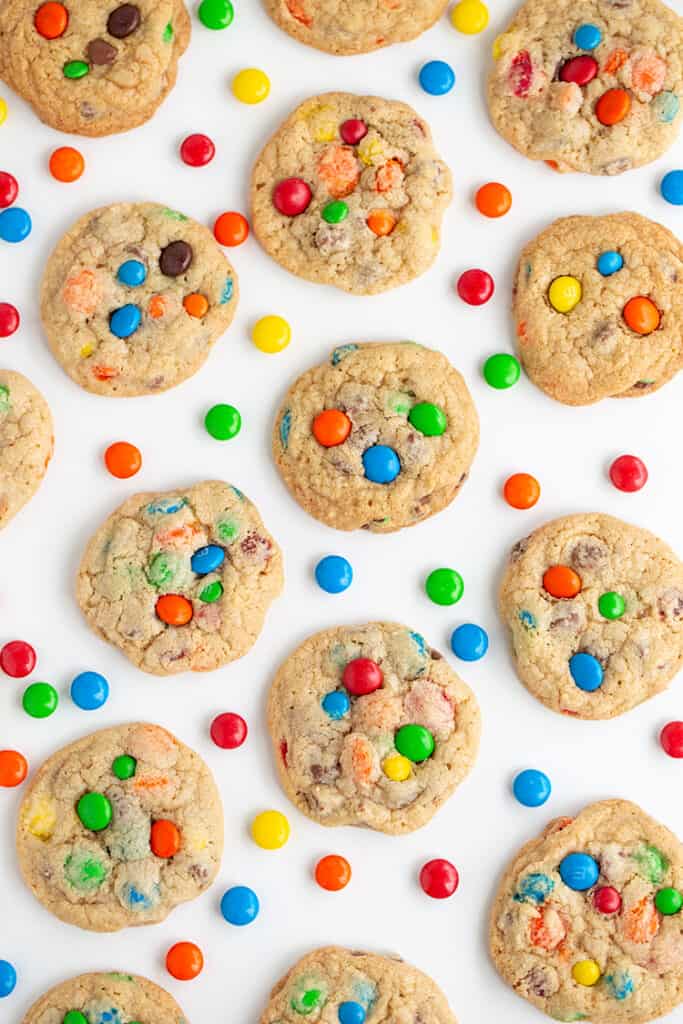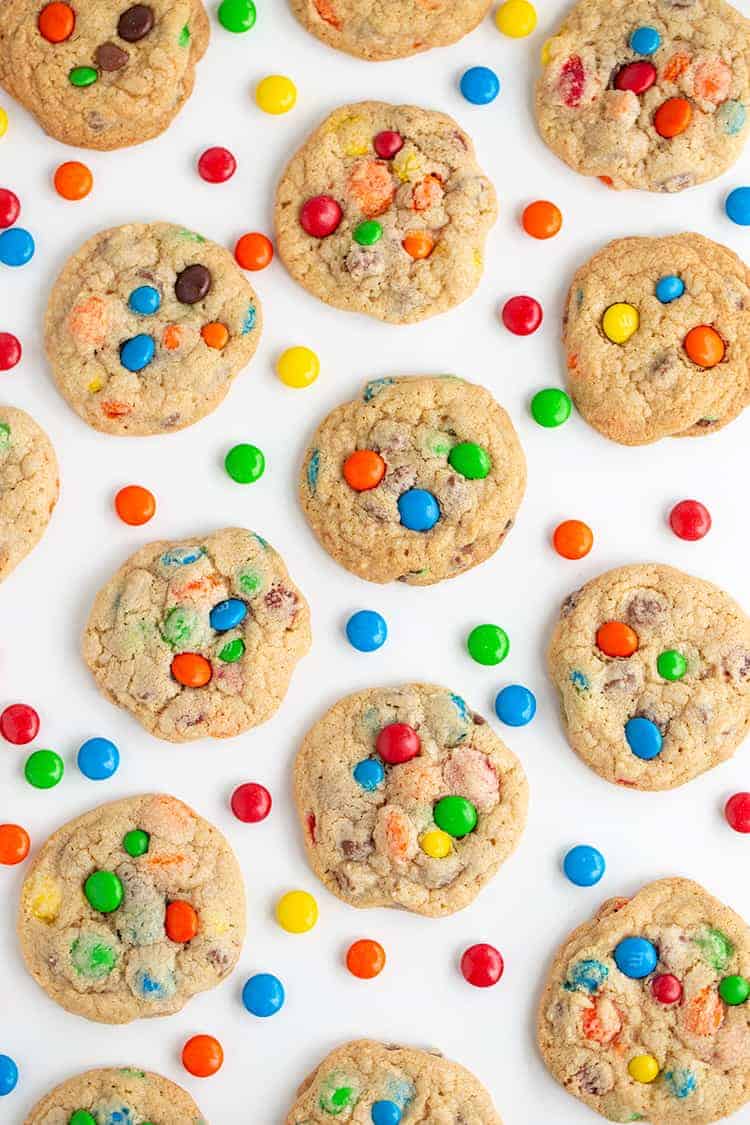 FAQ's
Do you have any questions about how to make M&M cookies? We are happy to help! Here are a few answers to some commonly asked questions that may start you in the right direction. If you still have questions, feel free to shoot us a message and we will respond right away!
When to add m&ms to cookies?
Add M&M's to your cookie dough after all of the other ingredients have been blended in well. They should be the last ingredient you add. You also can sprinkle some extra M&M's on top of the cookies after they have been scooped onto the tray. You can never have too many M&M's!
Can you substitute m&ms for chocolate chips in cookies?
You can always substitute M&M's for chocolate chips in cookies. M&M's are chocolate after all! Use the same quantity of M&M's as you would chocolate chips. Most chocolate chip cookie recipes will work perfectly with M&M's instead of chocolate chips. Of course, you can always do as I did and use both, making chocolate chip M&M cookies!
Why are my m&m cookies flat?
If you bake your M&M cookies and they are falling flat, the reason is likely the butter. When the butter is too soft or even becomes melted, it will cause the cookies to flatten as they bake. If you bake a few cookies and they come out flat, place the bater in the fridge for about 30 minutes to firm. Then, scoop and bake the remaining dough. The cookies should hold their shape better once the butter has chilled.
Do I have to chill the cookie dough?
You do not have to chill the cookie dough. However, I do recommend using butter that has softened some, but isn't so warm that it's a mush mess to prevent the cookies from baking flat.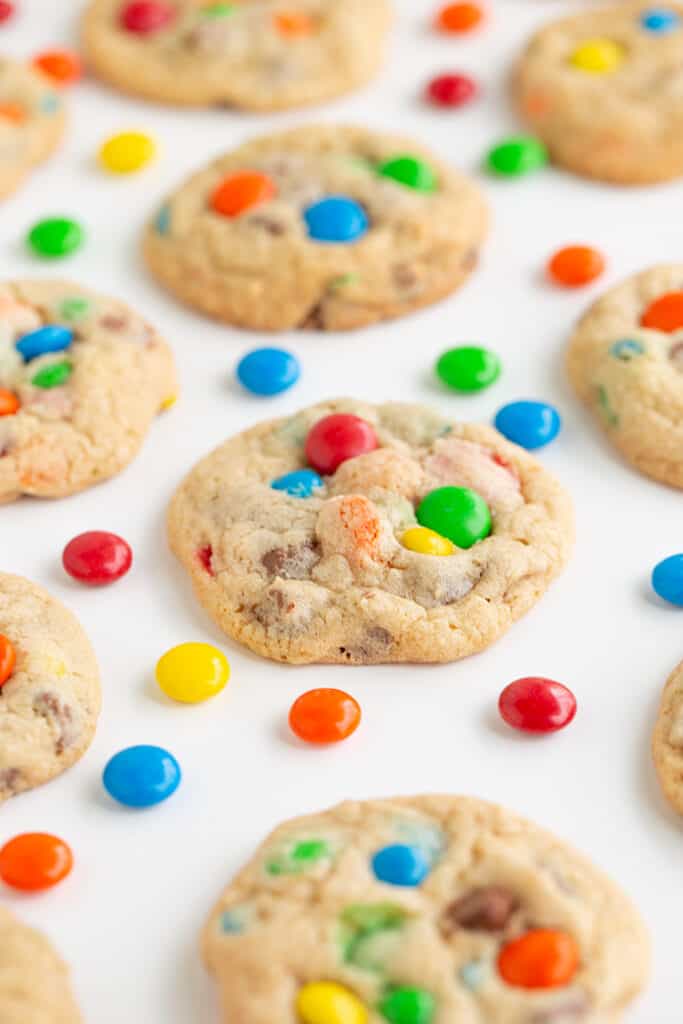 Shop this Post:
M&M Cookies
These M&M Cookies are soft, chewy, buttery, and packed full of candies and chocolate chips. The edges have a nice crispiness to them too.
Ingredients
1

cup

butter

room temperature

1 ¼

cup

light brown sugar

packed

½

cup

granulated sugar

2

large eggs

2

teaspoons

vanilla extract

3 ¼

cups

all-purpose flour

1

teaspoon

baking soda

½

teaspoon

salt

1 ½

cups

M&M candies

additional candies for topping the cookies

½

cup

mini M&M candies

mini chocolate chips will work

1

cup

milk chocolate chips

additional chips for topping the cookies
Instructions
Preheat the oven to 350 degrees F. Line a baking sheet with parchment paper.

Add the butter, brown sugar, and granulated sugar to a large mixing bowl. With a hand mixer on medium, beat until creamed.

Add in the eggs and vanilla extract and beat until combined.

Add in the flour, baking soda, and salt. Beat until the flour is almost completely incorporated.

Add in the regular M&M candies, mini M&M candies, and chocolate chips. Mix until the candies and chips are evenly distributed.

Using a 1 ½ tablespoon cookie scoop, scoop the cookie dough onto the prepared baking sheet.

If you have additional candies and chocolate chips, add 3 to 5 of a combination of the two to the top of the cookie dough.

Place in the preheated oven and bake for 12 to 14 minutes until the edges are golden brown.

Let the cookies cool on the baking sheet for 5 to 10 minutes before transferring to a wire rack or a paper towel to cool completely.

Place in an airtight container and store at room temperature for up to 5 days.
Nutrition
Calories:
145
kcal
Carbohydrates:
21
g
Protein:
2
g
Fat:
6
g
Saturated Fat:
4
g
Cholesterol:
17
mg
Sodium:
85
mg
Potassium:
18
mg
Fiber:
1
g
Sugar:
14
g
Vitamin A:
141
IU
Vitamin C:
1
mg
Calcium:
20
mg
Iron:
1
mg
(Nutrition facts are an estimate and not guaranteed to be accurate. Please see a registered dietitian for special diet advice.)