I've never really made chocolate fudge mostly because I'm not a fan of it. However, I had noticed a new Hershey's chocolate spread had just come out and I really enjoy trying new things. This chocolate is absolutely divine. It's a must try. I loved the spread so much that I had decided to give it a try in a fudge recipe. I've never been so happy that I've experimented with this. The fudge is so creamy. It's a pleasant mouth feel.
I drizzled a little white coating chocolate on the top of the fudge to give it a little more eye appeal. I also had some left over Andes peppermint crunch that I sprinkled on a few of the pieces. Really though, the pieces are absolutely wonderful without any additions.
It seems like the closer we get to Christmas, the more things I need to bake. It's an overwhelming pull to the kitchen. I can't be the only one that feels this way. Otherwise, there wouldn't be so many complaints during the holiday season about the weight gain. So, I'm scrambling to get all my recipes to my viewers before Wednesday morning.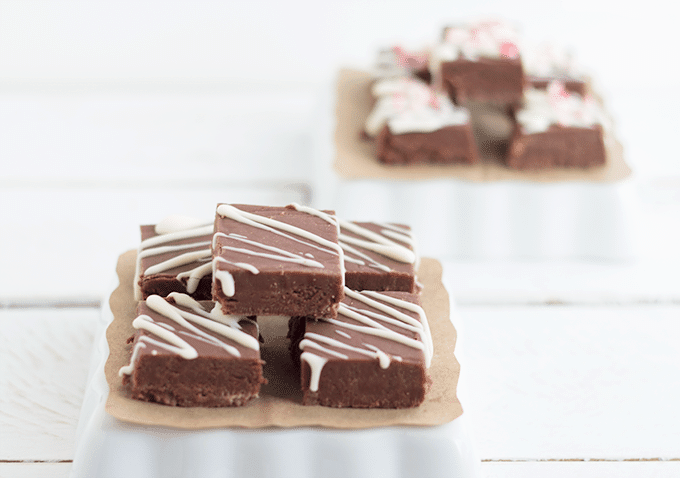 Chocolate Fudge
The best chocolate fudge in town.
Ingredients
2

cups

granulated sugar

1

cup

milk

1

T

. salted butter

1

cup

Hershey's Spreads Chocolate

¼

cup

coating chocolate coins

, for garnish (optional)
Instructions
Line an 8x8 pan with tin foil. Set aside.

In a large saucepan, add in the sugar, milk, and butter, Turn the burner onto medium and stir until everything is dissolved.

Measure out the chocolate and have it ready.

Using a candy thermometer, bring the mixture up to 236-239 degrees or soft ball stage. Stir occasionally.

Remove from heat and quickly add in the Hershey's chocolate spread. Stir until the chocolate is completely combined into the sugar mixture.

Pour into the pan and place into the fridge into chilled. It will probably take 30-45 minutes. Cut into small squares.
For Garnish
Microwave the coating chocolates in 20 second intervals until completely melted. Using a spoon, drizzle the chocolate over top of the fudge squares. Let the chocolate set.
(Nutrition facts are an estimate and not guaranteed to be accurate. Please see a registered dietitian for special diet advice.)