This Creme De Menthe Pie or grasshopper pie is boozy and perfect for St. Patrick's Day. If you love chocolate and mint together, this is the pie for you. Plus, it's the perfect make-ahead dessert to pop into the freezer. Did I mention it's a quick and easy recipe to make too?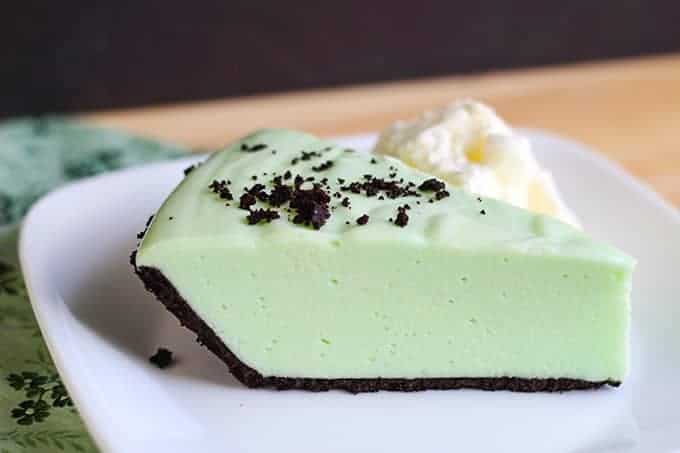 So, recently I discovered that my husband loves creme de menthe pie. How does one go eight years with a significant other and never know how much they love creme de menthe pie. Strange, isn't it? I've never actually had this pie, so I had to go on a search to find out what it all calls for. Fortunately, the very dependable pioneer woman, Ree, had a simple recipe that I quickly fell in love with. It does call for some alcohol, but I truly love baking with alcohol so it wasn't a big deal for me.
This is an awesome Christmas dessert as well as St. Patrick's Day. I cannot believe I have gone so long without this being in my life. I'm such a silly girl. Thanks to my husband for introducing us. The light green minty color screams holidays for me. I love it so much.
Creme De Menthe Pie with Marshmallows
This creme de menthe pie is made with marshmallows. The marshmallows in this grasshopper pie help bind everything together and also provide some delicious flavor.
The regular sized marshmallows are what I used. The mini marshmallows will work fine. I read that 13 mini marshmallows make up 1 regular marshmallow. So if that's the case, you'll need 312 mini marshmallows for this recipe. Your best bet would be to pick up two bags of mini marshmallows to make sure you have enough.
Another option is marshmallow creme or "Fluff". If you want to use marshmallow creme or Fluff for your creme de menthe pie, you'll need 2 cups or 8 oz. If you're using a measuring cup to measure it out, I recommend spraying it with cooking spray before adding the marshmallow creme/Fluff. That will keep it from sticking.
I should also let you know that I haven't tried using mini marshmallows or the marshmallow creme/Fluff. I just made the conversions for you from regular marshmallows, but it should work perfectly.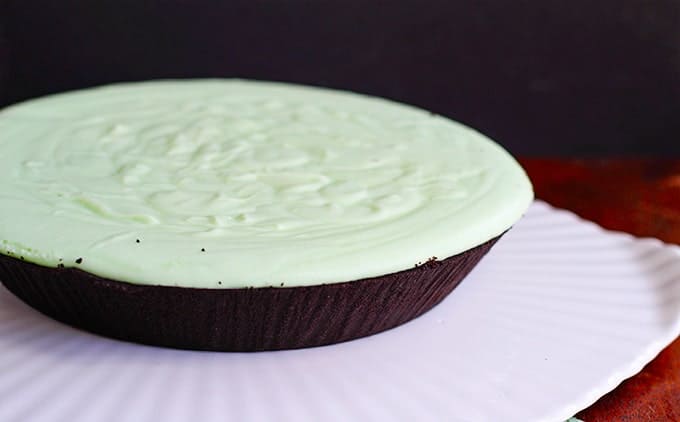 What is Grasshopper Pie and What Does It Taste Like?
It's a classic no-bake dessert recipe. It gets the green color from the bright green creme de menthe liqueur. It has a great chocolate mint flavor.
What is Grasshopper Pie Made Of?
Grasshoppers! I'm kidding!
I hope you've noticed that I'm using Creme De Menthe Pie and Grasshopper Pie interchangeable. They're the same thing. I'm pretty sure my husband introduced it to me as Creme De Menthe Pie, but it's commonly known as Grasshopper Pie.
This particular pie is made of these ingredients:
regular marshmallows
half-and-half
Creme De Menthe Liqueur
Creme De Cacao Liqueur
Heavy cream
Gel food coloring
What is half-and-half? I get this question all of the time. I think it's more from the people that don't live in the states, so let's chat about this quickly. Half-and-half is half whole milk and half heavy cream.
What can I use instead of half-and-half in this creme de menthe pie? For this recipe that calls for ⅔ cup of half-and-half, you'll use ⅓ cup of whole milk and ⅓ cup of heavy cream to make half-and-half.
Can I make Creme De Menthe Pie with Cool Whip? Yes! You can substitute the homemade whipped cream with 2 cups of cool whip.
How to make Creme De Methe Pie:
Creme De Menthe Pie
Ingredients
Crust
1 ¼

cups

crushed Oreos (about 18 cookies)

6

T.

butter

melted
Filling
24

marshmallows

⅔

cup

half-and-half

2

T.

Creme De Menthe liqueur

2

T.

Creme De Cacao liqueur

2

drops of green food coloring

1

cup

heavy cream
Instructions
Crust
In a mixing bowl, add in the cookie crumbs and butter. Stir until it looks like wet sand.

Press the crumbs into an 8-inch pie plate. Place into the freezer for at least 10 minutes to firm up. I leave mine in there until the filling is done.
Filling
In a large saucepan over low heat, add marshmallows and half-and-half. Stir occasionally until completely melted.

Fill a large bowl with ice cubes to cool the marshmallows and half-half down.

Place the hot saucepan into the bowl of ice. Stir to help the mixture cool down faster.

Once the marshmallow mixture is cooled down, add in both liqueurs and food coloring. Give the marshmallow mixture a taste to make sure the creme de menthe taste is to your liking. To add more of the liqueurs, begin by adding it by the teaspoon.

In a mixing bowl, add in the heavy cream. Mix on medium until the cream is whipped into stiff peaks.

Pour the marshmallow mixture into the whipped cream and carefully fold.

Once the mixture is completely incorporated, add it into the store-bought graham cracker crust.

Place the pie into the freezer for at least 2 hours to firm up.

Remove the pie from the freezer about 10-15 minutes before cutting and serving it.
Notes
For a short cut, you can use a store-bought chocolate crust instead of making one.
This recipe was adapted from The Pioneer Woman.
Nutrition
Calories:
2553
kcal
Carbohydrates:
292
g
Protein:
23
g
Fat:
151
g
Saturated Fat:
82
g
Cholesterol:
398
mg
Sodium:
1253
mg
Potassium:
818
mg
Fiber:
5
g
Sugar:
180
g
Vitamin A:
4220
IU
Vitamin C:
2.9
mg
Calcium:
368
mg
Iron:
17.7
mg
(Nutrition facts are an estimate and not guaranteed to be accurate. Please see a registered dietitian for special diet advice.)