These Dirt Cake Cups are the perfect spring dessert for kids! Each dirt cup has a layer of chocolate pudding mousse, crushed Oreos, and delicious gummi worms. The best part is that they're individual serving pudding cups, so no scooping and plating is required!
Little kids get so excited about this adorable pudding dessert called Dirt Cake Cups. If you want to make your little ones super happy, make this recipe!
A layer of pudding mixed with whipped cream is topped with gummy worms, followed by crushed oreo cookies so that the worms appear to be crawling out of the "dirt" made of chocolate. The result is both disgusting and delicious at the same moment. Time to eat some worms!
Ingredients for Dirt Cake Cups
Oreos - Any brand of chocolate sandwich cookie will work.
Box of Instant Chocolate Pudding - This recipe can be multiplied as much as needed for a large group so plan accordingly.
Cold Milk - Milk that has been chilled really well will help the pudding set faster. It is best not to make this dessert as soon as you get home from the grocery store since your milk will not be as cold as it would be straight out of the fridge.
Heavy Whipping Cream - The pudding is mixed with homemade whipping cream for a delicious base for the dirt cake cup.
Powdered Sugar - Used to sweeten the heavy whipping cream.
Gummy Worms - Purely for effect, these are what make the dirt cups worth eating for kids of all ages.
How to Make Dirt Cake Cups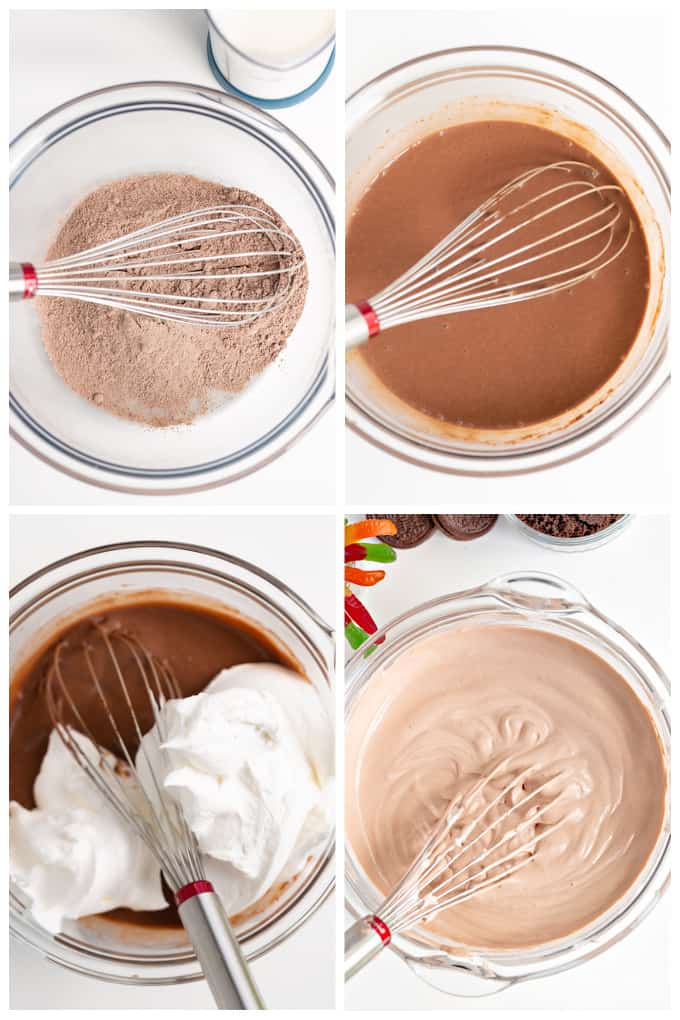 Crushed Oreos - If you have a food processor, place the Oreos in the food processor and use the pulse button to crush your cookies. If you want, you can remove the creme filling first but I didn't and don't think it's necessary.
Chocolate Pudding Mousse - In a large bowl, add the dry pudding mix and milk. Whisk it together really well until it begins to thicken. Starting with cold milk will help ensure that your pudding sets fast. Set the pudding aside to rest until it sets. You can also refrigerate it while you prepare the whipped cream.
In a second bowl, add the heavy whipping cream and powdered sugar. Beat this with a hand mixer until stiff peaks form. Combine the pudding with the whipped cream to form the base of the dirt cake cups.
Use a disposable piping bag to fill the clear plastic cups to ½ inch from the top.
VARIATION: Crust up twice as many Oreos. You can fill the cups half full of chocolate mousse, add a layer of crushed Oreos, fill the rest up of the cup still leaving a ½ inch from the top and add the gummy worms and then remaining crushed Oreos. This will also give you 1 to 2 extra pudding cups.
Arrange three gummy worms on top of the pudding in each cup. Finally, add the crushed Oreo "dirt" and spoon it around and under the worms so that they appear to be crawling up and out of the dirt.
Store your dirt cake cups in the refrigerator until you are ready to serve them.
Tips for the Best Results
If you want, you can layer the pudding and dirt several times instead of just having one layer of each.
Using a piping bag and a large round piping tip such as the #807 tip will help prevent mess on the sides of the clear plastic cups and improve the presentation. You can scoop the pudding mixture in with a spoon instead, but it will be more difficult to keep it neat and impressive.
If you have a stand mixer, use that to beat the heavy whipping cream. It will be less labor-intensive for you and will go faster.
Get the milk extra cold with about ten minutes in the freezer. Much more than that and you will have slush instead of milk, so proceed with caution.
Frequently Asked Questions
Can I make Dirt Cake Cups gluten-free?
Yes! Purchase either gluten-free Oreos or find a similarly colored, crunchy gluten-free cookie. These do not need to be a brand name, any brown sandwich cookie or hard crunchy cookie will work. You might not be able to find GF sandwich cookies where you live, but you can certainly find something that will work.
Can I make Dirt Cake Cups dairy-free?
Yes. You will need to use dairy-free milk for the pudding. Then, you will need to use dairy-free whipped cream. You can either buy this store-bought or make your own. Finally, you will need to make sure and purchase dairy-free chocolate sandwich cookies or dark brown crunchy cookies from the allergen-free section of your grocery store.
Do I have to have a food processor to crush Oreos?
No. If you do not have a food processor, but you have a hand-held food chopper tool you can use that on a cutting board instead. If you have neither of those tools, you can put all of the cookies in a zipped, sealed plastic bag with the air mostly removed. Then use a rolling pin to crush the cookies. Air will prevent this method from working, so make sure to push out all of the excess air before sealing up the bag.
More Great Kid-Friendly Recipes