Hot Cocoa Meringue Cookies are hot chocolate flavored meringue cookies that are light, airy and sweet as can be. There are chocolate chips folded into the meringue cookies that make the perfect chocolate pockets in the cookies. For a finishing touch, top them with chocolate sprinkles and mallow bits. Whip these up for a weeknight dessert, for a party, or any other occasion. Get more cookie recipes.
Hot Chocolate Meringue Cookies
Chocolate meringue cookies are a favorite of mine. Simple ingredients, minimal prep, and one outstanding meringue cookie recipe. The hardest part is waiting for these cookies to fully cool.
You can top with sprinkles or Mallow bits for added texture and flavor. You know, to get that fun hot cocoa feel to them. Get creative and have fun with them.
How Do You Get Hot Chocolate Flavored Meringue Cookies
You will use a hot chocolate mix in the recipe. This is where you get that true hot chocolate flavor. You are welcome to use any brand you prefer. Just make sure that the hot chocolate mix does not have marshmallows in it. If you do it will mess up the meringue cookie mixture.
Another option is to buy the hot chocolate mix WITH the mallow bits and then pull them out and set them aside to top the meringue cookies with. It used to be easy to find regular mallow bits at my grocery store, but it's not so easy now. I usually order the mallow bits on Amazon or buy the packets of hot chocolate that's labeled marshmallow lovers because each hot cocoa mix comes with an entire packet of mallow bits.
How To Fold The Hot Cocoa Meringue Cookie Batter Together
You will want to use a rubber spatula. Sift the hot chocolate mixture on top of the batter. Cut the batter down the middle with the spatula, across the bottom of the bowl, up the other side of the bowl, and lastly over the top of the batter. Continue to do this motion until the hot chocolate mix is JUST incorporated. If you overmix it will weep the meringue batter and the cookies will not turn out.
Can You Use Mini Chocolate Chips in the Meringue Cookies?
Yes! Instead of the regular size semi-sweet chocolate chips, you can use mini chocolate chips to fold into the cookies. You can also switch out the semi-sweet chocolate chips for dark chocolate or even milk chocolate chips.
As for adding chocolate chips to the top of the cookies, they should be fine sprinkled on top before baking.
More Recipes Featuring Meringue
How To Store Meringue Cookies
You will want to place your cookies in an airtight container and store it on the counter as soon as they've cooled. I found they can last up to two weeks on the counter. You don't want them to be exposed to hot heat, so feel free to store in the pantry in your home.
These Hot Cocoa Meringue Cookies should not be refrigerated. The moisture will make them soft and sticky. Your meringues should be crispy.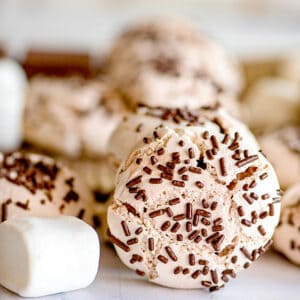 Hot Cocoa Meringue Cookies
Ingredients
2

large egg whites

room temperature

¼

teaspoon

cream of tartar

¾

cup

granulated sugar

¾

cup

semi-sweet chocolate chips

2

tablespoons

hot cocoa mix

without marshmallows

Chocolate sprinkles

for garnish

Mallow bits

for garnish
Instructions
Preheat oven to 300 degrees. Line a cookie sheet with parchment paper.

Add the egg whites and cream of tartar to a large bowl. Beat with a hand mixer or with a stand mixer on high until soft peaks form.

Gradually add in the sugar while continuing to beat until stiff peaks have formed. Pull out the beater to check for stiff peaks. If the meringue can stand straight up on your beater or in the mixing bowl, you're ready. Do NOT under mix or your cookies will be puddles. If you aren't sure, beat the meringue just a little more.

Sift the hot cocoa mix over the meringue and very carefully FOLD it in. Do not stir the mixture, it will cause the meringue to weep.

Fold the chocolate chips in with just a few folds. The less you work the meringue, the better it will set.

Using a 1 ½ tablespoon cookie scoop, scoop round mounds of batter onto the prepared cookie sheet spacing the cookies 2 inches apart.

Sprinkle with the chocolate sprinkles or mallow bits.

Place in the oven and bake for 20-23 minutes. Once you start to see the edges brown a little, turn the oven off and let them sit in there for about 30 minutes. Do not take them out until they are completely dried.

Place onto a sheet of wax paper to cool and store in an airtight container at room temperature.
Nutrition
Calories:
108
kcal
Carbohydrates:
17
g
Protein:
1
g
Fat:
4
g
Saturated Fat:
2
g
Cholesterol:
1
mg
Sodium:
26
mg
Potassium:
71
mg
Fiber:
1
g
Sugar:
16
g
Vitamin A:
5
IU
Calcium:
8
mg
Iron:
1
mg
(Nutrition facts are an estimate and not guaranteed to be accurate. Please see a registered dietitian for special diet advice.)