This is a sponsored post written by me on behalf of Friendship Dairies. All opinions are 100% mine.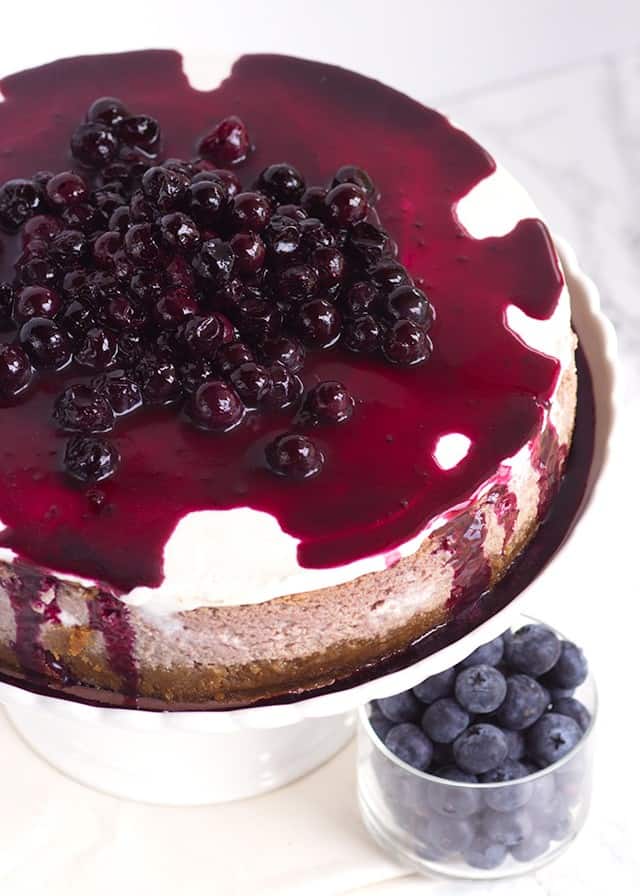 I've made a cheesecake for you that can be made easily in a blender! This blueberry cottage cheese cheesecake is incredibly creamy and packed full of blueberry flavor. Blending the cottage cheese and the blueberry mixture leaves you with an incredibly creamy cheesecake that's also a gorgeous color!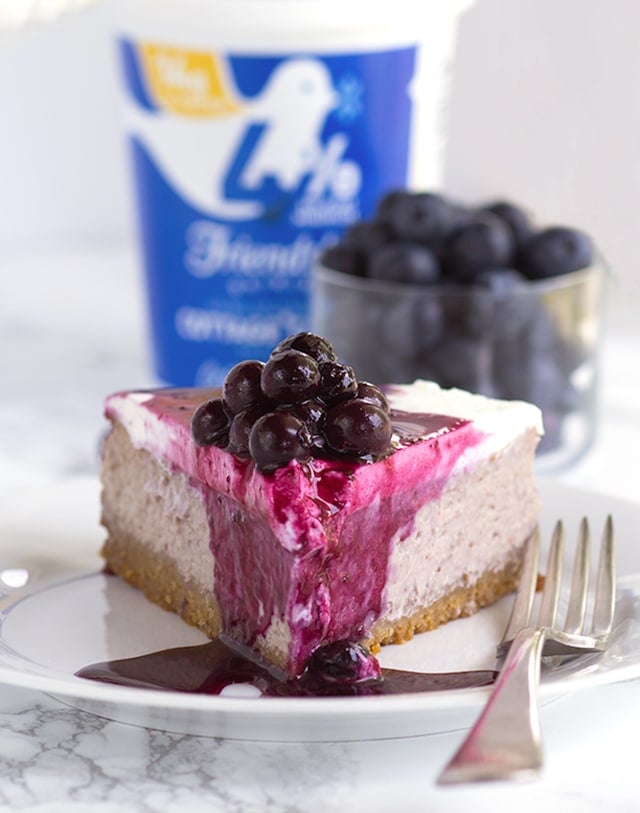 I'm a hugeeee fan of Friendship Dairies cottage cheese. I normally eat it savory by adding salt and garlic powder, but I wanted to get creative with it. After talking with my friend, I realized that a lot of people eat cottage cheese with fruit in it. That immediately made me think of trying a cheesecake with it. I know, my brain is always stuck on cheesecake. It's kind of my favorite thing. So, that's what I did and I'm over the moon with the results!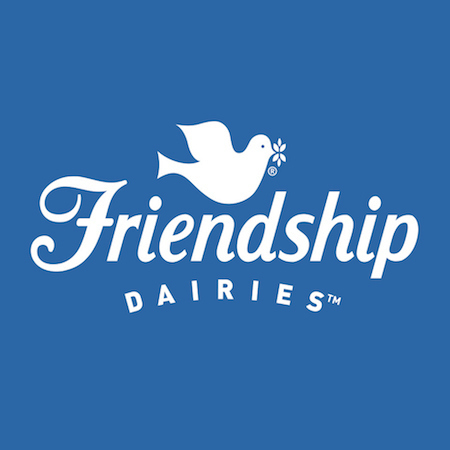 Blueberries are always so fun to use in recipes. The color is so vibrant. I especially love when I can get the great big blueberries that are so sweet they taste like candy. Don't get me wrong, I can add more sugar to the blueberries that are tart, but the naturally sweet berries is where it's at. I brought home a bunch today from the grocery store and ate most of the big ones.
That's when Lucian, my son, asked me what a blueberry tastes like. How do you explain to a four-year-old what a blueberry tastes like. You say, "like candy." If anything will get them to try it, it's those two words. He's all about questions these days. I'm glad that his little brain is working full-time and trying to take in all the knowledge it possibly can hold, but I have to google most of it. He wants to know all the deets on dinosaurs such as the scientific name, where they lived, if they are herbivore and the list goes on. Serious stuff, man.
Blueberry Cottage Cheese Cheesecake
Ingredients
Cheesecake
1 ½

cups

fresh blueberries

1 ½

cups

granulated sugar

divided

20

oz.

cottage cheese

½

cup

sour cream

4

large

eggs
Whipped Cream
¾

cup

heavy cream

2

T.

sour cream

3

T.

powdered sugar
Blueberry Syrup
1

cup

fresh blueberries

4

T.

granulated sugar

1

tsp.

cornstarch

1

tsp.

lemon juice
Instructions
Crust
Preheat oven to 350 degrees. Set aside your 9 ½ inch springform pan.

In a mixing bowl, add in the graham cracker crumbs, melted butter and sugar. Stir until the crumbs look like wet sand.

Firmly press the crumbs into the bottom of the springform pan.

Place into the oven and bake for 15 minutes. Remove from the oven and let cool.

Before adding the cheesecake mixture, line the outside of the spring form pan with heavy duty tin foil. I double wrap it to prevent the water from leaking in.
Cheesecake
In a small saucepan, add in the blueberries and ¼ cup granulated sugar. Place over medium heat and let heat until the sugar is melted and there's a syrup. It took about 7 minutes for me. Set aside to cool.

In a blender, add in the cottage cheese and 1 cup of the cooked blueberries and juice. Blend until completely smooth. Take your time with it to make sure it's completely smooth.

Add in the remaining 1 and ¼ cups of sugar, sour cream, and eggs. Blend until incorporated.

Pour the cheesecake mixture into the pan with the crust. Make sure you lined your springform pan with tin foil to prevent leaking in the water bath.

Place the springform pan in a slightly larger baking pan. Fill the outer pan with water. Fill it so it at least goes a quarter of the way up the springform pan. This will keep the cheesecake from cracking.

Place in the oven at 350 degrees and let bake for 1 hour and 35 - 45 minutes or until done. To make sure the cheesecake is done, give it a wiggle. If it slightly jiggles in JUST the middle like jello, then it's done. If it jiggles all over, it needs to bake longer. Turn off the heat and crack the oven door slightly. Let it cool in the oven for an hour or two. I kept mine in the oven for about 2 and half hours and then placed it in the fridge overnight.
Whipped Cream
In a mixing bowl, add in the heavy cream. Beat until soft peaks form.

Add in the sour cream and powdered sugar. Continue to beat until stiff peaks form.

Spread the whipped cream on the chilled cheesecake evenly.
Blueberry Syrup
In a small saucepan, add in the fresh blueberries, sugar, cornstarch and lemon juice. Stir to combine.

Place over medium heat and stir occasionally. Once the syrup comes up to a boil, let boil for one minute.

Remove from the heat and let cool in the fridge for about an hour. If you place it on the whipped cream hot, it will melt all your whipped cream.

Spoon the blueberry syrup onto the cheesecake. Cut and serve.
Nutrition
Calories:
431
kcal
Carbohydrates:
54
g
Protein:
13
g
Fat:
18
g
Saturated Fat:
9
g
Cholesterol:
156
mg
Sodium:
391
mg
Potassium:
189
mg
Fiber:
1
g
Sugar:
46
g
Vitamin A:
695
IU
Vitamin C:
3.2
mg
Calcium:
115
mg
Iron:
1.1
mg
(Nutrition facts are an estimate and not guaranteed to be accurate. Please see a registered dietitian for special diet advice.)
I hope this inspires you to get creative! Cottage cheese can be versatile and is The Original Superfood. Fuel Your Fancy and use it in smoothies and shakes, dips, as a mix-in or in a fun recipe like I did. I would love to see what you come up with! Share it on instagram and tag me "@mmirnanda" and Friendship Dairies along with using the hashtag #TheOriginalSuperfood.
If you need help finding it, I grabbed mine from Giant, but they also sell it on Wegman's and Price chopper!