If you've been with me for awhile, you know that I'm a french macaron lover. I love making them and eating them. I've made quite a few of them already. This time, I incorporated cereal into the mix. These little guys were gone in a blink of the eye.
Let me start by saying, I love using a silicone mat for the macarons especially if they have round templates for you to pipe on. Perfect-sized macarons every single time and no more drawing circles on your parchment paper.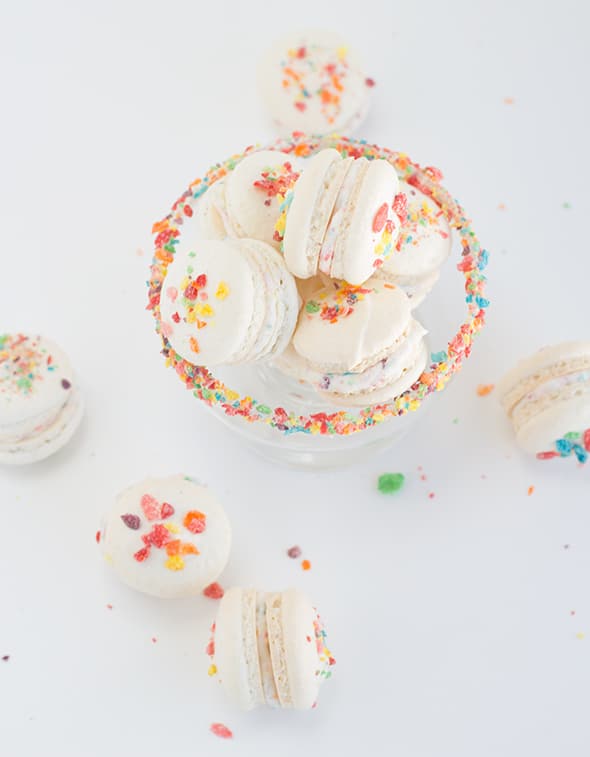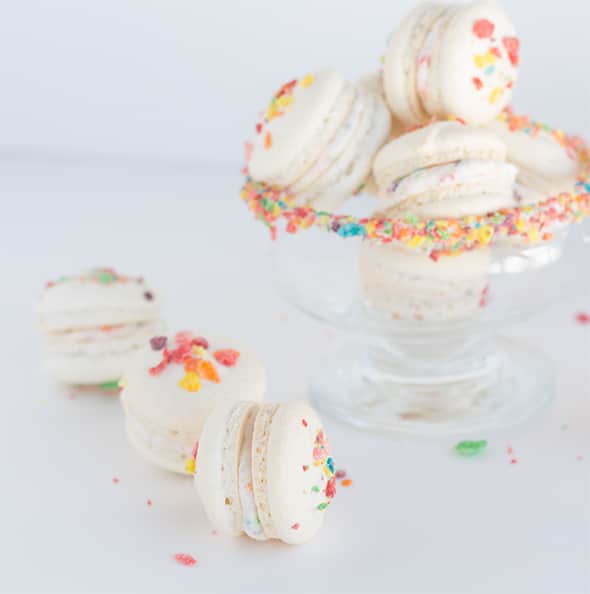 My favorite way to eat cereal, other than with loads of sugar and the minimum amount of milk, is dry. So, what I'm getting at is that these macarons didn't stand a chance. It was like my dream cereal/macaron. They had plenty of sugar, I didn't have to have milk, and I got to eat the cereal dry. Heavennn! I think I have to make many, many more of these kinds of macarons.
Seriously though. My husband ate most of them. Not me. I would never binge eat. On sweets. 3-4 times a week. Every week. Then whine about not being able to maintain a good weight. Not this girl. She's learned that lesson.
Mehh. Okay, I haven't learned anything other than I can blame it on being a dessert food blogger. That's my excuse and I use it often.
This time around I used blanched slivered almonds to make my almond meal. I really love how white the macarons came out. No dark skins popping up. I think I might try to keep these blanched almonds on hand. I mean, I don't mind the bits of brown through my macarons on occasion, but I'm digging the white.
Fruity Pebbles French Macarons
Ingredients
Macaron Shell
1

cup

almond flour

1 ½

cups

powdered sugar

3

large

egg whites

room temperature

¼

cup

granulated sugar

pinch of salt

¼

teaspoon

cream of tartar

¼

cup

fruity pebbles

crushed
Frosting
¼

cup

butter

room temperature

¼

cup

coffee creamer powder

1

cups

powdered sugar

2

teaspoons

vanilla extract

1

tablespoon

milk

⅓

cup

fruity pebbles

crushed
Instructions
Macaron Shell
Place your silicon baking mat on a cookie sheet.

Sift together the almond flour and powdered sugar. If you can't find almond flour you can always make it with almonds and a food processor. Finely grind the almonds and sift through a fine mesh sifter. Discard or snack on any large pieces.

In a large mixing bowl, add the egg whites. Turn on high and beat until the egg whites form a soft peak meringue.

Add in the granulated sugar, salt, and cream of tartar. Mix on high until a stiff peak meringue forms.

Very lightly and carefully fold in a third of the almond flour/powdered sugar into the meringue with a spatula. All together you'll want to have about 65 turns of this mixture. If you don't mix enough the macaron shell will be extremely fluffy and cracked. If you overmix, the macaron shell will be extremely flat and might not form a foot.

Repeat with the rest of the almond flour/powdered sugar mixture.

Preheat oven to 300 degrees.

Fill a piping bag with the macaron shell filling. I just used a coupler on the end of my piping bag. Pipe macaron shells on the baking sheet. Place the crushed Fruity Pebbles on the tops of each of the macarons.

Let the macarons dry until they are no longer tacky to the touch. It will take 20 minutes to 1 hour.

Place in the oven for about 18 minutes until they no longer stick to the parchment paper.

Let the macaron shells cool.
Frosting
In a mixing bowl, add the butter and creamer. I used fat-free coffee creamer, but regular will work fine! Mix until light and fluffy.

Add in the powdered sugar, vanilla, and milk. Mix on low until the powdered sugar is incorporated. Turn the speed to high and mix for an additional 3 minutes.

Stir in the crushed fruity pebbles. I left some of the fruity pebbles whole, some coarse, and some very fine. The different textures were fun.

Fill the macaron shells with the frosting using a piping bag or sandwich bag. Give the top shell a slight twist to press the frosting down a little. Any other way will crack the shell.
Nutrition
Calories:
107
kcal
Carbohydrates:
16
g
Protein:
1
g
Fat:
4
g
Saturated Fat:
1
g
Cholesterol:
5
mg
Sodium:
30
mg
Potassium:
15
mg
Sugar:
14
g
Vitamin A:
85
IU
Vitamin C:
0.2
mg
Calcium:
10
mg
Iron:
0.2
mg
(Nutrition facts are an estimate and not guaranteed to be accurate. Please see a registered dietitian for special diet advice.)