Homemade taffy is a fun candy to make at home. This Kool-Aid Taffy recipe uses powered drink mix to give the taffy its delicious flavor. The sweet taffy tastes like Starburst candies!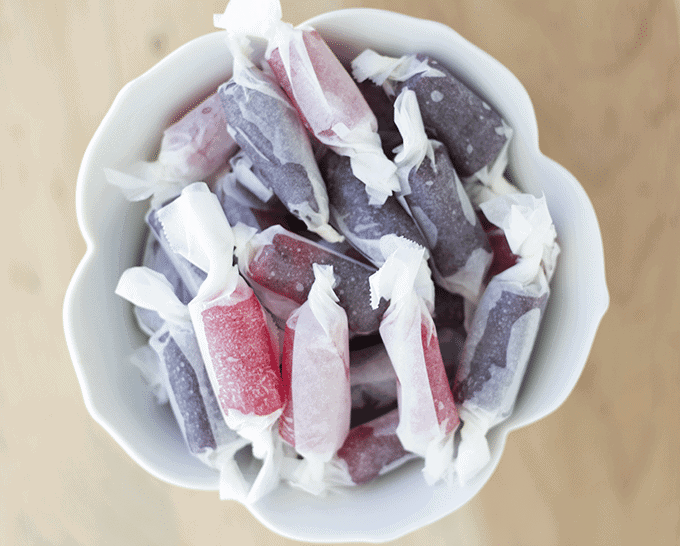 I love homemade taffy, but I have a confession to make. I hate pulling it.. or wrapping all these little pieces for that matter. Nonetheless, this Kool-Aid taffy recipe is amazing. Pulled or not pulled, it's still absolutely delish.
I'm sure you don't know this, but I'll with you a little bit about me. I love youtube. I watch videos all the time thanks to my little iphone. We're the best of friends. I found this recipe from yoyomax12. She called it homemade starburst.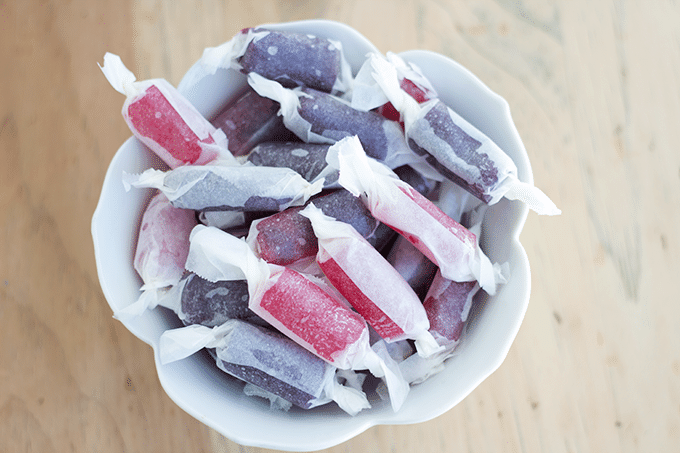 Difference between Kool-Aid Taffy and Salt Water Taffy
This Kool-Aid taffy recipe is not salt water taffy. The difference between taffy and salt water taffy is as simple as the name. Salt water taffy recipes use some form of sea water or salted water. The Kool-Aid taffy recipe uses water, but no salt.
The kool-aid gives the taffy a big burst of flavor and color. Even through the parchment paper, the colors are vibrant. If you pull the taffy, the color will lighten up. I'm lazy and just rolled mine up. I figured my teeth could do the pulling, until a filling gets pulled out. I'm sure then I'll have a different point of view. Let's hope that doesn't happen.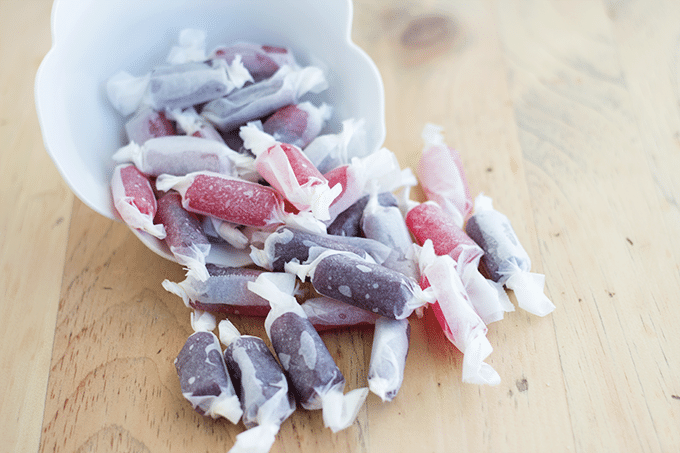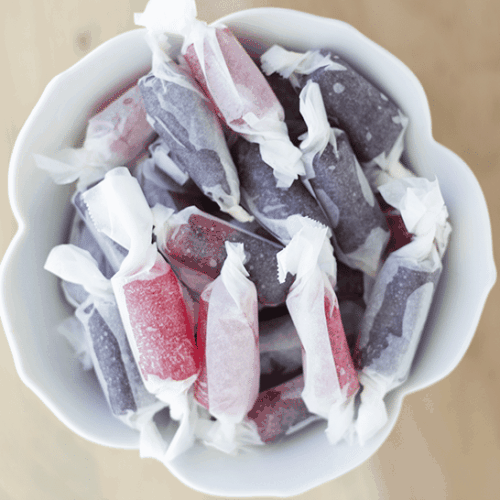 Kool-Aid Taffy (Homemade Taffy)
Homemade taffy is a fun sweet treat to make. This Kool-Aid Taffy recipe uses powered drink mix to give the taffy its delicious flavor.
Ingredients
2 ½

cups

granulated sugar

3

Tbsp.

cornstarch

1

cup

light corn syrup

1 ⅓

cups

water

2

Tbsp.

butter

½

tsp.

vanilla extract

2

envelopes

kool-aid drink mix

unsweetened (any flavor)
Instructions
Line a 17x11x1 jelly roll pan with parchment paper or a silicone mat. Grease with cooking spray.

In a large saucepan, add in sugar and cornstarch. Mix until there are no lumps of cornstarch.

Add in corn syrup, water, and butter. Heat over medium/high heat to 250 degrees. Stir occasionally until the mixture comes up to a boil. As soon as the mixture is boiling, don't stir anymore.

Remove from heat once the mixture is up to 250 degrees. Add in the vanilla and kool-aid mix and stir. I divided the mixture in half and used two different kinds of kool-aid drink mix.

Spread onto the jelly roll pan and let cool for 20 minutes. I let the two different flavors run into each other.

After it's cooled, rip off pieces of the taffy and pull it until it lightens in color. I skipped this process and cut mine into squares with a pizza cutter. I rolled mine up and flattened the ends. Cut small squares of parchment paper and rolled the taffy inside.

Store in an air-tight container.
Nutrition
Calories:
65
kcal
Carbohydrates:
16
g
Cholesterol:
1
mg
Sodium:
8
mg
Sugar:
15
g
Vitamin A:
15
IU
Calcium:
1
mg
(Nutrition facts are an estimate and not guaranteed to be accurate. Please see a registered dietitian for special diet advice.)
Enjoy the kool-aid taffy!
More Homemade Candy Recipes: