Banana fritters are perfectly golden brown, sweet fried dough packed full of banana chunks and freshly ground nutmeg. This fritter recipe is perfect to make for breakfast, an afternoon snack, or dessert!

Okay, I don't always eat fried food, but when I do I make it dessert, like deep fried Oreos, or French fries. These banana fritters are the perfect golden brown color. They're fluffy! Inside you'll find bits of nanas and specks of freshly grated nutmeg. The finishing touch of the nutmeg coating sugar gives the fritters boost of sweetness and crunch that I can't resist.
I got this banana fritters recipe out of a cookbook called The New Sugar & Spice. (aff. link) When I first read it I thought it was pretty nutmeg heavy. I thought for sure it wasn't going to mingle well. It was going to overpower the bananas and just be unpleasant. I thought wrong.. as always.
So, this book isn't for everyone. It's for the baker looking for bolder recipes. If you are open to kicking up the spices, this is the book. It has chapters dedicated to peppercorn & chile, cinnamon, nutmeg, clove & cardamom, vanilla, ginger, and savory herbs. I didn't try any of the recipes for the peppercorn, but the one that's on my list is the salt and pepper caramel brownies. I imagine the pepper in the brownies adds a nice spicy flavor. Just a little something to make you wonder what the secret ingredient is.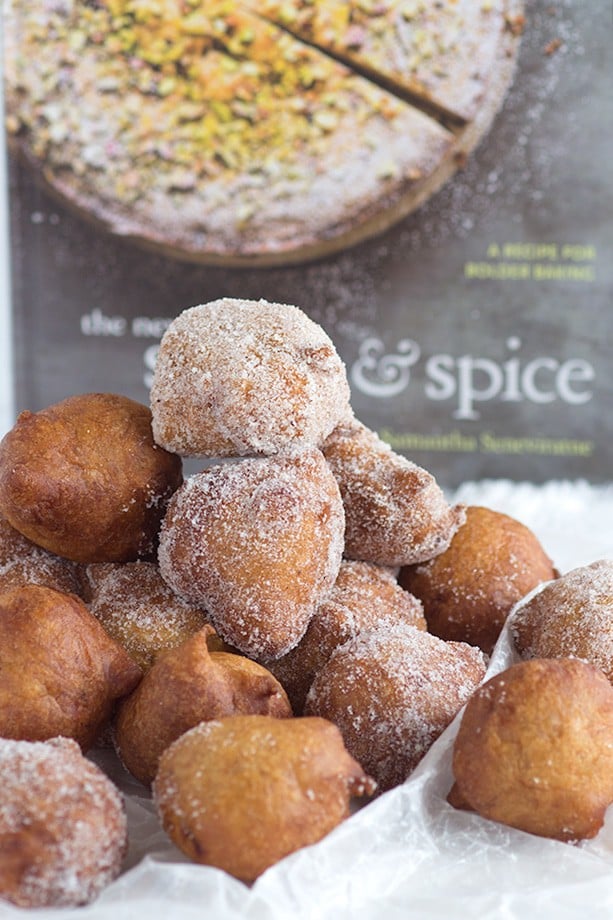 I decided on the banana fritters recipe. I always have super ripe bananas in the house. Some weeks I don't have enough bananas in the house and other weeks they hardly get touched. Those strange boys, they're unpredictable. This week I had over ripe bananas asking to be minced. I had fresh nutmeg begging to be grated. I gave in. I got out my heavy-bottom pan and heated up my oil. I fried, drained, coated and ate.
Easy Banana Fritters Recipe
Banana Fritters
Ingredients
½

cup

granulated sugar

divided

4

teaspoon

. freshly grated nutmeg

divided

2

overripe bananas

¾ cup, minced

¾

cup

buttermilk

¾

teaspoon

. baking powder

¼

teaspoon

. salt

3

egg whites

vegetable oil

for frying
Instructions
In a heavy-bottomed saucepan, add in about 4 cups of vegetable oil. You want ¾ inch of oil in the bottom of the pan. Attach a candy thermometer and let it heat to up 350 degrees. I found that this can take quite a while so I like to do this first.

In a small bowl, add in ¼ cup of sugar and 1 teaspoon of nutmeg. Set aside.

In a large mixing bowl, add in the bananas, buttermilk, remaining ¼ cup sugar, and 3 teaspoons of grated nutmeg. Stir together to combine.

Add in the flour, baking powder and salt. Carefully fold together with a spatula to avoid breaking up the bananas more. Set aside.

In a separate large mixing bowl, add in the egg whites. Using a mixer, beat on high until stiff peaks form. It will take about 2 minutes.

Fold the egg whites into the mixture in 2 parts. The first part will loosen up the batter and lighten it. The second addition will give it the airiness.

Line a large plate with paper towels to drain the fritters over frying. Set aside.

Using a spoon or cookie scoop, drop rounded tablespoons into the hot oil. I added three at a time because I didn't want to crowd the fritters or drop the heat on the oil and make my fritters oily. Let the fritters puff up and become golden brown and then flip. It will take about 2 minutes.

Let fry on the other side until it is also golden brown and puffy. That will take another 2 minutes. Use a slotted spoon, remove the fritters and place on the dry paper towel.

Let drain about 30 seconds and roll into the nutmeg and sugar you made earlier. Roll around until coated and serve up. Eat 'em while they're hot!
(Nutrition facts are an estimate and not guaranteed to be accurate. Please see a registered dietitian for special diet advice.)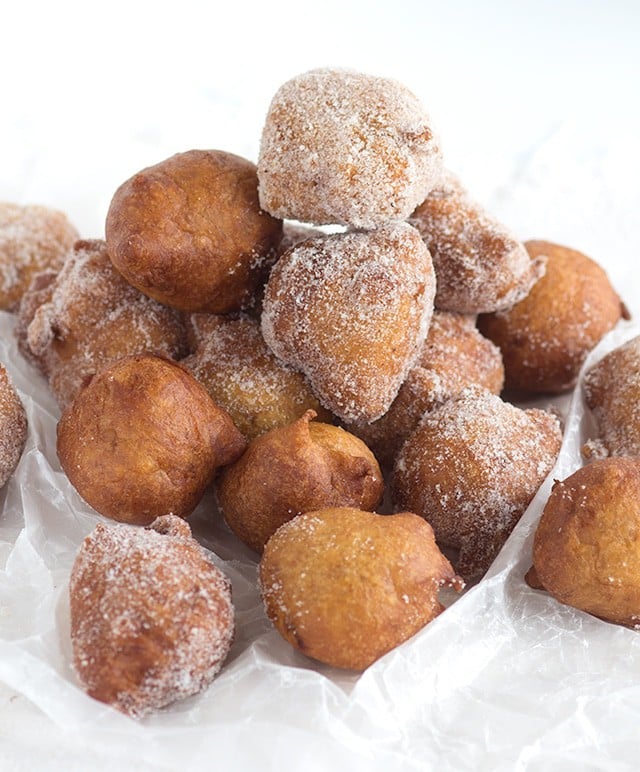 The book has gorgeous photos. Not all recipes have a photo, but there are a fair amount that do. There are unique recipes in the book. Things ranging from crepe cake, egg nog pops, and flan.


I was given this book to review. I was not compensated. This post contains affiliate links. Cookie Dough and Oven Mitt is a participant in the Amazon Services LLC Associates Program, an affiliate advertising program designed to provide a means for sites to earn advertising fees by advertising and linking to Amazon.com.