This s'mores mug cake has graham cracker crumbs in it, mallow bits, chocolate chunks and a nice pile of toasted mini marshmallows to top it off with.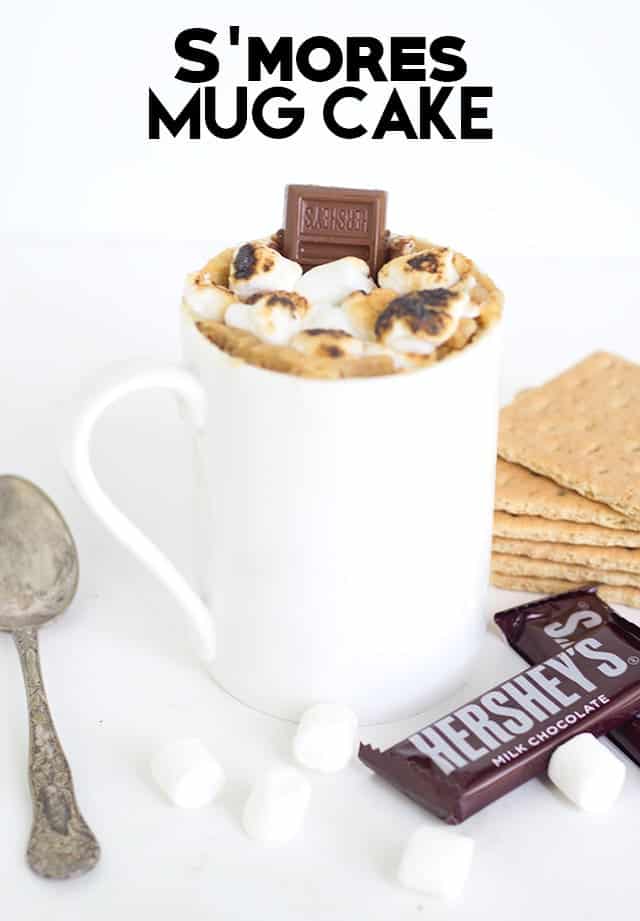 It's only natural that I add a s'mores mug cake to my collection of recipes. It's the perfect microwavable cake. It's tender and full of flavor. The graham cracker crumbs lend the cake a lot of its flavor and the bits of chocolate become melty. It's basically the best kind of s'mores. One of my favorite parts of this cake is the toasted mini marshmallows on top of the cake. It makes this little cake feel like a real s'mores.
When you bite into this moist cake, you can taste the spiced graham cracker flavor. As you work away eating it, you'll run into pockets of chocolate and mallow bits. That's always exciting for me. The chocolate is melty. Lucian couldn't get enough of this cake. Luckily I made this cake about 6 times before being completely happy with it so there was plenty to go around.
S'mores Mug Cake
Instructions
In a mug, add in the butter, graham cracker crumbs, brown and granulated sugar. Stir to combine.

Add in the milk and stir until combined.

Add in the flour, baking powder and ground cinnamon. Stir until combined and smooth.

Stir in the mallow bits and pieces of chocolate. If you can't find mallow bits, mini marshmallows will work as well.

Place in the microwave. Heat for 1 minute and 35 seconds. I have a 900 watt microwave.

Place mini marshmallows on top of cake. Toast with a kitchen torch. Place the candy bar in the side of the cake.

Let cool slightly and eat.
(Nutrition facts are an estimate and not guaranteed to be accurate. Please see a registered dietitian for special diet advice.)
This is the perfect s'mores. No campfire needed.
Speaking of campfires, how do you like your marshmallows? I like mine perfectly browned, but I have no patience so I normally catch them on fire and eat them down. The struggle is real, folks.