This simple Strawberry Syrup Recipe uses 3 ingredients and is so versatile! It tastes great drizzled on ice cream, waffles, pancakes, and in drinks for a summertime flavor! Grab some fresh strawberries and have your syrup together in minutes.
You can use this syrup with or without the bits of strawberries in it. You'll have more to go around if you leave the strawberries in, but that's up to you.
If you need a few recipe ideas that you could use this syrup with, you can easily drizzle it on this No Bake Cheesecake, use it as a layer in this Strawberry Angel Food Trifle, use it instead of macerated strawberries in this homemade strawberry shortcake recipe, or even add it on the cake layers as a simple syrup in this strawberry shortcake cake.
Ingredients
Fresh Strawberries - I've used store-bought strawberries and also strawberries I picked myself from a u-pick farm. I noticed that the store-bought strawberries had more juice in them and I ended up cooking them for 2 additional minutes. I like to cook the strawberries until they're broken down and don't hold their shape anymore. It's important to not overcook them though otherwise you cook out too much juice and are left with a jam.
Lemon Juice - I always recommend using fresh lemon juice and you'll only need half of a medium lemon to get your 1 tablespoon of juice.
Sugar - Granulated sugar melts and cooks down to help create the syrup. If you want a sweeter strawberry syrup, you can add additional sugar, but it will likely slightly change your cook time by a minute or so.
The things you should be watching for are the sugar being fully melted and the strawberries being broken down completely. The strawberries shouldn't hold their shape at all. You also want to make sure that there is plenty of juice left.
How to make Strawberry Syrup
Start by washing your strawberries. Next, remove the green tops or "hull" the strawberries and cut them into quarters.
1. Add the quartered strawberries into a small saucepan with sugar and lemon juice. Using a larger size saucepan can alter the time it takes to cook the syrup because either more of the strawberries are exposed to the heat taking less time to cook or less of the strawberries are exposed to the heat taking more time to cook.
2. Place the strawberries over medium/low heat and let them cook for 10 to 12 minutes until the strawberries are broken down and have released all of their juices.
3. If you want your strawberry syrup to be a true syrup with no berries, line a fine-mesh strainer with a coffee filter or cheesecloth and add the syrup a little at a time. Using a spatula, push the syrup out of the strawberries and through the strainer.
4. Pinch the cheesecloth or coffee filter to drain the strawberries of all of the syrup. Be careful as the syrup will still be hot. Cover the bowl with plastic wrap and allow the syrup to cool in the fridge overnight to thicken.
Can I use frozen strawberries?
Yes, you can! Using frozen strawberries is perfect for having the strawberry syrup year-round.
Frozen strawberries tend to have a little extra water in them, so the syrup may need 1 to 2 minutes of additional cooking or you may just have a thinner syrup.
You'll also notice that the strawberries will break down much quicker. That's okay too!
What can I use Homemade Strawberry Syrup on?
The possibilities are basically endless. Here are a few ideas that I can think of.
You can drizzle it on everything like ice cream, waffles, pancakes, french toast, angel food cake, cheesecake, funnel cake fries, etc.
Use it as a simple syrup on cakes before adding frosting.
Add it in drinks like iced tea, sprite, mixed drinks and even milk for a strawberry milk.
It would make a great addition to some plain yogurt.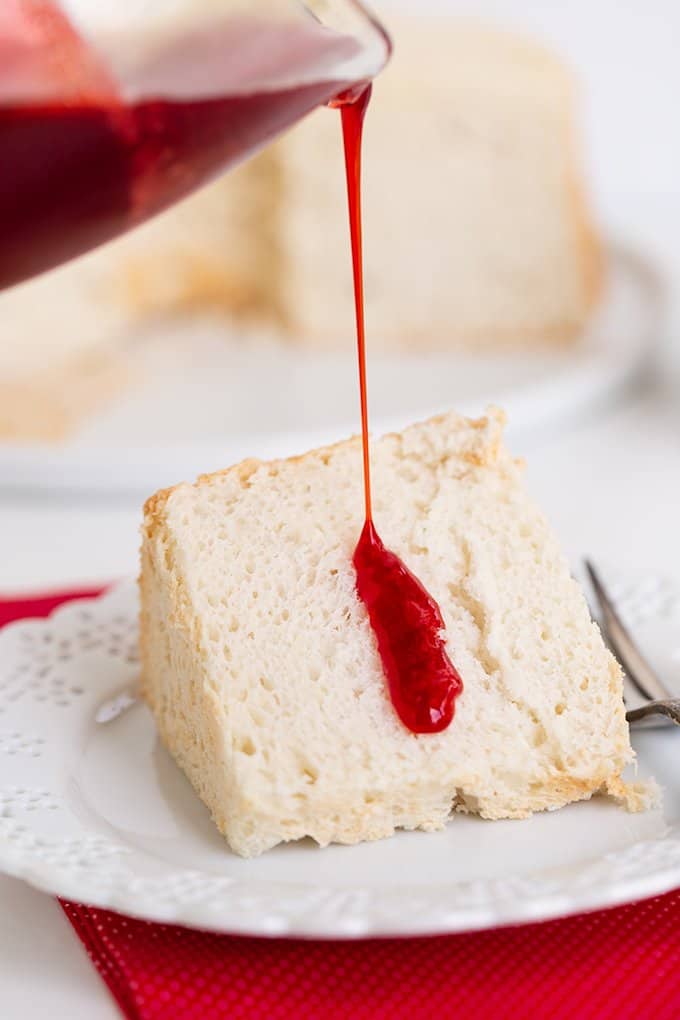 Frequently Asked Questions
How long does strawberry syrup last?
As long as the syrup is stored properly, meaning covered or in an airtight container, it should last in the refrigerator for up to 3 weeks thanks to sugar being a natural preservative!
Can you freeze strawberry syrup?
Yes! Put the syrup in a freezer bag or freezer container and pop in the freezer. It will last up to 3 months in the freezer.
Do I have to use lemon juice in this recipe?
No, you don't. You can replace the lemon juice with water, but it does add a nice brightness to the strawberry syrup that you don't want to miss out on.
How to thicken strawberry syrup?
Keep in mind that the strawberry syrup will thicken as it cools. If you would like your strawberry syrup even thicker, you can add 1 to 2 teaspoons of cornstarch to 1 tablespoon of water. Stir until combined and pour into the cooled strawberry syrup.

If the strawberry syrup is hot, I would recommend adding a small amount of syrup to the cornstarch mixture and stirring first. This will help prevent any clumping when you pour the cornstarch into the saucepan of hot syrup.

Allow it to come up to a boil and boil until the cloudiness from the cornstarch is gone and the syrup has thickened.

More Recipes You Might Like
Strawberry Syrup
This simple Strawberry Syrup Recipe uses 3 ingredients and tastes great drizzled on ice cream, waffles, pancakes, and in drinks for a summertime flavor!
Ingredients
2

cup

strawberries

hulled and quartered

½

cup

granulated sugar

1

tablespoon

fresh lemon juice
Instructions
In a small saucepan, add in the strawberries, sugar, and lemon juice. Place over medium heat and let the strawberries cook for 10 to 12 minutes.

Strain the syrup with a fine mesh strainer lined with cheesecloth. Use a spatula to strain most of the juice and then squeeze every last bit of juice out of the strawberries by twisting the top of the cheesecloth and pinching it with your fingers.

Store in a covered jar or airtight container in the fridge.
Nutrition
Calories:
643
kcal
Carbohydrates:
164
g
Protein:
3
g
Fat:
1
g
Saturated Fat:
1
g
Polyunsaturated Fat:
1
g
Monounsaturated Fat:
1
g
Sodium:
5
mg
Potassium:
611
mg
Fiber:
8
g
Sugar:
152
g
Vitamin A:
47
IU
Vitamin C:
234
mg
Calcium:
64
mg
Iron:
2
mg
(Nutrition facts are an estimate and not guaranteed to be accurate. Please see a registered dietitian for special diet advice.)
This post was originally published July 16, 2014, but updated in July 2021 with additional information.