Make the cutest St. Patrick's Day Four Leaf Clover Cupcake Cake ever! This pull apart cake has chocolate cupcakes made from a doctored up cake mix with a great chocolate mint flavor! The cupcakes are topped with a gorgeous green minty frosting and rainbow sprinkles! The best part is that this is a pull-apart cake and no utensils are needed to dig in!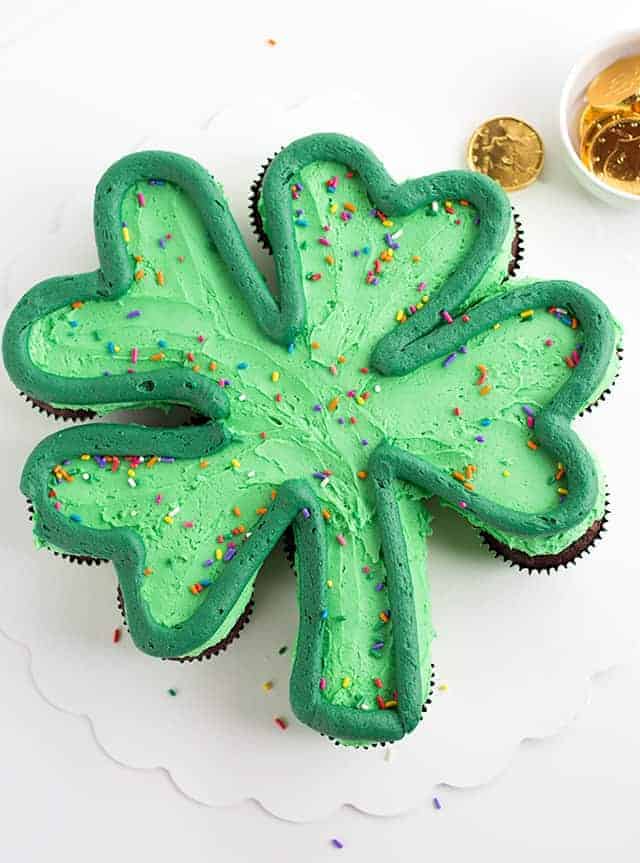 We all doctor up cake mixes from time to time, right? I have an entire post dedicated to my favorite doctored chocolate cake mix recipe.
Let's get cracking on this Saint Patrick's Day cupcake cake.
How to make a Four Leaf Clover Cake out of Cupcakes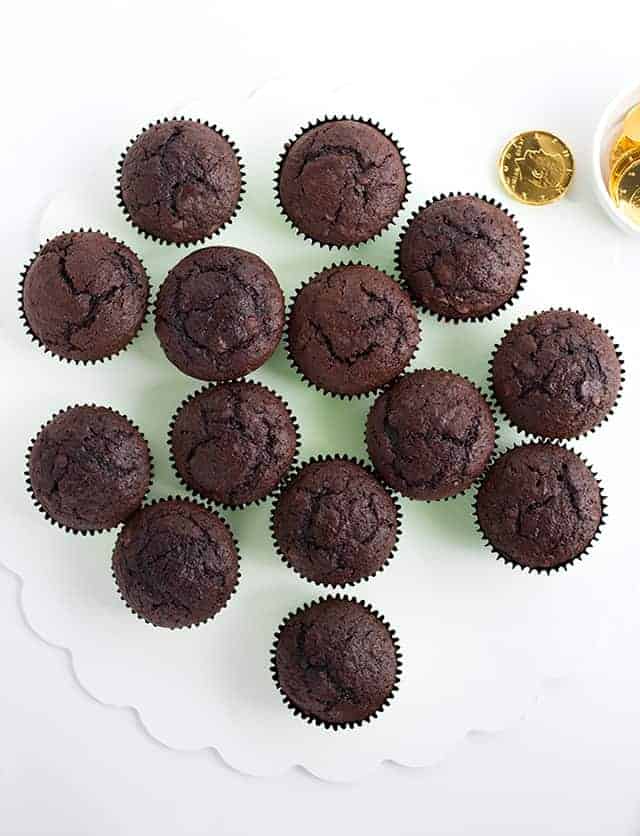 Step 1 - The first step to making a cupcake cake is to have it laid out in your brain or better yet draw it up. Once you get the cupcakes on the cake plate, it's just going to look like a bunch of cupcakes. Here, let me show you. I had my 4-leafed clover all laid out, but it's hard to see it just yet.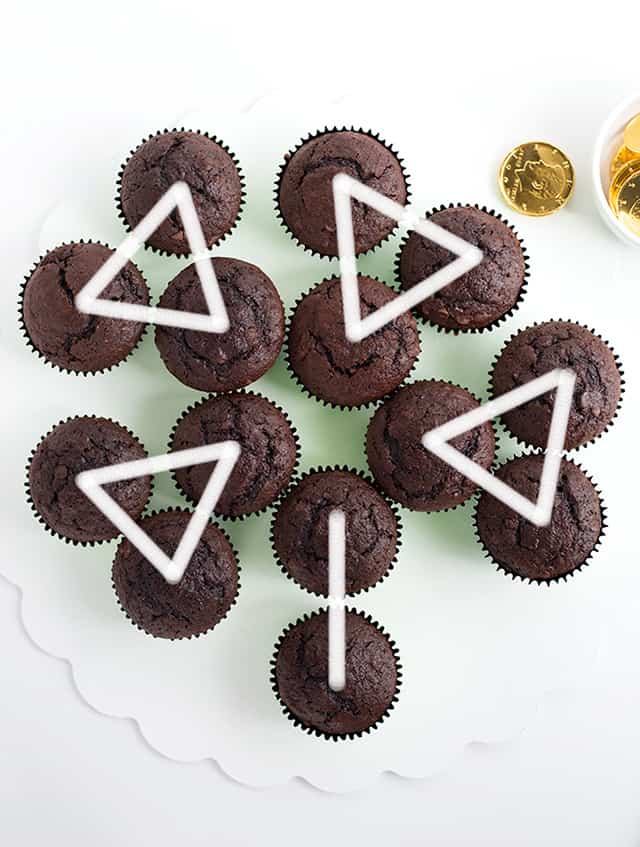 Do you see what I mean? Just know where you need the lines to be when you're spreading the frosting out. So the very bottom two cupcakes are for the stem. Each leaf has 3 cupcakes in the shape of a triangle with the point facing the center. Let me draw it out for you.
PRO TIP: If you want the cupcakes to stay in place while spreading out the frosting, add just a little dab of frosting to the bottom of each cupcake. Press the cupcakes down to get them to stick firmly to the board.
Step 2 - Using a 2 tablespoon cookie scoop to scoop the frosting, add a scoop of frosting to the top of each cupcake. Mine had quite a thick layer of frosting, but you can scrape some of the frosting off after it's all spread out and all the cracks are covered.
Spread it out carefully shaping it to resemble a 4 leaf clover using an angled spatula. Still using the angled spatula, clean up the edges so they look tidy.
Step 3 - This part is my favorite. Add an outline to the 4 leaf clover with a darker green frosting.
Add a darker green gel food color to the remaining leaf green frosting. I used forest green gel food color. Stir until the food coloring is completely incorporated and your desired color. This will make the cake pop.
Add the dark green frosting to a piping bag fitted with just a coupler or a large round tip. My go-to large round tip is a Wilton 1A.
Step 4 - Working quickly, sprinkle with some rainbow sprinkles to the dark green frosting. Mine already crusted so the sprinkles didn't stick. I just sprinkled them into the center of the cake instead.
How to store a Pull-apart Cupcake Cake
To store a cupcake cake, either wrap it tightly in plastic wrap or store it in a large airtight container. You can keep it at room temperature for 1 to 2 days or in the fridge for up to a week.
The frosting will be very hard if you're storing it in the refrigerator. You may need the frosting with a knife and let it sit out at room temperature until it comes up to temperature. Don't try to microwave it, the frosting will become a drippy mess.
Saint Patrick's Day Desserts to Try
This post was originally posted on March 15, 2018. It's being updated January 2022 to add additional tips and tricks along with to finally change the name from shamrock cupcake cake (3 leaf clover) to four leaf clover cupcake cake.
Four Leaf Clover Cupcake Cake
This 4 leaf clover cupcake cake is made from a doctored up cake mix and have a great chocolate mint flavor! It's topped with a gorgeous green minty frosting and rainbow sprinkles!
Ingredients
Frosting
2

cups

butter

room temperature

1 ½

teaspoons

peppermint extract

6

cups

powdered sugar

5 ½

tablespoons

milk

3 - 5

drops of leaf green gel food color

3 - 4

drops forest green gel food color

Rainbow sprinkles for garnish
Instructions
Cupcakes
Preheat oven to 350 degrees F. Line two cupcake pans with green paper liners.

In a small bowl, add in the mini semi-sweet chocolate chips and 1 tablespoon of the dry cake mix. Set aside.

In a large mixing bowl, add in the box of cake mix, pudding, vegetable oil, eggs, milk, and extract.

Whisk until everything is combined and most of the lumps are worked out.

Stir the chocolate chips and dry cake mix. Dump into the cake batter and fold in.

Fill the cupcake liners ¾ full of cake batter.

Place into the oven and bake for about 21 minutes until done. Place a toothpick into the center of the cupcake and if it comes out clean or with moist crumbs, it's done. Batter means it needs to bake longer. Let cool completely.
Frosting
In a large bowl, add in the butter. Beat with a hand mixer on medium until creamy.

Add in the peppermint extract, powdered sugar, and milk. Beat until it comes together.

Add the leaf green gel food color and turn the hand mixer on high and beat an addition 1 minute or 2 until light and fluffy. You can add more green food color if it isn't dark enough.
Assemble
You'll need 14 cupcakes. Place the cupcakes into the shape of a 4 leaf clover. It should have 4 triangles made up of 3 cupcakes with the points of each triangle. Add two cupcakes in between 2 leaves for a stem. See picture.

To hold the cupcakes in place, you can add a small spot of frosting on the bottom of each cupcake before setting it in its final place on the cake board. I just held mine as I was spreading the frosting on it.

Using a large cookie scoop, scoop frosting on top of each cupcake.

Using an angled spatula, spread the frosting on each cupcake. Be sure to leave space between each leaf and fill in the center. Carefully work the frosting over the gap in the center so it doesn't fall in and get all over the sides of the cupcakes.

Using the angled spatula, clean up the edges of the frosting so they're tidy and well shaped.

Add the forest green gel food color to the remaining frosting and stir with a spatula to combine. You can add more gel food color if needed to get the desired color.

Add the frosting into a disposable piping bag fitted with a coupler or straight tip.

Keeping a steady hand, pipe the outline of the clover.

Quickly add the sprinkles to the green frosting. If it's crusted already, sprinkle them on the inside of the clover.
Nutrition
Calories:
531
kcal
Carbohydrates:
59
g
Protein:
3
g
Fat:
33
g
Saturated Fat:
15
g
Polyunsaturated Fat:
6
g
Monounsaturated Fat:
9
g
Trans Fat:
1
g
Cholesterol:
72
mg
Sodium:
407
mg
Potassium:
162
mg
Fiber:
1
g
Sugar:
48
g
Vitamin A:
604
IU
Calcium:
63
mg
Iron:
2
mg
(Nutrition facts are an estimate and not guaranteed to be accurate. Please see a registered dietitian for special diet advice.)
I originally posted this St. Patrick's Day Cupcake Cake on Yellow Bliss Road as a contributor.