Since I was a little girl, we always had mountain pies when we went camping. It was one of my very favorite things to eat. The other one that was and still is probably number one on my list is pasta salad. We also had that while camping. So yeah, camping was and still is pretty much the best thing on earth.
Let me show you what you'll need for these mountain pies.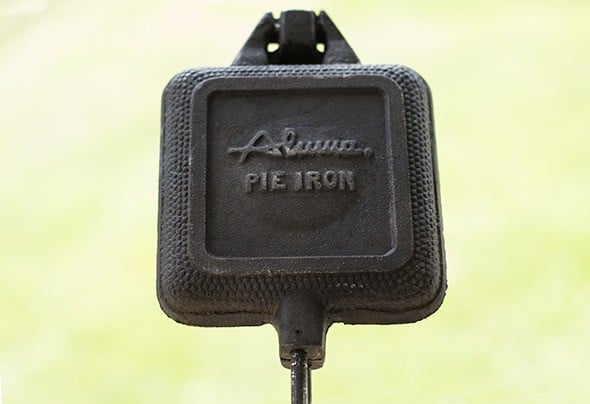 MY LATEST VIDEOS
A nice long handled pie iron. They have them on amazon, but I'm sure you find them in the camping section of most stores.
(*Affiliate Link)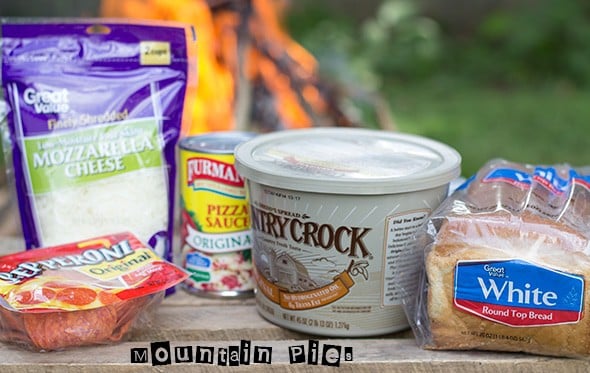 You will also want to pick up these ingredients and have a big blazing fire in the background. I would recommend letting the fire die down a bit before sticking your pie iron in the fire, otherwise you might have a black, charred pizza mountain pie.
You will be shocked at how tasty these little pies are. I don't know what it is about these, but man. You cannot ask for a better pizza. The outsides are crunchy which is surprising because you're adding pizza sauce to the other side of the bread. Let me just warn you, be patient. They will burn the heck out of you, if you take a huge bite right away. The mozzarella cheese and piping hot sauce will get your every time. ..trust me. Every. Time.
 Here is my super professional way of making the mountain pies. At this point, my neighbor came flying around the corner of our garage thinking something was on fire at my house. We startled each other and sauce went every where. I was trying to be discreet, but my little fire wasn't so little and was popping like crazy. We live right in town. Bon fires aren't really allowed. ..but I wanted to share this with you guys so bad!
Call me a rebel. Just kidding. Sort Of.
He's a good neighbor though.
 Here's another tip. Make sure your butter sides are out. Mountain pies are kind of like way better grilled cheese sandwiches.
Here I'm doing exactly what I recommended all of you not to do. I wish I could say that this mountain pie came out golden delicious, however this is not the case. This mountain pie was a big pile of charred mess. Great picture though, right!
Ingredients
2

slices

bread

1

tsp.

butter

1

T.

pizza sauce

1/4

cup

mozzarella

6-8

slices

pepperoni
Instructions
Butter one side of both slices of bread. Make sure you spread the butter to the edges so nothing sticks. Have the buttered side down.

Place the pizza sauce on the unbuttered side and spread it out.

Place the mozzarella in the center of the bread and spread it towards the edges.

Add the slices of pepperoni and the other slice of buttered bread. Make sure the buttered side is out.

Place the sandwich in the pie iron and clip it shut.

Put the pie iron in the hot coals. Let it sit for about a minute and then open it up to check on it. This is the only way to know if you're burning your mountain pie. Once one side is golden, flip the pie iron over and brown the other side.

Pop out of the pie iron onto a plate and let cool for a minute.
Keyword:
Pizza Mountain Pies
Nutrition
Calories:
330
kcal
|
Carbohydrates:
28
g
|
Protein:
14
g
|
Fat:
17
g
|
Saturated Fat:
8
g
|
Cholesterol:
45
mg
|
Sodium:
717
mg
|
Potassium:
101
mg
|
Fiber:
2
g
|
Sugar:
3
g
|
Vitamin A:
6.3
%
|
Calcium:
21.9
%
|
Iron:
12
%
*Cookie Dough and Oven Mitt is a participant in the Amazon Services LLC Associates Program, an affiliate advertising program designed to provide a means for sites to earn advertising fees by advertising and linking to Amazon.com