These Easy Chocolate Covered Pretzel Rods are great treats to make with your kids or for your kids! They're the perfect balance of sweet and salty! You can coat them with sprinkles, mini chocolate chips, or bits of candy to dress them up for any special occasion.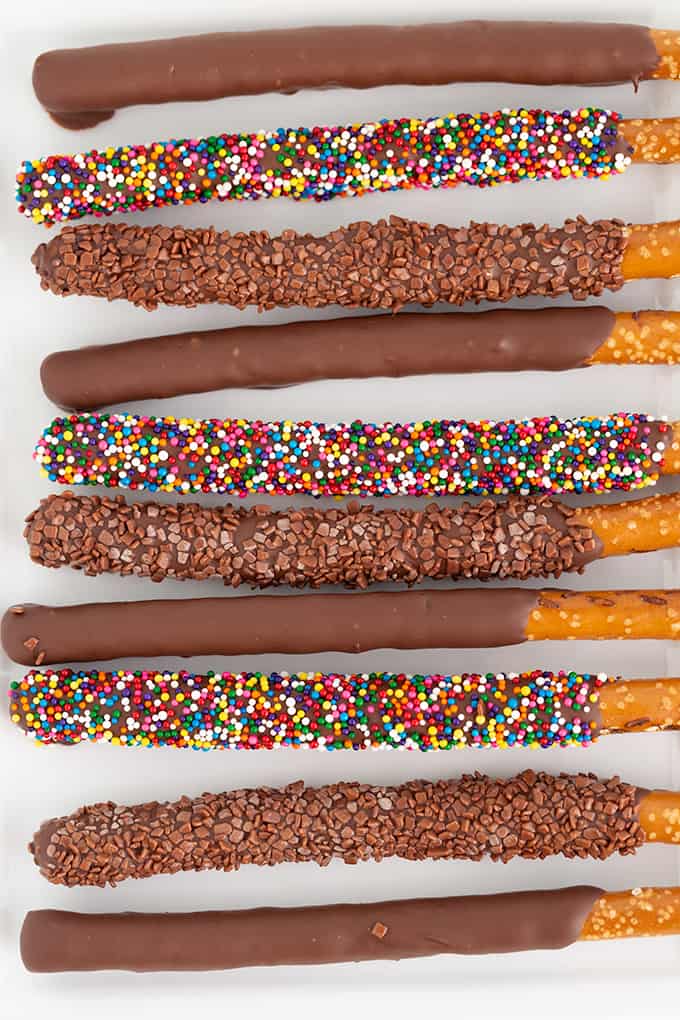 Chocolate covered pretzel rods are always a show-stopping treat. They look fantastic on any dessert bar or buffet. They even make wonderful gifts for adults and kids.
The best part about these chocolate pretzels is that they are SO quick and easy to make.
If you need more ideas for chocolate-dipped treats, I have some delicious Chocolate Dipped Rice Krispie Treats that have a soft, chewy Rice Krispie Treat, a coating of chocolate, and then loads of sprinkles.
Another favorite is my Chocolate Covered Strawberries which has a combination of milk chocolate and semi-sweet chocolate chips. It's similar to these pretzel rods but with strawberries!
Ingredients for Chocolate Covered Pretzel Rods
You only need 3 ingredients to whip up these chocolate dipped pretzel rods.
Chocolate Chips- I like to use half milk chocolate chips and half semi sweet chips. I find that this is the perfect blend of chocolate flavor.
Pretzel Rods- Straight, salted pretzel rods are easy to dip since they are nice and long. You can hold one end of the pretzel rod while you dip the other side. The salt on the pretzels is a nice, flavorful touch that actually enhances the flavor of the chocolate.
Sprinkles or Candies- These are totally optional, but recommended for a fun touch. Choose any color or type of sprinkles you'd like. This is a great way to add color and excitement to your pretzel rods. You can also add chopped candies to the dipped pretzels. This is a great time to get creative!
It doesn't take much to make this simple chocolate treat. I recommend using higher-quality chocolate chips since it is the main ingredient in this recipe. You will really taste the difference when you bite into your chocolate dipped pretzel.
How to Make Chocolate Covered Pretzel Rods
Chocolate covered pretzel rods may be one of the easiest treats to make. Anyone can do it! I have even had my son help me make these and he was able to dip and decorate them perfectly. Here is what you need to do to make perfect chocolate dipped pretzel rods:
Place the chocolates in a heat proof bowl and place the bowl over a small pan of water. You do not want the bowl to touch the water, just sit right above it.
Bring the water to a simmer over medium high heat and stir the chocolate in the bowl frequently. Stir until the chocolate is completely melted.
Once the chocolate is smooth and melted, dip the pretzel rods one at a time into the chocolate. I like to dip the pretzels about ¾ into the chocolate. This gives you space to hold on to the pretzel rod but coats most of the pretzel in chocolate.
Gently tap the pretzel rod on the side of the bowl so the excess chocolate drips off and goes back into the bowl.
Place the chocolate dipped pretzel on a parchment lined sheet tray to let the chocolate set.
While the chocolate is still wet, sprinkle the pretzel with your sprinkles or candies.
Dip all of your pretzel rods and decorate them on the tray. Once the chocolate has hardened, they are ready to enjoy!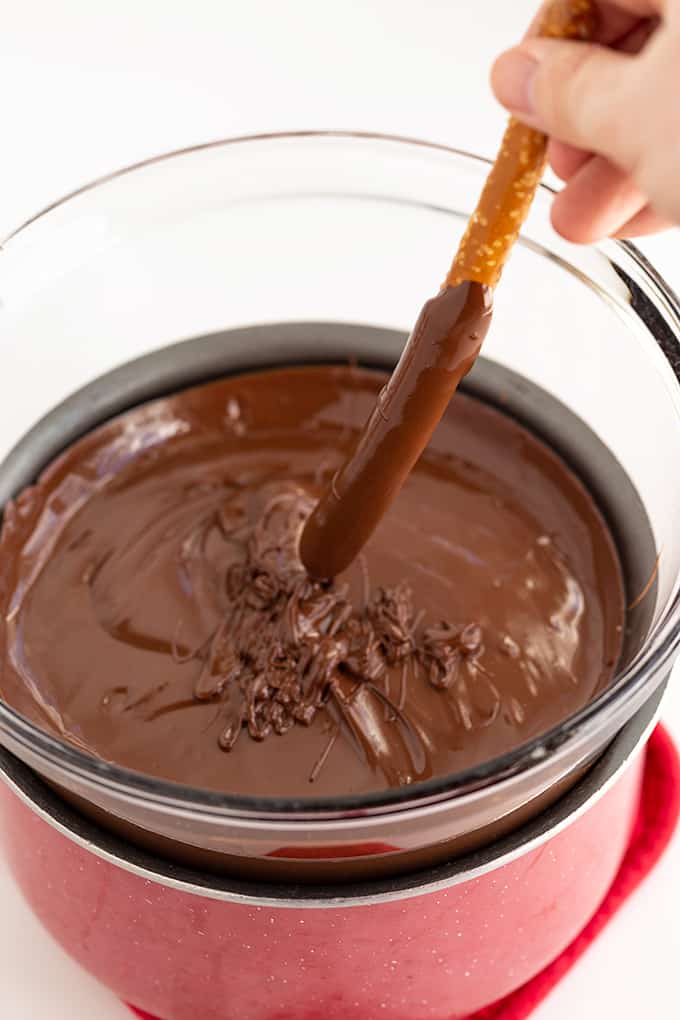 Making chocolate dipped pretzel rods seems easy, right? It definitely is! You will easily be able to make beautiful chocolate pretzels using this simple method.
Substitutions and Variations
There are a few ways to tweak and alter these chocolate dipped pretzels. That is one reason why I love these tasty treats.
You can make them match your party theme by using colored sprinkles, you can dress them for the holidays using chopped candy canes or you can really deck them out by adding tons of different toppings. Here are a few of my favorite ways to make these chocolate dipped pretzel rods even more exciting:
Sprinkle chopped nuts over the wet chocolate
Use half chocolate chips and half peanut butter chips to make peanut butter chocolate dipped pretzels.
Melt the white chocolate chips to dip the pretzels into.
Add a few drops of flavored candy oil into the melted chocolate. You can make almond, caramel or cinnamon flavored chocolate that will taste fantastic on a pretzel.
Drizzle some melted white chocolate over the chocolate dipped pretzels to give them a classy, simple look
Use large twisted pretzels instead of pretzel rods for a fun new shape.
The possibilities for these chocolate dipped pretzel rods are really endless.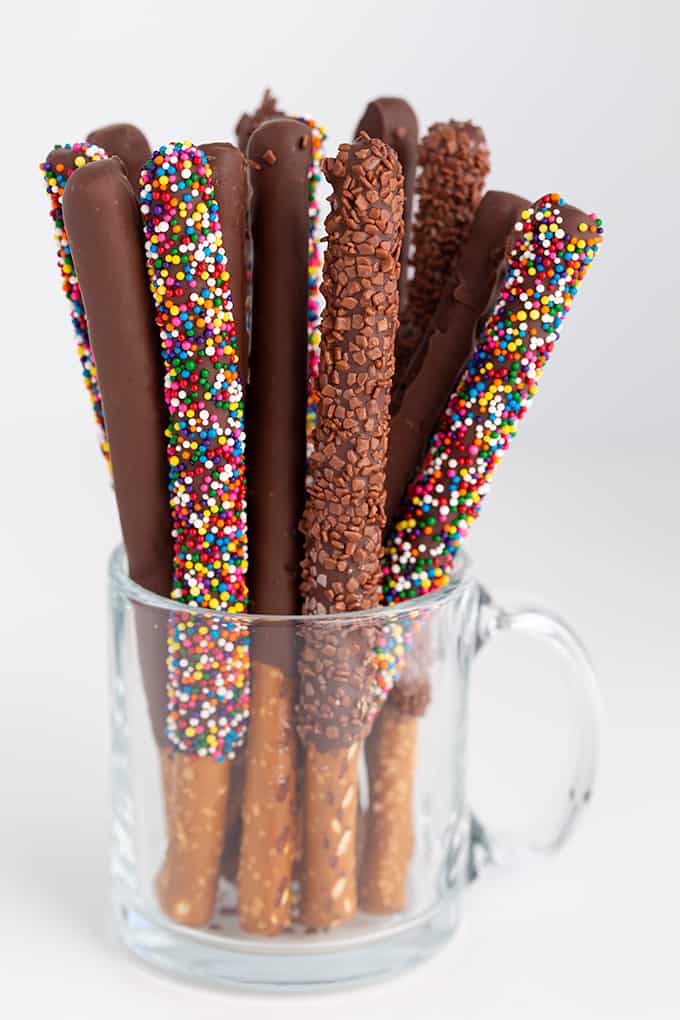 How to Store Chocolate Covered Pretzel Rods
Once your pretzels have dried, you can store them in an airtight container at room temperature. Room temperature typically means no higher than 78 degrees.
If your work area or kitchen is hotter than this, you may want to keep the pretzels in a sealed container in the fridge. You want to be sure the chocolate won't melt!
Chocolate covered pretzels can last for about a month. They will stay crisp and fresh as long as they are in an airtight container!
To make this chocolate pretzels a make ahead treat, place the sealed container in the freezer and you can keep the pretzels for up to six months.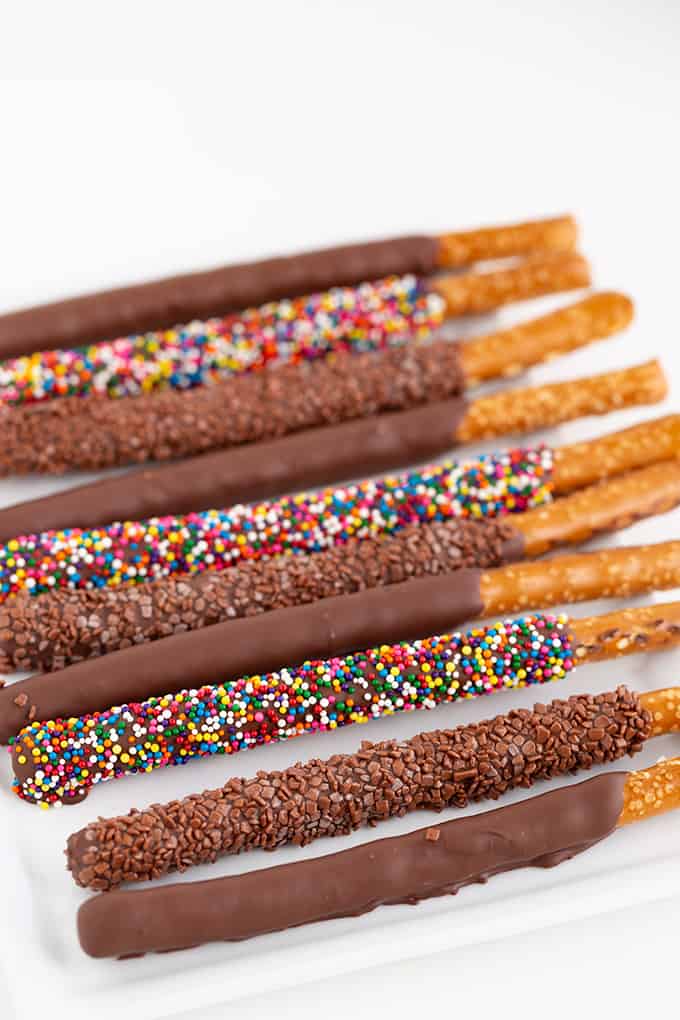 Frequently Asked Questions
Can you freeze Chocolate Covered Pretzel Rods?
Yes! Place the dipped pretzels in an airtight container and seal them well. They will keep in the freezer for up to six months.
Let the pretzel rods thaw overnight in the fridge or at room temperature when you are ready to enjoy them. They will be ready to eat in about an hour after being taken out of the freezer.
Can I use almond bark in place of the chocolate chips?
You definitely can use almond bark in place of chocolate chips. This is a fantastic substitution that will look and taste great.
How to dry Chocolate Covered Pretzel Rods quickly?
Dip the chocolate covered pretzels, quickly add your decorations and then place the tray in the fridge. This will help the chocolate harden quickly so your pretzels are ready to eat or wrap right away!
How to package chocolate covered pretzel rods for gifts?
I like to place the chocolate end of my dipped pretzels in a clear plastic treat bag and tie a bow at the bottom of the bag to seal the pretzel inside.
You can also find a pretty, long tin or box then line the pretzels up inside. They look great when piled inside a pretty box!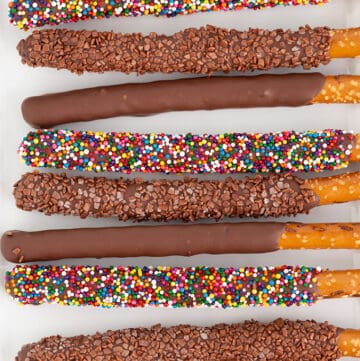 Chocolate Covered Pretzel Rods
These quick and easy Chocolate Covered Pretzel Rods are the perfect balance of sweet and salty! They're a fun treat to make with your kids and for your kids!
Ingredients
6

ounces

milk chocolate chips

6

ounces

semisweet chocolate chips

36

pretzel rods

festive sprinkles

optional

mini chocolate chips, crushed peppermint candies, mini M&Ms

optional
Instructions
In a heat-proof bowl add the milk chocolate chips and semi-sweet chocolate chips. Stir to combine.

Place the bowl over a saucepan with 1 inch of simmering water. Make sure the bottom of the bowl isn't touching the water. Let heat while occasionally stirring to melt the chocolate chips completely.

Once the chocolate chips are completely melted, dip the pretzels into the chocolate. Tap the wrist of the hand holding the pretzels until most of the excess chocolate has dripped off.

Place the pretzels on a piece of parchment paper or wax paper.

While the chocolate is still wet, coat with sprinkles or candies.

Let the chocolate harden before transferring to an airtight container to store at room temperature.
Nutrition
Calories:
55
kcal
Carbohydrates:
7
g
Protein:
1
g
Fat:
3
g
Saturated Fat:
2
g
Polyunsaturated Fat:
1
g
Monounsaturated Fat:
1
g
Trans Fat:
1
g
Cholesterol:
1
mg
Sodium:
16
mg
Potassium:
28
mg
Fiber:
1
g
Sugar:
5
g
Vitamin A:
13
IU
Vitamin C:
1
mg
Calcium:
9
mg
Iron:
1
mg
(Nutrition facts are an estimate and not guaranteed to be accurate. Please see a registered dietitian for special diet advice.)