Ice cream, root beer, booze and a maraschino cherry is what makes a bad day turn good!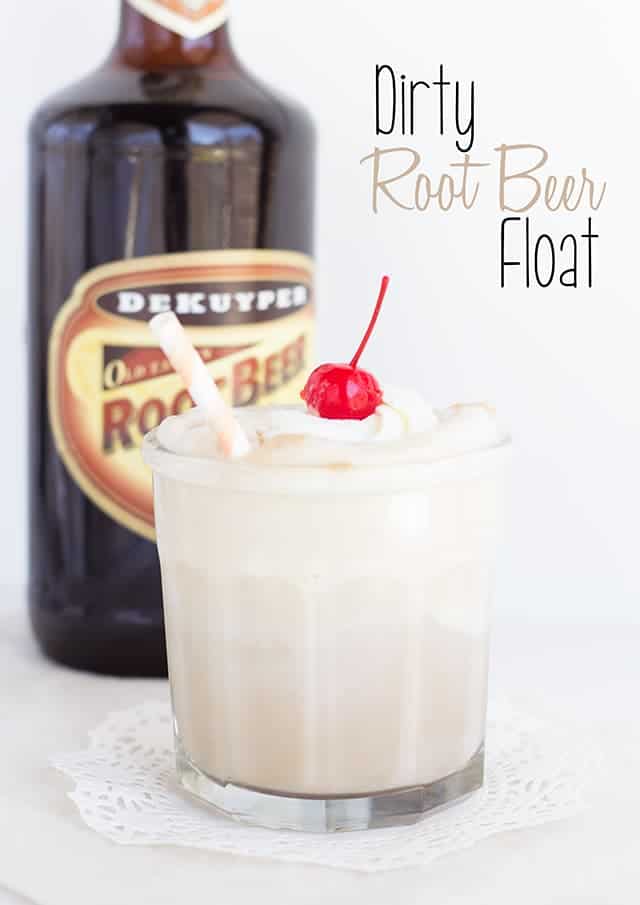 This dirty root beer float is far too delicious not to slurp down and thoroughly enjoy. It's heavily boozed up, but the sting of the alcohol is tamed down by the addition of ice cream and root beer. It makes the perfect girls night drink provided everyone loves root beer floats at your get together.
I did get some valuable information from the liquor store clerk the other day though. Dairy and alcohol don't really go well together. My response was they taste like they go pretty well together in white russians. I'm so stubborn and I have a response for anything or anyone that tries to sway recipes that I want to make. Do any of you get all defensive over little things like that?
All I can say is thank goodness not all stiff drinks are served with a scoop of ice cream in them. Tipsy doesn't look good on me and ice cream makes everything amazing especially in drink form.
Dirty Root Beer Floats
Ingredients
2

T

. root beer schnapps

3

small scoops vanilla ice cream

¾

cup

- 1 cup root beer

spray whipped cream

for garnish

1

stemmed maraschino cherry

for garnish
Instructions
Add your root beer schnapps in the cup. I don't have a jigger, so I used my measuring spoons.

Add the vanilla ice cream.

Pour the cold root beer over top of the ice cream. It will foam like crazy! You might want to do it very slowly so it doesn't spill all over.

Give it a stir. Add a straw. Top with a swirl of whipped cream and maraschino cherry. Enjoy!
(Nutrition facts are an estimate and not guaranteed to be accurate. Please see a registered dietitian for special diet advice.)
I apologize to anyone who's a bartender. I measured my alcohol with my handy dandy measuring spoons. 🙂