Step aside pumpkin pie, there's pumpkin cheesecake in town! It's topped with a maple white chocolate ganache, whipped cream, and candy pumpkins! I almost forget, I also gave it a sprinkle of cinnamon! The cheesecake is so creamy and smooth and it has all the spices that a pumpkin pie has!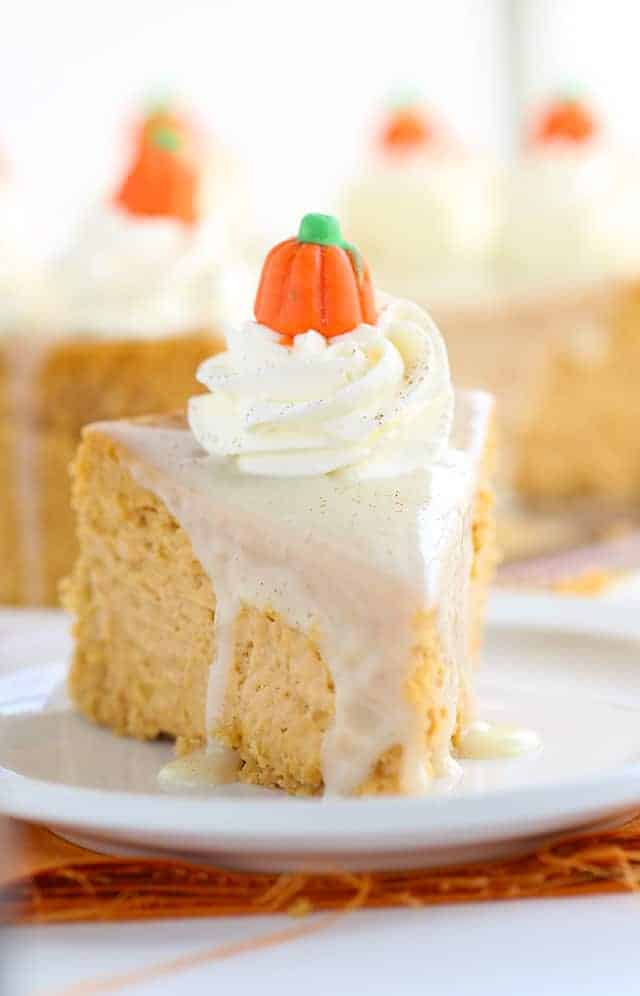 Pumpkin Cheesecake
Big things have been happening for me lately. I went on my first press trip with the American Dairy Association NE. It was definitely out of my comfort zone, but I LOVED the experience. You know me, I'm an introvert! I stay in my house and bake all day in my leggings. The most people interaction I get is greeting the UPS man on the back porch as my dog barks like a maniac at him.
I meant some really great people and learned SO much. For instance, did you know instead of drinking sports drinks, you can drink chocolate milk after a workout? As opposed to regular milk and most sports drinks, it has double the carbs and protein for those tired, achy muscles. Maybe you knew that, but I totally did not!
We visited Yancey's Fancy headquarters! Being from Upstate New York, I was previously familiar with Yancey's Fancy cheese. You can find it in most supermarkets here. Talk about some great tasting cheese. If you follow me on Instagram, you got to see tons of Instagram stories of the place. Whew. I don't know how the workers can help themselves. I wanted to pick the cheese right off the conveyors and snack on them.
Then we toured around a dairy farm. I've been to a few of those in my day coming from the backwoods of Pennsylvania. This one was a little different. It was HUGE. There were SO MANY cows. It has a carousel milker. It even has a digester that I found especially fascinating. They've teamed up with Wegmans Food Markets as well as universities and schools and gather up all the food waste for the digester. They add the food scraps as well as manure that's obviously produced on their farm into the digester where it then produces methane gas. The methane gas then is turned into electricity, liquid fertilizer for the crops and dry materials that can be used for animal bedding. Tell me that's not mind-blowing?
We also did 2 cooking competitions in a culinary center the last day we were there. One was for mac and cheese and the other one I was chosen for was an appetizer. I didn't win either, but the competition was tough and my mac and cheese skills are not strong. I've that I'm going to change that. My mom makes some of the best mac and cheese around, and I will do. Maybe.
Either way, while chatting about my dairy tour experience, I wanted to give you a dairy filled recipe. Seriously! What would baking be without dairy? I know my Easy Homemade Cookie Cookbook wouldn't be here without a whole lot of butter.
Anyway, I went with a dessert to share instead of my horrid mac and cheese or that darn tasty bacon caramlized onion dip because I LOVE my desserts. I am sharing the dip because it was so incredible, just not today.
How to make pumpkin cheesecake
Pumpkin Cheesecake
This pumpkin cheesecake is topped with a maple white chocolate ganache, whipped cream, candy pumpkins and a dusting of cinnamon! The cheesecake is so creamy and smooth and it has all the spices that a pumpkin pie has!

Ingredients
Instructions
Ganache
In a small microwave-safe bowl, add in the white chocolate chips and heavy cream. Microwave for 30 seconds and stir. Repeat microwaving for 30 seconds and stirring until the ganache is smooth.

Add in the maple extract and stir to combine. Set aside to thicken. To speed up the process, place it in the fridge. Keep an eye on it to make sure it doesn't become too thick to spread.
Crust
Preheat oven to 325 degrees.

In a medium bowl, add in the graham cracker crumbs, melted butter and sugar. Stir until the crumbs resemble wet sand.

Press the graham cracker crumbs into a 9.5 inch springform pan. Press it evenly up the sides of the pan as well. Set aside.

Place into the preheated oven and bake for 15 minutes. Remove from the oven and let cool.
Cheesecake
In a mixing bowl, add in the cream cheese and half of the pumpkin puree. If you add all of the pumpkin puree, lumps will form. Beat until thoroughly incorporated.

Add the remaining pumpkin puree and beat until incorporated.

Add in the granulated sugar and brown sugar. . Mix until completely incorporated. Scrape the sides and bottom of the bowl and mix again to avoid any lumps of cream cheese in your batter.

Add in the eggs one at a time. Mix each egg completely before adding the next. Also scrape down the bowl after adding each egg.

Add in the sour cream, heavy cream, cinnamon, and pumpkin pie spice. Mix until incorporated.

Just before adding the cheesecake mixture, line the outside of the spring form pan with heavy duty tin foil. I double wrap it to prevent the water from leaking in.

Pour the cheesecake filling into the cooled crust.

Place the springform pan in a slightly larger baking pan. Fill the outer pan with water. Fill it so it at least goes a quarter of the way up the springform pan. This will keep the cheesecake from cracking.

Place in the oven at 325 degrees and let bake for 1 hour and 25 minutes or until done. To make sure the cheesecake is done, give it a wiggle. If it slightly jiggles in JUST the middle like jello, then it's done. If it jiggles all over, it needs to bake longer. Turn off the heat and crack the oven door slightly. Let it cool in the oven for an hour or two. I kept mine in the oven for about 2 and half hours and then placed it in the fridge.
Whipped Cream
In a mixing bowl, add in the heavy cream. Beat until soft peaks form

Add in the powdered sugar and continue to beat until stiff.

Add the whipped cream into a piping bag with a 1M tip. Pipe 8 or 12 swirls on top of the cheesecake.
Topping
Add the thickened ganache into a sandwich bag. Cut a small hole into the corner of the bag. Pipe the ganache on top of the cheesecake for more control. Drip it over the edges, if desired.

Add a candy pumpkin on top of the whipped cream swirls.

Dust the top with cinnamon. I use a tiny mesh strainer and hold it up high so it spreads out more.

Cut and serve!
Notes
If the ganache becomes too thick in the fridge, place it back in the microwave for microwave for 20 - 30 seconds.
Nutrition
Calories:
762
kcal
Carbohydrates:
95
g
Protein:
17
g
Fat:
35
g
Saturated Fat:
20
g
Cholesterol:
147
mg
Sodium:
811
mg
Potassium:
497
mg
Fiber:
2
g
Sugar:
79
g
Vitamin A:
8365
IU
Vitamin C:
2.6
mg
Calcium:
407
mg
Iron:
2.3
mg
(Nutrition facts are an estimate and not guaranteed to be accurate. Please see a registered dietitian for special diet advice.)
For more information, check out dairyspot.com
Follow Dairy on FB, Twitter and Instagram for more awesome happenings, and dairy treats.
Twitter: @AmericanDairyNE
Facebook: American Dairy Association North East
Instagram: @AmericanDairyNE