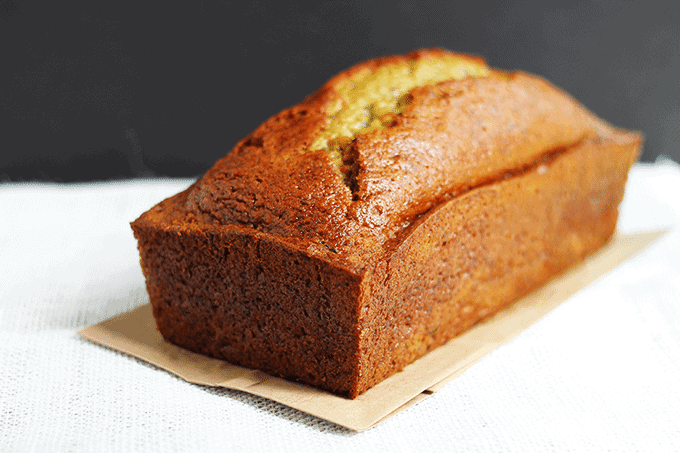 Say hello to my very first zucchini bread. I've never grown zucchini until this year and surprisingly it just hasn't done very well. I'm not sure if it's the crazy New York weather or what. My yellow squash also just did so-so. Normally by this time in the season, everyone is burnt out on yellow squash. Nonetheless, I have gotten a zucchini here and there and was able to put together this moist bread. You can't help but feel as if the bread has to be good for you with three whole cups of zucchini in it. At least that's my way of thinking. Call me crazy, but it makes me feel good about it.
I've had zucchini bread and I enjoy it. It's very similar to banana bread, in my opinion. To my surprise, Wesley said to me the other day that he once had zucchini bread and really liked it. Wait, the man who hates anything green, full of nutrition, or can be grown in a garden is eating zucchini bread. Whew. It took me several minutes to pick my jaw up off the floor after such a statement. Then, of course, I scouted for a big, fluffy zucchini bread recipe that will leave Wesley wanting more. I think I found one that will do just that. I think it's the whole "bread" part of the name and the fact that it is baked in a loaf pan that allows my husband to buy into it. The man loves himself some bread.
When I baked this up, I was pleased with how moist it was. I know I shouldn't have expected anything else considering it has so many cups of shredded vegetable.
How does everyone like their zucchini bread? I love it warmed or even slightly toasted with a big ol' chunk of butter melted on top. Ohhhh, yeah. That's the ticket! That also will explain to you the big clump of butter on the side of my dish. It was just waiting to be planted on top of that bread.
Can you see the small flakes of green throughout the bread? So beautiful!
This is an awesome one mixing bowl recipe. I bet that sold you. Nothing is better than not having a ton of dishes to wash. 😀
Zucchini Bread
Instructions
Preheat oven to 350 degrees. Grease 2 8-inch loaf pans or 1 9-inch loaf pan. Lower the racks on the oven so the top of the pan will be in the middle of the oven.

In a large mixing bowl, add in zucchini, sugar, oil, vanilla, and eggs. Using a spatula, mix until combined.

Add the flour on top, then the baking soda, baking powder, salt, cinnamon, and cloves. Give the spices a little stir to mix it through the flour. This will help the spices from clumping when you mix it with the wet ingredients.

Mix the dry ingredients into the wet ingredients with the spatula. Mix thoroughly so that you have a thick batter.

Add in nuts and give it a quick mix. I left the nuts out of mine.

Divide the batter into the two 8-inch loaf pans or pour all the batter into the 9-inch pan.

Place into the oven and bake the 8-inch loaves for 40-50 minutes or until done. Bake the 9-inch loaf for 1 hour and 20 minutes or until done. Use a tooth pick and insert it into the middle of the loaf. If it comes out clean, it's done!

Let it cool in the pan for 10-15 minutes. Run a knife along the sides of the loaf and turn it out onto a cooling rack to cool.

Once cooled, cut and serve. Try it with butter. Yum!
Nutrition
Calories:
4727
kcal
Carbohydrates:
648
g
Protein:
81
g
Fat:
210
g
Saturated Fat:
130
g
Cholesterol:
843
mg
Sodium:
4981
mg
Potassium:
2192
mg
Fiber:
21
g
Sugar:
346
g
Vitamin A:
1970
IU
Vitamin C:
66.6
mg
Calcium:
472
mg
Iron:
25.4
mg
(Nutrition facts are an estimate and not guaranteed to be accurate. Please see a registered dietitian for special diet advice.)