These Chocolate Chip Cookies are soft, chewy, and baked until the edges are golden brown. They are studded with milk chocolate chips too. It's my go-to cookie recipe for any occasion. Take a peek at the other cookie recipes I have too.
Cookies are one of mine and my son's favorite things to make together. If you ask him what his favorite cookie is, he'll tell you that he loves a soft homemade chocolate chip cookie.
SO, of course, he's basically a pro at making them. We usually make them together when he wants to take a treat to school for a special occasion or for our local humane societies bake sales. It's seriously the best chocolate chip cookie recipe. It's not too thin or too thick, too hard or crispy, and will always come out perfectly.
Can you make chocolate chip cookies without brown sugar?
Yes! You can substitute the brown sugar with granulated sugar. The granulated sugar produces a crispier cookie and the brown sugar adds a chewiness.
How to make Chocolate Chip Cookies
Chocolate Chip Cookies are so easy to make and can be tweaked ever so slightly to make thicker cookies, thinner cookies, crispier cookies, and so on.
Here are the basics of creating chocolate chip cookies.
Using a hand mixer, beat the butter and sugars together until light and fluffy.
Add in the eggs and vanilla extract and continue to beat until the eggs are incorporated.
Add in the dry ingredients. For a more even distribution of the dry ingredients, add them all in a separate bowl and whisk to combine before adding them to the wet ingredients. Beat until the flour is worked into the cookie dough.
Stir in the chocolate chips of your choice.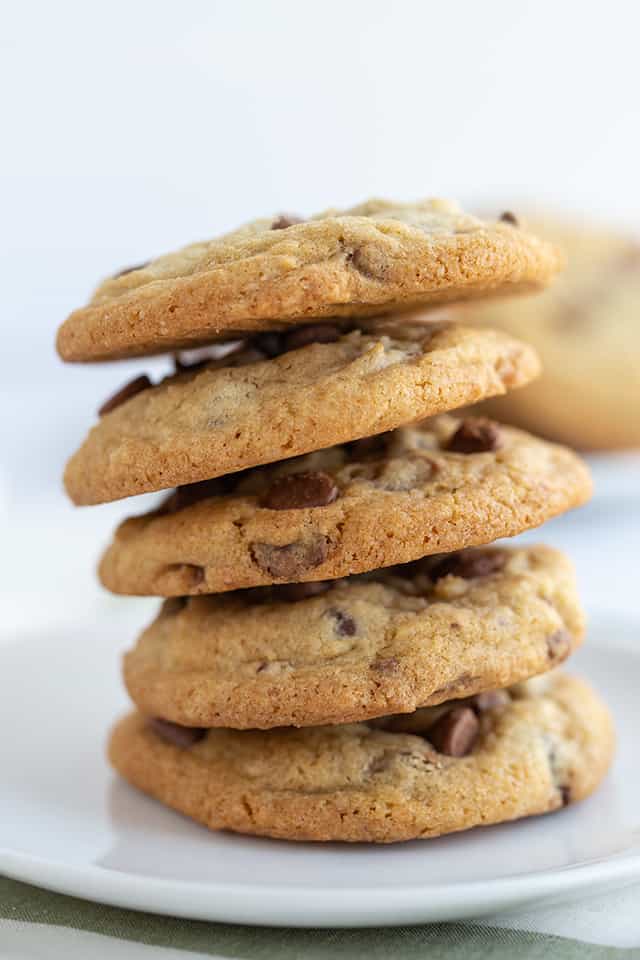 Can you freeze Chocolate Chip Cookie Dough?
Yes! Now is the perfect time to freeze the cookie dough. Once you've whipped up the cookie dough, scoop it using your 1 ½ tablespoon cookie scoop and place the scoops on a parchment-lined cookie sheet.
They won't need to be spaced out since we won't be baking them. Place them nice and close together to get as many scoops of cookie dough as you can on the sheet.
Once the cookie sheet is full, place it in the freezer until the cookies are frozen solid. This usually takes about 3 to 4 hours.
Once the cookie dough is frozen, remove from the baking sheet and place them in a freezer bag or a freezer-safe container. They can be stored in the freezer for up to 3 months.
To bake frozen cookie dough, preheat the oven and place the frozen cookie dough onto the prepared pan and bake. Follow the instructions below for the specifics.
How long do you bake Chocolate Chip Cookies
It really depends on the recipe that you're using. For this recipe, the cookies take 10 to 12 minutes to bake. Keep in mind that everyone's oven isn't the same. So I would start watching at about 8 minutes.
How to store Chocolate Chip Cookies
Store the cookies in an airtight container at room temperature. To keep the cookies soft and chewy, add a slice of bread into the bag.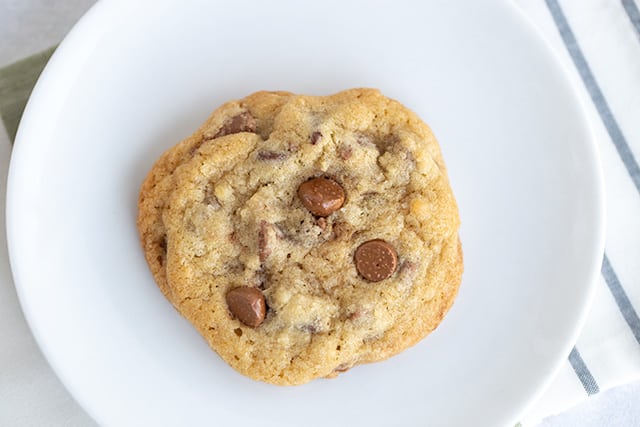 How long do Chocolate Chip Cookies last
Chocolate Chip Cookies typically don't last over 2 days at my house so I don't know. Totally kidding, sort of. They can last 4 to 5 days without becoming stale.
If you want the cookies to last even longer after they're baked and completely cool, stack with cookies with pieces of parchment paper between each layer. Place them in a freezer-safe container or freezer bag and freeze. Store them in
More amazing cookies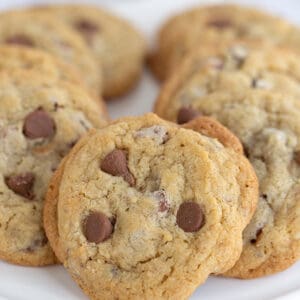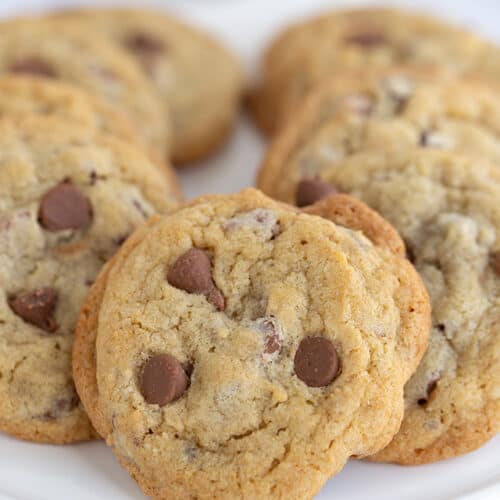 Chocolate Chip Cookies
Instructions
Preheat oven to 350 degrees. Line a cookie sheet with parchment paper.

In a large bowl, add in the butter, brown sugar, and granulated sugar. Beat with a hand mixer on medium until light and fluffy.

Add in the eggs and the vanilla extract and beat until the eggs are worked into the cookie dough.

Add in the flour, baking soda, and salt. Continue to beat with a hand mixer until all of the flour is worked into the cookie dough.

Add in 1 ¾ cup of the chocolate chips and stir with a spatula until the chips are evenly distributed in the dough.

Using a 1 ½ tablespoon cookie scoop, scoop the cookie dough and place about 2 inches apart on the prepared cookie sheet.

Press about 3 to 4 chocolate chips from the remaining ¼ cup into each of the cookie dough balls.

Place in the preheated oven and bake for 10 to 12 minutes. The edges should be golden brown.

Let the cookies cool on the cookie sheet for 5 minutes before transferring them to a cooling rack or paper towel to cool completely.

Store in an airtight container at room temperature.
Notes
You can use semi-sweet chocolate chips or any other chocolate chips instead of milk chocolate chips.
Nutrition
Calories:
168
kcal
Carbohydrates:
23
g
Protein:
2
g
Fat:
8
g
Saturated Fat:
5
g
Cholesterol:
24
mg
Sodium:
76
mg
Potassium:
23
mg
Fiber:
1
g
Sugar:
15
g
Vitamin A:
193
IU
Vitamin C:
1
mg
Calcium:
21
mg
Iron:
1
mg
(Nutrition facts are an estimate and not guaranteed to be accurate. Please see a registered dietitian for special diet advice.)