It's that time of the month again when I share a recipe for the peanut butter bash. This month the theme is peanut butter and marshmallows so I went with a toasted marshmallow peanut butter molten lava cake. It's the sort of cake that you eat inside the bowl instead of flipping it out like you do with the peanut butter chocolate lava cake I made. That's okay though, that's one less dish to dirty.
I originally wanted the marshmallow to come flowing out of this lava cake, but I realized quickly that the fluff wouldn't sink. Makes sense, but it just didn't occur to me initially. It however made the prettiest toasted top for my cakes though. It gives the homemade marshmallow fluff the perfect golden brown crust and underneath the gooey marshmallow goodness along with gooey peanut butter cake!
So not only is it the first Thursday of the month, but the last day of my vacation. We've been all over Washington D.C. We dropped our dogs off at my parent's house even though DuPont Circle where we stayed in D.C. was incredibly dog friendly. Seriously, they had water dishes and dog treats for the pups at every restaurant and there are a ton of those in town. We ate like champs and went to a ton of memorials and land marks. My calf muscles ache and I got one heck of a tan. I rode the metro for the first time and found out I don't particularly enjoy it. I did enjoy the time with the in-laws though. We normally get together once a year for vacation and have a killer time. This one was no exception.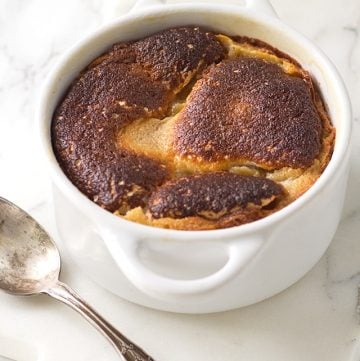 Toasted Marshmallow Peanut Butter Lava Cakes
Instructions
Preheat oven to 425 degrees. Grease two 8 oz. ramekins. Place 1 tablespoon flour into each ramekin. Tap the flour around to coat the ramekin and discard any of the remaining flour that didn't stick.

In a microwave-safe bowl, add in the chopped baking chocolate, peanut butter, and butter. Microwave in 30 second intervals and stir after each 30 seconds. Do this 3 to 4 times until the chocolate is smooth and completely melted.

Let cool for about 10 minutes so it doesn't cook the eggs when they're added.

Add in the sugar and eggs and whisk until combined.

Add in the 4 remaining tablespoons of flour and whisk until just incorporated.

Pour the batter evenly into the two 8 ounce ramekins.

Add ¼ cup of marshmallow fluff to the center of each ramekin. Spoon some of the batter in the ramekin over top of the fluff to cover it slightly.

Place the ramekins on a baking sheet and place into the preheated oven. Let bake for 14 - 16 minutes. You'll want the center to be slightly jiggly and the marshmallow fluff on top toasted.

Serve immediately in the dish. No need to dump onto another plate.
Nutrition
Calories:
1003
kcal
Carbohydrates:
92
g
Protein:
30
g
Fat:
70
g
Saturated Fat:
28
g
Cholesterol:
217
mg
Sodium:
411
mg
Potassium:
967
mg
Fiber:
13
g
Sugar:
59
g
Vitamin A:
380
IU
Calcium:
117
mg
Iron:
12.2
mg
(Nutrition facts are an estimate and not guaranteed to be accurate. Please see a registered dietitian for special diet advice.)