These Peppermint Chocolate Chip Cookies are packed full of Andes Peppermint Baking Bits and milk chocolate chips. They're so soft and chewy and have delicious pops of peppermint and chocolate throughout them. These will make the perfect addition to your Christmas cookie platter.
If you love peppermint desserts as much as I do, take a look at this Peppermint Snowball Cookies, No Bake White Chocolate Peppermint Cheesecake, Peppermint Dream Dessert, or Peppermint Cheesecake Brownies.
The holiday baking season is here and we couldn't be more excited. There are so many amazing cookies that sometimes I don't know where to start! Peppermint chocolate chip cookies are always on my list of Christmas cookies that I must make. The combination of chocolate and peppermint just feels like Christmas to me.
Peppermint Chocolate Chip Cookies
Before you start your mixer, you need to gather up all the ingredients to make these tasty cookies. I bet you have most of these ingredients on hand. To make peppermint chocolate chip cookies, you will need:
Butter
Light brown sugar
Granulated sugar
Eggs
Flour
Baking soda
Salt
Milk chocolate chips
Most stores will carry peppermint crunch baking bits near the chocolate chips in the baking aisle. If you are having a hard time finding them, grab a bag of Andes chocolate mints and chop them finely. Andes mints are essentially the same thing and sometimes easier to find.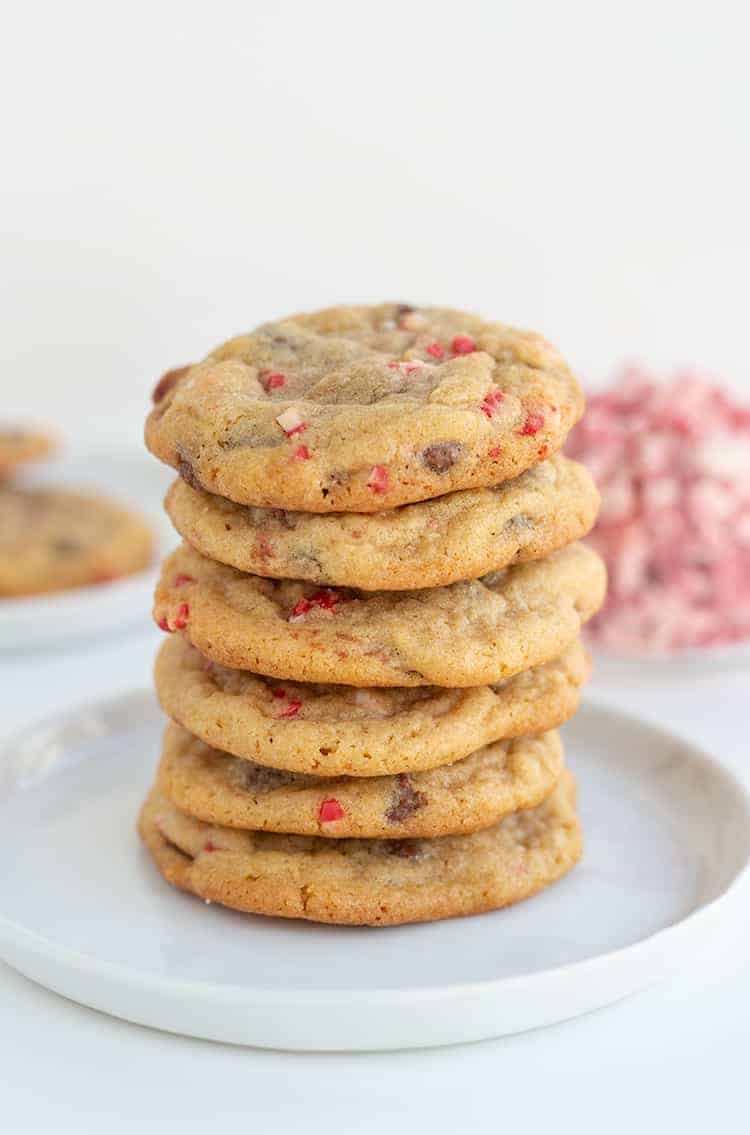 Tell your friends that you made chocolate chip cookies with Andes peppermint chips and they are sure to coming running to your door!
How to Make Peppermint Chocolate Chip Cookies
Making this recipe is actually very easy. If you have ever made chocolate chip cookies in the past, the method for this recipe will look very similar.
To begin, you need to cream the light brown sugar, white sugar and butter together until they are light and fluffy. Be sure to scrape down the sides of the bowl as you mix to ensure that all the butter is well blended.
Add the eggs and vanilla to the batter slowly, adding just one egg at a time. This makes sure that the eggs really mix into the butter well without separating. Try using room temperature eggs as they will blend into the butter better.
Add all the dry ingredients and mix the batter to just blend the flour in. You don't want to overmix or the cookies will be tough. Fold in the chocolate chips and peppermint baking bits and your dough is ready to bake!
I bake these cookies for just 10 minutes or until the edges begin to turn slightly brown. This will make a nice, chewy cookie. If you like a crunchier chocolate chip peppermint cookie, bake them for about 12-13 minutes. Either way will be delicious!
How to store Peppermint Chocolate Chip Cookies
Storing your cookies properly helps keep them fresh and soft. Place the cookies in an airtight container, zippered gallon sized bag or just plastic wrap them very well. The main idea is to prevent air from touching the surface of the cookies which would cause them to dry out and get stale. Wrap them well!
Keep the cookies at room temperature for up to 5 days. Unwrap the cookies whenever you are ready to enjoy one or two. Put one in your microwave for about 15 seconds to reheat, giving you a cookie that tastes fresh out of the oven!
Can you freeze Peppermint Chocolate Chip Cookies
If you are like me then you like to plan ahead. I am a big fan of making a huge batch of cookies and freezing some for later. You can definitely freeze peppermint chocolate chip cookies and here are two ways to do it.
Cookie Dough- Make the cookie dough completely, mixing in all the ingredients just as directed in the recipe. Once the cookie dough is done, scoop it into balls and then freeze the dough. Once frozen, place the cookie dough balls in a zippered gallon sized bag and freeze for up to three months. When you are ready to bake the cookies, place the frozen cookie dough on a parchment lined sheet tray and then let them thaw at room temperature (about 3-4 hours). Bake the cookies as directed in the recipe and you will have amazing, fresh peppermint chocolate chip cookies.
Baked Cookies- If you have already baked the cookies, wrap them individually in plastic wrap, sealing them tightly. Place the wrapped cookies in a zippered plastic freezer bag and freeze the cookies for up to two months. Take one cookie out at a time whenever you are craving these tasty peppermint treats. Remove the plastic wrap and put the frozen cookie in a 350 degree F oven for 4 minute to refresh the cookie, making it taste as good as the minute they were baked!
FAQ's
Do you have a few questions about these peppermint chocolate chip cookies? You are not alone! Here are a few questions we are frequently asked that you may be wondering about too. If you still have questions about this recipe, feel free to contact us anytime- we are here to help!
Can you use peppermint extract in this cookie?
You can choose to use a little bit of peppermint extract in this recipe. However, I would highly recommend only using a little bit. Peppermint extract is very strong and just a few drops will make your cookies quite minty. If you really want that mint flavor in the cookie dough, use ¼ teaspoon peppermint extract and 1 ¾ teaspoon vanilla extract. Keep in mind that the peppermint chocolate bits will add a lot of sweet peppermint taste so you really do not need the extract.
What is peppermint crunch?
Peppermint crunch is a crunchy, white chocolate based candy that is usually made by the Andes company. It is kind of like a mix of a candy cane and a white chocolate. The baking bits melt in your mouth but also have a nice, crunchy texture if you choose to chew them. They are perfect in this cookie recipe!
Can I use candy canes instead?
You definitely can use candy cane pieces in this recipe instead of peppermint crunch baking bits. Candy canes will have a very similar, delicious minty taste but they will be even more crunchy. Be sure to chop up the candy cane pieces well so they are small enough to blend into the cookie dough.
Can I substitute milk chocolate chips for white chocolate chips?
When making these peppermint chocolate chip cookies, you can choose to use white chocolate chips rather than milk chocolate chips. Remember that white chocolate is sweeter than milk chocolate so your holiday cookies will be extra sweet! Not that its a bad thing…
Shop this post:
Peppermint Chocolate Chip Cookies
These Peppermint Chocolate Chip Cookies are soft, chewy, and packed full of Andes Peppermint Baking Bits and milk chocolate chips.
Ingredients
1

cup

butter

room temperature

1

cup

light brown sugar

packed

½

cup

granulated sugar

2

large eggs

2

teaspoons

vanilla extract

2 ¾

cups

all-purpose flour

1

teaspoon

baking soda

½

teaspoon

salt

2

cups

milk chocolate chips

additional chips to top the cookies

1

cup

peppermint crunch baking bits

additional bits to top the cookies
Instructions
Preheat the oven to 350 degrees F. Line a baking sheet with parchment paper.

Add the butter, brown sugar, and granulated sugar to a large mixing bowl. Beat with a hand mixer on medium until creamed.

Add in the eggs and vanilla extract and beat until incorporated.

Add in the flour, baking soda, and salt. Beat until the flour is combined.

Mix in the chocolate chips and peppermint crunch baking bits.

Scoop the cookie dough with a 1 ½ tablespoon cookie scoop onto the prepared baking sheet.

If adding additional chips and baking bits, do that now.

Place in the preheated oven and bake for 10 minutes or until the edges are golden brown.

Let the cookies cool on the baking sheet for 5 to 10 minutes before transferring to a wire rack or paper towel to cool completely.

Place in an airtight container and store at room temperature for up to 5 days.
(Nutrition facts are an estimate and not guaranteed to be accurate. Please see a registered dietitian for special diet advice.)