This key lime cheesecake is a fun spin on the key lime pie. It's so thick and creamy! Did I mention it has the perfect balance of sweet and tangy?! As far as the perfect summer dessert, this key lime cheesecake is the total package.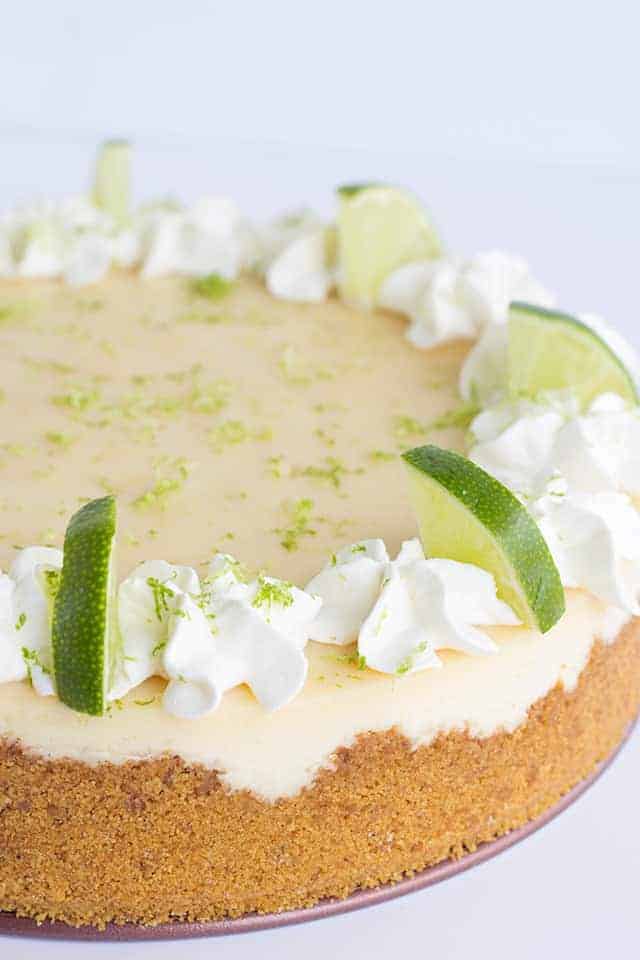 Key Lime Cheesecake
The first time I made this key lime pie cheesecake, I baked it and let it cool in the oven like I normally do. The next day I was anxious to try it out to only figure out that I had never put it in the fridge. I wanted to eat it so bad but didn't dare. I wasn't up for a case of food poisoning.
I had even told my friend that I would bring her some of this key lime cheesecake recipe before realizing that it had never made it to the fridge. She was game for still trying it, but I wouldn't take it down to her. Sometimes you just need to watch out for your friends.
Can I just say that I've probably eaten worse things at my grandmother's house though? She wasn't big on expiration dates or putting the mayonnaise away. Is that a grandma thing?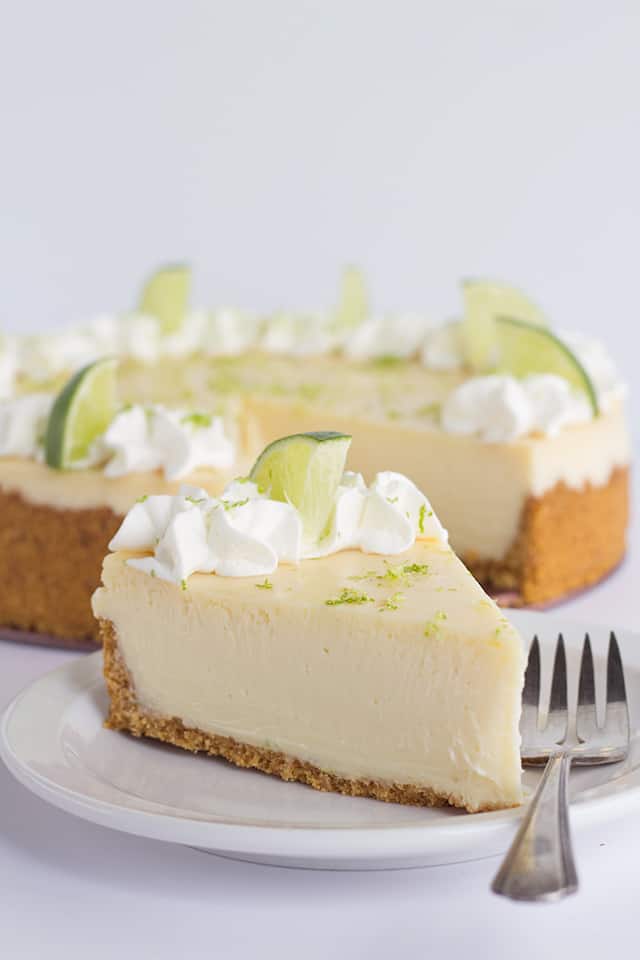 Fresh limes not necessary for this key lime cheesecake
Did I just hear a gasp? You're not going to believe this, but I used key lime juice out of the bottle and I recommend you do the same thing. Seriously. I used Nellie & Joe's Key West Lime Juice for some time now and it never fails me. I can always find it either on Amazon or at my local Walmart.
Key limes aren't always that easy to come by at least not in upstate New York. I've used them but they're so tiny and hard to find that I prefer the juice out of the bottle. I can't say the same about lemons though.
I did use a regular lie to slice up and zest onto the cheesecake. You may want to grab 2 if you want to garnish your cheesecake the same way I did.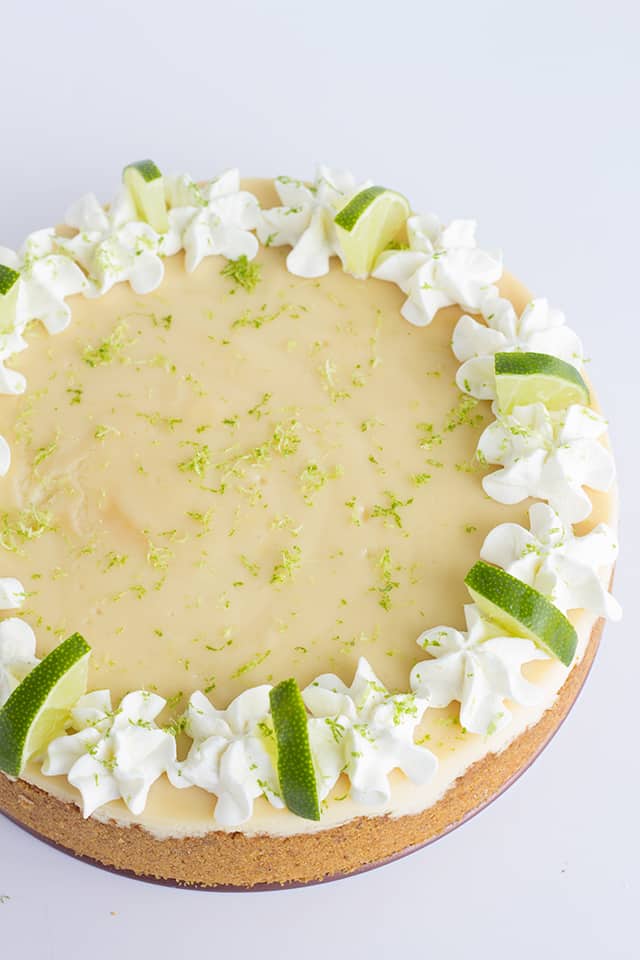 What is key lime cheesecake?
I took what you would put in a key lime pie and added it to my vanilla cheesecake recipe. It's a key lime cheesecake with condensed milk in it. I really like the addition of the sweetened condensed milk in the cheesecake. I should use it in my cheesecake recipes more often.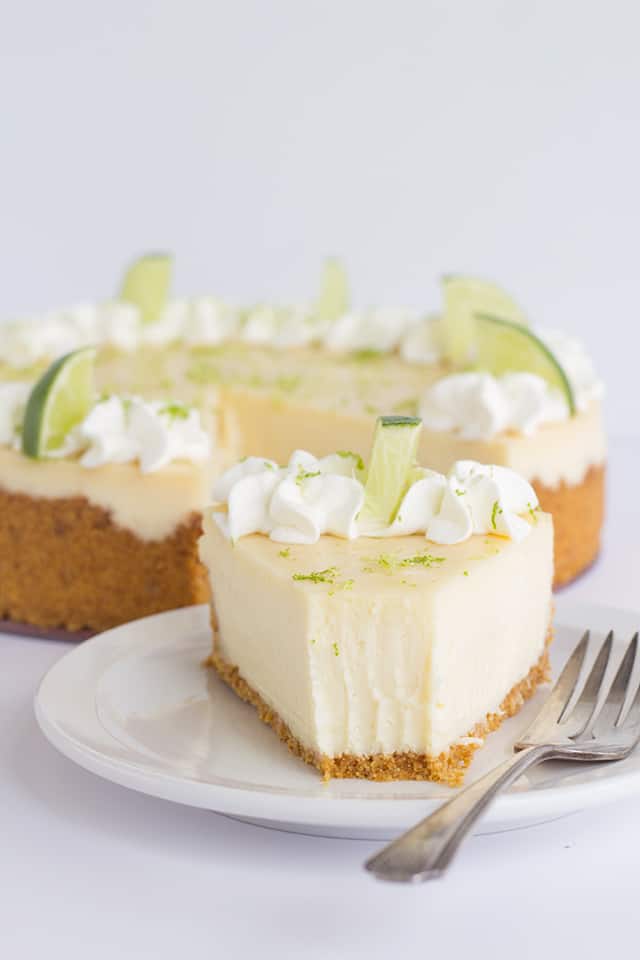 Key Lime Juice vs Lime Juice
Instead of using regular lime juice, key lime juice was used. So what's the difference? Key limes tend to be more aromatic and have more of a floral juice. Key limes are also much smaller and the peels tend to have a more leathery feel to them. Lastly, you'll find key limes in the grocery store only when they're in season. That means you're not going to find them in the middle of winter.
You will, however, find "regular" or Persian limes pretty much year around.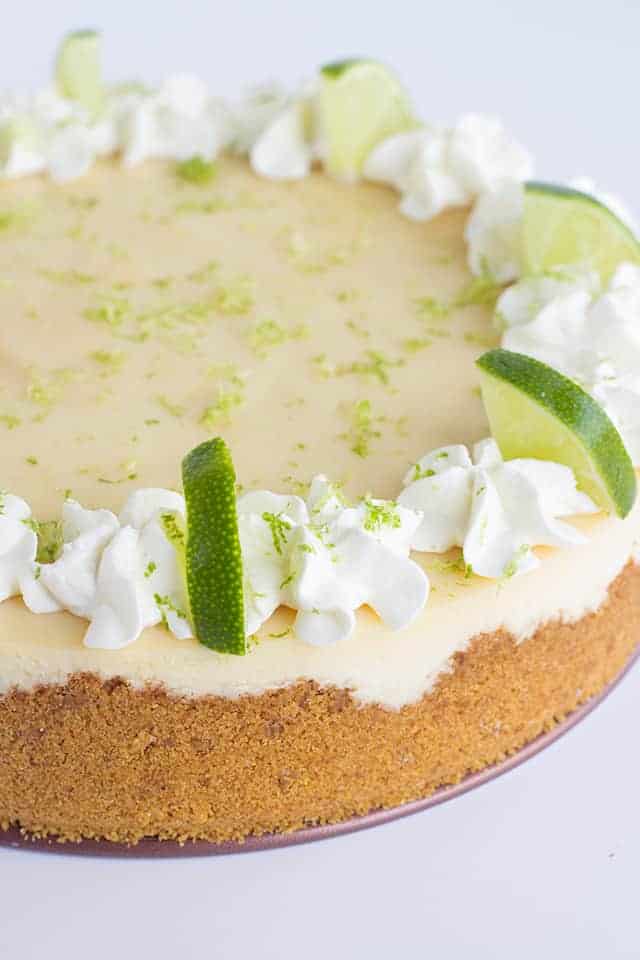 Can I substitute the key lime juice with regular lime juice? The answer is if you must.
The key lime cheesecake may be more tart with regular lime juice in it, so think about possibly adding more sugar. I haven't tested it myself though, so I can't tell you exact amounts or even if you will need it.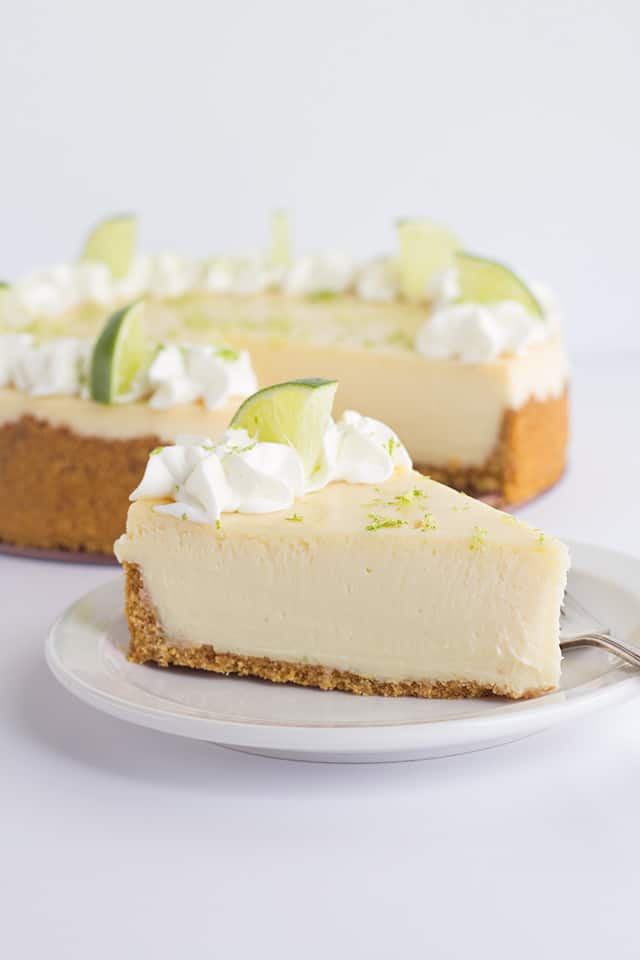 Can you freeze Key Lime Cheesecake?
You can freeze any cheesecake. You'll need to remove it from the pan unless you've placed a piece of parchment paper under the crust and greased the sides of the pan to ensure it will easily pop out of the pan once it's been frozen. If you removed it from the baking pan, place it on a parchment-lined baking sheet and pop it into the freezer until it's firm. Gently push on the cheesecake to make sure it's frozen pretty solid.
Once it's frozen, wrap it in heavy-duty aluminum foil and place it in a freezer bag. I would say the maximum freeze time is 2 months. To thaw it, place it in the fridge overnight.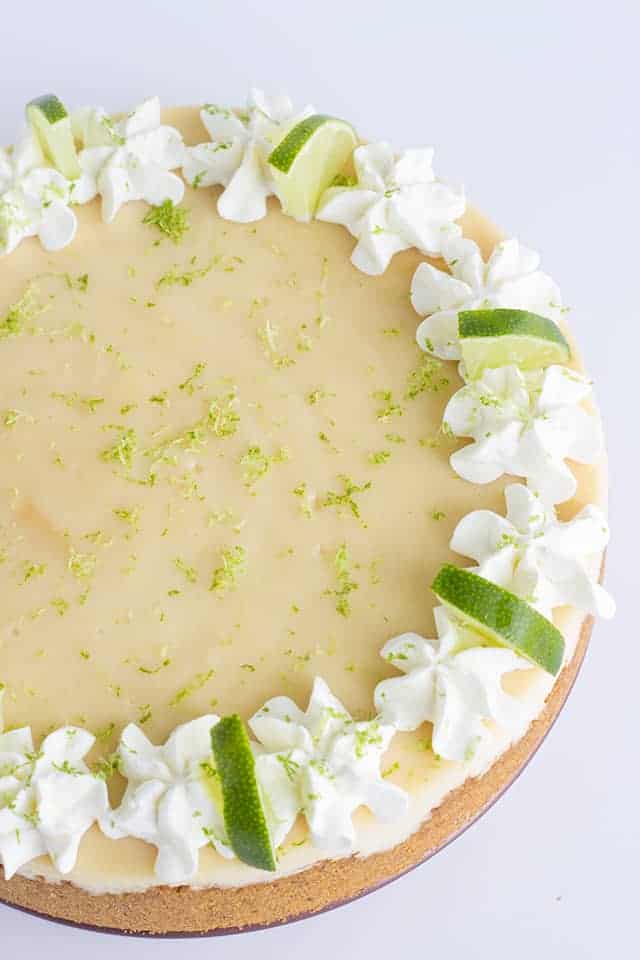 Other recipes I thought you may like:
How to make Key Lime Cheesecake: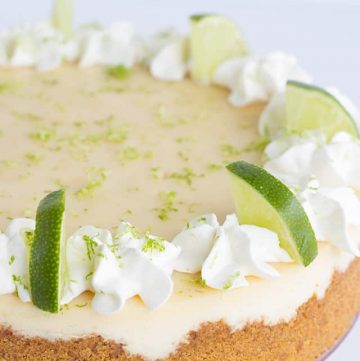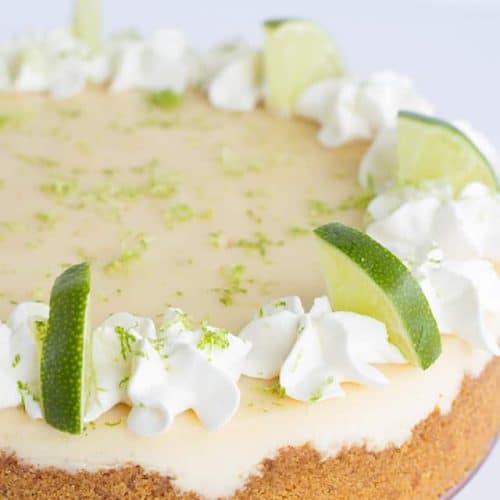 Key Lime Cheesecake
This key lime cheesecake is thick and creamy! Did I mention it has the perfect balance of sweet and tangy?! As far as the perfect summer dessert, this key lime cheesecake is the total package.
Ingredients
Cheesecake
24

ounces

cream cheese

softened

1 ¼

cups

granulated sugar

2

large eggs

¾

cup

key lime juice

14

ounces

sweetened condensed milk
Whipped Cream
¾

cup

heavy cream

2

tablespoons

powdered sugar

zest of 1 lime

for garnish

3

slices

of lime

quartered
Instructions
Crust
Preheat oven to 325. Spray the sides of a 9.5-inch springform pan with nonstick baking spray. Wrap the sides of the pan with a strip of parchment paper.

In a mixing bowl, add the graham cracker crumbs, sugar, and melted butter. Stir until the butter coats all of the crumbs.

Press the crumbs evenly into the bottom and up the sides of the prepared pan.

Place in the oven and let bake for 15 minutes. Remove from the oven and let cool while you work on the cheesecake filling.
Cheesecake
In a mixing bowl, add in the cream cheese and granulated sugar. Beat with a hand mixer on medium until completely incorporated. Scrape the sides and bottom of the bowl and mix again to avoid any lumps of cream cheese in your batter.

Add in the eggs one at a time. Beat in each egg completely before adding the next. Scrape down the bowl after adding each egg.

Add in the key lime juice and sweetened condensed milk. Mix until incorporated.

Just before adding the cheesecake mixture, line the outside of the springform pan with two layers of heavy-duty tin foil.

Pour the cheesecake filling on top of the crust.

Place the springform pan in a slightly larger baking pan. Fill the outer pan with about an inch of water.

Place in the oven at 325 degrees and let bake for 1 hour and 15 minutes or until done. To make sure the cheesecake is done, gently give it a wiggle. If it slightly jiggles in JUST the middle like jello, then it's done. If it jiggles all over, it needs to bake longer. Turn off the heat and crack the oven door slightly. Let it cool in the oven for 1 to 2 hours until it reaches room temperature and then place in the fridge to chill overnight.
Whipped Cream
In a mixing bowl, add in the heavy cream. Beat until soft peaks form.

Add in the powdered sugar. Continue to beat until it becomes thick and stiff peaks form.

Add the whipped cream into a piping bag with a 1M tip. Pipe the whipped cream on top of the cheesecake.

Sprinkle the zest on top of the cheesecake.

Add the quartered pieces of lime in between the swirls of whipped cream.
Notes
If the limes are damp, dry them off before adding them to the whipped cream.
Nutrition
Calories:
753
kcal
Carbohydrates:
78
g
Protein:
12
g
Fat:
45
g
Saturated Fat:
25
g
Cholesterol:
183
mg
Sodium:
486
mg
Potassium:
392
mg
Sugar:
65
g
Vitamin A:
1690
IU
Vitamin C:
8.4
mg
Calcium:
263
mg
Iron:
1.4
mg
(Nutrition facts are an estimate and not guaranteed to be accurate. Please see a registered dietitian for special diet advice.)