These Homemade Everything Bagels come from a delicious bagel recipe that is topped with an everything seasoning. They a dense, chewy, and packed full of flavor. This is a savory bagel that is absolutely delicious. Get more bread recipes.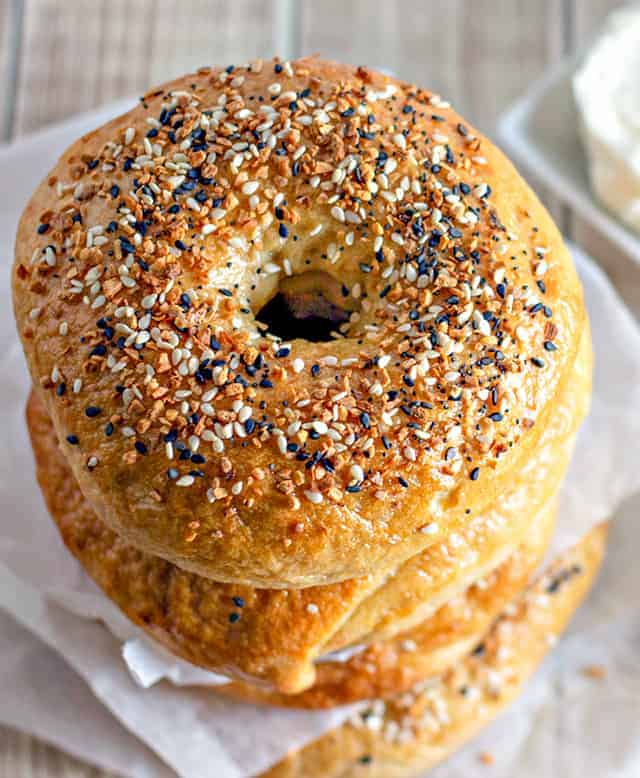 Spread on cream cheese, make it into a sandwich, or eat it plain. This everything bagel recipe is easy, delicious, and one you will want to make time and time again.
My personal favorite topping is a veggie cream cheese spread.
Homemade Everything Bagels
Bagels are my favorite, especially when they are homemade. If you have never tried an everything bagel seasoning, you have to try this variation. Onion, poppyseeds, and many more seasonings come together for one savory bagel topping.
Where to Buy Everything Bagel Seasoning
You can head to your local Aldi and pick up a container of their Everything Bagel Seasoning. It is such a versatile seasoning. Use it to sprinkle on deviled eggs, avocado toast, and the list goes on. You will thank me later.
What Is On An Everything Bagel
You have a homemade bagel, that is then topped with the mixture of the bagel seasoning. You will find most varieties have items like poppy seeds, sesame seeds, onion flakes, garlic, and more. It is a very savory blend of seasonings.
Everything Bagel Ingredients
Water - for both boiling the bagels and for the homemade bagel recipe.
Sugar - the granulated sugar provides the food for the yeast.
Bread Flour - you can use all-purpose flour instead of bread flour.
Yeast - I like using instant yeast, but dry-active yeast works just fine. The only difference is the dry-active yeast needs to be proofed in the water and with instant yeast, it isn't necessary. (I do it anyway.)
Salt - It's important to know that salt and yeast don't mingle well together. The salt will slow down the yeast activity (growth). I like to add the salt with the flour so it's not in direct contact with the yeast.
Molasses - Barley malt can also be used.
Egg - I always use large eggs unless the recipe specifies a different size.
Oil - vegetable oil or canola oil will work. This is used to grease the bowl.
Honey - This is added to the bagel water bath and will help with the bagels browning up.
Everything Bagel Seasoning - a recipe will be coming soon!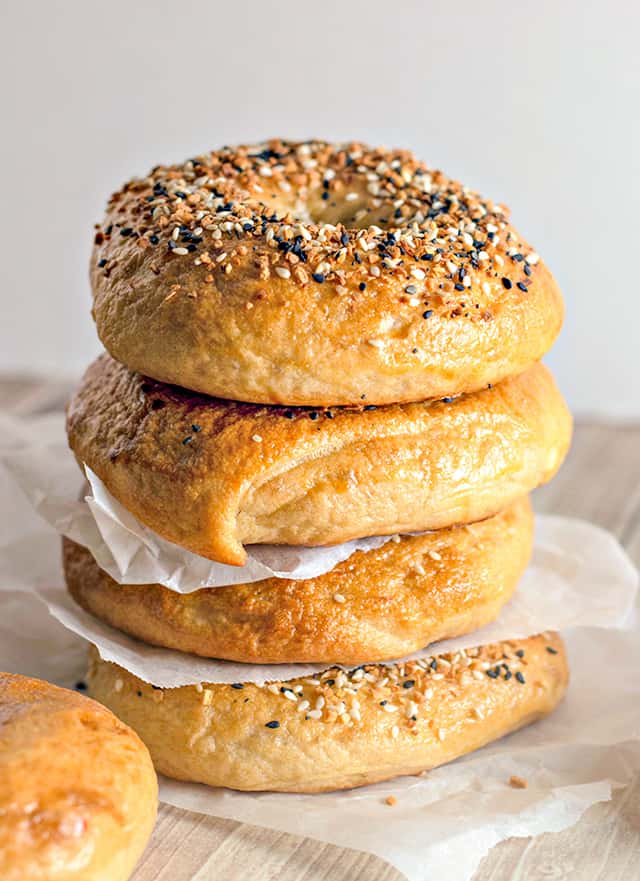 How To Make Everything Bagels
You start by prepping your bagel dough. I love making homemade bagels as they are tender, moist, with a little bit of chew to them. Once your dough is ready you will work on cooking your bagels. You will add the Everything Bagel seasoning on top of your bagels and cook accordingly.
Allow your bagels to cool down a bit before you slice and enjoy.
Can You Freeze Homemade Bagels
Yes, you are more than welcome to save back some of the bagels and freeze them for later on. Just allow the bagels to fully cool down. Then transfer into a freezer bag or airtight container.
Then toss in the freezer for up to three months. Thaw on the counter, in the microwave, when you want to eat one. Then toast or eat fresh without toasting.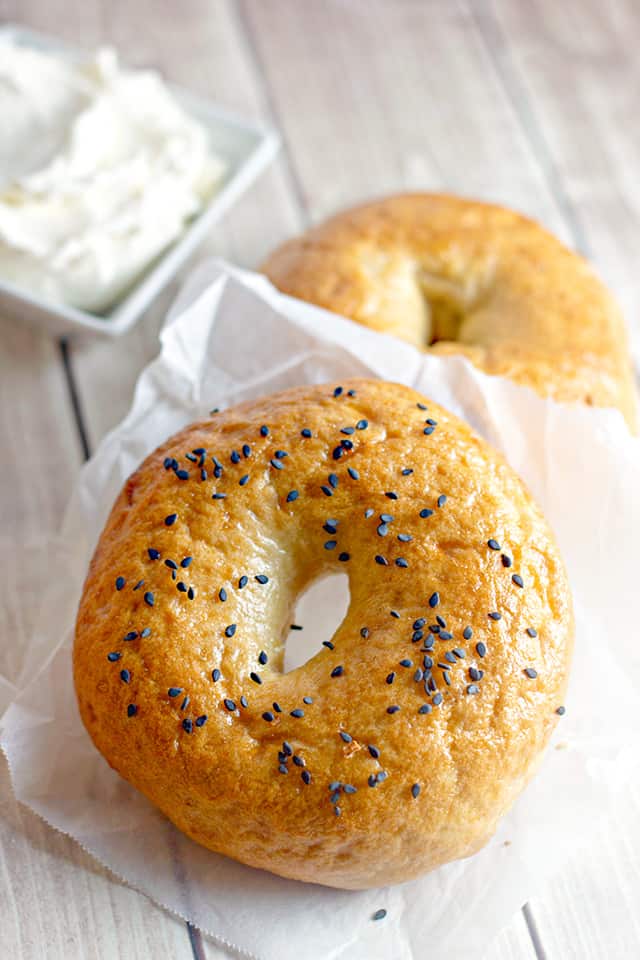 Looking for more bread style recipes
Homemade Everything Bagels
Ingredients
1 ½

cups

plus 1 tablespoon water

divided (plus water for boiling the bagels)

1

teaspoon

granulated sugar

1

package .25 ounce or 2 ¼ teaspoons dry instant yeast

4

cups

bread flour

plus additional for kneading

1

teaspoon

salt

1

tablespoon

molasses

1

tablespoon

vegetable oil

for greasing the bowl

3

tablespoons

honey

1

large egg

Everything bagel seasoning
Instructions
Heat 1 ½ cups of water to 110 degrees F. Use a thermometer to check the temperature.

Pour the water into a small bowl.

Add the sugar and yeast to the warm water and mix together. Set aside for 5 minutes until frothy.

In a large mixing bowl, add 4 cups of bread flour and salt.

Add the yeast mixture and molasses to the dry ingredients. Beat with an electric mixer (preferably a stand mixer) until the dough comes together in a ball.

Turn the dough out onto a lightly floured surface and knead until smooth. This will take about 5 minutes.

Grease a large bowl with vegetable oil.

Place the dough in the bowl, turning once to coat the top with oil. Cover the bowl with a clean kitchen towel then set aside in a warm place to rise for 60-90 minutes until doubled.

Divide the dough into 8 equal pieces.

Roll each piece of dough into a smooth ball.

Use one finger to poke a hole into the center of a dough ball, then stretch and shape it into a large hole, about 2 inches in diameter. Repeat this process with each dough ball until you have 8 bagels.

Place the bagels on a baking sheet, cover with a clean kitchen towel, and let rest while you work on the next step.

To boil the bagels, fill a large pot with about 2 inches of water.

Add 3 tablespoons of honey and whisk to combine.

Bring the water to boil over high heat. Reduce the heat to medium-high. Boil the bagels in small batches for 1 minute on each side.

Preheat the oven to 425 degrees.

Line a large baking sheet with parchment paper. Place the bagels on the parchment paper at least 1 inch apart.

To make the egg wash, add the egg and 1 tablespoon of water in a small bowl. Whisk until incorporated.

Use a pastry brush to brush the egg wash on the top and sides of each bagel.

Top the bagels with the everything bagel seasoning.

Place the bagels in the preheated oven and bake for 25 minutes until deep golden brown.

Cool the bagels slightly then slice. Toast the slices and top with butter/cream cheese.

Store bagels in an airtight container in the refrigerator for up to 3 days, or slice and freeze for up to 2 months.
Nutrition
Calories:
282.11
kcal
Carbohydrates:
54.28
g
Protein:
8.25
g
Fat:
3.32
g
Saturated Fat:
1.75
g
Cholesterol:
20.46
mg
Sodium:
301.05
mg
Potassium:
106.69
mg
Fiber:
1.53
g
Sugar:
9.05
g
Vitamin A:
29.7
IU
Calcium:
17.58
mg
Iron:
0.81
mg
(Nutrition facts are an estimate and not guaranteed to be accurate. Please see a registered dietitian for special diet advice.)